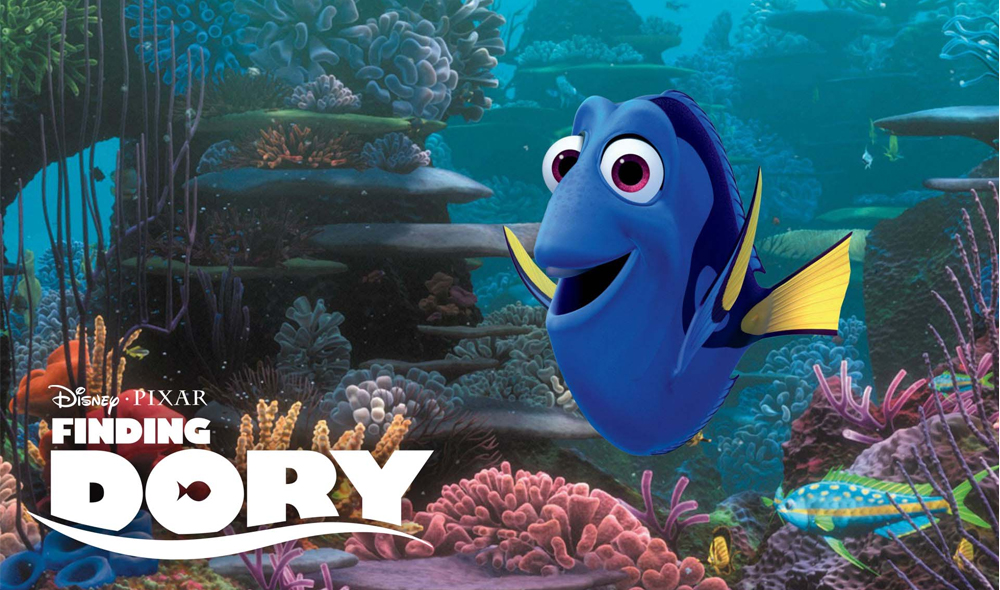 19 Jun

REVIEW – 'Finding Dory'

Given it has been 13 long years, it may be easy to forget the cultural impact Finding Nemo had on the zeitgeist of the early 2000s. Instantly adored, the film not only dominated the box-office (highest grossing animated film, at that point), but it stood (and still stands) as one of the best reviewed animated films there has ever been.

It's little wonder it has taken Pixar and Disney this long to deliver the sequel. Given their hit-and-miss history with sequels (Cars 2, anyone?), how do you possibly top such a cinematic triumph?

Thankfully, Finding Dory is another stellar achievement from the geniuses at Pixar, though perhaps not quite as triumphant as its predecessor or other films in their spectacular and enviable back-catalogue.

After a ridiculously adorable flashback sequence to her childhood (baby Dory is perhaps Pixar's cutest creation yet), Finding Dory picks up right after the happy ending of Finding Nemo. We find our favourite forgetful fish Dory (a sublime Ellen DeGeneres) living happily with Marlin (Albert Brooks) and Nemo (Hayden Rolence) until a memory of her lost parents (Diane Keaton and Eugene Levy) is triggered.

Convinced they are awaiting her return at a marine institute in California, the trio set off on a journey across the ocean to find them. If this all sounds far too familiar, relax. This journey is over in a matter of moments, and then the real adventure (and the real fun) can begin, as Dory sets about finding Mum and Dad.

Much like many of Pixar's previous films, Finding Dory really comes alive when we meet the impressive supporting cast of scene-stealing characters, all with various foibles and disabilities to match Dory's short-term memory issues, and all with a distinct set of abilities to help Dory on the quest to find her parents.

We get a gruff but lovable seven-legged octopus (voiced perfectly by Ed O'Neill), a short-sighted whale shark (Kaitlin Olson), a beluga whale (Ty Burrell) with a defective echo-locater, and a pair of passive aggressive seals (Idris Elba and Dominic West). Plus a deliciously executed cameo/running-gag involving Sigourney Weaver and a delightfully special bird named Becky that will both genuinely have you in stitches.

It's when these characters all combine that the film shines brightest, particularly in the climactic and ridiculously far-fetched car-chase (yes, car-chase) sequence that is one of the most thrilling and hilarious moments Pixar has given us thus far. You'll never be able to hear Louis Armstrong's "What a Wonderful World" the same again.

It shouldn't come as a surprise the film is also visually spectacular. The film's beautiful open-water sequences are equally matched by those within the aquarium, with its dazzling array of colourful marine life. Even if you can't find a 3D session, the film will truly burst to life like only a Pixar film can.

But if there is one thing Pixar does better than any other animation studio, it's emotional impact, and boy does this film back an emotional punch. From the familial flashback scenes of young Dory with her parents, as she desperately attempts to overcome her disability, to the inevitable "all hope seems lost" moment when Dory loses her way, there are tears (both happy and sad) aplenty.

And therein lies the film's crowning and incredibly moving achievement – Dory finding her way and finding herself. While the title may seem odd at first glance, given the plot actually involves Dory finding her parents, it is ultimately about Dory finding Dory, and in doing so, find who she really is, what she is capable of achieving, and why she is such an extraordinary little fish.

Much like Frozen and its message of what makes us difference makes us stronger, Finding Dory has the ability to empower children (and adults) of all ages to embrace their uniqueness, and take joy in the riches life can reward you when you simply believe in yourself. It this kind of deeper message that always set a Pixar film apart. There's plenty to keep the smallest of children entertained, but far more to be gained for those a little older.

While it may not deliver the freshness of Finding Nemo (always a difficult challenge for any sequel), it is still overflowing with warmth, laughs, and genuine charm, and stands tall as one of Pixar's greatest.

And be sure to stay for the credits, not just to hear Sia's gloriously appropriate cover of Nat King Cole's "Unforgettable," but for the delicious return of a few familiar faces.
★★★★