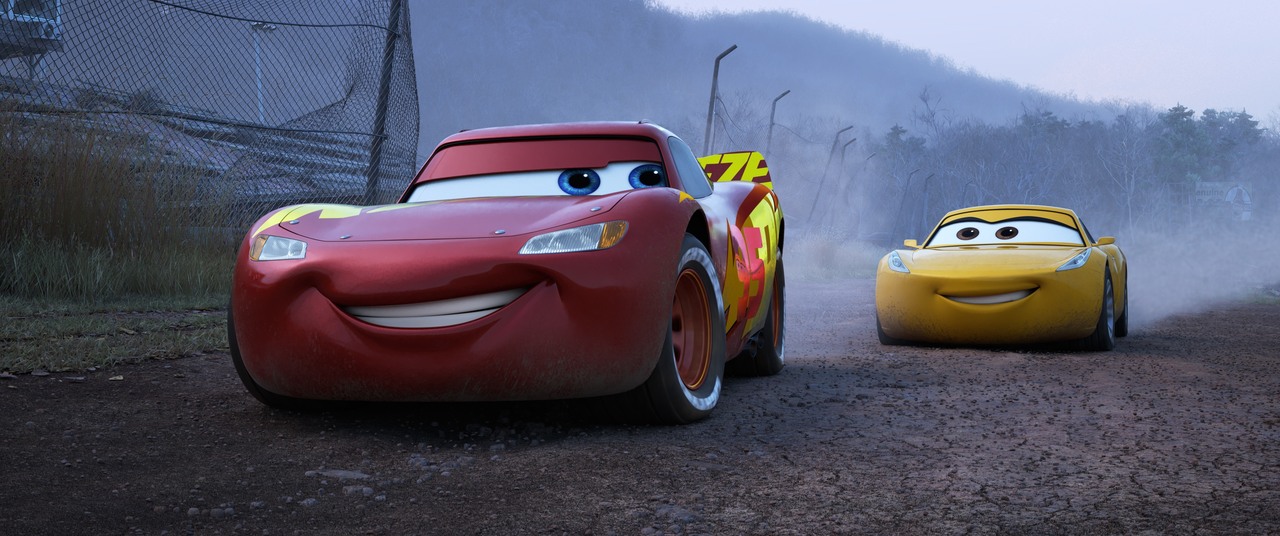 24 Jun

REVIEW – 'Cars 3'

Reviewing an animated film is always a tricky task for any film critic. As an adult, one must realise they are completely outside the target audience for this form of cinematic fare. Judging it with the same standards of more mature content is seemingly unfair. This film genre has essentially served to delight children since 1937, and really, that's an animated film's sole purpose. It's not exactly a hard task, and most animated films meet their purpose completely. Up until 1995 and the dawn of Pixar, most would agree with this notion, but Toy Story and the subsequent genius pantheon of Pixar classics redefined that.

With masterworks like the Toy Story trilogy, WALL·E, Finding Nemo, Up, and Inside Out, Pixar completely changed the animation game by delivering films that are two-toned. On one hand, they're colourful, entertaining and dazzling to a child, like most animated films before. But on the other, they deliver narratives with deep and powerful resonance, with sprinklings of intelligent adult humour and content that bypass children completely. By crafting such pieces of cinema, Pixar somehow managed to impress and entertain both parents and children alike with an artform once strictly reserved for the latter.

And then along came Cars, and its rather unnecessary and overbloated sequel, Cars 2. There were plenty of positives to be found in the original film, even if it didn't quite meet the lofty heights of its Pixar predecessors. It was charming and quaint, with some sharp commentary on global progress and the importance of "slowing down" every now and then. And, of course, the merchandise opportunities provided Disney with a goldmine of revenue, which they cannot be denounced for cashing in on. But the less said about the sequel, the better. It's the worst thing Pixar has ever done. That says it all really.

By being the best in the animation field, Pixar faces a serious problem every time they release a film; by consistently raising the bar for animated movies, they have the seemingly impossible task of meeting this high standard with each new film. Anything less than perfection seems a terrible failure.

So it is with extreme trepidation that one approaches the third chapter in a franchise no one outside of Disney's merchandise department ever expected. Or wanted. Or really asked for. But thankfully, Pixar have delivered the best film of the Cars franchise (which isn't exactly high praise), even if it never quite revs to the upper echelon of their sublime back catalogue. Allow us that one car-related pun, please.

Cars 3 finds our hero Lightning McQueen still at the top of his game, as he easily cruises to victory after victory in the Piston Cup. But, much like the theme of the first film taught us, you can't stop progress. Soon enough, a swarm of newer, faster rookies join his ranks, led by the brash, conceited Jackson Storm (a perfectly cast Armie Hammer), leaving Lightning relegated to the back of the pack. It seems he may be headed for the scrap yard earlier than he ever expected.

While desperately trying to match the speed of his new rival, a spectacular (and rather frightening for a children's movie) crash occurs, forcing Lightning to retreat back to Radiator Springs to lick his wounds. It's there he turns to his old pals Sally (Bonnie Hunt), Mater (Larry the Cable Guy), and the other assorted residents to help him through his midlife crisis of sorts.

A lifeline presents itself in the form of Sterling (a wasted Nathan Fillion), the businessman behind Lightning's major sponsor, Rust-eze. Sterling is a lifelong McQueen superfan and offers him the chance to utilise his cutting-edge training facility to get him back up to speed for one final race and one last chance to prove he's still got it. It's here he's assigned an energetic, ambitious personal trainer, Cruz Ramirez (a charming Cristela Alonzo) whose ideas on how to best prepare for the race (indoors with computers and machines) clash with Lightning's old-school methods (outdoors on the field).

It's here the film takes a decidedly deeper turn, as Lightning and Cruz head out on a voyage of self-discovery, teaching each other some deep life lessons. Lightning begins to see there could be something in bowing out gracefully, while at the same time, inspiring Cruz to see herself as more than just a trainer. For a franchise lacking an inspiration female character, it's pleasing to see the importance placed on Cruz as Lightning's potential successor – something which could provide interesting fodder should the franchise continue further.

It's the genius of Pixar that halts the third instalment from falling into the failure of Cars 2 and turns what could be a mindless blockbuster into something surprisingly touching. Witnessing Lightning's realisation the sun is setting on his career (even if he's not entirely ready for it to) is genuinely moving, and, in true Pixar style, it naturally draws to a conclusion to tug at the toughest of heartstrings. I also dare any adult not to choke up at the flashback sequences featuring Lightning's departed mentor Doc Hudson (Paul Newman, through previously recorded material), as you remember the animated character isn't the only one no longer with us.

In saying that, there's still lashing of entertainment for your children to enjoy on Lightning and Cruz's epic road trip, namely a fabulously-entertaining pit-stop at a demolition derby, presided over by the scene-stealing maniacal school bus Miss Fritter (Lea DeLaria, at her glorious OTT best). And, of course, the race sequences are wonderfully thrilling and intense, with superb animation and spectacle to delight the youngest of viewers.

The film is not without its flaws. First-time director Brian Fee lacks the finesse and style of his fellow Pixar luminaries, namely Andrew Stanton and Pete Docter. The animation and storyboarding is typically impressive but hardly groundbreaking or original. The screenplay suffers from some terribly lame dialogue ("Life's a beach and then you drive"), and its plot is wildly predictable and cliché. When you really break it down, the plot is essentially a rehash of the original, but if it ain't broke, don't fix it. Breaking away from the winning aspects of the first film were what destroyed the sequel, so the screenwriters cannot be derided for taking it back to what's already worked before.

As expected, Cars 3 cannot match the ingenious originality of many of its fellow Pixar classmates, but still manages to deliver enjoyable kid-friendly entertainment and a more emotionally mature experience than the two films preceding it. It's nowhere near Pixar's best, but it's far from their worst.
★★★☆☆