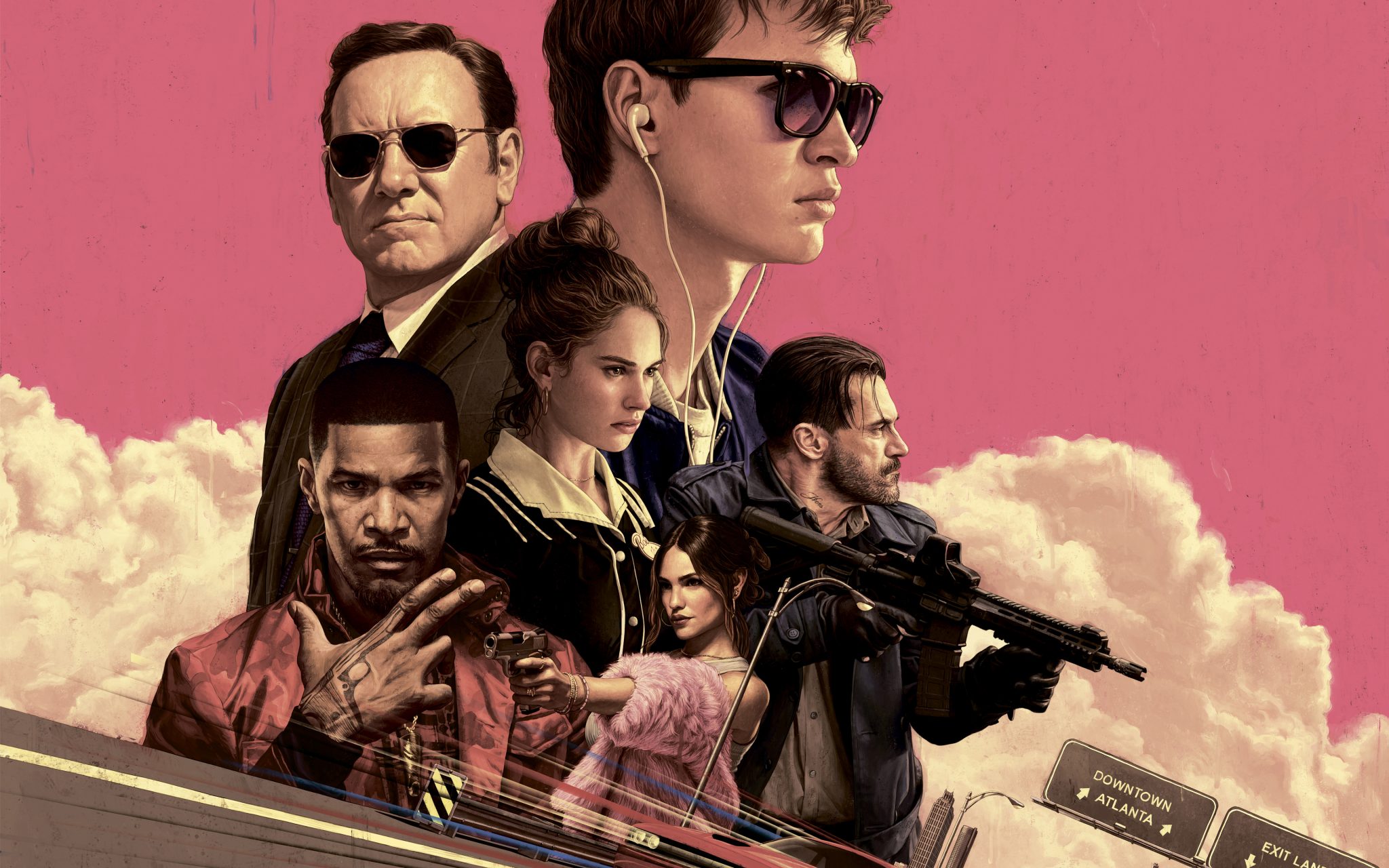 11 Jul

REVIEW – 'Baby Driver'

In a summer movie season crowded with franchise tentpoles (both wonderfully good and horrendously bad), an original piece of cinema often shines even brighter by sheer comparison alone. We jaded film-types love to bemoan about the death of original cinematic ideas in the 21st century. Baby Driver is the type of film which gives us hope.

Baby (Ansel Elgort, in a star-making turn) is our constantly-intriguing protagonist. As a child, he was involved in a horrific car accident which claimed his parents and left him suffering tinnitus aka a perpetual ringing in his ears. To drown out the noise, he constantly listens to music via an array of old-school iPods, featuring everything from Queen to T.Rex to The Damned, and even some Young MC. Witness writer-director Edgar Wright's genius way to infuse a dazzling soundtrack into his latest masterpiece.

As a young orphan delinquent, Baby is pulled into a life of disrepute by Doc (a wonderfully deadpan Kevin Spacey), a crime boss who utilises Baby's impeccable driving skills as the getaway driver for his elaborate robbery heists. It seems Baby has a debt to pay to Doc after unknowingly stealing from the crime lord, and driving is his payback. But he's only got one last job before he's free, and, of course, it's not going to be easy.

It's here we meet Doc's ragtag bunch of criminals who do the actual heisting part of the robberies. There's Bats (Jamie Foxx, back in fine form), the aggressive psychopath who can't seem to trust anyone else on the team, especially Baby. There's Griff (Jon Bernthal), the tattooed and menacing muscle guy. And there's our Bonnie and Clyde husband and wife pair, Darling (Eliza Gonzalez) and Buddy (Jon Hamm). Darling is a bad-ass, gun-loving femme fatale, while Buddy is a beguiling wise-guy with a mysterious white collar past.

Of course, this tale would be nothing without a little romance to complicate matters, plus provide some sweet and light contrast to the mayhem of the heist plot lines. That sweetness presents itself in the form of waitress Debora (an enchanting Lily James). Baby meets his beloved at the local diner his late mother once busted tables at, and the two begin a courtship straight out of something from old Hollywood.

They're both hopeless dreamers, desperate to drive off into the sunset and leave their dreary lives in the distance. And just like the greatest old Hollywood love stories, it doesn't take much for Debora to want to make the seemingly crazy choice to run away with a man she barely knows and accept the danger he unwittingly brings. But can Baby ever make a clean break from his unwanted life of crime? And will his new lady love be by his side?

Now all this sounds like very familiar storytelling, with many typical and familiar cinematic tropes that have been done to death. But never in the hands of such an intelligent filmmaker like Edgar Wright, who somehow makes this entire premise entirely fresh and unlike anything we've seen this year. It's a little bit Drive meets Reservoir Dogs or Pulp Fiction but interjected with a dash of La La Land's voracious musical sensibility.

Yes, I said La La Land. Baby Driver is as close as cinema gets to a movie musical without people actually breaking into song and dance numbers. The singing is replaced with the most glorious and perfectly executed soundtrack of 2017. The dancing is instead crafted with spectacular car chases that will plummet your jaw to the floor. It's easily the best physical stunt work we've seen on-screen since Mad Max: Fury Road.

Wright's masterful soundtrack choices could be given their own entire analysis piece. Each track co-exists with the action (or inaction) in the film with such precision and synchronicity that it's impossible not to be completely overtaken by what Wright and his editors, Jonathan Amos and Paul Machliss, have concocted. When film and music combine with such perfection and accuracy, it's the most remarkable cinematic triumph. And this is a triumph of new levels.

For all its action and delicious musical tones, it's the performances that elevate Baby Driver to the masterpiece it is. Elgort is captivating to watch, in an understated performance that gives him far more to work with than he's been given before. He doesn't get the snappy dialogue of his co-stars, so he has to work harder to push Baby further, and he absolutely nails it. Try not to fall in love with the sweetest leading character you'll see this year.

The supporting crew are all completely on fire too, in performances that leave nothing behind. Spacey is gloriously sly as Doc, somehow injecting lashing of emotions in an otherwise deadpan performance. Foxx is utterly sensational as the film's most insane and psychotic character. Foxx has always been an actor never shy of chewing the scenery. He devours it here, and then some. Gonzalez is a gorgeous bombshell you won't be able to take your eyes off, and I'd happily watch her in a spin-off tale any day.

But the real scene-stealer here is Jon Hamm, in a role that takes full advantage of everything an actor of his calibre can offer. Buddy is smarmy and selfish, demented and deranged, and ultimately, a genuine bad guy you'd never want to get on the wrong side of. Yet in the hands of Hamm, he's somehow completely charming and lovable, even when he becomes the film's main antagonist. It takes a truly gifted actor to accomplish such a feat, and Hamm is the man to do just that.

This masterful film delivers everything you could ever want. The screenplay fires with sharp dialogue and the most fantastic one-liners. The car chase sequences are exciting and exuberant, made all the more wondrous by Wright's deftly chosen soundtrack. And the performances are all truly phenomenal, led by a fantastic leading man in Ansel Elgort.

Baby Driver is the most exhilarating and original film so far this year, and my first five-star piece of cinema for 2017. An absolute must-see, and an absolute triumph from writer-director Edgar Wright.
★★★★★