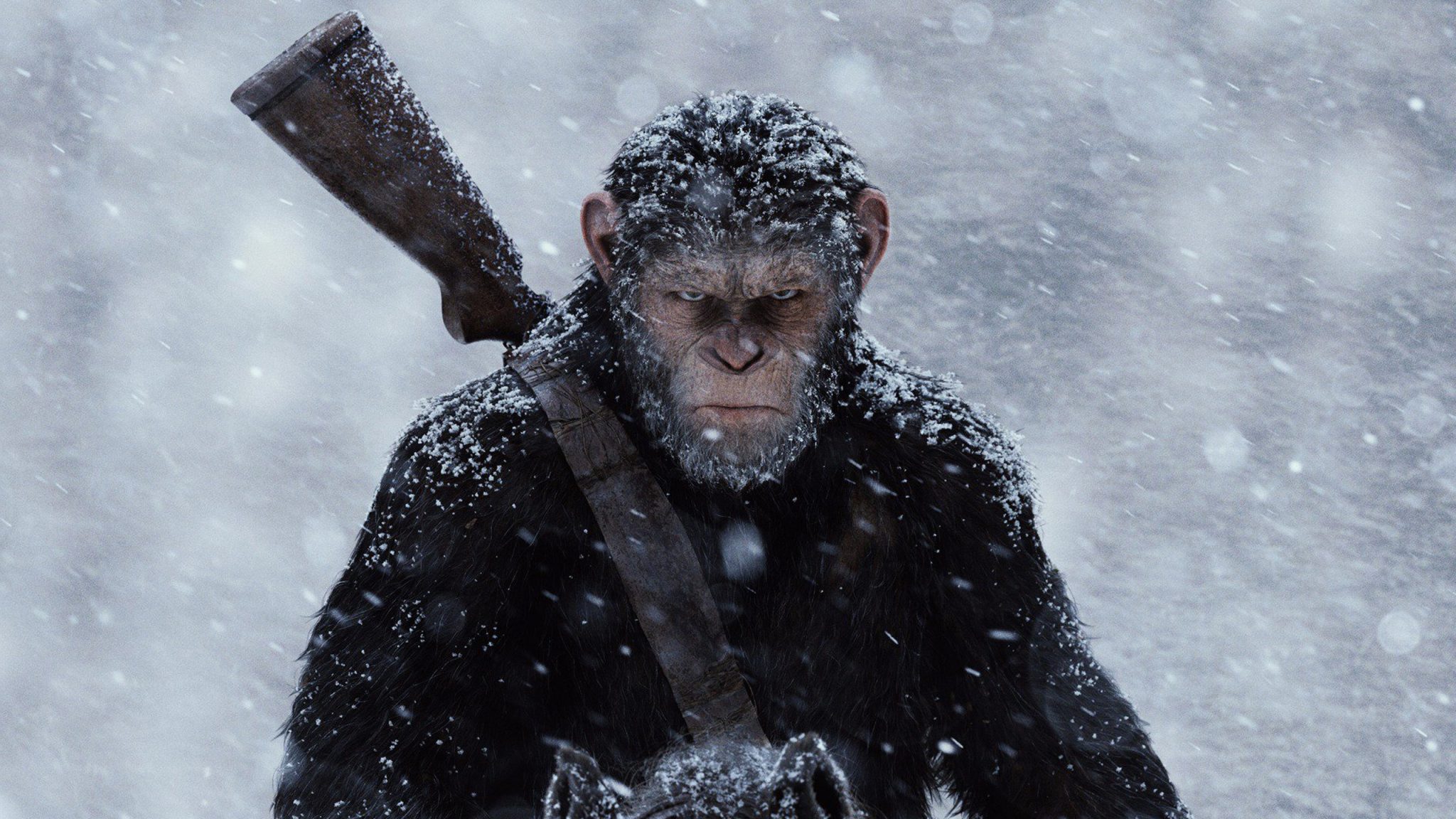 29 Jul

REVIEW – 'War for the Planet of the Apes'

In 2011, Rise of the Planet of the Apes surprised the hell out of us with its decidedly fresh reboot of the seemingly-dead Apes franchise. The film, a cautionary tale of what can happen when humans meddle with genetic engineering, was a genuine delight. It also featured one of the biggest goosebump-inducing cinematic moments of the year.

In 2014, Dawn of the Planet of the Apes expanded on those beginnings by rightly flipping the focus from the humans to the apes, ultimately delivering an incredible moving, wonderfully entertaining, and socially relevant piece of cinema. Who knew a film about monkeys versus humans could comment on the very serious topic of racial tension?

In 2017, War for the Planet of the Apes stands as the brilliant closing chapter to one of the most surprisingly wonderful trilogies of the 21st century. A trilogy cemented in cinema history largely due to the masterful motion-capture performance of Andy Serkis, who is now disgracefully overdue for some form of Academy recognition.

As War for the Planet of the Apes begins, we learn the Simian Flu has all but decimated the human population. Ape-leader Caesar (Serkis) and his group of advanced primates are in hiding, deep in the California forestland. Despite the film's title, they are not after war. In fact, Caesar is desperate to avoid further conflict with the remaining humans, after seeing the damage and carnage caused by his predecessor Koba and his insatiable lust for domination.

But war comes a-knocking in the form of an intense and explosive ambush by a group of American soldiers against an ape station on the outskirts of Caesar's secret base. This sequence feels like something straight out of Apocalypse Now (not the first time this film will be referenced), with both groups experiencing terrible casualties. Granting mercy to the surviving human soldiers, Caesar sends them back to their leader, The Colonel (Woody Harrelson), alive, as a peace offering and a clear message – leave us alone and we'll leave you alone.

The Colonel is a bloody-thirsty psychopath, and Caesar's olive branch fails. After some ape-on-ape betrayal leads him to their hidden lair, The Colonel launches a brutal (although quite visually stunning) attack on the compound, which has heartbreaking consequences for Caesar. Coming to terms with his insuppressible newfound emotion of vengeance, he sets off on a mission for revenge to put an end to this war, once and for all.

Joining Caesar on his (potentially suicidal) quest to find The Colonel's camp are his group of trusty companions – the calm and wise orangutan, Maurice (Karin Konoval), his loyal chimpanzee lieutenant, Rocket (Terry Notary), and his strong gorilla bodyguard, Luca (Michael Adamthwaite). Along their journey, they're also joined by an elderly and dotty chimp known as "Bad Ape" (Steve Zahn, providing the film's much needed humour and levity) and an adorably-mute orphan girl (Amiah Miller), who Maurice adopts and nicknames Nova.

In this middle act of the film, we're treated to a somewhat mash-up of genres, part road trip movie, part modern-day Western – both of which work wonderfully well. There's something about a group of heroes marching their way to defeat an evil overlord that just feels like something straight out of a classic Clint Eastwood or John Wayne Western epic, even if those heroes are monkeys. That's the power of this film's visual effects. They never really feel like apes. They just feel like our empathetic protagonists.

Once Caesar discovers The Colonel's lair, the film flips genres once again and begins to feel more like a gripping POW camp drama/prison escape thriller. You see, The Colonel has enslaved Caesar's people, including his young son, Cornelius, and is using them for slave labour in his cruel concentration camp. Desperate to save his fellow primates, and deliver revenge to the man responsible for their suffering, the war will now truly begin.

It should come as no surprise to hear War of the Planet of the Apes is a visually stunning masterpiece, notably due to the film's incredible motion-capture creatures. The Apes trilogy has showcased how far this form of visual technology has come, in just a few short years, even if the Academy has shamefully failed to award the first two films with a Visual Effects prize. The dazzling array of primate creatures once again outshine the human characters, with an astonishing display of emotional performances throughout. It's remarkable to consider a creature created in a computer to be a fully formed and complex character, but it's the truth. And that radiates from those underneath the CGI-created skins, particularly Andy Serkis.

Yet again, Serkis shows why he's the master of this form of performance. He instills such humanity (how ironic) into Caesar, with startling levels of emotional depth and genuine heart. Even with the digital wizardry being applied, Serkis' voice, facial expressions and body language are what make Caesar so captivating to watch. After two previous outings, Serkis knows this character inside out, and it shows. Even so, he brings new heights with this performance, and in a career of remarkable motion-capture performances, he sets a new standard here. If this is indeed his last ape outing, he's leaving on an absolute high.

Surrounding Caesar is a wonderful group of supporting players. Konoval threatens to steal the whole show with the lovable orangutan Maurice. His kind and gentle soul has always been beautiful to enjoy, and it shines to new levels here, especially with his paternal interactions with Nova. But it's Bad Ape who really steals the show, with Steve Zahn delivering a wonderfully memorable and genuinely charming performance. In a film with such dark subject matter, comic relief is necessary, but Zahn elevates the character to something more than just laughs.

Woody Harrelson is typically impressive as the villain of the piece. The Colonel is menacing and psychotic, and Harrelson's intensity is gripping to watch. With liberal doses of inspiration from Colonel Kurtz from Apocalypse Now, it's a gloriously horrible performance to behold. But to Harrelson's credit, he does find some humanity within the character, with clear and somewhat noble intentions, given the madness of the world surrounding him.

While this is an acting triumph, credit needs to be given to those behind the camera as well. Director and co-writer Matt Reeves crafts the film with impressive flair and his screenplay, co-written with Mark Bomback, weaves an emotionally deep and gripping storyline that examines the very fundamentals of humanity and what it is that makes one human. Michael Seresin delivers some of the year's best cinematography, with intoxicating nature photography that is utterly spectacular to watch. For all its grandeur, it's the film's visual imagery that may be what remains with you long after the credits roll, particularly wheb the action moves into snow-covered terrain. Composer Michael Giacchino crafts another phenomenal blockbuster score that perfectly blends with the film's ever-changing genres, with lashings of everything we love about great war film scores and even some delicious Western-inspired nods. It may just be his career best work.

Much like the previous chapters in this trilogy, War of the Planet of the Apes shines brightest by its analogies to what we face in our modern existence. For a film with such a seemingly ridiculous storyline, there's a real sense of grounded reality to this film. Would we humans not react with fear and violence if this were to actually happen? Would humans not desperately attempt to save what's left and eliminate anything around us that poses a threat? And on the flip-side, if someone attacked our home and our kin, would we also not seek vengeance and retribution against those who committed the attack? That's why this film, and the entire trilogy, works so wonderfully well. It's relatable. It's affecting. And it's deeply moving. For a film about a bunch of talking apes, that's a triumph, in itself.

But above all things, War for the Planet of the Apes is enormously entertaining. For all its beautifully quiet moments, it still has the bombastic action sequences a summer blockbuster requires, particularly in the film's impressive final act. This all leads to an enormously emotional and wonderfully satisfying conclusion to a remarkable trilogy no one ever expected. But it's a trilogy we needed. Something that clicks from start to finish. And in a cinematic world where sequels are often afterthoughts, rather than a fully-formed vision, it's been decidedly refreshing to witness something with such a clear journey in mind.

War of the Planet of the Apes is an unforgettable cinematic experience, and one that will continue to affect an audience for days to come. If we say farewell to this franchise for good, it's been one bloody wonderful ride. Hail, Caesar!
★★★★1/2☆