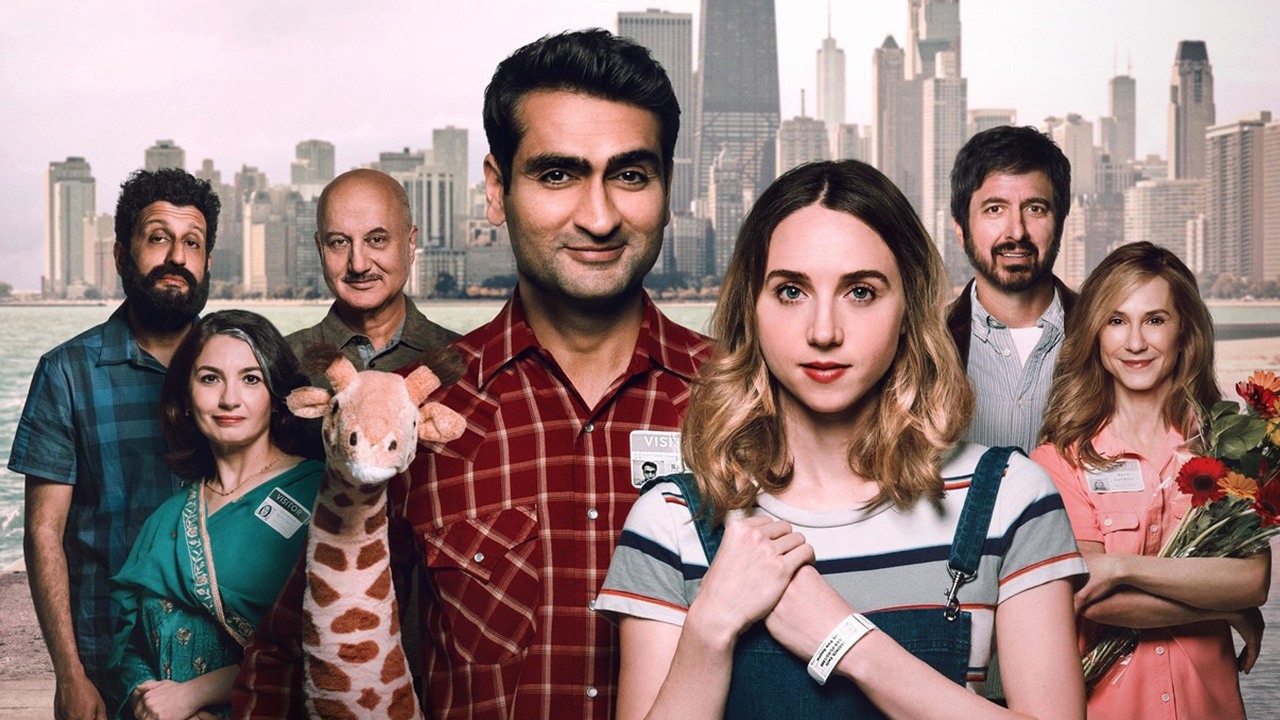 07 Aug

REVIEW – 'The Big Sick'

They say truth is stranger than fiction, and the truth makes for the wonderfully strange yet completely captivating tale found in The Big Sick. This charming and often-black romantic comedy is loosely based on the true story of how star and co-writer Kumail Nanjiani fell in love with his then-girlfriend, now-wife, co-writer Emily V. Gordon, while she was fighting for life in a coma.

Comedian and perennial Silicon Valley scene-stealer Nanjiani finally gets the chance to step into the lead, even if that means playing a character which is essentially himself. But he's surrounded himself with an utterly endearing host of supporting characters which elevates The Big Sick from a cliché, sappy boy-meets-girl comedy into one of the most relevant and timely films of the year. And, frankly, one of the best things you'll see on-screen in 2017.

We first meet stand-up comic/Uber driver Kumail on-stage, as he performs his routine about the cultural differences between his early life growing up in Pakistan and his current life in America. Kumail and his fellow comic friends CJ (Bo Burnham), Mary (a sadly underused Andy Bryant), and Chris (Kurt Braunohler) are all attempting to impress talent scout Bob Dalavan (Jeremy Shamos), who is on the lookout for new talent for a comedy show in Montreal.

During his routine, Kumail is politely heckled by an audience member, Emily Gardner (the luminous Zoe Kazan), and, after some adorable post-show flirtation, the two end up having a slightly awkward one-night stand. Despite both their semi-serious protestations, that one-night stand quickly develops into something much more serious, as their delightful courtship blossoms into a full-blown relationship. There's just one major problem – Kumail's strict Muslim family.

Kumail's parents, Azmat (Anupam Kher) and Sharmeen (Zenobia Shroff), are desperate for him to abandon his silly dreams of stand-up comedy, and instead become a lawyer and settle down with a nice Pakistani (and, obviously, Muslim) woman. Not quite going as far as to force an arranged marriage on Kumail, his mother instead invites a new eligible female suitor to "drop in" on their weekly family dinners. He's even given a handy photo of each prospective bride to keep, which he quickly discards in a cigar box in his apartment…you can see where this is heading, right?

As his relationship with Emily grows, Kumail is terribly torn. Revealing the truth of dating a white girl to his parents will mean exile from the family – a consequence faced by a member of his extended family. Despite his feelings for Emily, it's not a chance he's willing to take. That blows up in his face when Emily discovers his stash of photos and learns the truth about their lack of a serious future together. Naturally, she never wants to see Kumail again.

Now this is the part where a typical film of this genre would set down the well-worn path of boy-loses-girl, boy-chases-girl romantic comedy, while throwing in the brown boy/white girl cultural catastrophes along the way. But The Big Sick takes a dramatic turn for the darker when Emily suddenly contracts a debilitating mystery illness and is placed into a medically-induced coma. It's here her parents, Beth (a magnificent Holly Hunter) and Terry (Ray Romano), arrive in the story to take care of their ailing daughter.

Unlike Kumail's parents, Emily's mother and father are well aware of their daughter's failed relationship, and they are immediately standoffish to the man who broke their little girl's heart. But Kumail is committed to atone for his past failings, and remains steadfast in his determination to be there for Emily. It's here the film really comes alive, as the trio form a uneasy and complicated friendship, as the battle to save Emily takes shape.

As with any romantic comedy, one of the determining factors for success is the screenplay. The genre has fallen on tough times lately, with an abundance of overly-sweet tales on one side and crude, gross-out failures on the other. It takes something like The Big Sick to save the genre, with its witty, intelligent and downright endearing screenplay that consistently resists the urge to fall into clichés. There's an innate honesty to Ninjiani and Gordon's writing that never shies away from the harsh realities of cultural differences that still exist in our seemingly-modern world. And they offer no easy answers to their characters problems either. Life is tough, especially in times of conflict with familial obligation, and cinematic life should reflect that too.

But it's the comedy in their writing that really sets this film apart. Daring to make light of usually untouchable topics like terrorism, 9/11 and ISIS, The Big Sick consistently captures awkward but entirely earned laughter from its audience, which is a masterstroke of screenwriting. Even something as decidedly dark as how one unlocks an unconscious woman's iPhone becomes comedy gold in the hands of this genius writing duo. It's this form of authentic comedy that is so lacking from the myriad of other "comedy" films these days. Situational, realistic comedy will always win over the outrageous and absurd.

At the core of that comedy is Kumail Nanjiani, and his performance here is a genuine revelation. While it's easy to dismiss a based-on-real-life role like this, he is ultimately delivering us a fictional character. In his capable hands, Ninjiani instils Kumail with utter authenticity and true heart that is genuinely charming to witness. Yes, he brings the comedy, but along with it, Ninjiani delivers an emotional depth that's rare for something of this genre, particularly in an actor's first leading role. And just like Emily, his self-deprecating humour and deep sincerity will have you rooting for him from the opening frame.

Surrounding Ninjiani is a glorious ensemble cast featuring a cavalcade of wonderful supporting characters, who all feel as equally authentic and engaging as Kumail. Zoe Kazan is so completely dazzling in her early scenes as Emily that her character miraculously remains omnipresent in the film's second act, despite Emily only physically appearing as a lifeless body, lying in a coma. Emily's plight is obviously a key factor to the latter part of the screenplay, and it's Kazan's initial performance that makes the audience genuinely care for her survival. Her chemistry with Ninjiani is also wonderfully electric, and their romance is a true joy to behold because of that connection between the two actors.

Ultimately, the true stars and scene-stealers of The Big Sick are Emily's parents, Beth and Terry. Holly Hunter and Ray Romano are both worthy of genuine awards consideration, come Oscar season. Each delivers a wonderfully layered performance, constantly blurring the line between comedy and drama. Beth is the fiercely defensive matriarch of the family, and her fear and frustration at her daughter's illness is gutwrenchingly genuine. Beth may have a tough exterior, particularly in her early interactions with Kumail, but Hunter slowly peels away her layers to reveal the true heart found within, and her performance is a true force of nature.

Romano surprises with an unusually dramatic role, even with the underlying humour Terry consistently falls back on to hide his fear and anxiety. There's a deep, underlying pain to this character, and like Hunter, Romano rightly takes his time to unveil the origins of that unrelenting torment. Despite their ongoing marital issues, it's the unconditional love for their daughter that binds Beth and Terry together, and the common ground that inevitably bonds them to Kumail as well. The trio work enormously well together, especially when they leave the confines of the hospital, and its this kind of casting perfection that make this such a sublime piece of cinema.

The Big Sick hits all the right notes at all the right times. It's funny and silly when it needs to be. It's romantic and cute at the right moments. And it sprinkles the drama and realism throughout. By highlighting the cultural divide we'd all like to pretend no longer exists, it also manages to deftly (and humourously) comment on serious racial issues in a post-9/11 world.

While its running time could have done with some trimming, and Kumail's comedian sidekick friends are somewhat undeveloped, it's a minor issue in such a remarkable film. The Big Sick is a perfect example of how difficult love can be, but why it's always worth fighting for.
★★★★1/2☆