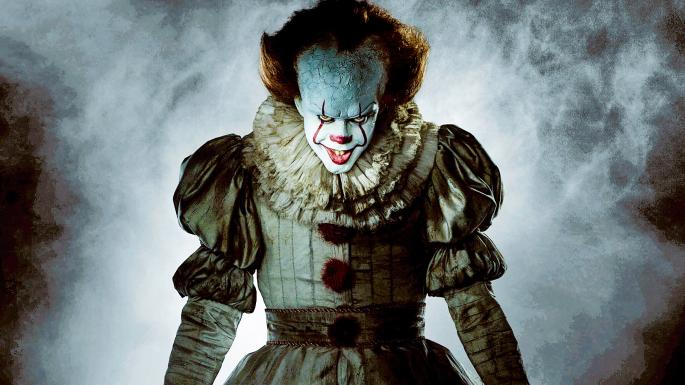 07 Sep

REVIEW – 'It'

If you saw my article from a few days ago (click here, if you didn't), you'll know of my crippling coulrophobia, courtesy of the 1990 It miniseries. Sitting through this new big-screen adaptation may be the most difficult and uncomfortable cinema experience I've had since Transformers: The Last Knight. But, as a dedicated film critic, I got through it. Only just.

I'm going to attempt to leave the personal reaction I had to this film (the screaming, the shaking, the nausea) out of this review, and focus on how it stands as a piece of cinema. Pennywise could have sat on a chair, doing nothing but read the newspaper for two hours, and I would have been terrified, so let's be a tad more objective.

Last year, Netflix brought 80s nostalgia back into vogue with their brilliant Stranger Things, which borrowed heavily from classic horror works, including that of Stephen King. Geeky misfit kids taking it upon themselves to battle an epic evil monster, after the foolish adults refuse to acknowledge its existence. It's no stretch to say Stranger Things exists in a very similar world to that found in King's novel It, minus the 80s clothes, music, and popculture references.

Whether deliberate or not, director Andy Muschietti wisely taps into this nostalgia trend by setting his terrific film adaptation of It in the late 1980s, as opposed to the 1950s setting found in the novel. Throwing in lashings of Stand By Me and The Goonies vibes, mixed with delicious references from Batman to Michael Jackson to New Kids on the Block, makes this version a glorious throwback that also happens to be downright terrifying.

It opens on a miserably rainy day in the quaint town of Derry, Maine. Bill Denbrough (Jaeden Lieberher), our stuttering 12 year-old protagonist, is sick in bed. Little brother Georgie (the ridiculously adorable Jackson Robert Scott) is desperate to get outside and play with the paper sailboat Bill has constructed for him. After a quick sealing of wax to ensure it will float, Georgie heads off to glide the boat along the streams of water gushing along the street gutters. We all know where this is heading, right?

The boat gets away from poor Georgie, and sails away down a drain. His paper boat seems all but lost, until the sudden emergence of Pennywise the Dancing Clown (a wonderful Bill Skarsgård) from beneath the drain grate. Sweet-talking Georgie further towards the drain with promises of popcorn, balloons, and the return of his treasured sailboat, Pennywise reveals his true nature, in a scene that is genuinely upsetting and horribly gruesome. This ain't the made-for-TV PG version.

Months later, Bill is struggling with guilt over his role in his brother's disappearance, while still desperately holding out hopes Georgie is somehow still alive. It seems he was just one of a wave of kids who have gone missing in Derry. The town is plastered with missing child posters. There's a 7pm curfew in place. Something is amiss. Determined to investigate, and hopefully locate his brother, Bill enlists the help of his three best friends, Richie (a scene-stealing Finn Wolfhard), a wisecracking know-it-all, Stanley (Wyatt Oleff), an uptight Jewish kid, and Eddie (Jack Dylan Grazer), an asthma-suffering hypochondriac.

Affectionately calling themselves the "Losers' Club," their group soon grows with the inclusion of Mike (Chosen Jacobs), a relentlessly bullied home-schooled black kid, Ben (Jeremy Ray Taylor), a chubby and shy bookworm, and Beverly (Sophia Lillis), a bold and confident tomboy with a horrible home life, thanks to the unsavory advances from her deadbeat Dad (Stephen Bogaert).

One by one, Pennywise begins to appear and torment each member of the Club, in a particular disguise that plays on their worst fears. Praying on their weaknesses, he manipulates and toys with their emotions, eventually transforming back to his true form as the murderous clown. Soon enough, the Losers' Club come to realise they are all suffering the same torture by the same entity, and band together to destroy him for good. But Pennywise has been tormenting the townspeople of Derry for generations (every 27 years, to be exact), and he's not going away easily.

Deciding to leave the adult versions of the Losers' Club characters (the novel narrative flips constantly between past and present) for a potential sequel, and instead solely focus on their encounters with Pennywise in their youth was risky. Casting these young characters was one of the most crucial elements to whether this reworking could really succeed. Casting director Rich Delia succeeds flawlessly.

Every single young actor is perfectly cast as their characters, and they work wonderfully well together. It's the kind of ensemble work you expect to see from a cast of adult actors, so it's incredibly impressive to see such an ensemble piece from relative amateur performers. Each child gets a satisfying character arc, with moments to step into focus, and they each do a spectacular job. They're all extremely likeable, in their own unique way, and it's impossible not to feel empathy for each of them, as they suffer relentlessly at the hands of Pennywise. The development of their strongly bonded friendship is so engaging to watch, it could just have easily worked as a simple and sweet coming-of-age movie, instead of the horrifying thriller it is.

It seems remiss to even pick a stand-out performer, as they all are effective in their individual performances. But if there are stand-outs, it has to be Lieberher and Lillis as Bill and Beverly. Lieberher gives Bill such depth and deep despair, particularly in the film's climax, and his genuine grief at his brother's untimely death is powerful to watch. Lillis somehow manages to play Beverly as both extremely tough and terribly vulnerable, which is something even the most experienced of actors struggle with. Their burgeoning romance is also wonderfully touching and convincing.

After his star-making turn in Stranger Things, it's no surprise Wolfhard steals the whole damn movie as smart-alec Richie. He gets the film's best lines, and brings some much-needed levity and humour to such a dark piece of cinema. Wolfhard clearly has great comic timing, and Muschietti utilises it at all the right moments to great effect. Richie, whose greatest fear just so happens to be clowns, also gets one of the film's most intense moments (a room full of those that he fears including a delicious cameo from a familiar face), and Wolfhard manages fear as expertly as he manages comedy.

But we're all here for Pennywise, right? Tim Curry's original portrayal is embedded in the popculture of the horror genre. It's the one element of the miniseries that still holds up today (go back and shudder at how cheesy the production actually was, in retrospect). It was always going to be a difficult task for anyone to step into this role, but Skarsgård gives it his all, and delivers a wonderful interpretation of the killer clown.

His high-pitched voice and dialogue delivery are creepy and unsettling, and his physical presence is incredibly commanding. Muschietti wisely uses Pennywise quite sparingly, at least until the film's climax, which makes his appearances that much more unnerving and frightening. Pennywise is ultimately at his most horrifying when he's hiding in the periphery of vision, particularly in one appearance where he smiles from the bushes, while excitably waving a bloody, disembodied arm. That's the stuff of true nightmares.

Muschietti's direction is as equally impressive as the performances he enacts. The film's overall look is strikingly beautiful, with some masterful production design from Claude Paré and gorgeous cinematography from Chung-hoon Chung. Muschietti manages to pull back on excessively using CGI to create Pennywise's many forms. Naturally it's used (particularly on his teeth-filled mouth), but it never feels too heavy-handed, and blends perfectly with Skarsgård's physical work to create some truly dazzling visual sequences.

The film is not without its flaws. It runs a little longer than a film of this genre should, and the scenes often fail to properly flow into each other. Much like Scream, the film's opening sequence is ultimately far more terrifying than its epic climax, which frankly gets a little ridiculous and over-the-top. Muschietti hammers the 80s nostalgia a little too heavily at times, with some 80s pop songs used in some jarringly bizarre ways.

But those are minor quibbles in what is a truly entertaining and genuinely terrifying piece of horror cinema. With its MA15+ rating (R, for US readers) up its sleeve, it never shies away from the intensity a film of this nature should deliver. Plenty of gore. Plenty of blood. A sprinkling of naughty language. The precise level of extremities horror fan truly ache for.

It dances the line perfectly between sweet coming-of-age sentimentality and fear-inducing horrific nightmare. The awkwardness of facing prepubescence mixes so wonderfully with the dread of facing a tangible enemy, and that can only come from the brilliance that is Stephen King's writing. It is as chilling as it is engaging, and I cannot wait to pick this all up again in Chapter Two.
★★★★☆