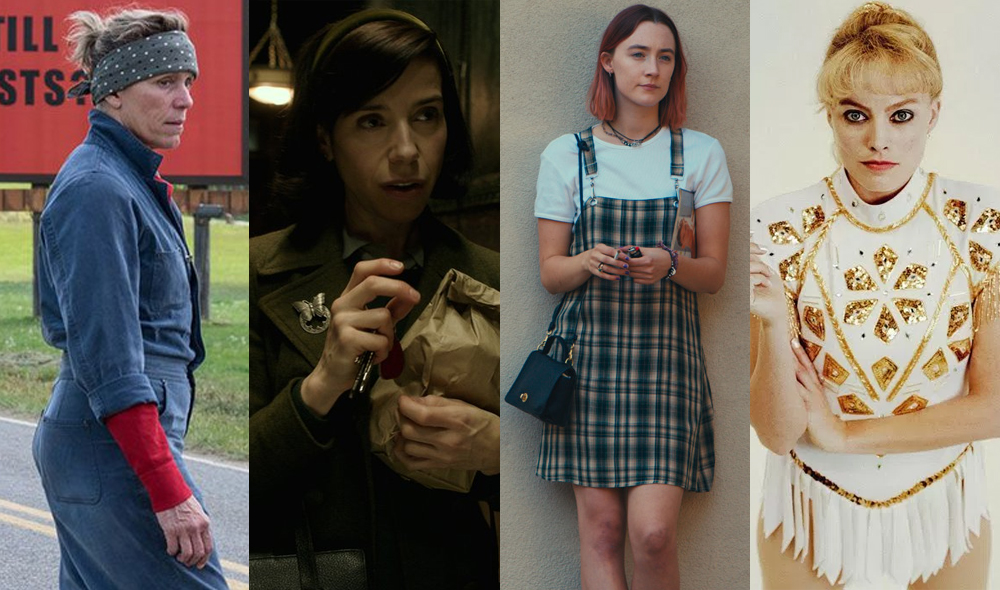 20 Nov

OSCARS WEEKLY – How the Best Actress race may save Hollywood this year

It's been a rough few months for Hollywood. Not that anyone involved with the shameful sexual misconduct scandals deserve any sympathy. This has been a long time coming, and we're entering a new age of empowerment for women in the industry. With so much miserable news related to the disgusting and disgraceful treatment many women have been subjected to, the Oscar race could not come soon enough to shine the light on their most powerful asset – their work.

There's always one category at the Academy Awards that finds itself overloaded with contenders. In recent times, that's often fallen to the Best Actor/Supporting Actor races, with men consistently being given the meatier, Oscar-bait performances. Those male performances also generally come from the Best Picture contenders. We have to travel all the way back to 2008 to find a Best Picture winner, Slumdog Millionaire, without a male acting nominee. On the flip side, the last time a female-centric film took out Best Picture was 2004's Million Dollar Baby. But 2017 could be a defining moment for women, and we only need look at the Best Actress category to realise this.

It's late November, and, much like practically every category, we are without a frontrunner for Best Actress. But don't read that as a sign of failing to find a potential winner. It's more a case of having so much of an overload of deserving female performances, we Oscar prognosticators can't seem to pick just one to take it home, let alone the five who deserve to nab the nominations.

If we have to choose a leader for now, it's most likely former-winner Frances McDormand in Three Billboards Outside Ebbing, Missouri (I'm going to get sick of writing that bloody long title). As the mother of a murdered daughter, McDormand commands your attention, as she turns her grief into furious vengeance and anger. For an actress with an impeccable record, both in film and television, this could be her best effort yet. But she's a notorious non-campaigner, and we know that's an issue in 2017. Sometimes the performance can be enough, but in a competitive year, it could be difficult for her to sit back and still expect to win.

Nipping closely at her heels is the perennially-underrated Sally Hawkins for her mute performance in The Shape of Water. This one is firming as a Best Picture favourite, and could be the dark-horse to steal the whole Oscar race this year. If so, it will likely drag Hawkins along with it. The Academy has a history of fawning for silent performances (Holly Hunter, Jean Dujardin, Patty Duke), and, unlike McDormand, she will campaign the hell out of this. She's the one to really keep an eye on.

With already impressive box-office results on limited release, and rave reviews across the board, Lady Bird is also firming as a dark-horse to watch. Two-time nominee Saoirse Ronan finds herself again in Oscar conversation, after coming achingly-close to winning two years ago for Brooklyn. At such a young age, Ronan already feels almost overdue, and she has marked herself as one of the most exciting young talents in the industry. The Oscars love to reward young actresses, with three of the past five winners (Emma Stone, Brie Larson, and Jennifer Lawrence) all being under 30. It could happen again.

Of course, we always have a first-time contender, and this year it's Margot Robbie in I, Tonya. After dazzling in her first major film, The Wolf of Wall Street (should have been nominated), Robbie has quickly become one of the most popular actresses in Hollywood. Like a lot of beautiful stars, she's had to "ugly" it up to be taken seriously, as she disappears beneath make-up and costuming to become the infamous ice-skater, Tonya Harding. It feels very reminiscent of Charlize Theron's Oscar-winning role in Monster, and the kind of "transformative" performance the Oscars love to reward.

And then there's Queen Meryl Streep, chasing her 21st Oscar nomination. Spielberg is unveiling The Post for its first screening today (to say I'm dying of jealousy is putting it mildly), so we'll soon know how much of a contender it really is. Regardless of the film's chances elsewhere, it's a safe bet to assume Streep will nab one of the five Actress spots. The trailer reveals this is really her film, and if she does shine, she could be looking at equally Katharine Hepburn's record of four Oscar wins.

So that's our five nominees, right? Nope. We're forgetting at least another dozen remarkable female performances any other year would be a shoe-in for a nomination. The biggest being Jessica Chastain in Molly's Game, the directorial-debut of Oscar-winning screenwriter Aaron Sorkin. While the film may be lacking buzz, her performance is hitting all the right notes. And after being overlooked in recent years (Miss Sloane, anyone?), and that shameful loss in 2012 for Zero Dark Thirty, she has all the right elements to finally snatch her first Oscar.

And then we have a whole slew of previous winners, who normally only have to sneeze to be nominated – Judi Dench (Victoria & Abdul), Emma Stone (Battle of the Sexes), Kate Winslet (Wonder Wheel), Jennifer Lawrence (mother!), and Nicole Kidman (The Beguiled). And then there's poor Annette Bening, who after four losses is beyond overdue. Her contender Films Stars Don't Die in Liverpool has all the hallmarks the Academy loves, but with such a stacked year, she's likely to be snubbed.

Of course, we have to have a wild card, and that could very well be Gal Gadot in Wonder Woman. Yes, it sounds utterly far-fetched, given the competition, but never say never. Gadot gets two performances as the one character this year, and she's easily the best thing about Justice League. She will campaign like crazy for the film, and it's hard not to be captivated by her. She could steal a Golden Globe spot, and I wouldn't be surprised to see her snag a SAG nomination too. Don't underestimate the power of Wonder Woman, folks.

It would be remiss of me not to also mention the one performance I'd truly love to see nominated – Brooklynn Prince for The Florida Project. The Academy often likes to highlight child performances, especially ones from Best Picture contenders, and Prince is the true star of this film. She's sublime to watch, and her naive charm is utterly infectious. Let's be honest – she should be nominated for the film's final scene alone. Make it happen, Academy.

In a time of such negative press around the treatment of women in Hollywood, the chance to showcase the performances they deliver could be the highlight of this year's Academy Awards. The fact we could very well see at least four of the five nominees for Best Actress coming from films also nominated for Best Picture is a narrative we haven't seen in years. Last year, we had one. Two years ago, we had two. The year before that, one again. It rarely happens that female-centric films find themselves as Best Picture nominees. It's embarrassing and ridiculous, but this year, it's not happening.

This year, women are at the forefront of the Oscar race. This year, women are the stars. We've seen time and time again the incredible box-office results female-led films can deliver. And not just the mainstream fare like Wonder Woman, Beauty and the Beast and Girls Trip. Independent cinema has always been a place for actresses to shine, and audiences are taking notice. These are the stories and performances they want to see, and the Academy needs to highlight that.

Besides the actresses, we also have stellar work from women behind the camera as well. Greta Gerwig could sneak in for Best Director for Lady Bird. Likewise with Patty Jenkins for Wonder Woman or Dee Rees for Mudbound. Rachel Morrison's brilliant work on Mudbound could make her the first female to be nominated for Best Cinematography. Emily V. Gordon could nab a Best Screenplay nomination for The Big Sick. Likewise with Sophia Coppola for The Beguiled. It's a treasure trove of amazing work by women this year.

The race for Best Actress has always been a place to highlight the power and importance of women in film. Given the current climate, the state of the film industry, and its reputation with the general public, the chance to shine that spotlight seems more important than ever before. The narrative of the Oscars is generally focused on applauding cinema as a whole. The narrative of this year's Oscars must be about applauding women in cinema. They've given us the very best performances this year. It's time to showcase and celebrate that.

To call this year's Best Actress race "crowded" is an understatement. The Academy will be spoilt for choice when it comes to picking only five women to nominate this year. It's an embarrassment of riches that represents the evolution of award-worthy cinema led by female performances. This needs to become the status quo. We need to find ourselves in this "predicament" every single year. We need to have this depth of potential nominees from female performances every awards season.

Women in film – we are about to salute you like never before.