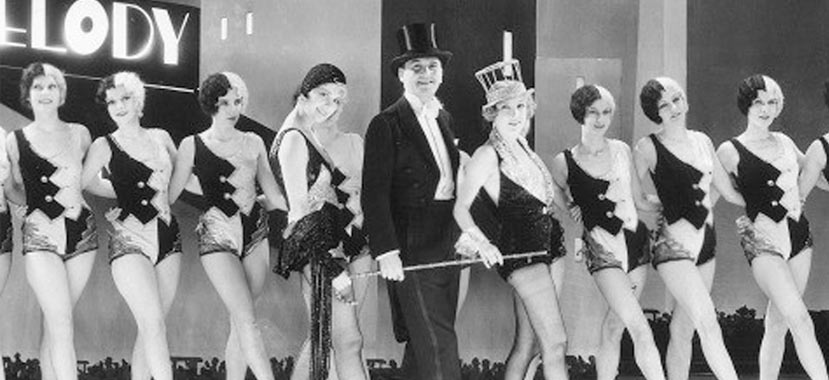 06 Dec

THE BEST PICTURE PROJECT – 'The Broadway Melody' (1929)

In 1930, the second Academy ceremony was held at The Ambassador Hotel in Los Angeles. Honouring the films released between August 1, 1928 and July 31, 1929, the awards took place on April 3, a full eight months after the end of the eligibility period. Hosted by William C. DeMille, the event was the first to be broadcast by radio, and, unlike the previous year, the winners were not announced until the ceremony. It also holds the distinction as being the first and only Oscars ceremony in which no film won more than one award.

The nominees:
Alibi
The Broadway Melody
The Hollywood Revue of 1929
In Old Arizona
The Patriot

The winner:
The Broadway Melody

A flashy musical with a big dose of melodrama, The Broadway Melody is the tale of two Mid-western sisters, Hank (Bessie Love, the film's highlight) and Queenie Mahoney (Anita Page, the film's low point), who arrived in New York City with dreams of making it on Broadway. Hank's long-distance boyfriend Eddie Kearns (Charles King) is already an established star of the stage, and soon brings Hank and Queenie to the Zanfield Follies, a popular musical revue, run by Francis Zanfield (Eddie Kane). But it's Queenie who soon becomes the star, and attracts more attention than her sister, especially from conceited playboy Jock Warriner (Kenneth Thomson). Complicating matters further, Eddie has feelings for Queenie, and soon loyalties will be tested, as show business threatens to tear these two sisters apart.

Why did it win?
Hailed as the "All Talking! All Singing! All Dancing!" musical debut for MGM, The Broadway Melody was a revelation for Hollywood. It was the birth of a new art-form of cinema – the movie musical. Unlike anything audiences had seen before, the film brought in a staggering $4-million at the box-office, which is particularly astonishing when you realise tickets cost around 35-cents each. That's a hell of a lot of people rushing out to see this film. The film was so successful, it spawned three sequels – the birth of the cinematic franchise.

Its use of technology was also groundbreaking and innovative. As cinema's first all-sound musical, the film was also the first to combine musical numbers with a narrative storyline, and the first to utilise a pre-recorded soundtrack. If that wasn't enough, it was also one of the first pieces of cinema to include a Technicolor sequence, with the "The Wedding of the Painted Doll" musical number being presented in two colours. Sadly, this version has been lost, but it still stands as an incredibly important piece of cinematic history.

The film also features a beautiful performance from Bessie Love, who also scored a Best Actress nomination. Despite the focus of the plot being focussed on the rise of Queenie as a new star of Broadway, it's Hank who steals focus and is the film's true heart. No more is this apparent than in the film's climax when Hank makes a heartbreaking sacrifice for her sister, and Love is an absolute knock-out in this key sequence.

Given the film was responsible for launching a genre that would become a Hollywood trademark for decades to come, it's not hard to see why the Academy was so taken by it and why it won Best Picture. With no other movie musicals to compare it to, it's easy to see why it was so instantly beloved. In terms of cinematic history, it's a landmark film, and one that historians point to as a turning point in cinema. It captured audiences like nothing else in 1929, but also dazzled film critics and Academy voters with its innovation. It's this kind of importance and reverence that often make a Best Picture winner, particularly in the early years of the Oscars.

Did it deserve to win?
For all its historical importance and technological revolution, it's a shame the film does not hold up well today. At all. Viewed out of context, it's almost unfathomable to grasp how or why it won Best Picture. Like many films of this era, The Broadway Melody does not stand the test of time. It's fair to argue this being the first movie musical, the filmmakers were still completely unsure how to properly craft this style of film, and the results show in the film's musical numbers.

The songs are all rather forgettable and weak, bar one notable exception – "You Were Meant For Me". This song has become somewhat of an American standard, thanks to its far more famous use in 1952's Singin' in the Rain, and it's completely wasted in this production. The film gives far more focus to its titular track "The Broadway Melody," which is surprising, as it's actually a rather awful piece of music, made all the more confounding by the fact it's featured at least five times in the film. The choreography is rather stale and flat, and the dancers are surprisingly terrible. Out of time, out of sync, and most of them flopping and floundering all over the place. For a major piece of musical cinema, the musical numbers are decidedly sub-par and terribly uninspiring.

The acting is also particularly atrocious. Page is genuinely laughable as Queenie, and its rather impossible to fathom her as a huge Broadway star. She can't sing. She can't act. And she can't dance. Tomson is so awkwardly over-the-top in his advances towards her, it's almost makes for rather unsettling viewing, especially in today's post-Weinstein world. If it weren't for Love and her charming performance, the film would be a total disaster. All-in-all, the film can't help but feel awfully dated, and it makes for a difficult viewing experience.

And that's the issue with viewing it in a 2017 context. We now have decades of exceptional movie musicals to compare this film to. What Hollywood gives us in the next few years will make The Broadway Melody look entirely amateur by comparison. And when you compare it to other Best Picture musical winners West Side Story or The Sound of Music, The Broadway Melody just doesn't cut it. Of course an audience in 1929 would be blown away by the new novelty of this kind of cinema. They'd never seen how a musical could be created for the screen. They didn't know what to expect of such a film, so they accepted what they were given. But we know better, and we have seen better.

For all its genuinely marvellous historical relevance, it's disappointing The Broadway Melody is nowhere near as impressive as it perhaps once was. But without it, we may never have experienced a lifetime of superb movie musicals, and in that sense, perhaps it was entirely deserving of its Best Picture nod.