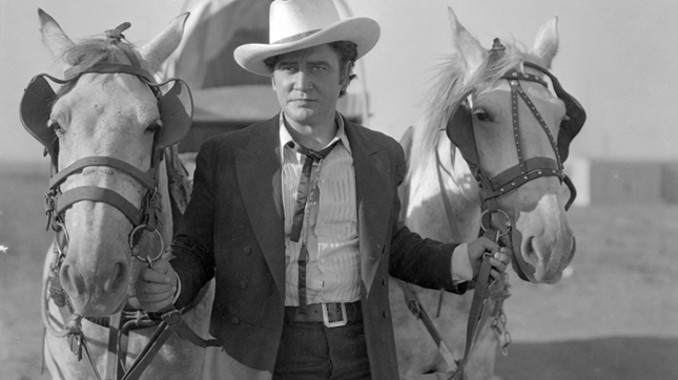 08 Dec

THE BEST PICTURE PROJECT – 'Cimarron' (1931)

In 1931, the fourth Academy Awards ceremony was held at The Bitmore Hotel in Los Angeles. Honouring the films released between August 1, 1930 and July 31, 1931, the awards took place on November 10. The ceremony holds the distinction as being the first to recognise a child actor, with nine-year-old Jackie Cooper nominated for Best Actor for Skippy. To this day, Cooper is the second youngest acting nominee ever and the only Best Actor nominee under the age of 18. The film's director Norman Taurog was the youngest to win Best Director at age 32, until Damien Chazelle last year for La La Land.

The nominees:
Cimarron
East Lynne
The Front Page
Skippy
Trader Horn

The winner:
Cimarron

Spanning 40 years from 1889 to 1929, Cimarron is the tale of the dawn of new frontiers in America, and the struggles and hardships faced by those who tried to stake their claim and make a life for themselves. The film opens with the Oklahoma land rush of 1889, where we find our protagonist Yancey Cravat (Richard Dix) making a mad dash for a free piece of government land. But he's outsmarted by a young prostitute Dixie Lee (Estelle Taylor) and instead moves his wife Sabra (Irene Dunne) and son Cim to Osage instead. Establishing a weekly newspaper, the Osage Wigwam, Cravat soon becomes a mainstay of the town. As the town, and Oklahoma, begin to thrive, the film follows the Cravat family, and Yancey's desperate desire to make his life something more than just a small townsman.

Why did it win?
Looking back on these early winners is always going to be fraught with issues in determining why they won. And this is one of them. I'm genuinely struggling to comprehend how this win won Best Picture. Suffice to say, the main reason comes down to spectacle. Cimarron was a mammoth production, costing more than $1.4 million to produce, which was a huge number in 1931. It was the first Western to win Best Picture (and amazingly the last until 1991's Dances With Wolves), so it's hardly surprising to see the Academy go for something so new and groundbreaking.

The production included 28 cameramen, over 5,000 extras, hundreds of vehicles and horses, and an enormous film set covering 89 acres of land, including the purposely built main street of Osage. These sets would ultimately come to be utilised by dozens of other productions, and become the go-to filming location for the western genre. To call the production of this film epic is almost an understatement.

Cimarron was RKO Pictures largest film production to date, and the visual results are astounding. The opening sequence recreating the Oklahoma land rush is as epic as filmmaking gets, and even today, it's an astonishing sight to behold. The widescreen sequences are all the more impressive thanks to the work of cinematographer Edward Cronjager, which captures the scope of this film so perfectly. Likewise with Wesley Ruggles' direction who somehow commands complete control and precision of this mammoth undertaking.

The film also features some impressive performances, with both Dix and Dunne scoring acting nominations – the first time a film had received multiple acting nominations. Dunne gives Sabra an incredible strength and fiery independence, which was a rarity for women in film at the time. Dix is the typical Western hero, noble and brave, and it's not hard to see why he was chosen to lead this film. Yancey is actually somewhat of a progressive, with great generosity and care shown towards the film's native Americans and African-American characters. While it does bumble their portrayal rather terribly (more on that shortly), its earnest in its attempts to portray the notion that not all Americans were so shamefully terrible in their treatment of these minorities.

Cimarron seeks to showcase the great progress and vision of the Americans of the late 19th century. It also attempts to highlight just how quickly these little towns soon became cities of the future. It's a gentle nod to the past, and a tribute to the early settlers of the newly stolen acquired lands of the new frontiers. The film admirably attempts to also highlight tolerance and acceptance of others, but its messages and portrayals are so damn messy and confusing, it never quite gets there.

Did it deserve to win?
If we look at the film as a great example of epic filmmaking, you could argue it absolutely deserved to win. It's hard not to be impressed by the achievements of the production team here. Visually speaking, they have recreated the wild west with expert precision and the authenticity of the sets, costumes, and location shooting are stellar, as is the cinematography and direction. But that's about as far as it goes. Nice to look at, difficult to watch.

You can try to dismiss the film's awful racial stereotypes as a "sign of the times," but in a 2017 context, they make for rough viewing. We first see the film's main black character Isiah (Eugene Jackson) hanging off a beam from the ceiling, holding a palm frond to fan his master's family while they eat dinner below him. Good lord. The character is a god-awful stereotype of the highest order. He offers the townspeople some watermelon from his cart. He outwardly wishes he could have some friend chicken for dinner. And he's consistently ridiculed at every opportunity.

For a film that seems concerned with conveying a message of tolerance, it's going about it in the most bizarre and backwards way imaginable. For all his humility and concern for the treatment of Native Americans, Yancey can't quite make up his mind which side of the battle he's on. He's happy to openly criticise the American government for shamefully stealing property from the country's indigenous inhabitants. But when the opportunity arises for another land rush in a neighbouring area, he's the first to hop on his horse and fly off to claim a piece for himself. Huh?

His wife Sabra is even worse. She has a total meltdown when she learns her son plans to marry a young native American girl and clashes with her husband over his devotion to the legal rights of Native Americans. She also throws a huge fit when he dares defend Dixie Lee in court, after she's falsely accused of public indecency. For all the great acting Dunne gives this performance, it's all completely undone by how horribly racist and sexist her character ultimately is.

It ultimately makes for a messy and confounding piece of cinema that can't seem to follow one train of thought long enough to substantially convey any form of cohesive storytelling. For all its epic grandeur, the film completely falls over in its garbled narrative. One could forgive this as a sign of early cinema still finding its feet, but it's hard to forgive such a disappointing piece of cinema when it's already been honoured as a Best Picture winner.