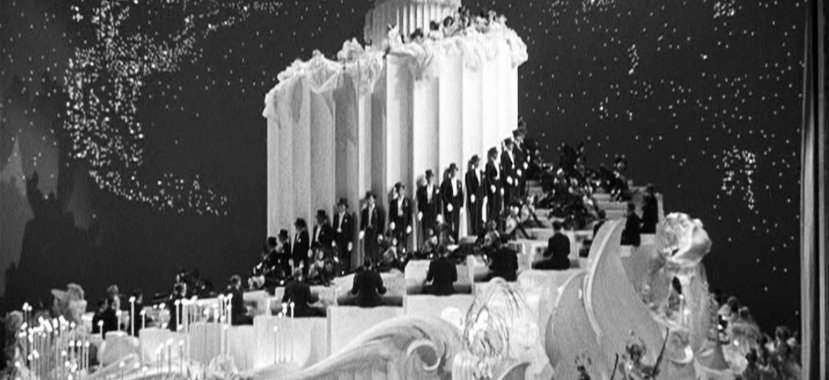 13 Dec

THE BEST PICTURE PROJECT – 'The Great Ziegfeld' (1936)

In 1937, the ninth Academy Awards ceremony was held at The Biltmore Hotel in Los Angeles. Honouring the films released between January 1, 1936 and December 31, 1936 the awards took place on March 4. The Academy introduced two new categories this year – Best Supporting Actor and Actress, so as to honour supporting roles, which had mostly gone unrecognised by the Academy until this point. The supporting winners were strangely not presented with Oscar statuettes, but given a plaque instead. This was the case until 1943.

The voting rules also changed this year, with Academy President Frank Capra creating a special committee of fifty members featuring representatives from each of the Academy's branches. The winners were determined by a final vote from all Academy members. With the introduction of the two new acting categories, My Man Godfrey became the first film to receive nominations in all four acting categories. However, it did not receive a nomination for Best Picture – one of only four films in history with this dubious honour.

The nominees:
Anthony Adverse
Dodsworth
The Great Ziegfeld
Libeled Lady
Mr. Deeds Goes to Town
Romeo and Juliet
San Francisco
The Story of Louis Pasteur
A Tale of Two Cities
Three Smart Girls

The winner:
The Great Ziegfeld

Capturing the life and times of an infamous showman, The Great Ziegfeld tells the story of Florenz "Flo" Ziegfeld (William Powell). The son of a music professor, Ziegfeld is desperate to make his name in show business. We first meet him during the Chicago World's Fair in 1893, where Ziegfeld is running a carnival sideshow starring strongman Eugen Sandow (Nat Pendleton). His rival Jack Billings (Frank Morgan) is killing him with his far-more popular attraction Little Egypt, an all-girl belly dancing revue. It's here his knack for marketing and spectacle is born. Shifting his pitch to showcase Sandow's impressive physique and muscles to the women of the fair, as opposed to his amazing strength, Ziegfeld steals the crowds from Billings. A showman is born, and the film follows Ziegfeld as he moves to New York City, marries his leading lady, Anna Held (Luise Rainer), and becomes one of Broadway's greatest ever producers.

Why did it win?
There are spectacles, and then there's something like The Great Ziegfeld. While the film itself is rather long (almost three hours) and dull, it does feature the 15-minute long musical number "A Pretty Girl is Like a Melody," which may well be the most elaborate and impressive musical number ever seen in cinema. The "wedding cake" set for this number, featuring 180 performers on a 20 m diameter rotating tower with 175 spiral steps, reportedly cost $220,000 alone (around $4 million today). It's the kind of showy, stand-out number that would influence movie musicals for decades to come. From Singin' in the Rain to La La Land, practically every elaborate movie musical features an awe-inspiring production number akin to what we see in The Great Ziegfeld. It's importance in the genre cannot be denied.

A genuinely mammoth production, the film cost MGM over $2 million, a huge number for that era, and was its most expensive film to date after 1925's Ben-Hur: A Tale of Christ. Over 1,000 people were employed in the making of the production, including a team of 250 tailors and seamstresses who spent six whole months crafting the film's elaborate costumes. At almost three hours long, the film also marked the longest "talking picture" to date.

Marketed as the film "so big that only MGM could handle it," the response from the public was huge, quickly becoming one of the most beloved films of the era. It took over $3 million at the box-office, and a further $1 million internationally. It also received rave reviews from critics, hailing it as one of the greatest films of the 1930s and the most lavish film production to date. Once again, we see a film dazzle so brightly, the Academy simply could not ignore it. It's revelatory production changed the movie musical genre forever, and is the kind of landmark moment in cinema which the Oscars love to award with Best Picture.

Did it deserve to win?
As a huge fan of movie musicals, both past and present, it's hard for me to say this film didn't deserve to win. But even the most ardent fan of the genre can admit The Great Ziegfeld is ultimately just one amazing musical number wrapped in a three-hour long snoozefest. The film suffers from a severe case of editing failure, with so many scenes and sequences in desperate need of some trimming or being cut altogether. The first hours drags along horrendously slowly, as we head towards Ziegfeld becoming the success he was known for. It has its purpose at showing his journey, but it takes far too long and gives very little, in terms of narrative progression.

There's no denying Ziegfeld was an important character in the history of Broadway, but the film deifies him far too heavily with this overly-long production. It's something more akin to a biblical epic, and when we're really just talking about a man who knew how to put on a good show, this kind of cinematic extravaganza is a little overwrought. Powell's performance is impressive, however. He manages to deftly play the man through varying ages (from 26 to 65) with great skill and flair. But he's let down by a screenplay filled with cliché dialogue and sappy sentiment.

For a performance as a showman, it's quite ironic he ultimately is completely outdone by the performance of his co-star Rainer. She steals the entire picture, with her moving performance as Ziegfeld's beleaguered wife Anna. There's one scene, which I dare not spoil, which is genuinely heartbreaking, and Rainer gives it her all in this one moment. A moment so captivating, it's likely the sole reason she deservedly won the Academy Award for Best Actress.

As exhausting as the film is, the payoff with the "A Pretty Girl is Like a Melody" sequence is ultimately worth it. It is genuinely stunning to behold, even in 2017. Just when you think it's done, it keeps going, getting more and more extravagant as it progresses. It's a cinematic spectacle unlike anything ever seen before, and the kind of wow-factor moment we now come to expect from a large-scale movie musical. Its impact on the genre is indelible, and stands as a true defining moment for a genre that became such a stable of American cinema. In saying that, you could really just view this sequence alone, and skip the rest of the film. You'd be saying yourself a lot of wasted time.

So, did it really deserve to win? Probably not. It's awfully dated, and a rather unpleasant experience, bar 15 minutes of impressive wonder. But the fact the production team were somehow able to craft a sequence that would ultimately become an icon of this era and a turning-point for the musical genre is probably good enough a reason to give it Best Picture.