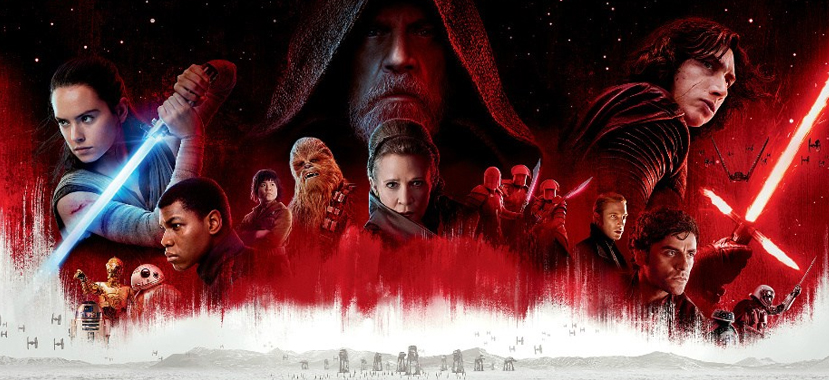 14 Dec

REVIEW – 'Star Wars: The Last Jedi'

For 40 years now, Star Wars has been an icon of blockbuster filmmaking, both for good and bad. At its best, it delivers deep emotion and spectacular action. At its worst, it delivers bungled dialogue and nauseating set-pieces. But the shackles of the past were thrown away with 2015's The Force Awakens, and the franchise was back to its best. With the introduction of a new writer/director, Rian Johnson, there's a sense of trepidation going into the latest chapter The Last Jedi. You can rest easy. He's delivered the goods.

The franchise is in safe hands, with Johnson crafting a bold, new vision for the saga unlike anything we've seen before. While pushing further towards a future free from the constraints of its history, the film still wisely keeps one foot firmly placed in deep admiration of the past. You can't make a Star Wars story without respect to what's come before. An enthralling and gripping piece of cinema that's both sublimely moving and visually beautiful, The Last Jedi, while flawed, is a breath of fresh air you will want to experience again and again.

So how to summarise this film's plot without spoiling anything too major? Well, it's best to stick with what you probably already know from the trailers, expand on that slightly, but leave the biggest surprises for your own viewing pleasure. Picking up shortly after the events of 2015's The Force Awakens, the dastardly First Order, led by General Hux (Domhnall Gleeson, continuing to chew every piece of scenery), is now in the midst of an all-out assault on the dwindling Resistance, led by Princess Leia (Carrie Fisher, may she rest in peace). After a swarm of Star Destroyers discover the rebellion's secret location, right in the middle of their mass evacuation, Leia and her rebels find themselves sitting ducks out in space, and quickly running out of fuel.

Meanwhile, on the island where we left Rey (Daisy Ridley) and long-lost Jedi legend Luke Skywalker (Mark Hamill), Rey is desperately attempting to recruit Luke to restore hope to the Rebellion cause and join his sister Leia in her fight against Hux and the evil Supreme Leader Snoke (Andy Serkis). But our dear Luke has long parted ways with The Force, after his failure to stop Kylo Ren/Ben Solo (Adam Driver) from turning to the dark side left him broken and defeated. And yes – the island happens to be populated by the Porgs you've seen in the trailer and at every toy store lately. I'm happy to report they are devastatingly adorable, sparingly used, and not at all the franchise's new Jar Jar Binks. Phew.

As for our other heroes, Rebellion fighter Poe Dameron (Oscar Isaac) and his brash and bold ways (i.e. he can't follow orders) are causing clashes with Leia and her new offsider Admiral Holdo (Laura Dern), a purple-haired senior member of the Resistance who takes a particular disliking to the trigger-happy Poe. Defected stormtrooper Finn (John Boyega) has awoken from his coma and quickly made a new friend in Rose (Kelly Marie Train), a scrappy Resistance pilot who's rather dazzled by Finn's heroic reputation. As the pair head off on their own side-mission, they may just be the key to saving the day for the desperate Rebel fleet.

That's really all one can say without giving too much away. You can pretty much guess there's plenty of huge space battles, dazzling lightsaber fights, epic moments of joy and sadness, and a whole swag of genuine shocks and surprises, all woven into these barest of plot details. For those concerned writer/director Rian Johnson would cheaply deliver a simple remake of The Empire Strikes Back, rest assured that is not the case. At all. Johnson has crafted something that of course pays deep tribute to the original films, but boldly carves its own path, stamped with the director's indelible and unique style and vision.

With films like Brick and Looper, Johnson has shown his flair for a more avant-garde style of filmmaking, doted with off-beat humour. Surprisingly, Disney has allowed him to inject the Star Wars franchise with plenty of moments of his surrealist talent. One scene involving Rey, a mirror-like alternate dimension, and a simple click of her fingers is truly beyond what we're used to from these films, and yet, it somehow works completely. The humour can feel somewhat trite at times, and a little unusual for a Star Wars film. But in a narrative with a rather bleak tone, it's desperately needed, and the jokes thankfully work more often than they don't.

In saying that, the screenplay is far from perfect, particularly around the film's middle act where the action almost grinds to a halt, and plods along rather frustratingly. Of particular frustration is a rather unnecessary sequence involving Finn and Rose travelling to Canto Bight, a casino-esque city where rich and glamourous citizens gather to be…rich and glamourous. It's here the film gets a little preachy, as it rather pointlessly attempts to provide biting commentary on notions of greed, excess, class status, and even animal cruelty. It's admirable to see Johnson exploring themes unfamiliar to this franchise, but it feels so jarringly out-of-place, ultimately briefly pulling you right out of the story. If it doesn't, I suggest you check out Netflix's Okja, which handled these very themes far more cleverly.

But all is forgiven with the film's incredible final act, featuring some genuinely gripping and tense moments and a beautifully-filmed battle on the planet Crait, with its surface covered in crusted salt over crimson-red soil. The blood-coloured trails created by the action on the planet's surface are downright stunning, and leave an impression like few other visuals in this epic film. For all of Johnson's quirky storytelling, he still knows how to deliver the action and the spectacle. The mix of CGI and physical production is seamless, and the space battles are thrilling and spectacular. The lightsaber duels are some of the best we've ever seen, all choreographed with such wondrous precision and intensity. As a visual piece of cinema, it's another triumph for this franchise.

The action is terrific, but the focus on character is the film's crowning glory. Johnson's screenplay creates multiple narratives within narratives, but he's a filmmaker who knows how to handle them perfectly, and nothing with our returning cast ever feels underdeveloped. As a writer, he's taken the foundations of our characters set by J.J. Abrams, and takes them into deeper (and sometimes darker) territories. The evolution of the strange connection between Rey and Kylo Ren is a particular highlight, and both Ridley and Driver take their characters to wonderful new levels. Ren is still heavily burdened by the deep conflict he feels between his past and future, and Driver superbly handles the psychological torment his character constantly struggles with. For those who had reservations about his performance in The Force Awakens, prepare to be blown away by the film's conclusion.

Poe is given far more to do in this film, and Isaac runs with the opportunity to take his character further, particularly towards the film's climax. His comedic interaction with General Hux is another of the film's highlights, and Hux himself gets far more great moments than he did in the first film. Finn suffers with the least character progression, which is a damn shame, as Boyega has proven he is worthy of a great storyline. Maybe next time. And sadly, once again, Captain Phasma (Gwendoline Christie) is completely wasted. While we may find these characters in the same place we left them in The Force Awakens, they all ultimately wind up in very, very different places over the course of the film, setting up an incredible closing chapter to this trilogy in two-years time.

And then there's our beloved original siblings, Luke and Leia. As difficult as it is to watch, knowing it's her final performance, the film is a beautiful tribute to both Carrie Fisher (the film is dedicated to her, which elicited huge applause from my cinema) and Princess Leia. As always, Fisher gives such gravitas to her performance, and Leia will always stand as her immense legacy to cinema. Hamill is sublime as the bitter and defeated old man Luke has become. His character arc is ultimately the film's glory, and it's a beautiful journey to travel on. He delivers such deep complexity and tragic pain to Luke, and it's a staggering difference to the hero we once knew. When brother and sister finally reunite, it's genuinely cinematic magic. Bring the tissues.

Unfortunately the same can't be said for the new additions to the existing cast of characters. Rose is rather adorable, both instantly lovable and endearing, but outside of a brief plot-line involving her sister, there's barely any character development for our plucky new Rebel. Regardless, it's impressive to see an Asian heroine front and centre in a Star Wars film, even if there's perhaps a hint of ulterior motives behind it *cough* Chinese box-office dollars *cough*.  Admiral Holdo may be shrouded in mystery for most of the film, but she's a fairly unnecessary addition to the story. And the less said about Benicio del Toro's completely useless new character DJ, the better. Both actors, normally so great, are relatively wasted and underused, and they ultimately steal focus and screen-time from far more worthy characters.

In terms of its technical achievements, it should come as no surprise the film looks and sounds phenomenal. Composer John Williams is his typical best, injecting his score with both nods to the past and creations of the future. It's the kind of stirring score we always expect from the master film composer, and it never feels too familiar or overdone. Steve Yedlin's cinematography is truly gorgeous, as is the production and costume design from Rick Heinrichs and Michael Kaplan respectively. The film is perhaps a little too long, and editor Bob Ducsay could have been a tad more generous with his trimming, especially around the middle portion of the film. But it's a minor quibble in such an enjoyable and entertaining piece of cinema.

For all its issues, Rian Johnson has delivered something entirely fresh to a franchise now in its eighth film. That in itself is a remarkable achievement that has to be admired. He's taken great risks and made some incredibly bold choices to deliver something that feels both touchingly familiar and daringly original. It's an evolution of Star Wars to new places, yet still remains authentically grounded in a universe beloved by so many. Every bit as enjoyable and entertaining as the original trilogy, The Last Jedi is not exactly perfect, but it gets damn close.
★★★1/2☆☆