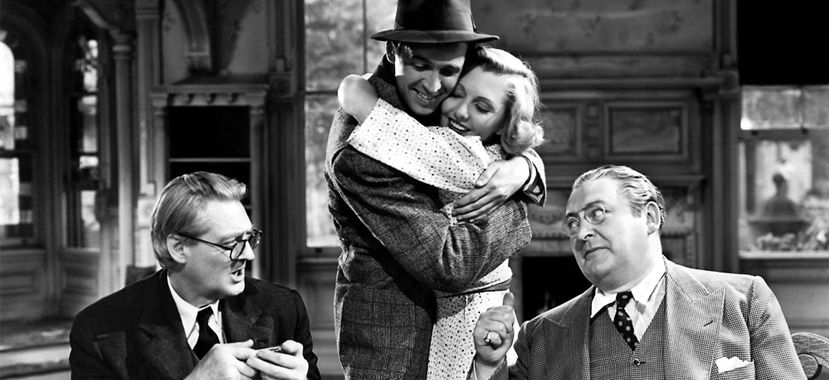 15 Dec

THE BEST PICTURE PROJECT – 'You Can't Take It With You' (1938)

In 1939, the 11th Academy Awards ceremony was held at The Biltmore Hotel in Los Angeles. Honouring the films released between January 1, 1938 and December 31, 1938 the awards were held on February 23. This year marked the first time a foreign language film, Grand Illusion or La Grande Illusion, was nominated for Best Picture. Despite this, the category of Best Foreign Language Film would still not be introduced until 1956.

After winning Best Director for his work on You Can't Take It With You, Frank Capra became the first director to win the award three times. This record would stand until 1952 when John Ford won his fourth Best Director prize. 1939 was the first of only two times in Academy Awards history where three of the four acting winners had won previously. Fay Bainter became the first actress to receive two acting nominations in the same year, one in lead for White Banners and one in supporting for Jezebel, which she won. Over the years, this feat has surprisingly been repeated another 10 times. Spencer Tracy became the first actor to win back-to-back Oscars for Best Actor – a feat not repeated until 1994 when Tom Hanks became the second to achieve this rare honour.

The nominees:
The Adventures of Robin Hood
Alexander's Ragtime Band
Boys Town
The Citadel
Four Daughters
Grand Illusion
Jezebel
Pygmalion
Test Pilot
You Can't Take It With You

The winner:
You Can't Take It With You

Based on the 1936 Pulitzer-Prize winning play, You Can't Take It With You is another classic Frank Capra feel-good screwball romantic comedy. Set in New York City, we meet the wealthy Kirby family. Head of the family and successful banker Anthony P. Kirby (Edward Arnold) and his corporation Kirby and Co. have just received a government-sanctioned munitions monopoly, which has made him exceedingly rich. His intentions to buy a 12-block radius around a competitor's factory stalls when there's one hold-out in the neighbourhood who refuses to sell. That man is Martin Vanderhof (Lionel Barrymore), and he's determined to keep his beloved home because of the cherished memories it holds. Kirby is not a man used to hearing the word "no," and he orders his real estate agent to use any means necessary to snatch the property from Vanderhof.

Meanwhile, Anthony's son and Kirby and Co. Vice-President, Tony (James Stewart) has fallen madly in love with his secretary, Alice (Jean Arthur), who just so happens to be Martin's granddaughter and lives in the very home her beloved beau's father is attempting to steal. When Tony suggests a big dinner to introduce both families to each other, and hopefully secure his parents' approval to marry Alice, it sets up a colossal disaster neither family will see coming.

Why did it win?
The late 1930s were not a happy time in America. The Great Depression was still crippling the nation, and World War II was about to break out in Europe. Things were bleak, and it was not a time for bleak films. The importance of an escapism medium like cinema was never stronger, and the bright and breezy films of Frank Capra were the very cure audiences were desperate for. It's no surprise his films also did so well with the Academy during this period, with You Can't Take It With You marking the second time a Capra film had won Best Picture and his third Best Director prize in just five years.

With its enchanting mix of warmth and humour, with lashings of optimism and themes regarding the importance of family and love over greed and wealth, it was just the right film at just the right time. It's one of the earliest examples of a piece of cinema perfectly capturing the cultural zeitgeist with expert precision. Despite the majority of the nation experiencing financial hardships, the film was a box-office sensation, taking over $4 million and becoming one of the highest grossing films of the year. It was exactly the kind of entertainment audiences were looking for to take their mind's off the dark times facing so many.

The film was also a hit with critics, with Variety calling it "wholly American, wholesome, homespun, human, appealing, and touching in turn." It was praised for its decidedly upbeat narrative, and for giving Americans hope that no matter how dark things seem, there's always a light at the end of the tunnel. On entertainment vale and cultural importance alone, the film was clearly able to capture the attention of the Academy in its bid for Best Picture like few others films in contention that year.

Did it deserve to win?
After a viewing of this film, it's clear there were "better" choices for Best Picture in 1938, particularly the classic Jezebel or the groundbreaking Grand Illusion. But it's so damn hard not to love You Can't Take It With You, it's difficult to say it still wasn't an entirely deserving winner. The film is utterly charming and downright uplifting, with some genuinely hilarious comedic moments, a beautiful love story, and a wonderful cast of characters. Yes, it certainly feels terribly dated (particularly some of the dialogue and the slapstick physical comedy), but strangely in such a delightfully wholesome way, you won't even care.

The film also features some delightful performances, particularly from its two leads James Stewart and Jean Arthur. The two have great chemistry together, and their characters are so downright lovable. Tony is the ultimate good guy, despite his affluent upbringing and snobbish parents. Strong and determined, he's the typical cinematic hero Stewart ultimately became so well-known for. Alice is completely adorable, with Arthur's squeaky voice and impeccable and enthusiastic comic timing. Her family is decidedly eccentric and bizarre, but entirely sweet and beautifully caring. Their devotion to each other is touching, and the ensemble cast play so well off each other. Barrymore's performance as the patriarch Martin is perhaps the film's highlight. A sweet old-man who would do anything for his family, he's the kind of grandpa we'd all love to have.

With the current chaotic state of the world, this film still hits home in a 2017 context. A film that begs us to examine the importance of family and to appreciate what we have, as opposed to what we don't, can still completely resonate with a modern audience. It may be slightly difficult to connect with You Can't Take It With You, given its dated nature, but when if you give yourself over to it, you can't help but be captured by its heart. It's hardly the stuff of cinematic genius, but it's impossible not to adore the film's good intentions. And perhaps sometimes that's perfectly fine for a Best Picture winner.