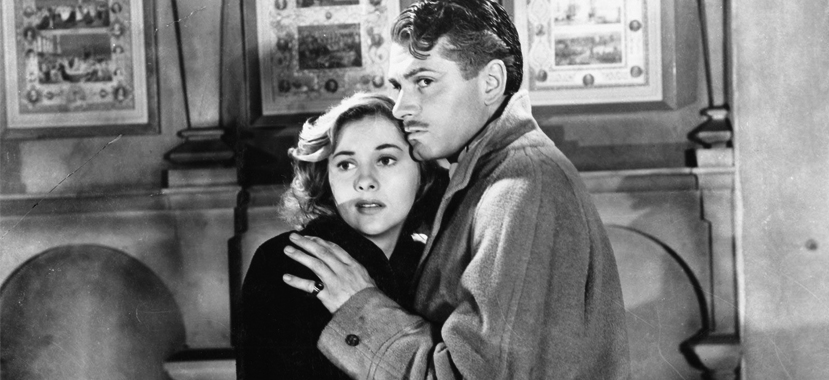 17 Dec

THE BEST PICTURE PROJECT – 'Rebecca' (1940)

In 1941, the 13th Academy Awards ceremony was held at The Biltmore Hotel in Los Angeles. Honouring the films released between January 1, 1940 and December 31, 1940 the awards were held on February 27. For the second year in a row, the ceremony was hosted by comedian Bob Hope.

After the results were leaked to the Los Angeles Times the previous year, this was the first ceremony to keep the winners a secret, with two representatives from the accounting firm Price Waterhouse being the only individuals to know the final results. This practice is still in place today. It was also the first year the winner's name was placed inside a sealed envelope, and thus, the infamous phrase "may I have the envelope, please?" was born.

The Academy made the decision to split the Screenplay into two categories, awarding one prize for Best Original Screenplay (The Great McGinty) and Best Screenplay (The Philadelphia Story), which would later be renamed Best Adapted Screenplay. In 1941, Walt Disney's Pinocchio became the first animated film to win a competitive Oscar, taking home both Best Score and Best Song for "When You Wish Upon a Star." Walter Brennan set a new Oscar record, after taking home his third Best Supporting Actor prize in five years. He still stands as one of only five actors to receive three Academy Awards.

For the second year in a row, a film produced by David O. Selznick took home Best Picture, making him the first producer with consecutive wins in this category. He remains the only producer to ever achieve this feat. Despite having eleven nominations, Best Picture winner Rebecca only took out one other award – Best Cinematography, Black And White. This marked the last time a film would win Best Picture and not also collect a prize for either acting, directing, or writing. The winner of the most awards that evening, The Thief of Baghdad with three, marked the first time a film with a nomination for Best Picture had received the most awards.

The nominees:
All This, and Heaven Too
Foreign Correspondent
The Grapes of Wrath
The Great Dictator
Kitty Foyle
The Letter
The Long Voyage
Our Town
The Philadelphia Story
Rebecca

The winner:
Rebecca

Based on the 1938 novel by Daphne du Maurier and the first American film from iconic director Alfred Hitchcock, Rebecca is a gothic thriller filled with lashings of melodrama, mystery, and romance. The film opens in Monte Carlo, where a beautiful unnamed young woman (Joan Fontaine) is making her way as the "paid companion" of the wealthy Edythe Van Hopper (Florence Bates). When Edythe becomes bedridden with the flu, the young woman meets aristocrat Maxim de Winter (Laurence Olivier), and subsequently falls madly in love with him, despite his love for her not being quite as clear. We soon learn this will be Maxim's second marriage, after his previous wife, Rebecca, mysteriously died in a sailing accident, leaving him heartbroken and devastated.

But his new bride, now referred to as Mrs. de Winter, seems to have given him a new lease on life, and the pair head off to Maxim's beloved and vast mansion, named Manderlay. Upon her arrival, it's clear to Mrs. de Winter the memory of Rebecca still lingers strongly in the house. The housekeeper, Mrs. Danvers (Judith Anderson), has kept Rebecca's room and belongings just as she left them, and Mrs. de Winter can't shake the feeling Mrs. Danvers considers her a lowly new addition to the household. The other staff members still hold a fond place for Rebecca, and constantly reminisce about her dazzling beauty and grace. Can Mrs. de Winter ever compete with her predecessor and erase Rebecca's stranglehold on the house for good? And is there perhaps more to the story of Rebecca's death than meets the eye?

Why did it win?
1940 may indeed mark the first example of Oscar campaigning leading to a Best Picture win – something that will eventually become a staple of the Academy Awards. Producer David O. Selznick campaigned heavily for his film Rebecca, throwing lavish parties, numerous screenings with appearances by the film's stars, and taking out splashy ads within industry magazines. This campaign was much to the chagrin of director Alfred Hitchcock, who preferred to let the film speak for itself. The two had reportedly clashed on the final edit of the film, which may explain why Hitchcock failed to win Best Director, as Selznick's campaigning did not extend beyond nabbing Best Picture for himself.

Despite its decidedly dark tones, the film was a box-office smash, taking over $2 million in the US and a further $1 million in the UK. After the runaway success of 1935's The 39 Steps, Hitchcock was quickly becoming a household name in the US, much like he was in Europe, and Rebecca helped him further establish himself with American audiences. The film was also a success with critics, with The New York Times hailing it as a "brilliant film, haunting, suspenseful, handsome and handsomely played" and Variety calling it "an artistic success." The film's performances were also widely praised, with many calling this Olivier's finest performance yet, and it established Fontaine as a star in-the-making.

After almost a decade of romance, musicals, and nostalgic sap, the Academy were clearly looking to award Best Picture to a film completely different in tone to previous winners. Many of the other films nominated simply did not have this quality, and it's no surprise they went with Hitchcock's gothic and suspenseful tale. The film marked the arrival in Hollywood of a director who demanded attention like few others. His style and flair would soon become synonymous with the changing tones of cinema, and the Academy clearly wanted to reward a man they saw great potential from. Adding in Selznick's shrewd campaigning, and it's easy to see why Rebecca captured Best Picture.

Did it deserve to win?
While it may lack the disturbing horror elements Hitchcock would later become famous for, Rebecca is still wonderfully unsettling, haunting, and gripping. The suspense Hitchcock maintains through the entire film is truly magnificent, and his atmospheric and gothic tones create something both entertaining and unnerving. As a filmmaker, he combines tight camera angles and a dramatic score to create such an overwhelming sense of claustrophobia inside Manderlay. We feel Mrs. de Winter's sense of paranoia at every turn, and the journey Hitchcock takes us on is truly masterful.

The performances of Olivier and Fontaine are terrific, and the two have wonderful chemistry together. Fontaine perfectly captures Mrs. de Winter's naive and vulnerable innocence, and when her fear and paranoia finally become too much, she is captivating to watch. Olivier delivers lashings of mystery and intrigue to Maxim, yet somehow remains charming and engaging throughout. They are both perhaps outshone by Anderson's Mrs. Danvers, who is downright cold and menacing, as she sweeps around Manderlay, twisting an unwelcoming environment for Mrs. de Winter. One scene in particular, where Mrs. Danvers' true nature is finally revealed, is utterly shocking in the most Hitchcockian of ways, and Anderson is sublime in this moment.

Overall, it's just a damn solid production featuring stellar direction from Hitchcock, great performances by its ensemble cast, and a sublime screenplay filled with numerous twists and turns. It can be a little too melodramatic at times, and in a modern context, it can feel somewhat dated. But that ultimately becomes part of its enchanting charm, and it's hard not to be swept away by Hitchcock's gothic masterpiece. Its style is intoxicating, it still remains one of his most gorgeous films.

Did Hitchcock go on to produce far superior films to Rebecca? Yes. Were those films perhaps also worthy of Best Picture victories? Absolutely. But that should never take away from the shining example of macabre melodrama Rebecca represents, and an entirely deserving Best Picture winner.