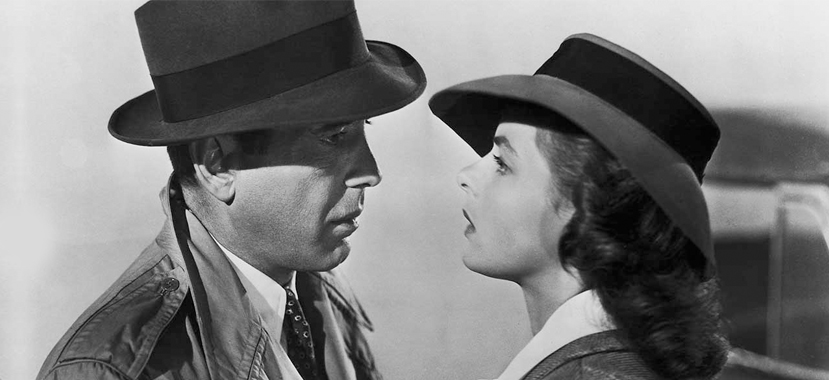 20 Dec

THE BEST PICTURE PROJECT – 'Casablanca' (1943)

In 1944, the 16th Academy Awards ceremony was held for the first time at the infamous Grauman's Chinese Theater in Los Angeles. Honouring the films released between January 1, 1943 and December 31, 1943 the awards were held on March 2. Unlike previous smaller venues, Grauman's Chinese Theater held over 2,000 people, and so the Academy invited a large number of service-men and women to attend amongst the usual industry guests.

This was the first year the Academy handed out Oscar statuettes to the winners of Supporting Actor and Actress, who had previously been awarded a plaque instead. In later years, the Academy would go back and replace the plaques of former winners with proper Oscar statuettes. The ceremony was broadcast over CBS Radio and transmitted internationally to armed forces serving in World War II.

Despite having the bulk of Oscar buzz, Casablanca did not receive the most nominations or the most wins in 1944. That honour went to The Song of Bernadette with 12 nominations and four wins. Casablanca took home three awards. For Whom the Bell Tolls became the third film to receive nominations in all four acting categories. The Ox-Bow Incident became the last film to receiving a Best Picture nomination, and no further nominations. It was also the final year of ten Best Picture nominees, with the Academy switching to five the following year.

The nominees:
Casablanca
For Whom the Bell Tolls
Heaven Can Wait
The Human Comedy
In Which We Serve
Madame Curie
The More the Merrier
The Ox-Bow Incident
The Song of Bernadette
Watch on the Rhine

The winner:
Casablanca

Set during World War II, Casablanca tells the story of the infamous Moroccan town, which became a refuge for those seeking to flee the German invasion of Europe. Stuck in limbo, many would arrive to Casablanca to obtain an exit visa to America. Naturally, they weren't exactly easy to come by, and the town became a desperate place, filled with lost souls. Those lost souls would gather at the hottest spot in town, Rick's Cafe Americain, run by Rick Blaine (Humphrey Bogart), a gruff and lonely American expatriate. On an evening he just so happens to come into possession of two exit visas, Ilsa (Ingrid Bergman) and her husband, Victor Laszlo (Paul Henreid) wander into Rick's Cafe, on the run from the Nazis. As it turns out, Ilsa and Rick had a whirlwind romance in Paris, which led to crushing heartbreak for Rick. As the memories of their love affair come flooding back, Rick will be faced with a tough decision – help the love of his life flee Casablanca with her husband or watch them be captured by the Germans.

Why did it win?
Despite now being one of the most beloved films of all time, Casablanca wasn't quite the box-office sensation we might assume. It was far from a flop, taking $3.7 million at the US box-office, but this made it only the 7th highest-grossing film of 1943. Its status as a truly adored piece of American cinema would grow over the decades, but, at the time, it was far from the phenomenon it is today. It was certainly popular, but this is far from a case of a box-office colossus winning Best Picture, like Gone with the Wind.

The critical response was also surprisingly varied. The New York Times called it "a picture which makes the spine tingle and the heart take a leap," while Variety applauded it as a "combination of fine performances, engrossing story and neat direction." But others were less kind. The New Yorker labelled it as "pretty tolerable," while TIME Magazine stated, "nothing short of an invasion could add much to Casablanca." Again, it was far from a flop with critics, but it didn't quite have the critical adoration many other Best Picture winners received.

So how did a film that did okay box-office numbers and received mixed reviews take Best Picture? Again, it's a matter of timing. Films related to the ongoing war were always going to strike a chord with Academy voters over those that didn't. The only other genuine contender for Best Picture was The Song of Bernadette, but this was the story of a young woman who would later become canonised as a Saint. It simply didn't have the relevancy of something like Casablanca. By the time the film was released, the town of Casablanca had been rescued from German occupation by American allies, making the film that much more pertinent.

But relevancy was only one factor. The film is an absolute masterpiece, especially with its sweeping romance, featuring the glorious and legendary performances from Bogart and Bergman. It also set itself apart by breaking with a time-honoured Hollywood tradition of the cliché happy-ending. It's been 75 years, so I think I can avoid a spoiler warning, but let's be honest. We all wanted Rick and Ilsa to board that plane together. But the film avoids falling into that trap, and gifts up with something much more moving and interesting, particularly for its time. It's not hard to see why it was the kind of film the Academy could simply not ignore.

Did it deserve to win?
Yes. Yes. Yes. A thousand times, yes. You'd be hard-pressed to find anyone willing to state otherwise. Casablanca is indeed one of the greatest films of all time, and still stands as a solid piece of cinema in 2017. It's truly one of those films you could show anyone, and know they will love. It's the kind of film you can't wait to show your children or grandchildren. It's the perfect example of the golden age of Hollywood. It's an unrivalled classic that somehow does not feel remotely dated at all. It's an icon of film for a reason. It's just so damn good.

Of course, the film is sentimental and antiquated. It's from 75 years ago. It has to show some age. But its screenplay and dialogue are still as fresh as they were in 1943, and this is part of what makes it so ultimately captivating. Its wit and charm have not been lost, nor have its universal themes of sacrifice, honour, and love. The characters are so wonderfully written and fully fleshed-out, which is often the failings of films of this era. It's utterly stunning black-and-white cinematography doesn't hurt either. The film is still as beautiful to behold as it was in 1943. If anyone dares show you the bastardisation that is the colourised version, please avoid this at all costs. It's best to pretend that version does not even exist.

But its legendary status, and a huge part of it being a deserving winner are those performances from Bogart and Bergman. It's perhaps one of the finest love stories cinema has ever produced. Their chemistry is sublime, and the tension between them is truly electric. The pair is perfectly cast as Rick and Ilsa (which is amusing, given the producers originally wanted Ronald Reagan and Rita Hayworth for the roles), and their performances are mesmerising. Bogart is perfect as the tortured tough guy, desperately keeping his broken heart and true feelings for Ilsa hidden away. Bergman is so damn beautiful, but matches that beauty with her layered and conflicted performance. The two combine to make true cinematic magic, and their romance is still so stunning to behold today.

There is perhaps no film quite as classic as Casablanca. It captured the height of the Hollywood studio system, and delivered a film for the ages. It's unique in its avoidance of the typical happy ending so synonymous with films of this era, and it shines even brighter because of this masterful narrative choice. It is one of the few films that stood the test of time, and will for generations to come. And it is one of the Academy's best and most deserving choices for the title of Best Picture.