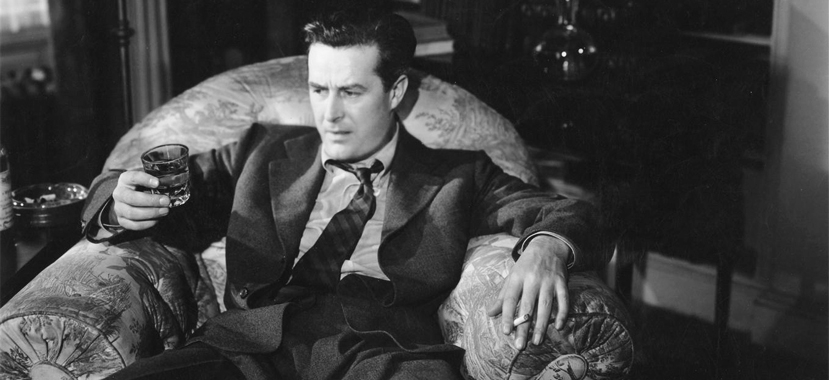 22 Dec

THE BEST PICTURE PROJECT – 'The Lost Weekend' (1945)

In 1946, the 18th Academy Awards ceremony was held at Grauman's Chinese Theater in Los Angeles. Honouring the films released between January 1, 1945 and December 31, 1945 the awards were held on March 7. With World War II coming to an end, the Academy was ready to get back to normality, and the Oscars went back to being the star-studded, formal event it once was. The bronze/gold-plated statuettes returned, as did the tuxedos and expensive gowns. And, of course, the searchlights were beaming once again, outside the theatre. The Academy Awards were back in business.

The major headline of the event belonged to Best Actress nominee Joan Crawford, who stayed at home in bed, claiming to be suffering flu and pneumonia. It's widely rumoured Crawford assumed she wouldn't win for her role in Mildred Pierce, and therefore shunned the event. As it turns out, she was wrong, and she did indeed take home the Oscar. The award was accepted on her behalf by her director, Michael Curtiz, and the statuette was delivered to her bedside later that evening, providing the perfect (and now infamous) photo opportunity.

The Lost Weekend became one of only two films in history to win both the Academy Award for Best Picture and the Palme d'Or (then known as the Grand Prix) at the Cannes Film Festival.

The nominees:
Anchors Aweigh
The Bells of St. Mary's
The Lost Weekend
Mildred Pierce
Spellbound
Wilson

The winner:
The Lost Weekend

Based on Charles R. Jackson's 1944 novel, The Lost Weekend is the story of just that – a weekend lost to the torment of alcoholism. In New York City, recovering-alcoholic writer, Don Birnam (Ray Milland), is attempting to battle his way out of his alcohol addiction with a weekend trip to the country with his brother, Wick (Philip Terry). His girlfriend, Helen St. James (Jane Wynam), thinks a few days away from the city and all its temptations may be the best treatment for Don. But the call of the bottle is too strong, and after ditching both of them and the planned weekend, Don begins a long and painful drinking bender. But with each drink, he starts to lose gripe on time, his sanity, and perhaps even his life.

Why did it win?
With the war finally over, and far more optimistic sentiments being felt across the country, it almost seems a little strange the Academy would pick a decidedly dark and grim film like The Lost Weekend to take Best Picture for 1945. But it stands as the beginning of the Academy focusing on the film itself, rather than the allowing more external factors to play a part in their decision. It also marked the start of the Academy choosing far more adult films, and often those dealing with serious social and cultural issues.

That being said, it's certainly possible to consider one external factor that did indeed play a hand in this decision – the previous year's humiliating treatment of Billy Wilder's Double Indemnity. Widely praised as the dawn of the film noir genre, and today considered a true classic piece of cinema, the film received seven nominations, but walked home empty-handed. It's one of the Academy's biggest mistakes that still confounds historians. With Wilder returning the very next year with The Lost Weekend, there was the chance for redemption. And they clearly took it, with the film taking home four awards, including two for Wilder personally, for his direction and writing.

Pushing that aside, the film was genuinely groundbreaking, as it was the first to portray alcoholism as a serious illness and one of the few to realistically highlight its devastating effects. Strangely, the subject had been relatively taboo in Hollywood cinema, with alcoholics often played as the comic relief or lovable drunks. The tone of The Lost Weekend was unlike anything before. The film was so damning in its portrayal of alcoholism, members from the alcohol industry attempted to purchase the film's negative to ensure it was never seen, fearing the effect it could have on their products. They were unsuccessful, obviously.

The film would go on to become a box-office smash, taking in a staggering $11 million on a production budget of only $1.25 million, becoming one of Paramount's most profitable films to that point. It clearly had tremendous cultural impact on a public dealing with the consequences of war, with many returning veterans turning to alcohol to numb their pain. It's another example of a piece of cinema striking a chord with its audience at just the right time. It also scored rave reviews with critics, with The New York Times called it "a shatteringly realistic and morbidly fascinating film" and Variety described it as "an intelligent dissection of one of society's most rampant evils." Pretty clear to see why it won, right?

Did it deserve to win?
For all its significance at the time, The Lost Weekend has not exactly aged well. It may be the first film to highlight alcoholism, but it does it in such a melodramatic way, it becomes rather hard to take seriously in a 2017 context. It's consistently borderline over-the-top, and some scenes are downright silly, particularly Don's bizarre hallucination brought on by his alcohol withdrawal. A bat flies into his room and starts eating a mouse, causing blood to pour down the wall, and Don to shriek like a banshee. Yep.

But if you dig beneath its camp exterior, it's an unflinching portrait of a deadly and crippling addiction, and the resulting desperate actions it can cause. Better known for romantic comedies, Milland breaks his matinee-idol reputation with a gripping and startling performance that rightfully earned him a Best Actor win. He instils Don with such empathy and compassion that it's easy to see why those close to him are unwavering in their support, despite his egregious actions. It's an intimate and powerful performance that is truly captivating and moving.

Wilder's direction is a triumph. He's dedicated to tackling this taboo subject head on, and never shies away from showcasing the turmoil Don is struggling with. His choice of shots is superb, particularly those filmed through whisky bottles and shot glasses, and the black-and-white cinematography is still glorious to behold today. The film's sinister score by Miklos Rozsa only adds to the ominous tone of the narrative. Rozsa features the very first use of a theremin in a film's score. The electronic oscillating instrument (you'll know it when you hear it) would later become synonymous with sci-fi, but here it adds such a remarkably twisted effect to the film.

While it does feel somewhat dated, The Lost Weekend marks a true turning point for cinema, and a new age of Best Picture winners. It dared to feature a subject none had touched before, and it did it with style, flair, and stark reality. It heralded the rise of socially-conscious cinema, which we still see to this day, and it's hard to say this doesn't deem it worthy of its Best Picture victory.