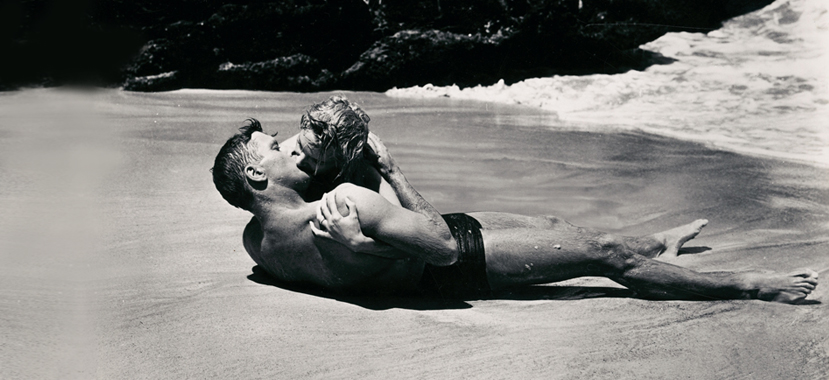 30 Dec

THE BEST PICTURE PROJECT – 'From Here to Eternity' (1953)

In 1954, the 26th Academy Awards ceremony was held at the RKO Pantages Theatre in Los Angeles and the NBC International Theatre in New York City. Honouring the films released between January 1, 1953 and December 31, 1953 the awards were held on March 25. With a total of 43 million viewers, the broadcast was once against a huge success for NBC.

As she was currently appearing in Ondine on Broadway at the time, Audrey Hepburn was rushed from the 46th Street Theatre to the NBC International Theatre via police escort, just in time to hear her name announced as the winner of Best Actress for Roman Holiday. As the show was running overtime, Best Actor winner William Holden was advised to keep his speech short. He simply said "Thank you" before rushing off the stage. It still remains one of shortest Oscar speeches ever. The next day, Holden took out paid advertisement in Hollywood trade publications to thank those he missed in his speech.

Walt Disney broke the record for the most awards won by an individual in one Oscars ceremony. He took home four Academy Awards for Best Documentary Short Subject (The Alaskan Eskimo), Best Documentary Feature (The Living Desert), Best Animated Short (Toot, Whistle, Plunk and Boom), and Best Live Action Short – Two Reel (Bear Country). It is a record that still stands to this day.

The category of Best Story was won by Roman Holiday and awarded to its writer Ian McLellan Hunter. However, Hunter was merely a front for the screenplay's actual writer, Dalton Trumbo, who, after refusing to testify before the House Un-American Activities Committee, was currently blacklisted in Hollywood. In 1992, the Academy's Board of Governors voted to retroactively (and posthumously) attribute the award to Trumbo, and remove Hunter's name from Academy records. When his son refused to return the Oscar statuette, the Academy were forced to make a brand new one for Trumbo's relatives.

Despite the rise in Technicolor films, all of the major winners came from black-and-white pictures, including Picture, Director, all four acting categories, and all three writing categories. With an incredible 13 nominations, including nominations in all four acting categories, From Here to Eternity was the most celebrated film of the year, taking home eight Academy Awards, matching the record held by Gone with the Wind for the most nominations and most awards for one film.

The nominees:
From Here to Eternity
Julius Caesar
The Robe
Roman Holiday
Shane

The winner:
From Here to Eternity

Based on James Jones' 1951 novel of the same name, From Here to Eternity is the sweeping drama detailing the lives of three U.S. Army soldiers, stationed in Hawaii in 1941. Private Robert E. Lee Prewitt (Montgomery Clift), a talented bugler, arrives at the Schofield Barracks in Oahu, after requesting a transfer from his previous station at Fort Shafter. Captain Dana Holmes (Philip Ober) approved the transfer after hearing of Prewitt's skills as a boxer, hoping he will join his regimental team and ensnare himself a promotion. Prewitt refuses to take part, having finished fighting for good after accidentally blinding his sparring partner and close friend at his previous barracks. Infuriated, Holmes and the other boxing team members torment and intimidate Prewitt, determined to force him to change his mind.

Prewitt finds support in a new friendship with the charismatic Private Angelo Maggio (Frank Sinatra), who whisks him off to a private men's club, the New Congress Club, to drown his sorrows. It's here Prewitt meets and falls for Lorene (Donna Reed), a hostess and working girl at the club, who's hoping someone will take her away from the misery of her life. Captain Holmes' assistant, Sergeant Milton Warden (Burt Lancaster), holds contempt for his boss, after seeing the unfair pressure he is placing on Prewitt. He soon begins a scandalous affair with Holmes' lonely wife, Karen (Deborah Kerr), who decides it's time to give her husband a taste of his own adulterous ways. As their lives and stories intertwine, the film heads towards the tragic events of December 7, 1941, which will deep impact on every single one of them.

Why did it win?
As you can see from the five Best Picture nominees, 1953 was a rather glorious year for cinema, with all five films still being revered and celebrated today. It's rare to say any of the Academy's five chosen nominees would make a great winner, but it was certainly the case this year. In a pack of great contenders, one often shines just that little bit brighter than the others, and that was certainly the case with From Here to Eternity. It featured a treasure-trove of big stars, each giving a sterling performance. Its screenplay was wonderfully written. Its direction and cinematography were sublime. It was a stone-cold triumph, across the board.

The film was a roaring success with the American public, taping in to their still-keen interest in films related to World War II. It took $12.2 million at the box-office to become the highest-grossing film of 1953, and one of the top ten highest-grossing films of the 1950s. The film received rave reviews from critics, with the Southern California Motion Picture Council hailing it as " motion picture so great in its starkly realistic and appealing drama that mere words cannot justly describe it," and Variety calling it "an outstanding motion picture" that is "important…from any angle."

What struck critics the most was the film's impeccable casting, with many actors cast against their type. Clift and Lancaster were both perfectly cast for their roles, and both gave sensational performances. But it was ultimately the female characters who drew the most attention. Reed and Kerr were known for playing wholesome, demure female characters, and were the typification of 1950s homely values. But in From Here to Eternity, they were both cast as women with "questionable morals," and it was a huge departure from the kind of roles they were so well-known for. It was a huge risk for both actresses, but one which paid off enormously, with both being Oscar-nominated, and Reed ultimately winning Best Supporting Actress.

It's hard to imagine now, but in 1952, Sinatra's career was in shambles. He was now too old to play in the movie musicals he was synonymous with, and his record sales were sharply declining, after the public's interest in crooners waned. Sinatra was in so much debt, he couldn't even afford a press agent anymore. He campaigned relentlessly for the role of Maggio, sending a barrage of telegrams to studio head Harry Cohn, while his wife, Ava Gardner, worked her magic on Cohn's wife Joan. After a stellar screen-test, he even agreed to a salary of only $8,000, despite his usual fee being over $150,000. He made the role his own, with a captivating performance, won the Oscar for Best Supporting Actor, and completely revitalised his career.

With its record-equalling haul of 13 nominations, a huge box-office results, and raving critical acclaim, it's not hard to see why it was the obvious choice for Best Picture.

Did it deserve to win?
After their horrendously terrible choice for Best Picture the previous year, the Academy redeemed itself by doing what it does best – awarding the best artistic achievement of the year. And really, that is what From Here to Eternity ultimately represented. It's a shining combination of acting, directing, writing, cinematography, and editing, all working perfectly to create a superb film. It's the best example of a Best Picture winner, purely by firing on all cylinders across each element of filmmaking. It's that rare lightning-in-a-bottle moment where each element works perfectly on its own, but, even more so, in conjunction with the others. Because of this, the film holds up wonderfully well today.

Many will call this a romance film, purely because of the sweeping saga that is Milton and Karen's scandalous love story, cemented in cinema history by that infamous beach scene, which has been re-imagined in everything from Grease to Flying High. But there's so much more to this film than just a gooey affair. The screenplay touches on narrative themes regarding conflicts of duty against doing what is right, remaining steadfast to your beliefs, and even questioning one's place and purpose in a world gone mad. It's a decidedly existential film, personified by our protagonist Prewitt.

For an army man, Prewitt is surprisingly a deep-thinker, who questions everything and everyone around him. He's a lost soul, desperate to find his path in life, and Clift's performance is utterly sublime. He gives great pathos and poignancy to this role, and there's a scene towards the film's climax where Prewitt plays his bugle which is utterly heartbreaking, and the first moment in this Best Picture Project that made me genuinely cry. It's a true travesty he wasn't awarded with Best Actor. Much like Bette Davis loss for All About Eve, Clift was up against his co-star Lancaster, and it's widely-assumed the pair split the votes, handing the prize to William Holden for Stalag 17. Regardless, it remains one of the greatest performances of the 1950s, and solidifies the film as a true classic.

But it's not just Clift who is wonderful in From Here to Eternity. His co-stars each give exceptional performances, particularly Sinatra, who is so damn charming and instantly lovable. It's a captivating and engaging piece of cinema that remains as effective and powerful as the day it was released. It has a tendency to fall into melodrama, but it's never farcical enough to damage the overall film. Awarding this film with Best Picture redeemed the Academy, after a shameful decision the year prior, and it remains one of their most deserving winners of the top prize.