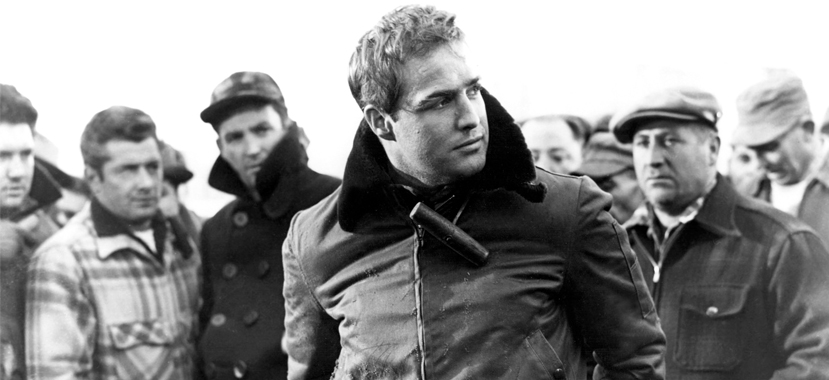 30 Dec

THE BEST PICTURE PROJECT – 'On the Waterfront' (1954)

In 1955, the 27th Academy Awards ceremonies were held at the RKO Pantages Theatre in Los Angeles and the NBC Century Theatre in New York City. Honouring the films released between January 1, 1954 and December 31, 1954 the awards were held on March 30. For the first (and last) time, a special live telecast announcing the nominees was broadcast on NBC, filmed in several prominent Los Angeles locations. The program was a complete flop, and was never repeated again, at least in this form.

Leading the way this year, with an incredible 12 nominations, was On the Waterfront. The film became the third to receive five acting nominations, and the first film to receive three nominations in the Best Supporting Actor category. Many believe this led to another case of voter splitting, and all three lost to Edmond O'Brien for The Barefoot Contessa. With his fourth consecutive Best Actor nomination (a record that still stands), Marlon Brando finally took home his first Academy Award. Surprisingly, the win was considered to be an upset, with many assuming Bing Crosby would win for The Country Girl.

The Best Actress category also saw a major upset, with many thinking this was finally Judy Garland's year, for her celebrated performance in A Star is Born. Garland could not attend the ceremony, having only given birth to her son, Joey, the day before. Producers were so certain Garland would win, they set up cameras outside her room at Cedars of Lebanon Hospital, so she could accept the award and make her speech. But, it was not to be, with Grace Kelly taking home the award for The Country Girl. History was also made in this category, with Dorothy Dandridge becoming the first African-American to receive a nomination for Best Actress for her performance in Carmen Jones.

The nominees:
The Caine Mutiny
The Country Girl
On the Waterfront
Seven Brides for Seven Brothers
Three Coins in the Fountain

The winner:
On the Waterfront

Inspired by Malcolm Johnson's 1948 series of New York Sun articles entitled Crime on the Waterfront, On the Waterfront is a crime drama focused on corruption and extortion on the waterfronts of New Jersey. Corrupt union boss Johnny Friendly (Lee J. Cobb) is the powerful and mob-connected over-lord of the waterfront. The police and the Waterfront Crime Commission suspect he is responsible for a series of murders involving those who dared stand up to him. But, unsurprisingly, no witnesses will testify, fearful of Friendly's wrath and the shame of being labelled a "rat."

Once-promising boxer Terry Malloy (Marlon Brando) is a dockworker whose brother Charley "The Gent" (Rod Steiger) works as Friendly's trusted associate and right-hand man. One evening, Charley convinces Terry to do Friendly a favour by coaxing fellow dockworker Joey Doyle (Ben Wagner) out of his apartment, and into an ambush by Friendly's goons, atop the apartment building. Despite being aware Joey has agreed to testify against Friendly before the Crime Commission, Terry assumes the men will merely pressure Joey into changing his mind. Terry is stunned when the men throw Joey off the roof to his death.

Joey's distraught sister, Edie (Eva Marie Saint), is determined to find the men responsible for her brother's death. She shames local priest Father Barry (Karl Malden) for standing by while corruption and murders run rife, and he begins a crusade to enlist the fearful dockworkers into testifying against Friendly, and finally put his reign to an end. But with an enemy whose power knows no limits, will anyone dare take up the fight?

Why did it win?
1954 marked another remarkable year in cinema for Hollywood, with several deserving winners among the contenders for Best Picture. But none were as brutal, captivating, and powerful as On the Waterfront. For a director who had already achieved so much, including Best Picture and Director victories for A Gentleman's Agreement in 1947, Elia Kazan raised the bar even higher with his latest masterpiece.

After the baffling and embarrassing Best Picture snub of Kazan's A Streetcar Named Desire three years earlier, perhaps a tiny part of the success of On the Waterfront with the Academy could be seen as their way of apologising and making up for their mistake. That's not to say the film wasn't also entirely deserving, but they certainly had plenty to atone for, and they didn't let that opportunity pass them by.

The film received rave reviews from critics, with many calling it the best film of the year. The New York Times hailed is as "uncommonly powerful, exciting and imaginative use of the screen by gifted professionals," while TIME Magazine called out Brando's performance, writing he "puts on a spectacular show, giving a fascinating, multi-faceted performance." It also was extremely well-received by the public, taking in an impressive $4.2 million at the US box-office.

It stood as a true example of director and actor working sublimely together, coupled with a phenomenal screenplay and gripping narrative. It heralded a new age of gritty, stark, and uncompromising Hollywood cinema, and the Academy were clearly impressed by this original and daring piece of cinema.

Did it deserve to win?
Let's get one thing out-of-the-way, which needs to be discussed and somewhat dismissed. On the Waterfront is widely considered by many to be Kazan's method of answering those who criticised him for agreeing to co-operate with the House Un-American Activities Committee, where he named eight actors as being fellow members of the Communist Party. In doing so, he excused himself from punishment, and, thus, avoided being blacklisted. Kazan even published an advertisement in The New York Times defending his stance and urging others to join him in naming names.

It is a black-mark that followed him for the rest of his career. And, let's not forget, it's a career he may never have enjoyed, had he not ratted out his fellow Communist party members. It was clearly evident many in Hollywood had still not forgiven the director when there was a tremendous backlash from the industry when the Academy announced Kazan would be awarded an honorary lifetime achievement Oscar in 1999. At the ceremony, some, like Meryl Streep and Kathy Bates, stood and cheered when the director came to the stage. Some, like Steven Spielberg, remained in their seats, but still applauded. But many, including Ed Harris and Nick Nolte, defiantly refused to clap or stand, in a powerful but incredibly awkward protest. It has become one of the most infamous Oscar moments in modern history.

Given the many parallels between the film's narrative and Kazan's actions, many view On the Waterfront as an obvious and desperate attempt by the director to justify the actions many viewed as shameful and selfish. In the film, Terry is a conflicted soul, who knows he must ultimately betray his fellow workers to do what is right, no matter the consequences. At one point, he even screams "And I'm glad what I done to ya, you hear that?" which almost feels like a statement of defiance from Kazan himself. The director was making it clear he only testified before the Committee because it was the "right" thing to do, and not because it was in the best self-interest for his career. And, most importantly, he held no regrets for his potentially selfish actions.

To enjoy watching the film, you really do have to put aside these directorial intentions, which only serve as a personal artistic choice. If you're unaware of this background information, you will be able to simply view the film as a film, and nothing more. Guess I've ruined that though, haven't I? And, personally, even with the knowledge of the potential ulterior motives for its production, I am able to do this. I am a firm believer in taking a piece of cinema at its artistic merit only, and leaving outside elements aside. Was Kazan crafting a film to somewhat pathetically atone for his past shameful behaviour? Yes, absolutely. It's hard to ignore the obvious connections between the film and his real life. Directors often inject something of themselves into their creations, and it's clear that is what Kazan did here. Does that make it any less impressive and powerful as a piece of art? No, it does not.

It cannot possibly take away the incredible performance of Brando, which stands as his finest work. Given his impeccable career, that's truly saying something. Brando had perfected the art of method acting, and it's in full effect here. He disappears completely into Terry, giving us a performance that is as real and effective as they come. That infamous "I coulda been a contender" monologue still manages to elicit goosebumps. The ending, where he bravely stumbles into the waterfront warehouse, is just as moving as it was in 1954. He was always an actor who could capture your attention like few others, and never was that more evident than here. Fun fact – Brando originally turned the role down, and the film's producer Sam Spiegel offered the role to Frank Sinatra instead. Brando's agent begged him to reconsider, seeing it as a golden opportunity for his career. He eventually agreed, and Spiegel was left to break to the news to Sinatra.

Surrounding Brando is a sublime supporting cast, particularly Saint as Terry's love interest, Edie. She gives a deeply emotional (and Oscar-winning) performance, which was surprisingly her film debut, and has such great chemistry with Brando. Cobb, Malden, and Steiger are also terrific, and it's a true shame one of them wasn't able to walk away with Best Supporting Actor. Steiger and Brando's scenes together are magic, and the two play so well opposite each other. It's ultimately a brilliant ensemble piece, and one that is perfectly cast.

But it really all comes down to the script, and Budd Schulberg's writing is another example of a truly perfect screenplay. It's one of the best there's ever been, and it still holds up extremely well today. Its expert mix of both gripping realism and stylised gangster drama is utterly perfect, and the dialogue still crackles as fresh as it did in 1954. Its corruption plot-points may seem a little dated, and its ending is a little too happy and unrealistic, but those are minor quibbles for such a masterpiece of cinema.

I know politics and outside factors often come into play at the Academy Awards, but my heart still likes to foolishly believe they are awarding the film, not the man behind it. Their decision to award On the Waterfront with Best Picture was purely to honour its incredible artistic achievement as the year's greatest film. And it is just that. It is a brilliant piece of cinema that fully deserved to win Best Picture. Anything outside of that is for you to argue amongst yourselves.