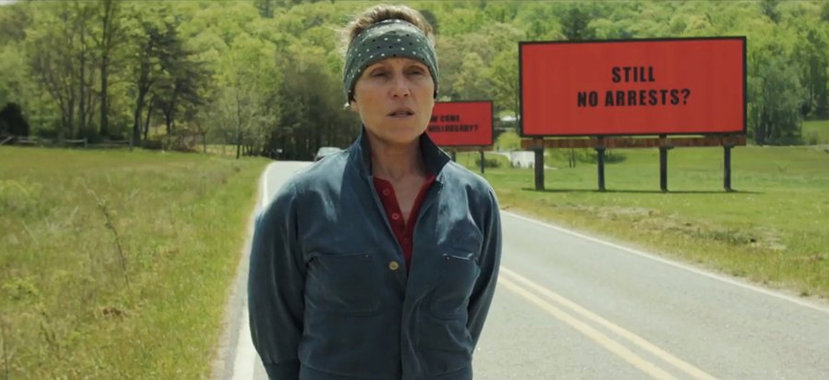 02 Jan

REVIEW – 'Three Billboards Outside Ebbing, Missouri'

There are black comedies, and then there's something like Three Billboards Outside Ebbing, Missouri – a film so sardonically dark, you won't know what hit you. And this film will hit you with wave after wave of the most intense gut-punches, but in the best way possible. Cemented by an impeccable ensemble cast, led by the sublime Frances McDormand, and working off a brilliant screenplay from writer/director Martin McDonagh, this is a firecracker of a masterpiece that will have you ducking for cover.

After the brutal rape and murder of her teenage daughter, Angela (Kathryn Newton), Mildred Hayes (McDormand, in scintillating form) still has no clue who is responsible for the despicable crime. After months of waiting for the seemingly useless local law enforcement to solve her daughter's case, Mildred bluntly takes matters into her own hands, given the police are "too busy torturing black folks."

Hoping to publicly shame the police into action, and, consequently, re-ignite the hunt for her daughter's killer, she pays $5,000 to a local advertising man, Red Welby (Caleb Landry Jones), to rent three billboards on the outskirts of town. On them, in bold, black uppercase letters on a blood-red background, she delivers her three biting messages; Raped While Dying; And Still No Arrests; How Come, Chief Willoughby? Mildred is clearly not one for subtlety.

Soon after, police officer Jason Dixon (a career-best Sam Rockwell), a racist and violent dullard, drives by the billboards, and relays their existence to Sheriff Bill Willoughy (Woody Harrelson). Willoughy, a peaceful family man, is naturally angered, but attempts to reason with Mildred, sharing her frustration with the case remaining unsolved, and promising he has done everything possible to find the person responsible for Angela's murder. It seems he's far from the lazy failure he's being painted as. Mildred subsequently begins to bear the brunt of a fierce backlash from the community and those around her, who see the billboards as unfairly disgracing a good and honest man.

Her son, Robbie (Lucas Hedges), begins to struggle to support his mother's campaign, despite sharing her desperate desire for closure on his sister's murder. Her abusive ex-husband, Charlie (John Hawkes) and his vapid new 19-year-old girlfriend, Penelope (a scene-stealing Samara Weaving), demand she take the billboards down. And Dixon begins to target those close to Mildred, including her co-worker Denise (Amanda Warren) and poor, unfortunate ad-man Red. But Mildred, strong and stubborn, is unperturbed, and determined to see her crusade through, no matter the cost.

McDormand has always been a force of nature of an actress, but working with McDonagh's fiery and volatile dialogue, she's really on another level to anything she's given us before. It's a role only she could play, and god knows she deserves her second Oscar for it. Unrelenting in her refusal to back down, Mildred is fearless and rough, but always with the conflict of consequence complicating her determination. As a mother burning with the most immense fury, fueled by the lack of progress by the police and her own personal guilt, Mildred enacts her quest for results with white-hot intensity and stubborn resolve, which will elicit sympathy and, at times, frustration from the film's audience. You'll naturally want to cheer her on, but, occasionally, you'll want to scream for her to back down.

There's a deeply damaged soul hiding under Mildred's cold, hard exterior, and McDormand takes deft care with slowly peeling back the layers of her incredible performance. Her foul mouth may shock some, but it really becomes part of her strangely endearing charm. Mildred has clearly run out of fucks to give, so strap yourselves in and leave your thin-skin at the door. And, really, it's impossible not to love an instantly-iconic line of dialogue like "This is just the fucken start. Why don't you put that on your Good Morning, Missouri fucken wake up broadcast, bitch," delivered while Mildred coolly drives by a local reporter. Absolute gold.

Surrounding McDormand is the year's finest supporting cast, with terrific turns from every single member of this immense ensemble. After his fine work in War for the Planet of the Apes, Harrelson continues his stellar year, with yet another fantastic performance. As the sympathetic Sheriff caught in an unenviable situation, he turns on his natural boyish charm to create a character so instantly lovable and charming. When Willoughby and Mildred face off, you will struggle to pick which one to root for.

The criminally-underrated Rockwell gives an Oscar-worthy and revelatory performance, as the bigoted, white-trash moron Dixon. The character demands so much depth from its actor, constantly floating between repugnant and redeeming, and Rockwell handles it with deft precision. His character journey is the most surprising and captivating of the film, taking so many unexpected twists and turns, ultimately crafting a performance that's unexpectedly touching. Despite his misgivings (and, boy, does he have plenty), Dixon is a man desperate to turn his life around. And, in some strange way, we want to see him succeed. The problem is he's just too damn stupid to know what to do or how to learn from his mistakes, which he seems doomed to repeat.

But even the smallest of roles have deep impact here. Peter Dinklage, decked-out in a mullet and porn-star mustache, makes a brief but memorable appearance as a local loser who dares take Mildred out on a date, leading to a wonderful monologue I dare not spoil. Hedges is fantastic as Mildred's beleaguered son, and stands as one of the few people with the fortitude to stand up to her. Hawkes is perfectly horrible as the savage wife-beater, whose anger is clearly a front for his deep-seeded pain. Weaver is brilliantly hilarious as the brainless arm-candy Penelope. With her ridiculous one-liners, (at one point, she confuses the sport of polo with the disease polio), threatens to steal the whole film. And the list just keeps on going, with Sandy Martin as Dixon's tough as nails mother, Clarke Peters as a no-nonsense police chief, Zeljko Ivanek as the frustrated police sergeant, and a touching performance from Abbie Cornish as Willoughy's deeply-devoted wife. It's an ensemble piece like no other in 2017.

What sets the film apart is McDonagh's biting and powerful screenplay, which stands as one of the year's best. His dialogue is an absolute dream, gifting his actors with such masterful words to work with, which they all lap up. The humour McDonagh injects here is wonderfully funny, and often wildly inappropriate, but it never undermines the narrative or feels forced, in any way. McDonagh also injects his screenplay with deeply powerful drama, and those are the moments which will linger in your mind, long after the credits end. His narrative sharply explores how we deal with tragedy and grief, in our own individual way, and, more importantly, how anger can be so destructive by breeding further anger from those around us. It never attempts to provide an answer to who is right and who is wrong in Mildred's quest for justice. That's really for you to determine for yourself.

And that's what is ultimately so striking and unique about this film – its ambiguity and unpredictability. You're going to assume you know where many of the narrative's tropes are heading, particularly the film's ending. You will be wrong. McDonagh defies convention in so many ways, and crafts a piece of cinema that will constantly shock and surprise you. A subplot involving a potential suspect travels to a conclusion you won't expect. The ending is decidedly ambiguous and unclear, which may frustrate many and is potentially the film's one major flaw. And there's one scene between Mildred and Willoughby that will knock your damn socks off, with a surprise you will not see coming.

Three Billboards Outside Ebbing, Missouri is a wonderfully visceral experience, taking its audience on a rollercoaster ride through its narrative filled with black comedy, bleak misery, and several truly shocking twists and surprises. It walks the thin line between comedy and tragedy with such expert skill, and you won't quite know whether to laugh or gasp. Sometimes you'll do both. With an exhilarating performance by McDormand, and a sublime supporting ensemble, it's a masterclass of acting which few films can ever hope to match. And, if it happens, it is indeed a film which fully deserves to sweep the Academy Awards in March.
★★★★1/2☆