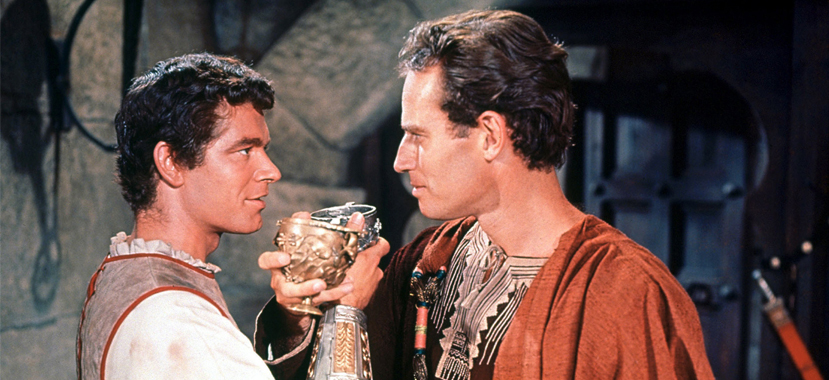 05 Jan

THE BEST PICTURE PROJECT – 'Ben-Hur' (1959)

In 1960, the 32nd Academy Awards ceremony was held at the Pantages Theatre in Los Angeles. Honouring the films released between January 1, 1959 and December 31, 1959 the awards were held on April 4. For the second time in history, a host would also go home with an Oscar. Perennial host Bob Hope was awarded the Jean Hersholt Humanitarian Award for his many years dedicated to entertaining the troops abroad.

With her win for Best Actress in a Room at the Top, Simone Signoret became the first actress to win from a foreign-made film. Surprisingly, until then, every winner of this category came from an American-made film. This also made Signoret the first French artist to win an Academy Award.

Once again, the night belonged to one film, and one film alone. William Wyler's epic historical blockbuster Ben-Hur led the field with 12 nominations. After only one year, Gigi's record of nine wins would be broken, with Ben-Hur claiming 11 categories, including Best Picture. It's a record that remained untouched until Titanic equaled the feat in 1997, and repeated again in 2003 by The Lord of the Rings: The Return of the King. The film also became the third to win both Best Actor and Best Supporting Actor, which would not be repeated again until Mystic River in 2004 and Dallas Buyers Club in 2013. With his third victory, director William Wyler became the third person to win more than two Best Director prizes, and remains the only director in history to direct three Best Picture winners (Ben-Hur, The Best Years of Our Lives and Mrs. Miniver).

The nominees:
Anatomy of a Murder
Ben-Hur
The Diary of Anne Frank
The Nun's Story
Room at the Top


The winner:
Ben-Hur

Based on the 1925 silent film and Lew Wallace's 1880 novel Ben-Hur: A Tale of the Christ, Ben-Hur is the sprawling historical epic unlike any other. In AD 26, Judah Ben-Hur (Charlton Heston) lives as a wealthy Jewish prince in Jerusalem. When Judah's childhood friend Messala (Stephen Boyd) is made the new commander of the Roman garrison, he is overjoyed. But Judah soon learns the position has changed Messala into an arrogant, cruel conqueror, determined to enact the glory of Roman imperial power. When Judah refuses to divulge the names of Jews who stand in opposition of the Roman empire, Messala furiously enslaves him, hoping to intimidate the Jewish people into submission. But Judah survives slavery, and becomes fiercely determined to seek vengeance against his one-time friend.

Why did it win?
In 1959, it had been several years since the Academy had rewarded a big, epic blockbuster. The time was here once again to acknowledge a genre of film Hollywood does best. And there had never been a blockbuster colossus quite like Ben-Hur. Even by today's standards, it's a mammoth production. Its staggering production cost of $15 million (around $160 million today) was the most expensive of its time. It took over nine months to film, required 100,000 costumes to be produced, and utilised more than 300 lavish sets, built on location in Rome. Just the thrilling chariot scene alone cost $4 million, featured 8,000 extras, and took 10 weeks to shoot. It was on a scale unlike any film production in the history of cinema.

If that wasn't enough, MGM embarked on their biggest and most expensive marketing campaign in history, with an astonishing $14.7 million being spent to promote the film. With an advertising blitz on radio, television, and print, MGM were determined to push the film everywhere possible. They even created a line of Ben-Hur merchandise, featuring candy, clothing, perfume, jewellery, dress-up costumes, and toys inspired by the film. The response from the public was overwhelming.

In its initial release, the film earned a staggering $33.6 million at the US box-office, and a further $32.5 internationally for a worldwide total of $66.1 million. It became the fastest-grossing film in history, at that point, and, naturally, the highest-grossing film of 1959. It became the second-highest grossing film of all-time (after Gone with the Wind), and it saved MGM from financial ruin, delivering a huge profit of $20 million. For all their hard work and money spent, the results were clearly worth the effort.

The film also received rave reviews from the critics, with many hailing it one of the greatest of all time. Variety called it "a majestic achievement, representing a superb blending of the motion picture arts by master craftsmen," while the Los Angeles Times heralded it as "magnificent, inspiring, awesome, enthralling, and all the other adjectives you have been reading about it."

Much like Gone with the Wind, after the resounding success of Ben-Hur at the box-office, and the overwhelmingly positive response from critics, there was simply no other choice for the Academy in this year's Best Picture race.

Did it deserve to win?
It's hard to say such an impressive feat of blockbuster filmmaking like Ben-Hur didn't deserve to win Best Picture. Even today, the film is visually dazzling, and its scale and scope are truly remarkable. That now-iconic chariot sequence is just as breathtaking as it was in 1959. What MGM and director Wyler accomplished is a genuine triumph of cinema. But for all its visual delights, the film is a tough slog to battle through.

As someone with fairly heavy aversions to religion, the film ultimately feels like a three-and-a-half hour scripture lesson. It tries to entertain, with its daring adventure of a heroic man on a mission of revenge, but when it begins to intermingle religious connotations and events, my mind begins to wander. Heston is awfully stilted and flat, and the narrative surrounding his epic quest becomes a tediously long and terribly grueling experience. As film critic Gary Giddins once said, "watching Ben-Hur all at once is like sitting down to a 10-course meal and finding that every course consists of potato dumplings, except for the seventh, which is strawberry shortcake (that would be the chariot race)." Touché.

And it should come as no surprise the aforementioned chariot race is the real highlight of Ben-Hur. It almost makes the three hours it takes to get there worth it. The cinematography and stunt-work are genuinely stunning, especially for this era. Just the fact the production team have managed to capture a full-scale chariot race, running for an insane 12 minutes, is an absolute marvel. The post-production work with the editing and sound effects work are true perfection, and it still stands as one of the most brilliantly crafted action pieces in cinema history.

I know as a film fanatic, I'm meant to hold this film to a wildly high level of esteem, and for its production work and achievements in filmmaking, I absolutely do. It's a gloriously elaborate film, and its immense scale can't be denied. It's hard not to be impressed by such a gargantuan piece of cinema history. Were there "better" films this year? Of course. That's always the case when a blockbuster wins. But none of its competitors stood as monumental a cinematic achievement as Ben-Hur, and, for that, you cannot deny it deserved that Best Picture prize.