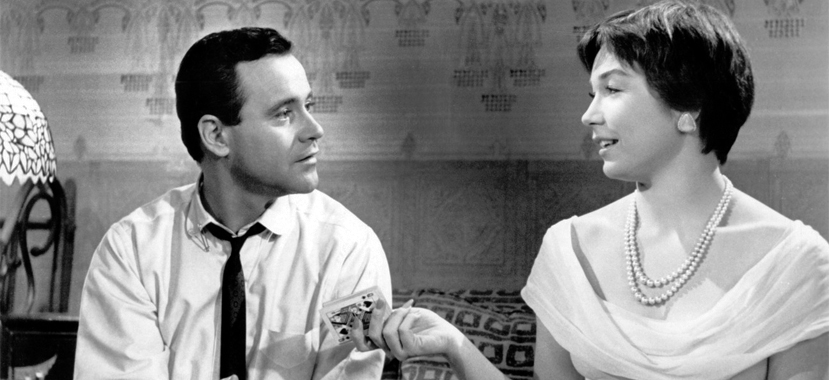 06 Jan

THE BEST PICTURE PROJECT – 'The Apartment' (1960)

In 1961, the 33rd Academy Awards ceremony was held at the Santa Monica Civic Auditorium in Santa Monica. Honouring the films released between January 1, 1960 and December 31, 1960 the awards were held on April 17. The awards moved into their new home at the Santa Monica Civic Auditorium, which had opened in 1958 and was the second-largest auditorium in the Los Angeles area, at the time.

The move was in response to the need for a larger space for the growing number of industry members wishing to attend. It would be the first time the awards had been held outside the Hollywood/Los Angeles area. It would also be the first ceremony broadcast on ABC, after a new five-year contract was signed, ending the Academy's long-run with former broadcast partner NBC. The broadcast remains with ABC to this day, minus a 5-year lapse between 1971-75, when the Academy went back to NBC.

Hayley Mills became the final winner of the Juvenile Award. Mills won for her performance in Walt Disney's Pollyanna. The following year, the category was abandoned, leaving juvenile performers to compete in the standard competitive categories. For the first time in Oscars history, a song from a foreign film won Best Original Song, with the title track from Greece's Never on Sunday taking home the award.

Despite being a flop with both critics and audiences, The Alamo received seven nominations, including Best Picture over critically acclaimed films including Psycho and Spartacus. This was due to an intense and exhaustive lobbying campaign, led by the film's star and director, John Wayne. Wayne took out numerous ads in trade publications, and threw lavish and expensive screenings and parties. Many believe Wayne went too far, with many finding his campaigning tasteless and desperate. It backfired, and the film ultimately only took home one award for Best Sound.

The night ultimately belonged to Billy Wilder's The Apartment, which led with ten nominations, and took home five Oscars including Best Picture. It was the second Wilder film to win the top prize, after 1945's The Lost Weekend. It gifted Wilder with his third Academy Award for writing, and his second for directing. Wilder also became the first person in Oscars history to win Academy Awards as producer, director, and screenwriter for the same film. The Apartment marked the final black-and-white film to win Best Picture until Schindler's List in 1993.

The nominees:
The Alamo
The Apartment
Elmer Gantry
Sons and Lovers
The Sundowners

The winner:
The Apartment

Written, directed, and produced by master filmmaker Billy Wilder, The Apartment is a romantic dramedy with a complicated and messy love triangle. C.C. Baxter (Jack Lemmon) is a lonely office worker at a mega insurance corporation in New York City. Desperate to attain a promotion, Baxter agrees to lend the use of his apartment to three company managers for their extramarital liaisons, in return for favourable performance reviews with the big boss, Mr. Sheldrake (Fred MacMurray). Soon enough, Sheldrake cottons on to the sordid setup…and he wants in too. But there's one small problem – Sheldrake's mistress is elevator operator Fran Kubelik (Shirley MacLaine), who Baxter is completely smitten with. Unbeknownst of Mr. Sheldrake's intentions, he agrees to lend him exclusive use of his apartment for his dalliances with Fran. When Baxter learns the truth, things are about to get very complicated.

Why did it win?
After honouring the big, bombastic blockbuster that was Ben-Hur, it was time for the Academy to switch gears and head on back to something decidedly more simple. And, just like they had done in the past, they fell for brilliant piece of filmmaking from the master that was Billy Wilder. Despite mixed reviews at the time, the film is now revered by many as an underrated masterpiece. Somehow, it seems the Academy were well aware of this.

Upon its initial release, The Apartment was met with some controversy over its risque narrative. The swinging 60s had not yet begun, and the tale of philandering husbands flaunting their exploits in such a brash way was not the kind of cinema many wanted to see. MacMurray was even subjected to women hurling abuse at him in the street for his part in making a "dirty, filthy movie." Despite the controversy, or perhaps even in spite of it, the film was a huge success at the box-office, taking $6 million in the US in its initial release.

As stated above, the film received extremely varied reviews from critics, with some hailing it a masterpiece and others calling it a dud. The New York Times called the film "gleeful, tender, and even sentimental" and Wilder's direction "ingenious," whereas the Saturday Review called it "a dirty fairy tale," and Esquire magazine denounced it as "a paradigm of corny avantgardism." It marked one of the first Best Picture winners to receive such a mixed response from the film critic community.

But the Academy were unperturbed, and showered the film in nominations. It seems they were determined to court the controversy the film had received by awarding it Best Picture. It was a brash move for an institution usually so desperate to meet public expectations. It also marked a turning point for the Academy. By awarding Best Picture to a film with a downright risqué and contemporary narrative, they were making a clear statement about the evolution of society, and how it was impacting cinema.

Sadly, it wouldn't last long, with the next decade of winners falling back to old Academy standards. But, for this one year, they made a bold decision with their choice for Best Picture, and it still stands as one of their most impressive choices.

Did it deserve to win?
It's a damn shame The Apartment doesn't get the respect it deserves. These days, you rarely hear it mentioned as one of the greats, particularly in discussion of great Best Picture winners. But, dear god, is this film a masterpiece. Often dismissed as a simple romantic comedy, at times, the film is actually rather heavy in its tone, and certainly falls far more in the drama category than anything else.

Of course there are some terrific comedic elements to the film. The story of a man so desperate to climb the corporate ladder, he agrees to essentially pimp out his own home is a goldmine for comedy. The narrative concept and setup are sublimely amusing, particularly when Baxter catches a cold and needs to rearrange the apartment's pre-booked schedule, over a series of hapless phone calls to each "customer." The sequence taps into Lemmon's sublime comedic talents, and it's truly captivating to watch such a master of comedy at work.

And, yes, there are some beautiful romantic moments, as Baxter and Fran interact and form a charming connection. Lemmon and MacLaine have such gorgeous chemistry together, and it's a true delight to watch them act opposite each other. The irony of their relationship is too delicious for words. They're both ignoring their moral integrity to impress the same chauvinist pig, and yet, neither has any clue of the other's connection to the very man causing each of them such misery. It crafts one of the strangest love triangles you'll ever see, but one of the very best.

But what really makes The Apartment rise above just being a gushy romantic comedy is also having one foot firmly planted in drama. The film raises some incredibly important issues including women's rights, the deep misogyny and sexism of the corporate world, and even suicide. Yes, suicide. At one point, Fran is so distraught over Sheldrake's disgraceful mistreatment of her, she swallows half a bottle of sleeping tablets, and almost dies. You don't expect that from a 1960s giddy romance film. The film deftly doesn't shy away from her suicide attempt either. It's discussed at deep lengths, and her mental health is a huge part of the focus of the second act. Refreshing is an understatement.

The performances are equally as refreshing, with Lemmon and MacLaine both giving sublime performances. Wilder has written three-dimensional characters here, and both actors take great care with their terrifically layered performances. Baxter is a man so conflicted with what to do, and all of that conflict is conveyed through Lemmon's deeply expressive face. Your heart breaks for him, and you cannot help but want him to get the girl he deserves. MacLaine portrays Fran with such fierce strength and delightful charm, and yet, she's incredibly vulnerable and damaged, at the same time. She wears a mask of positivity when in public, but in private, she's a complete mess. It's an absolutely glorious performance. Both their work here is astonishingly good. It's a travesty neither took home an Oscar.

There were some other pretty shameful snubs at this particularly Oscars. The fact a masterpiece like Psycho wasn't nominated for Best Picture is terrible, especially given Alfred Hitchcock was nominated for Best Director. But Bernard Herrmann's now-iconic score missing out on a nomination for Best Original Score is an absolute travesty, and still remains one of the most baffling missteps in Oscars history.

With The Lost Weekend, Wilder dared to shine a light on alcoholism unlike any film before. With The Apartment, he does just that for the treatment of women in modern-day society. It's an eye-opening film that was daring and groundbreaking for its time. And it's sadly still completely relevant today. Maybe even more so, in a post-Weinstein world. Weaving its way through light and shade, and comedy and tragedy, it's a sublime and undervalued masterpiece that absolutely deserved to take home Best Picture. If you've never seen it, please track it down. You'll be glad you did.