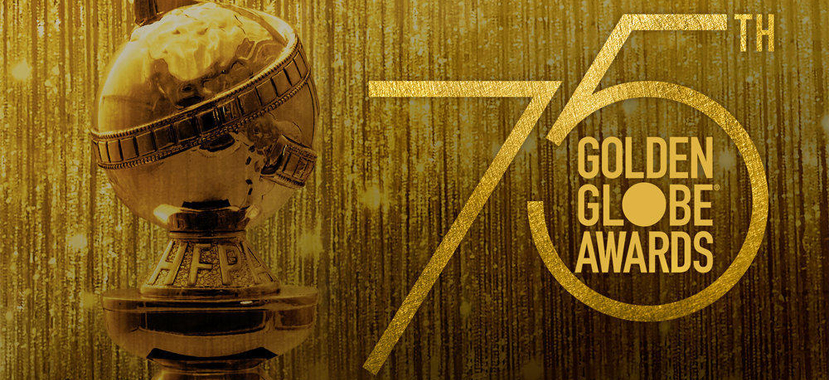 08 Jan

Predictions for the 75th Golden Globes

I've said it before, and I'll say it again – predicting the Golden Globes is often a total waste of time. No one really knows how these awards will play out. The HFPA do all sorts of bizarre and wacky things each year. Sometimes a completely unexpected film wins one of the Best Picture categories. Sometimes a performance that may not even be Oscar-nominated wins one of the Supporting categories. And sometimes, Lady Gaga and Madonna win a Golden Globe for their acting skills…

But, it's awards season, and predictions are required of those who follow along, so one must somehow attempt to gauge how this is going to go down. The problem is, with a season lacking frontrunners in most categories, it's seemingly impossible to know which direction the Globes will take. Maybe they'll go nuts for The Post, and it takes everything it's nominated for, including a surprise Meryl Streep win. Maybe they loved Dunkirk and want to reward Christopher Nolan. Maybe The Shape of Water pulls a La La Land and wins all seven categories it's up for. But, more than likely, maybe one film won't dominate, and it will be spread out all over the place.

As I always preface, take these predictions with a hefty grain of salt. There will be surprises and shocks that will baffle and confuse. This is one awards show that's never easy to predict. Alas, here are my final predictions for the Golden Globes film categories for 2018.

MOTION PICTURE – DRAMA
Call Me by Your Name
Dunkirk
The Post
The Shape of Water
Three Billboards outside Ebbing, Missouri


It's a fairly wide-open race here. I can honestly see any of the five winning, and it not being a total surprise. But with seven nominations, it feels like it's going to be a good night for The Shape of Water, and it takes the big one. Maybe.

BEST ACTOR – MOTION PICTURE, DRAMA
Timothée Chalamet – Call Me by Your Name
Daniel Day-Lewis – Phantom Thread
Tom Hanks – The Post
Gary Oldman – The Darkest Hour
Denzel Washington – Roman J. Israel, Esq


As mentioned in my article regarding Chalamet's Oscar chances, in the past, Oldman has been highly critical of the Golden Globes and the HFPA. Maybe they've forgotten about it. Or perhaps they've forgiven him. But something tells me they haven't, and Chalamet takes this home, in a "surprise" win. Expect a very tight close-up of Oldman while Chalemet gives his speech.

BEST ACTRESS – MOTION PICTURE, DRAMA
Jessica Chastain – Molly's Game
Sally Hawkins – The Shape of Water
Frances McDormand – Three Billboards Outside Ebbing, Missouri
Meryl Streep – The Post
Michelle Williams – All the Money in the World

McDormand has been nominated for five Golden Globes, and never won. This might finally be time to correct that bizarre stat. It's between her and Hawkins, and if The Shape of Water sweep is on, it will take Hawkins with it. Hawkins is also much more likable, and that helps with the HFPA. If the two split the vote, expect to see Streep take it, particularly after her viral moment last year with that biting speech against Trump.

MOTION PICTURE – COMEDY OR MUSICAL
The Disaster Artist
Get Out
The Greatest Showman
I, Tonya
Lady Bird


I'm still amazed The Big Sick isn't here to really shake this category up…but anyway. It's between Get Out and Lady Bird. The HFPA seemed to like the latter more, giving it a Screenplay nom, while the former missed out, so that gives Lady Bird the edge. But it's a coin-flip category.

BEST ACTOR – MOTION PICTURE, COMEDY OR MUSICAL
Ansel Elgort – Baby Driver
Steve Carell – Battle of the Sexes
James Franco – The Disaster Artist
Hugh Jackman – The Greatest Showman
Daniel Kaluuya – Get Out

In all honesty, I would not be remotely surprised to see Jackman take this out. It is partly a musical category, after all, and usually that equals a guaranteed win. And everyone loves him, which also helps immensely. But, there was simply no comedic performance as downright brilliant as Franco, and he deserves this.

BEST ACTRESS – MOTION PICTURE, COMEDY OR MUSICAL
Judi Dench – Victoria and Abdul
Helen Mirren – The Leisure Seeker
Margot Robbie – I, Tonya
Saoirse Ronan – Lady Bird
Emma Stone – Battle of the Sexes

Ronan is one of the few locks of the evening. Don't discount Robbie though. The HFPA often love to reward the gorgeous young thing, so it wouldn't be a huge shock.

BEST SUPPORTING ACTOR
Willem Dafoe – The Florida Project
Armie Hammer – Call Me by Your Name
Richard Jenkins – The Shape of Water
Christopher Plummer – All the Money in the World
Sam Rockwell – Three Billboards outside Ebbing, Missouri

Another very wide-open race. You could see any of these guys winning. The Oscar race will likely come down to Dafoe vs. Rockwell. However, the HFPA will likely want to be the first to reward Plummer's infamous last-minute Kevin Spacey-replacement performance. It will make headlines, and that's precisely what they want.

BEST SUPPORTING ACTRESS
Mary J. Blige – Mudbound
Hong Chau – Downsizing
Allison Janney – I, Tonya
Laurie Metcalf – Lady Bird
Octavia Spencer – The Shape of Water

It's been Janney vs. Metcalf all season. Another coin-flip category between these two fantastic females. Something tells me they'll go with Janney. She was never Globe-nominated for her TV work, either in The West Wing or Mom, so the HFPA have some grovelling to do. It's also the showier performance, which they tend to love.

DIRECTING
Guillermo Del Toro – The Shape of Water
Martin McDonagh – Three Billboards Outside Ebbing, Missouri
Christopher Nolan – Dunkirk
Ridley Scott – All the Money in the World
Steven Spielberg – The Post

Yet again, any of these five could genuinely win and it not be a huge shock. Maybe Nolan for his impeccable work. Maybe Scott, purely for getting through the Spacey saga. But they often go for the most bold technical achievement, and that has to be Del Toro.

SCREENPLAY
Lady Bird
The Post
Molly's Game
The Shape of Water
Three Billboards outside Ebbing, Missouri

It's hard to forget Aaron Sorkin surprising everyone a few years ago by winning Screenplay for Steve Jobs, so don't completely count out another surprise win here. But there are stronger contenders, and it's a toss-up between Lady Bird and Three Billboards. Something tells me they want to get Greta Gerwig on their stage. Since they didn't give her a Director nomination, this is their chance.

ANIMATED FEATURE
The Boss Baby
The Breadwinner
Coco
Ferdinand
Loving Vincent

Nothing to see here. Coco wins.

ORIGINAL SCORE
Dunkirk
Phantom Thread
The Post
The Shape of Water
Three Billboards Outside Ebbing, Missouri

It's a tight race, and it could be the one and only chance to reward Phantom Thread. But it feels more like another win for The Shape of Water.

ORIGINAL SONG
"Remember Me" – Coco
"Home" – Ferdinand
"This Is Me" – The Greatest Showman
"Mighty River" – Mudbound
"The Star" – The Star

This is the one category that very rarely matches with the Oscars. It did last year, but that was an anomaly. That means you can probably rule out "Remember Me." They often love to get a big pop star up there, so it wouldn't even be a shock to see "Home" win, as it's written by Nick Jonas. They could also be keen to get Mary J. Blige up to the stage, so a "Mighty River" win could happen. But something tells me they'll go back-to-back for songwriters Benj Pasek and Justin Paul and give it to "This Is Me."

FOREIGN LANGUAGE FILM
A Fantastic Woman
First They Killed My Father
In the Fade
Loveless
The Square

It should be The Square. Actually it should be BPM, but don't get me started. But somehow, the chance to get Angelina Jolie up to the microphone seems too tempting an opportunity to pass up, especially since the film is no longer in Oscar contention.