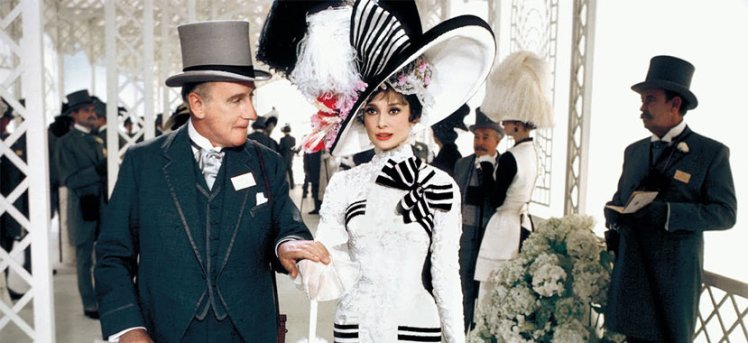 10 Jan

THE BEST PICTURE PROJECT – 'My Fair Lady' (1964)

In 1965, the 37th Academy Awards ceremony was held at the Santa Monica Civic Auditorium in Santa Monica. Honouring the films released between January 1, 1964 and December 31, 1964 the awards were held on April 5. The ceremony marked the last time the broadcast would only be shown in black-and-white, with the advent of colour television the next year.

For the first time, the Academy awarded a special Oscar for makeup design to 7 Faces of Dr. Lao. They would do this once more in 1968 for Planet of the Apes, and never again. The award would strangely not becoming a permanent category until 1981. Also for the first time, all four acting winners were non-American actors. This feat would not be repeated again until 2008.

Judy Garland made a rare appearance at the awards to perform a seven-minute long tribute to Cole Porter, who had passed away a few months earlier. Garland performed a medley of Porter standards including "Night and Day," "I Get a Kick Out of You," and "It's De-Lovely."

The night belonged to two musical ladies, in an epic battle for Best Picture. Leading the field with 13 nominations was Walt Disney's Mary Poppins. It marked Disney's first nomination for Best Picture, and ultimately scooped five awards including Best Actress for Julie Andrews. But the big winner of the evening was Warner Bros.' My Fair Lady, taking home eight Academy Awards from its 12 nominations including Best Picture.

The nominees:
Becket
Dr. Strangelove or: How I Learned to Stop Worrying and Love the Bomb
Mary Poppins
My Fair Lady
Zorba the Greek

The winner:
My Fair Lady

Based on the hugely popular stage musical and the 1913 play Pygmalion, My Fair Lady is the lavish tale of a street-girl turned into a proper lady. Set in London in 1912, Professor Henry Higgins (Rex Harrison) is a scholar of phonetics, and boasts he could teach proper accent and tone to any woman to pass them off as a duchess. After a chance encounter with a dirt-covered flower seller, Eliza Doolittle (Audrey Hepburn), Higgins selects Eliza to be his new subject, despite her heavy Cockney accent. With Higgins' ruthless lessons, and a makeover of her clothing and appearance, Eliza's mission to become a proper lady begins.

Why did it win?
In 1964, the Academy still loved a big, extravagant musical, and none were quite as spectacular as My Fair Lady. It obviously wasn't know at the time, but the film would stand as one of the last great American musicals, with the genre beginning to fade as the decade wore on. But, at the time, the film was enormously successful, and quickly became one of the highest-grossing musicals of its era, and one of the most expensive too.

With an enormous budget of $17 million, My Fair Lady was the most expensive film shot in the US, up to that time. That includes the staggering $5.5 million Warner Bros. paid for the film rights to the stage musical – a new record, at the time. On top of that is the rumoured $10 million Jack L. Warner spent on the film's sprawling marketing campaign, including a lavish premiere in New York City, and an extravagant post-premiere ball hosted by the Duchess of Windsor.

It all paid off for Warner Bros. The film took an astonishing $72 million at the US box-office, making it the highest-grossing film of 1964. With another $70 million at the international box-office, the film would equate to earning over $1 billion worldwide, when adjusted for inflation, making it one of the 50 highest-grossing films of all time. It still remains one of the most successful movie musicals there has ever been.

The film also received rave reviews from critics, with many hailing it as one of the greatest musicals of all time. TIME Magazine called it "the most gilt-edged attraction in theater history," while Variety hailed it as "stunningly effective screen entertainment."

Despite stiff competition from another much-loved movie musical in Mary Poppins, there was simply no choice for the Academy other than My Fair Lady. It had enchanted audiences and critics, and stood as perhaps the greatest musical adaptation the screen had ever seen. Just the kind of formula needed to ensnare the Best Picture prize.

Did it deserve to win?
Let's get one thing right out-of-the-way to start with – I adore Mary Poppins, perhaps more than any other film in history. It was the first film I remember grabbing my attention as a child, and I would genuinely watch it at least once (sometimes more) a week. It's a film I still love to watch now, and forever holds a special place in my heart. To see it receive 12 (!) nominations, yet not walk away with Best Picture, is rather painful. It's La La Land all over again.

However, there is some delicious justice in Julie Andrews winning Best Actress for Mary Poppins. In a decision which has gone down in infamy, she was overlooked for the film adaptation of My Fair Lady, despite originating the role on Broadway. Andrews was well-known in theatre circles, but was yet to break into film. After her role of Eliza Doolittle was instead given to Audrey Hepburn, Andrews was available for Walt Disney to cast her as the lovable nanny, and became an instant film star. In a cruel twist of irony, Hepburn was not even nominated for Best Actress for My Fair Lady, with many assuming this was perhaps backlash over her casting, coupled with the revelation Hepburn didn't do her own singing, but was overdubbed by Marni Nixon. It made Andrews' victory that much sweeter. She even thanked Jack L. Warner for "making this possible" in her Golden Globes acceptance speech. Zing!

Putting all those personal feelings aside, if Mary Poppins were to lose Best Picture to any film, it's perfectly acceptable that film be one of the most gorgeous and stunning movie musicals in history. The visuals of My Fair Lady are unlike anything before it, with the most gorgeous costume and set design, particularly in the dazzling "Ascot Gavotte" sequence, which I could watch again and again just for those incredible costumes. Coupled with Harry Stradling Sr.'s sublime cinematography, the film is a true thing of beauty, elevated even higher by its musical numbers.

There's not a disappointing number in the entire production, and that's saying something, given the film features over a dozen songs. From the classic "I Could Have Danced All Night" to "Get Me To The Church on Time," every single musical number is a marvellous triumph. Even if she's not actually singing, Hepburn gives a vibrant and enthusiastic performance, as does Harrison. Fun fact – Harrison refused to mime to pre-recorded tracks. He insisted on singing live on set, and his vocals were recorded for the film via a wireless microphone, hidden in his tie. This marked the first time in film history musical numbers were performed live on set.

Both lead performances are stellar, with Harrison rightly taking home the Best Actor category for his efforts. Hepburn and Harrison have such glorious chemistry together, and, despite the controversy around Hepburn's casting, the two are perfect for their roles. Hepburn's transformation is still a glory to behold, and it doesn't hurt she was so damn beautiful, to boot. Harrison delivers every line of dialogue with such style and flair, and its a credit to the screenplay he was working with. The script is filled with lashings of biting wit and delicious satire, and it still stands as one of the most brilliantly written movie musicals.

There's still one elephant in the room to cover – the Academy overlooking Stanley Kubrick's now-classic Dr. Strangelove or: How I Learned to Stop Worrying and Love the Bomb. Many consider it a disgrace the film did not win Best Picture. And, yes, I can see their point, to a degree. It is a masterpiece of cinema, and any other year, it's something which could very easily have won. But, as a musical lover, I can't deride the Academy too much for falling in love with My Fair Lady. It's such a joyful, glorious experience, both visually and audibly. Even with a run time of almost three-hours, the film floats along like a dream. Say what you will, but this was a fantastic and deserving choice for Best Picture.