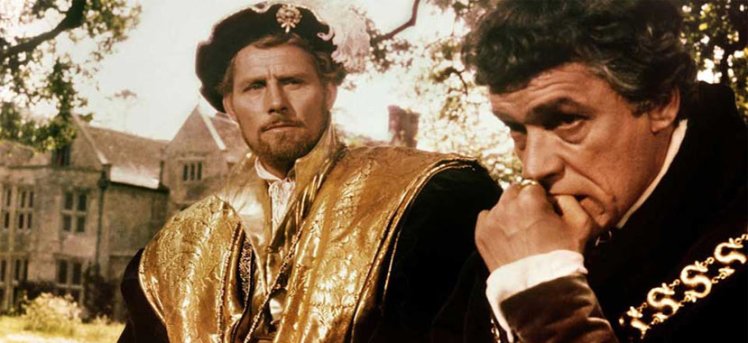 12 Jan

THE BEST PICTURE PROJECT – 'A Man for All Seasons' (1966)

In 1967, the 39th Academy Awards ceremony was held at the Santa Monica Civic Auditorium in Santa Monica. Honouring the films released between January 1, 1966 and December 31, 1966 the awards were held on April 10, but they almost didn't happen at all. For the first time ever, the awards came achingly close to being cancelled.

An ongoing strike by the American Federation of Television and Radio Artists (AFTRA) threatened to derail the ceremony, as this was the union responsible for governing live television broadcasts. Despite it meaning a loss of $700,000 in compensation to ABC, the Academy were prepared to proceed with the ceremony, minus the usual live broadcast. Incredibly, just three hours before the ceremony, the strike was resolved, and the show went on, as planned.

Vanessa and Lynn Redgrave were both nominated for Best Actress for their work in Morgan! and Georgy Girl, respectively. The siblings became the first sisters to be nominated in this category in 25 years. The Best Actress category also featured another piece of history, with all five nominees being born outside the United States. It is a feat which has strangely never been repeated.

Leading the field this year was Mike Nichols' daring and controversial drama Who's Afraid of Virginia Woolf?, with a staggering 13 nominations, including nominations in all four acting categories. With its small cast of only four actors, it marks the first and only instance of a film receiving an acting nomination for every credited cast member. It was also the only time a film was nominated in every single category it was eligible for. Despite this, the film failed to take home the big prize, and the winner of Best Picture was A Man for All Seasons. The film also collected another five wins including Best Director and Best Actor.

The nominees:
Alfie
A Man for All Seasons
The Russians Are Coming, the Russians Are Coming
The Sand Pebbles
Who's Afraid of Virginia Woolf?

The winner:
A Man for All Seasons

Based on the Robert Bolt's 1960 play of the same name, A Man for All Seasons is the tale of one man's fight to stand by his faith. Set in England in the 1520s, the film finds King Henry VIII (Robert Shaw) in a difficult situation. His desire for a son and heir to throne has led him to seek a divorce from his infertile first wife, Catherine of Aragon, in order to marry his mistress Anne Boleyn. There's only one man who stands in opposition to his proposal – Sir Thomas More (Paul Schofield), a devout Catholic and Chancellor of the Duchy of Lancaster, who cannot agree with the King's desire for divorce on religious grounds. When More is named Lord Chancellor of England, his approval of the divorce is needed more than ever. Despite his opposition, More wisely remains silent. But when the King names himself head of the Church of England, and requires all to take an oath of allegiance to his new position, a new battle is on. How far will the King go to get what he wants, and how much is More willing to risk to remain true to his morals and his faith?

Why did it win?
Representing a major tonal shift from the previous two years, the Academy went back to falling for a piece of British cinema with all the hallmarks of a Best Picture winner. It was a period film. It was based on an epic and enthralling true story, which had been adapted into a smash hit West End and Broadway production. It featured a stirring monologue from its leading man, before the film concludes with a tragic and miserable ending. And its cast was filled with huge stars of the British film industry. It's perhaps one of the earliest examples of true Oscar bait.

Despite the changing times around them, it seems the Academy were still desperate to cling to their traditional ways, and award a film more aligned with the ageing voters' values and standards. In the process, they rejected a film many viewed as progressive and groundbreaking. They may have rewarded Who's Afraid of Virginia Woolf? with 13 nominations and ultimately five victories. They couldn't possibly not. However, given the film's taboo and controversial themes, they couldn't find it within themselves to award it with Best Picture.

Helping to make the case for A Man for All Seasons as the eventual Best Picture winner was the film's reaction from the public and with critics. The film was the surprise hit of the year, earning $28 million at the US box-office and ending the year as the fifth highest-grossing film of the year. It also received positive reviews from critics, with Variety hailing is at "an excellent, handsome and stirring film," while the New York Times called it "a picture that inspires admiration, courage and thought."

It wasn't exactly a great year for film either. Consider the fact Alfie was nominated for Best Picture, and you can see what I mean. It's a fine film, and Michael Caine is lovely in it. But come on. Best Picture nominee? No. In a year where the choice was between a traditional, Oscar-bait style film and a daring and audacious film that rattled many a cage, leave it to the Academy to follow tradition and go with the former.

Did it deserve to win?
Much like Tom Jones, if British cinema is your thing, you will likely love A Man for All Seasons. It's not in the same irreverent, absurdist genre, but it still features a lot of very British people doing a lot of very British things. There's nothing wrong with this film at all. It's a fantastic narrative, and even if you're not even remotely religious, you can't help but be inspired by a man standing by his conscious and convictions.

Schofield's performance is sensational, particularly in his closing monologue. Despite only minimal screen time, Shaw's performance as the bombastic King is sublime. When the pair face off, the film really comes alive. The film is dotted with wonderful cameos including Orson Welles as a corrupt and scrupulous Cardinal, John Hurt, in his film debut, as a weaselly and opportunistic peasant, and Vanessa Redgrave, in a mostly mute role. It's a great ensemble cast, and the film is entirely enjoyable to watch.

But calling it the best picture of 1967 is rather absurd. The film has some severe narrative problems, namely several gaping plot holes and timeline issues. Perhaps it was edited down to keep it a tidy two-hours long, but there are some baffling problems with the film's structure. Without giving away spoilers, the ending is also terribly rushed and horribly edited. I was actually genuinely surprised when the credits started to roll, assuming we still had some narrative exploration to go. Evidently not.

When compared to something as genuinely groundbreaking and fresh as Who's Afraid of Virginia Woolf?, the film looks terribly dated and decidedly dull. It has its moments, and it's a nice representation of an inspiring man, but it's really nothing we haven't seen before in many a Best Picture winner. The Academy missed a golden chance to acknowledge a film unlike anything before it, and there is simply no way one can say A Man for All Seasons was a deserving winner.