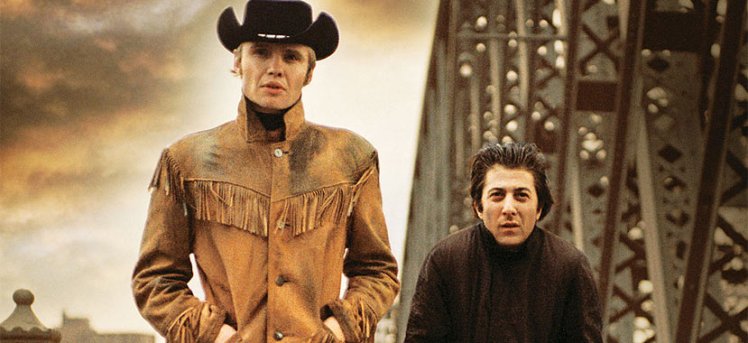 15 Jan

THE BEST PICTURE PROJECT – 'Midnight Cowboy' (1969)

In 1970, the 42nd Academy Awards ceremony was held at the Dorothy Chandler Pavilion in Los Angeles. Honouring the films released between January 1, 1969 and December 31, 1969, the awards were held on April 7. The ceremony was offered as a live broadcast to international television stations for the very first time. Unfortunately, due to the time difference, most countries declined the offer, and Mexico and Brazil were the only countries to broadcast the ceremony live. The remaining international networks broadcast the ceremony as a delayed telecast.

This year would mark the last time until 1996 where none of the four acting winners appeared in a film nominated for Best Picture. It was also the first time where every acting nominee appeared in a colour film. They Shoot Horses, Don't They? set a new Oscars record by receiving a staggering nine nominations but failing to receive one for Best Picture. This is a record that still stands to this day.

It was a decidedly Western-themed affair, with several films from the genre dominating the nominations and eventual wins. 20 years after his first nomination, Western legend John Wayne finally won an Oscar for Best Actor, for his now-iconic performance in True Grit. The revisionist western Butch Cassidy and the Sundance Kid won the most awards of the evening, taking home four including Best Original Screenplay and Best Cinematography.

But the big winner of the night was the gritty and controversial Midnight Cowboy, which won three Academy Awards including Best Director for John Schlesinger and Best Picture. The film became the first (and only) X-rated motion picture to receive the Academy's top prize. After an appeal to the classification board two years later, the film's rating was downgraded to R.

The nominees:
Anne of the Thousand Days
Butch Cassidy and the Sundance Kid
Hello, Dolly!
Midnight Cowboy
Z

The winner:
Midnight Cowboy

Based on James Leo Herlihy's 1965 novel of the same name, Midnight Cowboy is a stark and unflinching portrait of New York City in the late 1960s, and the tale of an unlikely friendship. Naive Texan cowboy Joe Buck (Jon Voight) quits his job as a dishwasher and heads for the bright lights of New York City to make it as a gigolo to the rich and glamourous woman of the city. But life in the big smoke is not all Joe hoped for, and he soon finds himself out-hustled by the city's most unscrupulous characters. One of those hustlers is a sickly con man with a limp, Enrico Rizzo (Dustin Hoffman), who is known by the unfavourable nickname "Ratso." He soon lives up to this moniker by ripping Joe off by offering to set Joe up with a man he claims is a pimp, but is actually an unhinged religious zealot looking to save the sinners of the city. Despite being hustled, Joe quickly forms a unique bond with Ratso, and squats with him in an abandoned building downtown. As Ratso's health begins to deteriorate, Joe becomes determined to earn enough money to help his new friend achieve his dream of escaping New York City for Miami, in hopes of reversing his mystery illness.

Why did it win?
Prostitution. Homosexuality. Violence. Profanity. Nudity. Sex. Drugs. Welcome to the new age of the Academy Awards. This ain't your grandfather's Oscars anymore. From here on in, Best Picture will generally come to mean something far more than just awarding a flashy piece of cinema. Yes, there will still be rare examples of style over substance. But, at least for the next several years, the films awarded the Academy's top honour represented the changing face of cinema, and they kicked it off with a decidedly bold choice in Midnight Cowboy.

They had the options there to go with something more traditional. Like the lavish and glamourous musical Hello, Dolly! Or a sweeping British period piece in Anne of the Thousand Days. They even had an acclaimed foreign language film in Z. And an entertaining new form of the Western genre in Butch Cassidy and the Sundance Kid. But the days of tradition were done, and the gritty, confronting Midnight Cowboy represented the chance to award something entirely new.

That's not to suggest the film only won by being the most original and different piece of cinema in 1969. Midnight Cowboy was a huge success for United Artists, both with audiences and critics. The film ended the year as the second highest-grossing film in the US, with a staggering $44 million at the box-office. Produced on a small budget of only $3 million, it was hugely profitable film for the studio.

The film also received rave reviews from critics, with many impressed by its daring subject choice and the performances of Hoffman and Voight. The New York Times called it "a moving experience that captures the quality of a time and a place," while the Chicago Tribune raved it "cannot recall a more marvellous pair of acting performances in any one film."

After the previous year of awarding a film really intended for children, given its G rating, it's clear the Academy were looking for something far more adult this year. And they went to the extremity of adult cinema, with something given the harshest classification possible. As the dawn of the new decade arrived, voters were looking to make a statement regarding the evolution of cinema and the future of the Oscars. Midnight Cowboy was obviously the strongest film to convey this vision for change.

Did it deserve to win?
Let's get one thing straight – Midnight Cowboy, for all its film classic reputation, has not aged well. Its language is terribly outdated, particularly Ratso's homophobic language which may or may not act as a mask for his hidden homosexuality. Its portrayal of women is awfully misogynistic and sexist. And its production style is, at times, somewhat goofy and ridiculous. Yes, it's a product of its time, but it makes for uncomfortable viewing in 2018. The film has taken its place in cinema folklore as one of the masterpieces of the late 1960s, but its reputation may outrank its actual production value.

It's easy to see how the film was deemed risky and groundbreaking at the time. It threw off the shackles of decades of censorship, and, in the process, challenged the ideas of what you could and couldn't show in a piece of cinema. It was confronting and rough in its depiction of New York City life and its seedy underbelly. It made two degenerates, a gigolo and a con man, its protagonists. It never shies away from showing sex and nudity in stark realism. And it ends on a sombre and bleak conclusion, with a tragic and ambiguous climax. No one can deny this was a remarkably different film than any Best Picture winner preceding it. Even today, it still stands as a genuinely surprising choice by the Academy, and that has to be admired.

But I genuinely feel the film's status has perhaps made people forget the film itself, and we overlook the film's many flaws and strange narrative choices. There are a handful of scenes which feel like they don't even belong in this film, particularly a bizarre psychedelic, acid-fuelled Andy Warhol party sequence, which adds absolutely nothing to the film's narrative at all. The Warhol party scene in the 1960s was the hottest spot in town, filled with New York celebrities and wealthy partygoers. It defies all convention to believe a low-rate gigolo from Texas and a filthy street hustler would manage an invite to this world. And the less said about Joe's encounter with a timid and terrified homosexual (a young Bob Balaban) in a seedy Times Square cinema, the better.

What the film does get wonderfully right is the central relationship between Joe and Ratso, elevated by Voight and Hoffman's sublime performances. The film cemented Hoffman as a true character actor, and heralded the arrive of Voight as one of the greatest actors of this generation. Despite Ratso's many flaws, Hoffman elicits such empathy from his audience, and it's hard not to find his character incredibly endearing. Likewise with Voight, who brings a charming naivety to Joe, even if he is somewhat of a dullard. Voight and Hoffman's chemistry is glorious, and their odd and sexually-ambiguous relationship is truly unique and captivating.

While the film may not hold up as well today as it did in 1969, Midnight Cowboy is still an incredibly impressive piece of cinema. We may have forgotten its failings, and instead focused on the buddy relationship of its main characters, but that's hardly a crime. Their connection is the film's true heart, and, ultimately, its greatest success. The film marked the beginning of an anti-glamourous, gritty, and confronting new era of Hollywood cinema. On that fact alone, you have to say it deserved to take Best Picture.