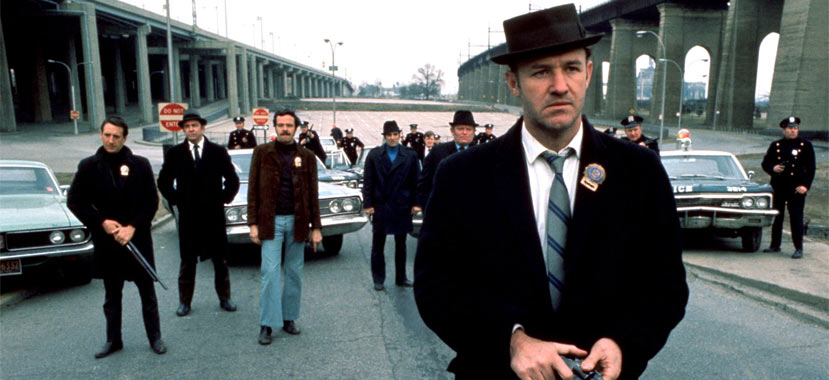 17 Jan

THE BEST PICTURE PROJECT – 'The French Connection' (1971)

In 1972, the 44th Academy Awards ceremony was held at the Dorothy Chandler Pavilion in Los Angeles. Honouring the films released between January 1, 1971 and December 31, 1971, the awards were held on April 10. For the first time, the broadcast employed a new technique in showing each nominee on superimposed pictures during the winner announcement. This technique is now synonymous with the Oscars, and all televised awards shows.

In a moment that would go down in Academy Awards infamy, Charlie Chaplin was presented an Honorary Academy Award for "the incalculable effect he has had in making motion pictures the art form of this century." Chaplin had been living in seclusion in Switzerland for the last 20 years, and this marked a rare public appearance for the legendary actor. When Chaplin appeared on the Oscars stage, he received a 12-minute standing ovation from the audience – the longest in Academy Awards history.

Heading into the awards, three films each led the way with eight nominations – Fiddler on the Roof, The French Connection, and The Last Picture Show. But it was William Friedkin's thrilling and action-packed The French Connection which won the evening, taking home five Oscars for Best Picture, Best Director, Best Actor for Gene Hackman, Best Adapted Screenplay, and Best Editing.

The nominees:
A Clockwork Orange
Fiddler on the Roof
The French Connection
The Last Picture Show
Nicholas and Alexandra

The winner:
The French Connection

Based on Robin Moore's 1969 non-fiction book The French Connection: A True Account of Cops, Narcotics, and International Conspiracy, The French Connection is a gripping and thrilling crime drama on the mean streets of New York City. Set in Brooklyn, Jimmy "Popeye" Doyle (Gene Hackman) and Buddy Russo (Roy Scheider) are narcotics detectives who mostly spend their time busting small-time drug dealers and street thugs. Desperate to crack a larger case, Popeye is always on the look-out for something bigger. One night at a local bar, he spots a table of people including Sal Boca (Tony Lo Bianco) that doesn't sit quite right. Acting on his hunch, Popeye and Buddy tail Sal and his wife, Angie (Arlene Faber), who are both living the high life, despite running a simple corner store. Popeye's hunch is right, and it turns out Sal and Angie are the New York agents for Alian Charnier (Fernando Rey), a French drug kingpin, who is planning to smuggle $32 million worth of heroin into New York City from France. When Charnier gets wind of the detectives' surveillance, he will go to any means necessary to protect his shipment, and see his deal through.

Why did it win?
Continuing the Academy's new love of gritty and confrontational cinema, The French Connection was another example of a new wave of Best Picture winners. With its grainy, almost-documentary style of filmmaking, the film was a remarkable departure from the flashy, extravagant winners of the past. Even the film's poster, featuring Popeye shooting an escaping criminal in the back, as he cries out in agony, was decidedly shocking and bold. William Friedkin's frenetic and suspenseful style represented a new form of action cinema, and the Academy lapped it up.

While it's clear they also had another option in a daring and confronting piece of cinema (A Clockwork Orange), The French Connection represented a far-less controversial option, particularly with its stellar leading performance from Hackman, as the ruthless and desperate detective who will go to any lengths to catch the bad guys. The Academy has always loved a hero, particularly one who bends the rules ever so slightly, and it's often an important element in a film winning Best Picture.

The film was a huge success with both audiences and critics. On a tiny budget of only $1.8 million, the film earned over $50 million at the U.S. box-office to end the year as the second highest-grossing film of 1971, beating big-budget rivals like Diamonds are Forever and Dirty Harry. The critical response was also overwhelmingly positive, with TIME Magazine calling it "a knockout police thriller with so much jarring excitement that it almost calls for comic-book expletives," while the New York Daily News hailed "its trigger-fast, explosive scenes and high-tension chase sequences will have you literally gasping for breath."

It's clear the Academy were entertained and thrilled by The French Connection more than any other film in 1971. They may have avoided the truly groundbreaking choice, but their decision to award Friedkin's energetic thriller further moved the Academy into new ground.

Did it deserve to win?
As a big fan of Stanley Kubrick, and someone still impressed by his work on A Clockwork Orange to this day, it's hard to see such a masterpiece fail to win Best Picture. It's not everyone's cup of tea. I get that. It's a hard film to watch. But isn't that the point, really? Divisive films like A Clockwork Orange rarely win Best Picture. They don't sit well with every single audience member, and that makes it extremely difficult for them to win a majority-rules award like Best Picture. We still see this problem today. We'll probably see this problem this year too.

That aside, The French Connection is still a phenomenal piece of cinema, and, an entirely deserving winner of Best Picture. It moves at a pace that never lets up, particularly with the brilliant style in which the film has been shot and edited. It's a film that has inspired many imitations and rip-offs, but that just makes it even more iconic and stands as a testament to its impact and influence. And there's one sequence which is perhaps the finest example of a car chase there has ever been.

At one point, Popeyes loses track of a suspect who boards a subway train, leading Popeye to commandeer a civilian's car, and frantically chase the train under its elevated track, as it winds its way along the Brooklyn streets. Honestly, it's still so ridiculously thrilling to this day. My heart races just remembering the sequence, and the sensational way it was filmed. Cinematographer Owen Roizman mounts a camera to the car's bonnet, giving the audience a POV shot like no other. As Popeye dodges other cars and buses, races through red lights, and manoeuvres the car around the tight streets, you cannot help but hold your breath. It is an absolute triumph of tension and action, and frankly, the film deserved to win Best Picture on this sequence alone.

But the film is elevated even further by the sublime performance of its leading man. Hackman is a revelation, as a man desperate to prove he's more than just a street cop. It's his stone-cold determination that is both thrilling and terrifying, and his manic car-chase scene is the perfect manifestation of his desperation. Hackman gives Popeye the feverish intensity required for such a single-minded individual, and he is genuinely electrifying to behold.

Yes, perhaps there was a more bold choice for 1971 in A Clockwork Orange, but that cannot take away the power and impact of The French Connection. It's responsible for launching a whole wave of police dramas, and its thrilling action legacy is still felt today in franchises like The Fast and the Furious and Mission: Impossible. It's an icon of cinema for a reason, and the Academy were absolutely right in awarding it Best Picture.