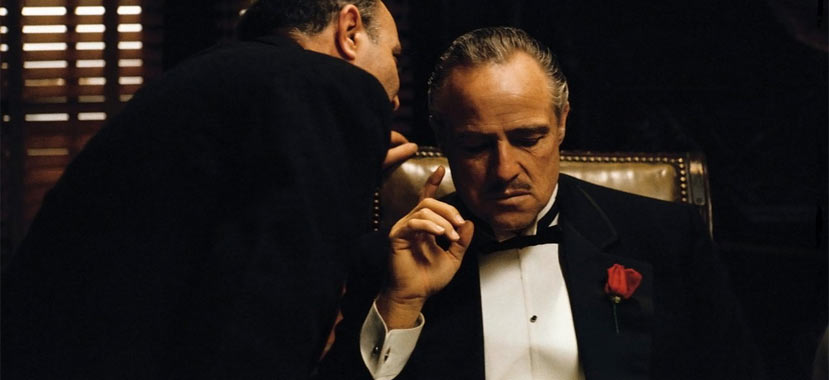 18 Jan

THE BEST PICTURE PROJECT – 'The Godfather' (1972)

In 1973, the 45th Academy Awards ceremony was held at the Dorothy Chandler Pavilion in Los Angeles. Honouring the films released between January 1, 1972 and December 31, 1972, the awards were held on March 27. For the first time, all winners were invited to stand on-stage during the ceremony's closing. This would be a tradition for several years to come. This year would mark the first and only time two African-American actresses, Diana Ross and Cicely Tyson, would receive nominations in the Best Actress category.

In a shocking moment which would go down in Oscars folklore, Marlon Brando refused to accept his win for Best Actor for The Godfather, citing the industry's treatment of native Americans, in both film and television. In his place, he sent Sacheen Littlefeather, a native American actress and activist, to decline the award. It was a move which would lead to the Academy banning proxy acceptances of awards going forward.

When nominations were initially announced, The Godfather led with 11 nominations. However, after controversy over whether Nino Rota's score was wholly original (the love theme had been previously used by Rota in the film Fortunella), the category was subjected to a re-vote. The film failed to receive a nomination after the new votes were counted, reducing The Godfather's total nominations to 10. This tied the film with Cabaret for the most nominations this year.

Bob Fosse's dazzling musical would ultimately win more awards than any other that night, with Cabaret taking home eight Academy Awards including Best Director for Fosse and Best Actress for Liza Minnelli. The film still holds the unfortunate record for the most wins by a film without winning Best Picture. That honour would go to The Godfather, which took home three awards, in total.

The nominees:
Cabaret
Deliverance
The Emigrants
The Godfather
Sounder

The winner:
The Godfather

Based on Mario Puzo's 1969 novel of the same name, The Godfather is the mafia movie to end all mafia movies. The story, spanning 1945 to 1955, chronicles the family under patriarch Vito Corleone (Marlon Brando), the Don of a New York mafia family. The film begins with the wedding of Corleone's beloved daughter, Connie (Talia Shire), with the Don holding court in his study, unable to refuse any request on that day, as is Sicilian tradition. The Don's youngest son, Michael (Al Pacino), returns for his sister's wedding, after fighting in World War II. With him, he brings new girlfriend Kay Adams (Diane Keaton). Also in attendence are Michael's older brothers, Sonny (James Caan) and Fredo (John Cazale), and their adopted brother, Tom Hagen (Robert Duval), who also serves as the Don's right-hand man. Despite his father's pleas, Michael wants nothing to do with the "family business," and shuns attempts by his brothers to join their ranks. But the Don's power and health are both beginning to wane, and a bloodwar between rival mob families on the horizon will have devastating consequences on the entire Corleone family.

Why did it win?
It's tempting to just say "it won because it's The freakin' Godfather," and leave it at that. I know why it won. You know why it won. Does it even need saying? The Godfather won Best Picture because it's perhaps the greatest film of all time. It set the standard not only for every crime/gangster film to come, but for every film in general to come. And the response to the film was unlike anything seen prior.

The Godfather was one of the earliest examples of a genuine box-office blockbuster. It's astonishing to think a gangster drama could have that kind of box-office impact, but the world was a different place in 1972, and audiences were desperate for something like this. The film earned $133 million at the U.S. box-office alone, and an additional $142 million worldwide. By 1973, it would displace The Sound of Music as the highest-grossing film of all time, at that point. When adjusted for inflation, the film's total box-office earnings equate to roughly $1.2 billion, placing it inside the 25 most successful films in cinema history.

Adding to its box-office success, the film received rave review from critics, with many deeming it one of the best films there had ever been. The New York Times called it "one of the most brutal and moving chronicles of American life ever designed within the limits of popular entertainment," while Variety said it "becomes that rarity, a mass entertainment that is also great movie art."

While it's still baffling to see such a landmark piece of cinema only managed to walk away with three Academy Awards (the sequel fares much better, including redemption for composer Nino Rota), there was no denying the Academy simply had no other choice for their big prize of Best Picture.

Did it deserve to win?
Yes. Yes, it did. There is no argument against this film winning Best Picture. It's one of the few Best Picture winners no one could possibly say wasn't entirely deserving. Please don't even attempt to make a case for Cabaret. Even I, a musical fanatic and lover of the ridiculousness that is Liza Minnelli and the gloriousness of Bob Fosse, cannot even fathom putting forth a case for it beating The Godfather to win Best Picture. "Did Cabaret deserve those eight Academy Awards?" is probably a more accurate question to be asking.

The Godfather is a masterpiece, in every sense of the word. Its performances are iconic and impressive. Coppola's direction is a damn triumph. The screenplay is a goldmine, filled with memorable lines and brilliantly written scenes. The film has been so carefully constructed, with its interweaving storylines and gripping narrative, and you cannot possibly walk away from this film without finding it utterly breathtaking. It defined this era. It defined this genre. It defined cinema, in general. It is a hallmark moment in the history of film unlike any other. Well, except perhaps its sequel.

At its heart, it's a simple familial drama, but at its core, it's a deftly constructed look at the American dream, and the corrupt path many take to achieve it. The film also touches on the crippling notion of familial responsibility, and the notion of our destiny often being completely unavoidable, no matter how hard we try. The Godfather is so deeply layered, it requires several viewings to even scratch the surface of its themes and ideals. That's how complex this film is. That's why it's such a masterpiece.

With Brando's legendary performance, coupled with terrific supporting turns from Pacino, Caan, and Duvall (all three were nominated, and likely split the votes to gift the award to Joel Grey for Cabaret), and Coppola's masterful direction, The Godfather is still one of the greatest there has ever been. It's a film every lover of cinema needs to view. It's a film that earns its classic reputation. And it's a film that earned its Best Picture victory at the Academy Awards.