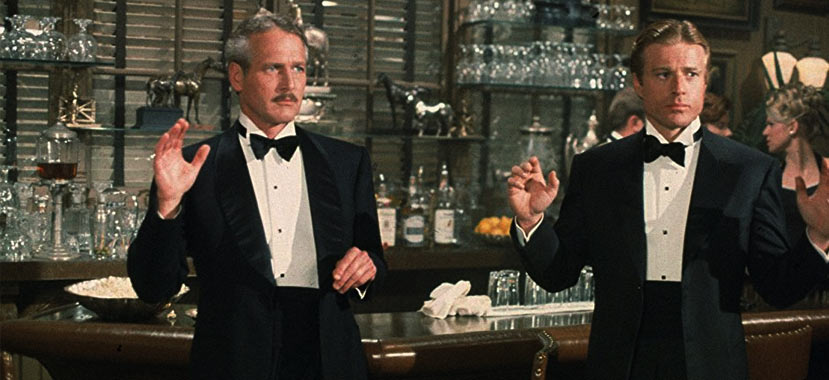 19 Jan

THE BEST PICTURE PROJECT – 'The Sting' (1973)

In 1974, the 46th Academy Awards ceremony was held at the Dorothy Chandler Pavilion in Los Angeles. Honouring the films released between January 1, 1973 and December 31, 1973, the awards were held on April 2. In a first, the Oscars' traditional "In Memoriam" segment was solely dedicated to legendary producer Samuel Goldwyn. It marks the first and only time a single person has appeared in this traditional segment.

Katharine Hepburn made her first ever appearance at the Oscars. Despite winning three awards in the past, Hepburn had consistently failed to attend the ceremony. But even she couldn't pass up the opportunity to present the Irving G. Thalberg Memorial Award to her dear friend, producer Lawrence Weingarten. After receiving a standing ovation, Hepburn responded "I'm living proof that a person can wait forty-one years to be unselfish."

In one of the most infamous moments in Oscars history, Robert Opel streaked across the stage naked and flashing a peace sign with his hand. Addressing the shocked audience, host David Niven sarcastically quipped, "Isn't it fascinating to think that probably the only laugh that man will ever get in his life is by stripping off and showing his shortcomings." His response was met with thunderous laughter and applause.

In another first, Marvin Hamlisch became the first and only composer to win all three music categories, taking home Oscars for Best Original Score and Original Song for The Way We Were and Best Adapted Score for The Sting. At just 10-years old, Tatum O'Neal became the youngest ever winner of a competitive Oscar, after her win for Best Supporting Actress for Paper Moon. It's a record that still stands to this day.

But the night belonged to one film alone, with the crime caper The Sting taking home seven Academy Awards from its field-leading 10 nominations, including Best Picture, Best Director, Best Original Screenplay, and Best Editing.

The nominees:
American Graffiti
Cries and Whispers
The Exorcist
The Sting
A Touch of Class

The winner:
The Sting

Johnny Hooker (Robert Redford), a small time grifter, unknowingly steals from Doyle Lonnegan (Robert Shaw), a big time crime boss, when he pulls a standard street con. Lonnegan demands satisfaction for the insult. After his partner, Luther (Robert Earl Jones), is killed, Hooker flees, and seeks the help of Henry Gondorff (Paul Newman), one of Luther's contacts, who is a master of the long con. Hooker wants to use Gondorff's expertise to take Lonnegan for an enormous sum of money to even the score, since he admits he "doesn't know enough about killing to kill him." They devise a complicated scheme and amass a talented group of other con artists who want their share of the reparations. The stakes are high in this game, and our heroes must not only deal with Lonnegan's murderous tendencies, but also other side players who want a piece of the action. To win, Hooker and Gondorff will need all their skills…and a fair amount of confidence.

Why did it win?
Continuing the Academy's love affair with crime-related cinema, The Sting was a far-more lighthearted and playful Best Picture winner than many of its 1970s contemporaries. The film offered a pair of "bad guys" who audiences couldn't help but root for, especially given they were played by two of the most likeable actors of the era, in Redford and Newman. Both leading men brought such an irresistible level of coolness to their performances, and it's not hard to see why it became such a winning proposition for the Academy.

With its gorgeous costume and production design, and its cheeky narrative, the film provided some much-needed levity and light to an otherwise dark time. The last few Best Picture winners were all rather downbeat and serious, and it seems the Academy were clearly looking for something a little more fun to sit in-between The Godfather films. It may be looked on as an odd choice for Best Picture, given how the Academy were beginning to move to more sombre pieces of cinema. But audiences and critics adored The Sting, and it seems the Academy were simply following suit.

The film was a roaring success at the box-office, taking over $155 million in the U.S. to end the year as the highest-grossing film of 1973. When adjusted for inflation, that equates to a staggering $800 million, making it the 20th highest-grossing film in the U.S. of all time. The film's use of ragtime music was such a hit with audiences, the soundtrack reached #1 on the Billboard Top 200 album chart, and ragtime music even experienced a bizarre surge in popularity in the 1970s.

The Sting received great acclaim from critics, with many calling it a breath of fresh air in such a serious cinematic environment. Variety called it an "extremely handsome production values and a great supporting cast round out the virtues," while the New York Times hailed it "so good-natured, so obviously aware of everything it's up to, even its own picturesque frauds, that I opt to go along with it."

Did it deserve to win?
Many will unfairly look at The Sting as simply a placeholder Best Picture winner between two of the greatest films of all time, in The Godfather and The Godfather Part II. It does suffer from the most horrendous unfortunate timing, and is often is compared to the two film sitting either side of it. It's not the film's fault it fell in between these two monoliths of cinema, and it should never be held to meet the heights both these films achieved.

Did the film serve as a palate cleanser of sorts in between courses of heavy gangster drama? Without a doubt. It was really the refreshing break Academy voters needed in between such intense pieces of cinema. Even I'm somewhat glad I didn't have to watch both The Godfather films back-to-back. And considering the Academy had experienced a run of fairly involving cinema, perhaps it's perfectly acceptable they were looking for something outside the box this year.

And there's a hell of a lot to love about The Sting. It's insanely fun. It's gloriously cool. It's crafted beautifully. It's stylish as hell. And it features sublime performances from Redford and Newman. It's impossible not to be swept away by two of the greats working side-by-side. They have the most sensational chemistry, and it's hard not to be taken by their immense charm and charisma. And yes – the ragtime music is so damn catchy, I kind of want to go out right now and listen to a whole back-catalogue of it.

In saying that, and getting to my personal opinion, it's hard to say a film was more deserving of winning Best Picture this year than The Exorcist. That film still stands as perhaps the greatest horror film of all time. It's a film that still has the ability to shock and terrify its audience. It's a damn shame the Academy couldn't overlook the film being a "genre film" and award it the title it really did deserve. Don't get me wrong. I really do enjoy The Sting, but it's not the best film of 1973. Not even close.

But we all know the race for Best Picture often comes down to a likeability factor. If you're not into horror films, of course you're not going to like The Exorcist, so its loss is not that hard to fathom. You'd be hard-pressed to find anyone who couldn't find something to enjoy from The Sting, and perhaps there's nothing wrong with a crowd-pleaser winning Best Picture, every and then. It's maybe not the most deserving of winners, but it's still a rollicking good time.