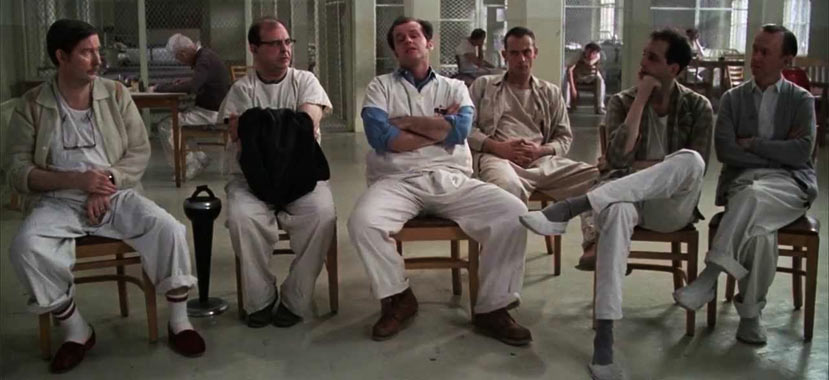 21 Jan

THE BEST PICTURE PROJECT – 'One Flew Over the Cuckoo's Nest' (1975)

In 1976, the 48th Academy Awards ceremony was held at the Dorothy Chandler Pavilion in Los Angeles. Honouring the films released between January 1, 1975, and December 31, 1975, the awards were held on March 29. This year, ABC once again took over the broadcast rights to the ceremony and continues to be the telecast partner to this day.

At 80-years-old, George Burns became the oldest person to win an acting Academy Award, for his performance in The Sunshine Boys. On the flip-side, at 20-years-old, French actress Isabelle Adjani became the youngest woman nominated for Best Actress, with her nomination for her performance in The Story of Adele H. Adjani would hold this record until 13-year-old Keisha Castle-Hughes was nominated for Whale Rider in 2004.

Leading the field this year was Miloš Forman's drama One Flew Over the Cuckoo's Nest, which entered the ceremony with nine nominations. The film was the night's big winner, taking home all of the "Big Five" categories – Best Picture, Best Director for Forman, Best Actor for Jack Nicholson, Best Actress for Louise Fletcher, and Best Adapted Screenplay. It became only the second film in Oscars history to achieve this feat.

The nominees:
Barry Lyndon
Dog Day Afternoon
Jaws
Nashville
One Flew Over the Cuckoo's Nest


The winner:
One Flew Over the Cuckoo's Nest

Based on Ken Kesey's 1962 novel of the same name, One Flew Over the Cuckoo's Nest is the drama detailing life inside a mental institution. Set in Oregon in 1963, career criminal Randle McMurphy (Jack Nicholson) agrees to serve his prison sentence for statutory rape at a local mental institution. Although not mentally ill himself, McMurphy assumes a stay at the institution will be a relaxing break from the harshness of prison life. Upon his arrival, he discovers the asylum is presided over by the steely, stern Nurse Ratched (Louise Fletcher), whose methods for dealing with her patients are a dangerous combination of rules, punishments, and her acidic passive-aggression. McMurphy soon becomes the most popular man in the asylum, and his trouble-making ways place a target squarely on his back for Ratched's fiery wrath.

Why did it win?
In an extremely competitive year (just look at those five nominees, and try and tell me each didn't deserve to win), it's always rather difficult to nail down a definitive answer as to why one film was the eventual victor. But, as we will see with many Best Picture winners to come, One Flew Over the Cuckoo's Nest swept the precursor awards (taking the "Big Five" at both the Golden Globes and BAFTA), and ultimately became completely unstoppable at the Academy Awards.

One Flew Over the Cuckoo's Nest was heralded as one of the greatest American films of all time, after receiving rave reviews from critics. The Chicago Sun-Times called it "a film so good in so many of its parts" and noted it featured "moments of brilliance," while Variety raved "Nicholson stars in an outstanding characterization of Ken Kesey's asylum anti-hero, McMurphy, and Milos Forman's direction of a superbly-cast film is equally meritorious."

Adding to this critical acclaim, One Flew Over the Cuckoo's Nest was also an enormous success at the box-office. Made on a tiny budget of just $4 million, the film earned an astonishing $108 million at the U.S. box-office, ending the year as the third highest-grossing film of 1975, beaten only by Jaws and The Rocky Horror Picture Show. The film would earn a further $200 million worldwide and would stand as the seventh highest-grossing film of all time, at that point.

The film was too damn likable to ignore. It featured a glorious performance from Nicholson as the most lovable anti-hero he'd delivered to date, a love-to-hate performance from Fletcher as the cruel matron from hell, and it touched upon some relevant issues of the little guy rising to rebel against the establishment. Given the context of the time, with President Richard Nixon's recent fall from grace, these thematic ideas clearly struck a nerve with Academy voters, and there was simply no other choice for Best Picture for 1975.

Did it deserve to win?
Okay, so first things first. Jaws is one of my favourite films of all time. If you twisted my arm and made me pick just one all-time favourite film, it would be a serious contender. The film traumatised me so deeply as a child, I couldn't go near open water or a beach for years. But, in delivering such horror, it opened my eyes to the deep impact a piece of cinema could have, and with it, my love of films was born.

Asking me to say a film other than Jaws deserved to win Best Picture hurts my brain. The film went on to dethrone The Godfather and become the highest-grossing film of all time for a reason – Jaws is a god-damn masterpiece. It's a piece of cinema the Academy really should have been given the honour of Best Picture. It still baffles me how such a perfect piece of cinema could lose this award. However, it was a "genre film" and it was never really taken seriously, especially after Steven Spielberg was snubbed for a Best Director nomination. I am strong enough to put that personal preference aside to professionally delve into this question. There. I got it out of my system. Moving on…

There's a lot to love about One Flew Over the Cuckoo's Nest. It's far from a perfect film (that ridiculous fishing sequence is just as bad as I remember it), but it's wonderfully made and the cast is impeccable. Nicholson cemented his name with this film and would go on to become one of the greatest actors of our time. It still stands as one of his finest performances, and he's so damn dazzling to watch. Likewise with Fletcher, who delivers one of the most downright despicable villains the screen has ever seen. She's so damn menacing and twisted, and yet, never raises her voice or flies into a rage. It's the personification of passive-aggressive, and it's a glorious performance for the ages.

Director Forman has a penchant for stories of lovable oddballs and misfits who rise up to battle "the man," and, even in only his second film, this perhaps stands as his finest work. His cast of characters is incredibly endearing and wonderfully touching. And there's clearly a heavy dose of his personal experiences injected into the film, given his background of escaping the Soviet Union, which could very easily be a metaphor for the asylum itself.

With an ending that hits you like a punch to the stomach and a feast of glorious acting from its two leads, One Flew Over the Cuckoo's Nest is a fine film indeed. It does drag a little longer than it needs to, and, in a modern-day context, the film does seem rather dated. But, really, those are minor quibbles for such an enjoyable and sublime piece of cinema. It may not have been my personal pick for the prize, but it still absolutely deserved to take home Best Picture.