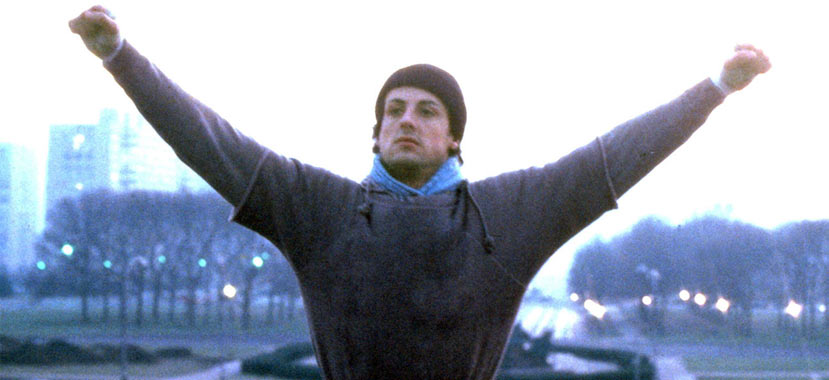 22 Jan

THE BEST PICTURE PROJECT – 'Rocky' (1976)

In 1977, the 49th Academy Awards ceremony was held at the Dorothy Chandler Pavilion in Los Angeles. Honouring the films released between January 1, 1976, and December 31, 1976, the awards were held on March 28. The ceremony was hosted by Richard Pryor, Ellen Burstyn, Jane Fonda and Warren Beatty.

For the first time in Academy Awards history, a female director was nominated for Best Director, with Italian-born Lina Wertmüller nominated for her film Seven Beauties. To date, only three additional women have been nominated in this category.

Network received 10 nominations, including a staggering five acting nominations, marking the last time one single film received more than four acting nominations. It also marked the 11th time a film received nominations in all four acting categories. Network became only the second film to win three acting Oscars, taking home Best Actor for Peter Finch, Actress for Faye Dunaway and Supporting Actress for Beatrice Straight.

The late Finch became the first posthumous acting winner, after his untimely death a few months prior to the awards. A posthumous acting winner would not be repeated until fellow-Australian Heath Ledger, 32 years later. Straight would set another Oscars record by becoming the actor with the shortest performance ever in a film to win an acting Oscar, with only five minutes and two seconds of screen-time.

But, in an upset victory, the night belonged to the underdog, with Rocky winning three Academy Awards from its 10 nominations including Best Picture and Best Director.

The nominees:
All the President's Men
Bound for Glory
Network
Rocky
Taxi Driver


The winner:
Rocky

Written by the film's leading man, Sylvester Stallone, Rocky is the ultimate story of an underdog come good. Rocky "The Italian Stallone" Balboa (Stallone) is a kind-hearted Philadelphia boxer, making ends meet by collecting debts for a local crime boss, Tony Gazzo (Joe Spinell). When he's not working as a debt collector, Rocky spends his time attempting to woo Adrian (Talia Shire), the painfully introverted sister of his best friend, Paulie (Burt Young). His time is also spent training at a local boxing club, presided over by the crusty manager, Mickey (Burgess Meredith). Despite having a natural ability to be a great boxer, Rocky has never been given the chance to make it big. That chance is about to arrive when Apollo Creed (Carl Weathers), the Heavyweight Champion of the World, picks Rocky as his next opponent, after his scheduled opponent drops out, due to injury. With his one shot at glory within his grasp, Rocky will train harder than ever before to win the fight, win respect, and win Adrian's heart.

Why did it win?
After almost a decade of heavy dramas, it was time for the Academy to head back to a feel-good film for their Best Picture choice. But Rocky set itself apart by being more than just a fluffy, goosebump-inducing piece of cinema. It had its uplifting moments, but those only came after the underdog showed his true grit and determination to achieve them. Nothing comes easy in this film, and there's something so remarkably endearing about that, especially to Academy voters. They lap this stuff up, and it's not hard to see why they did with Rocky.

The film delivered a new cinematic hero for the ages, cemented by the star-making performance of Stallone. Rocky Balboa is so damn lovable, and you desperately want to see him succeed, both in the ring and with Adrian. This kind of heroic underdog character was synonymous with Best Picture winners. Think Marty, Lawrence of Arabia, Ben-Hur, On the Waterfront, and even back as far as Wings. The Academy often fell over themselves to reward the kind of film that highlighted victory of the little guy, and we see that again with their choice of Rocky.

The film's enormous box-office success bolstered its Oscar chances even further. Made on a shoestring budget of only $1 million, the film would go on to become one of the most successful and profitable films of its time. At the U.S. box-office, Rocky was an absolute sensation, taking in $117 million, plus a further $107 million internationally, to end the year as the highest-grossing film of 1976. It was a cinematic success story unlike anything else in the 1970s, and put Hollywood on notice that small-budget films could potentially have more box-office success than its big-budget rivals.

Adding to the commercial success, Rocky received mostly positive reviews. The New York Daily News called it "a glowing tribute to the human spirit" and "a chin-up reminder that the decent, little guys of the world often accomplish the impossible if only because they try so hard," while the Chicago Sun-Times compared Stallone to a "young Marlon Brando."

There were definitely "better" films in 1976, and certainly a handful of more "important" pieces of cinema. But none had the emotional wallop Rocky could deliver, and that's ultimately what won the hearts of Academy voters. They're not always swayed by schmaltz, but every now and then, even they can't resist this kind of cinema.

Did it deserve to win?
There's a hell of a lot of contention and conjecture over the victory of Rocky over several films many consider to be some of the greatest of this era – All the President's Men, Network, and Taxi Driver. It was an unusually strong year for Best Picture contenders, and most would have assumed the ultimate victor would be one of these three critically acclaimed films. Perhaps one could even argue the three films split the vote, and allowed an underdog like Rocky to sneak past them. But perhaps it's something as simple as none of the three had the emotional heart and impact an uplifting success story like Rocky had on voters.

As a film critic, yes, it is difficult to justify how three important and powerful pieces of cinema could lose to something so decidedly light and somewhat generic as Rocky. Don't get me wrong. I love Rocky. It's incredibly entertaining and wonderfully endearing. Stallone's performance is one for the ages, and it gave birth to a true cinematic legend. It's almost impossible not to be swept away by it, even if it heralded a chain of subpar sequels. But to call it the best picture of 1976 is a stretch and a half. To say it truly deserved to win Best Picture is an improbable task.

As a fan of the Academy Awards, there is something charming and deliciously ironic about a film with a narrative concerned with the unlikely success of its underdog repeating that unlikely success at the Oscars by beating its more revered rivals to steal Best Picture. It's the ultimate case of life imitating art. Perhaps that explains its surprising win. Voters were so taken by the film's underdog story, they simply wanted to repeat that in real life.

But really what it came down to was acknowledging the incredible success of the film and the deep devotion and connection audiences had with it. It's not often the Academy sides with the public on their decision for Best Picture. But, every now and then, something is so outrageously successful, the case for it being the ultimate victor becomes too strong to ignore like we'll see with Titanic, Forrest Gump and Gladiator. There's nothing terribly criminal about this kind of Best Picture winner, but it does hurt the brain to see a film like this win over far "better" choices.

There's a lot to love about Rocky. No one can deny that. It spawned a franchise audiences would love. And it's a franchise that's now been reborn in the 21st century with Creed and its upcoming sequel. That shows the power and the legacy of the original, and the impact it would ultimately have on the history of cinema. Is Rocky a deserving winner of Best Picture? Perhaps not. But it's still far from the Academy's worst decision, and it's still a damn fine film.