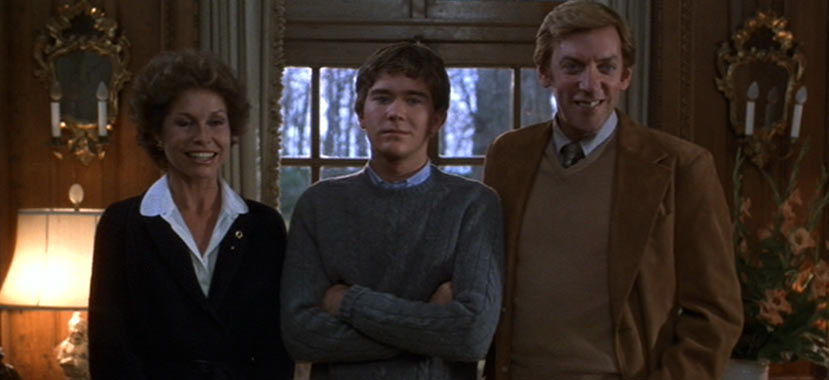 26 Jan

THE BEST PICTURE PROJECT – 'Ordinary People' (1980)

In 1981, the 53rd Academy Awards ceremony was held at the Dorothy Chandler Pavilion in Los Angeles. Honouring the films released between January 1, 1980, and December 31, 1980, the awards were held on March 31. The ceremony was originally scheduled for March 30, but, for the second time in Oscar history, was delayed, due to an assassination attempt on President Ronald Reagan. This may explain the ceremony receiving the lowest ratings since the telecasts of the show began, as viewers were glued to other networks for news updates on the President's health.

For the first time in Oscars history, three of the four acting winners were acknowledged for performances portraying real people – Robert De Niro as boxer Jake LaMotta in Raging Bull, Sissy Spacek as count singer Loretta Lynn in Coal Miner's Daughter, and Mary Steenburgen as heiress Lynda West Dummar.

There was controversy surrounding the six nominations (including Best Picture and Director) and three subsequent wins for the film Tess. The film's director, Roman Polanski, had fled the United States just four years earlier, after being arrested and charged with the sexual assault of a 13-year-old girl. Many in Hollywood believed the Academy should have turned their back on Polanski and his work. After the backlash, the Academy did indeed fail to nominate Polanski's films for several decades, until the release of his film The Pianist in 2002.

Leading the field with eight nominations each were David Lynch's The Elephant Man and Martin Scorsese's Raging Bull. The former would go home empty-handed, while the latter could only muster up two victories for Best Actor for De Niro and Best Film Editing. The night's big winner was the familial drama Ordinary People, which took home four Academy Awards from its six nominations, including Best Picture, Best Director for Robert Redford, Best Supporting Actor for Timothy Hutton, and Best Adapted Screenplay. At just 20-years-old, Hutton became the youngest ever winner of the Supporting Actor category – a record he still holds to this day.

The nominees:
Coal Miner's Daughter
The Elephant Man
Ordinary People
Raging Bull
Tess

The winner:
Ordinary People

Based on Judith Guest's 1976 of the same name, Ordinary People is the tragic and devastating disintegration of an upper-class American family after an unspeakable tragedy. The Jarrets, living in an affluent suburb of Chicago, are attempting to return to a normal life after the tragic death of their teenage son Buck (Scott Doebler) in a boating accident, which led their other teenage son, Conrad (Timothy Hutton), to attempt suicide. After a four-month hospitalisation, Conrad returns home to his parents, Calvin (Donald Sutherland) and Beth (Mary Tyler Moore). Both Calvin and Beth are desperate to attempt to return to normalcy. As such, they both avoid discussing either Buck's death or Conrad's suicide attempt, which leads Conrad to seek out psychiatric therapy with Dr. Berger (Judd Hirsch), as an outlet for his crippling post-traumatic stress disorder and survivor's guilt. This therapy may ultimately be the key to uncovering the reasons for the entire family's collective unhappiness and reveal why their individual relationships feel so horribly strained.

Why did it win?
Marking another of the rare times the Academy rewarded two similar films back-to-back, Best Picture once again went to a film concerned with the destruction of an American family unit. Last year, it was divorce and a custody battle tearing a family apart. This year, it was tragedy, grief, and a total breakdown of communication causing the damage. With Ordinary People, director Robert Redford delivered a bleak and startling portrayal of American family life in the early 1980s.

Much like Kramer vs. Kramer, Ordinary People is a product of its time and another representation of the changing nature of familial problems facing modern society. Suicide, once a taboo subject, was now at the forefront of discussion, with teenage suicide and suicide attempts on the continual rise. By featuring a narrative with a suicidal teenager as its lead (yes, Conrad is the lead character of this film, despite Hutton winning for Supporting Actor), the film deftly challenged the ideals of the popular and confident American teenager so often synonymous with American cinema. The response to the film was overwhelmingly positive and proved once again family melodrama would strike a chord with audiences of the 1980s.

On a shoestring budget of only $6 million, Ordinary People would earn over $54 million at the U.S. box-office to end the year as the 11th highest-grossing film of 1980. The film also received widespread critical acclaim. Variety called a "powerfully intimate domestic drama," the Chicago Sun-Times hailed it as "an intelligent, perceptive, and deeply moving film," and The New York Times declared it "a moving, intelligent and funny film about disasters that are commonplace to everyone except the people who experience them."

Much like the previous year, the race for Best Picture was over well before the Academy Awards rolled around. Ordinary People swept every major American precursor award (BAFTA gave the film one nomination for Best Actress for Moore) including the five Golden Globes, Directors Guild, Writers Guild, the New York Film Critics Awards, and the National Board of Review. Once again, we see a particular film become an unstoppable force during the precursor season, making it an impossible proposition for the Academy to ignore.

Did it deserve to win?
Yet another highly debatable Best Picture winner, and again, for one blindingly obvious reason – it beat Raging Bull. This may be considered an even bigger mistake than Kramer vs. Kramer beating Apocalypse Now. For the second time in four years, the Academy bafflingly overlooked a Martin Scorsese film. It marked the beginning of their shameful and ludicrous treatment of his films, which would not be corrected until his victory in 2006 for The Departed.

However, yet again, the failure of Raging Bull, a film we now consider a masterpiece, at the Academy Awards is ultimately explained by the film receiving a decidedly mixed reaction from critics of the time. Making matters even worse, the film was a huge box-office failure, taking only $23 million in the U.S. against its $18 million production budget. They could not deny Robert De Niro's incredible performance, and with eight nominations, it's clear they found something redeeming with the film. But, when it came down to the top prize, it seems their response to the Raging Bull was to look elsewhere for something more revered and more successful.

I have to say I'm in agreement with the general reaction to this one. Ordinary People did not deserve to win Best Picture. Not over Raging Bull. Or even The Elephant Man. Don't get me wrong. It's a fine film (I'll resist the urge to sheepishly call it "ordinary") for its time, but it has not aged well at all. There may have been elements of this film that were shocking and groundbreaking in 1980. However, in a 2018 context, few things still hit as hard as they perhaps once did. We've seen far better films approach the subject of a dysfunctional family falling apart (like we'll see with American Beauty), and its declaration of Best Picture seems like a glaring mistake by the Academy.

Redford's approach to the film is interesting and intriguing, but his style keeps the audience at such a distance from truly understanding and connecting with its characters. It makes for decidedly flat and emotionless viewing, like watching through a stranger's window at a family squabble and capitulate in front of you. Naturally, you feel something, but it's far from a deep connection like many other films of this genre are able to elicit. We never truly venture deeply into the psyches of Conrad, Calvin, or Beth to form any semblance of a bond with them. And that's saying something, given the film runs for over two hours.

That being said, there are some accomplishments still to be found amongst the disappointments. The film does stand as a wonderful example of the destruction and disaster that comes when families hide their true feelings and deepest problems from each other. Beth is the typification of this, constantly portraying a sense of a happy family life to those outside her home. But, when Redford slowly begins to scratch that surface of normalcy away, we see the desperately unhappy family hiding behind the smiles.

While they often fall into caricatures and clichés, the performances from the lead cast are remarkable and impressive. Sutherland should have received a Best Actor nomination for the quite pathos he brings to Calvin. As a father desperately attempting to keep his family together, Sutherland is endearing to watch. Likewise with Moore, who portrays Beth as a complicated and exhausted mess of a woman, who lives by the "chin up and carry on" mentality so common with mothers and wives. Hutton is the stand-out, however, and his performance as a tortured and tormented teenager is gripping and effective. It's probably the film's one truly deserving Oscar win.

It's been a few years since we've seen a truly undeserving winner, but it's clear we've arrived at one in 1980. While there are admirable qualities to Ordinary People, they simply aren't enough to qualify its victory for Best Picture over such brilliant pieces of cinema like Raging Bull and The Elephant Man. It has no place calling itself better than these films and stands as one of the most baffling decisions the Academy made in this era.