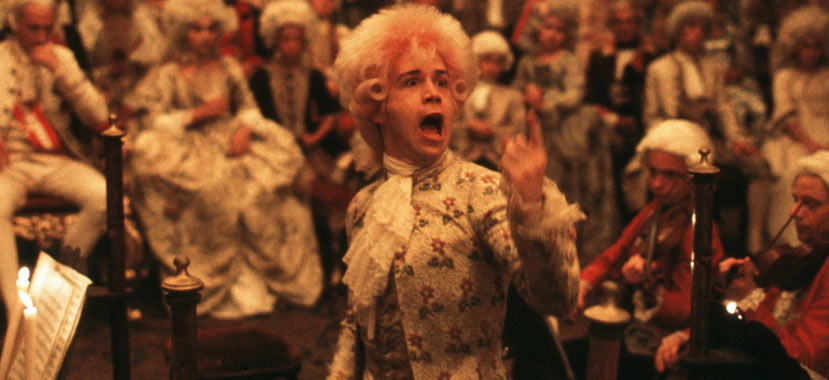 30 Jan

THE BEST PICTURE PROJECT – 'Amadeus' (1984)

In 1985, the 57th Academy Awards ceremony was held at the Dorothy Chandler Pavilion in Los Angeles. Honouring the films released between January 1, 1984, and December 31, 1984, the awards were held on March 25. The ceremony was hosted by Jack Lemmon.

Marking only the second time in Oscars history, a non-professional would take home an award for acting. Haing S. Ngor, a Cambodian surgeon who survived the horrors of the Khmer Rouge, won the Academy Award for Best Supporting Actor for his performance in The Killing Fields, despite never acting previously. Ngor also became only the second Asian actor in history to win an Academy Award.

77-year-old Peggy Ashcroft would also make Oscars history. With her victory for Best Supporting Actress for her performance in A Passage to India, Ashcroft became the oldest winner that category – a record she still holds to this day.

And one final piece of Oscars history was also made this year. With Prince taking home Best Original Song Score for his work on Purple Rain and Stevie Wonder winning Best Original Song for "I Just Called to Say I Love You" from The Woman In Red, this marked the first time in Academy Awards history with multiple wins for people of colour. Additionally, it was also the first and only time all five songs nominated for Best Original Song had reached #1 on the Billboard Hot 100 chart.

Leading the field this year with 11 nominations was Miloš Forman's epic biopic Amadeus. The film would sweep the awards, taking home an incredible eight Academy Awards including Best Picture, Best Director for Forman, Best Actor for F. Murray Abraham, Best Adapted Screenplay, and Best Film Editing. With nominations for both Abraham and Tom Hulce, this marked the 12th and final time (so far) a film would receive two Best Actor nominations.

The nominees:
Amadeus
The Killing Fields
A Passage to India
Places in the Heart
A Soldier's Story

The winner:
Amadeus

Adapted from Peter Shaffer's 1979 play of the same name, Amadeus is the sweeping and fictionalised biography of one of the world's greatest composers. Wolfgang Amadeus Mozart (Tom Hulce) is a remarkably talented young Viennese composer who unwittingly finds a fierce rival in the disciplined and determined Antonio Salieri (F. Murray Abraham), the court composer to Emperor Joseph II of Austria (Jeffrey Jones). Resenting Mozart for both his brash, hedonistic lifestyle and his undeniable talent, the highly religious Salieri is gradually consumed by his jealousy and becomes obsessed with Mozart's downfall, leading to a devious scheme that has dire consequences for both men.

Why did it win?
Continuing the Academy's love affair with big, lavish spectacles, Amadeus fit right into the mould of previous period and musically-minded winners My Fair Lady and Gigi. But what set the film apart from these rather light and breezy victors was its gripping narrative, sensational direction, and two sublime lead performances. And, of course, its glorious soundtrack of beautiful Mozart compositions. It was a combination of artistry too delicious to ignore.

With its retelling of the composer's life, it also hit another key element of 1980s Best Picture winners – the biopic. This would be the third biography film to win the Academy's top prize in four years. For whatever reason, voters seemed completely enamoured with "based on a true story" style cinema of this era. The film also continued the Academy's deep love for Miloš Forman, with this marking his second film to take home Best Picture and his second victory for Best Director.

Even the film's tagline "The man… The music…The madness…The murder…The motion picture…AMADEUS…Everything you've heard is true." sounded like something associated with a Best Picture winner. Lavish, entertaining, intriguing, mysterious, captivating. What more could the Academy ask for? It stood head and shoulders above every other film nominated, and its case for Best Picture was elevated even higher by the critical and commercial reaction to the film.

Amadeus was a surprise smash hit at the box-office. On a budget of $18 million, the film took over $50 million at the U.S. box-office to end the year as the 11th highest-grossing film of 1984. The film's soundtrack was also a runaway success. With its impeccable compilation of Mozart compositions, performed in their original, untouched arrangements, the soundtrack reached #1 on the Billboard Classic Album chart, #56 on the Billboard Album chart, and sold over 6.5 million copies worldwide. It still stands as one of the most popular classical recordings of all time. It even won a Grammy Award for Best Classical Album in 1984.

Adding to its impressive commercial success, Amadeus received widespread acclaim from critics, with many calling it one of the greatest biography films of all time. Variety hailed the film as "a production level and as an evocation of a time and place, Amadeus is loaded with pleasures," the New York Times called it an "extraordinary drama" that is "simultaneously illuminating, moving and just," and TIME magazine simply called it "grand movie entertainment."

Yet again, the race for Best Picture was seemingly done and dusted before the ceremony even began. Amadeus swept the precursor awards including four Golden Globes and four awards at the Los Angeles Film Critics awards for Best Picture, Best Director, Best Actor for Abraham and Best Screenplay, as well as Forman taking home the Directors Guild award for the second time. By the night of the Oscars, Amadeus was all but unstoppable, especially with its field-leading 11 nominations. Once again, there was no other choice for the Academy in the Best Picture race.

Did it deserve to win?
I have to admit something. I have ignored Amadeus for longer than I care to say. It's never really struck me as a film I'm likely to enjoy, which is ridiculous because I actually love classical music. So, rather foolishly, I had never watched it until now. Yes, I'm always someone who demands people watch films they don't think they'll like, as those are often the ones that will surprise you. I should learn to follow my own advice. I absolutely adored this film. It grabbed my attention like few other films in this journey, and never once let it go. That's saying something, given the film goes for almost three hours.

There's genuinely no lag here. Amadeus makes for gripping, enthralling cinema from start to finish. It's a triumph on so many levels. On one hand, it's a lavish and gorgeous visual triumph, with sensational costume design, stunning art direction, and truly exquisite cinematography. Forman wisely chose to shoot on location in Czechoslovakia, giving the film a rich and genuine style that feels as true and authentic as period filmmaking gets. When you add in the film's incredible classical score, it could truly be enough to make the film a success. But Amadeus rises even higher from just how it looks and sounds with its narrative and performances.

Peter Shaffer's deftly crafted screenplay delivers a stellar character study, with both Mozart and Salieri making for truly fascinating characters. Salieri is the tortured and beleaguered soul, so crippled by his jealousy of Mozart, he often cannot see the divine majesty of the composer's astonishing talents. Mozart is portrayed as a goofy, immature prodigy, more akin to a modern-day rockstar than a classical composer. It's a genius artistic decision, which has been dismissed as twisting history, but it makes the film that much more accessible and enjoyable. It's this child-like nature which makes Mozart so blindingly unaware of how his talents and actions are genuinely torturing poor Salieri, and their love-hate relationship makes for stunning cinema, made all the more glorious by Abraham and Hulce's performances.

Abraham gives the performance of a lifetime, and it easily stands as one of the greatest of this era, if not all time. While Salieri could be seen as the villain of the piece, Abraham finds the pathos in his character, and Salieri becomes a sympathetic and tragic figure so heavily tormented by his deep envy of Mozart, and his genuine belief that his God has forsaken him. Abraham's presence is immense, particularly in the scenes where he appears as an old man, retelling and confessing his past sins.

Hulce's performance is equally impressive. Had he not been competing against his co-star for Best Actor, it's highly likely he would have been the victor. As the wild and energetic Mozart, Hulce's interpretation and re-imagining of such a beloved figure of classical music is terrific. Hulce plays Mozart with the exuberance and naivety of a child, and it truly is a tour-de-force performance. His scenes with Abraham are sublime, but it's when Mozart is conducting an orchestra that Hulce really comes alive, with his arms wildly flailing around and a look of true joy and excitement spread across his emotive face.

Amadeus stands as truly one of the most deserving Best Picture winners of the 1980s. There is far too much to love about this film. It's warm and tender, gripping and engaging, and downright magnificent. While it may not be an entirely historically accurate biography, it makes for sensational viewing regardless. It asks many fundamental questions of its audience, particularly if one can ever be truly happy to see someone else succeed. More importantly, it highlights the difficulty and pain artists struggle through to achieve true greatness. For a film concerned with such serious subject matter, it's an astonishing achievement for it to still be such a damn fun and entertaining ride as well. Bravo, Academy. You got this one dead right.