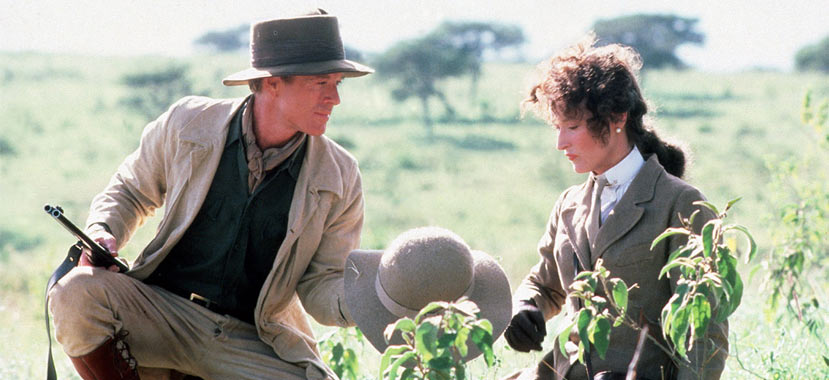 31 Jan

THE BEST PICTURE PROJECT – 'Out of Africa' (1985)

In 1986, the 58th Academy Awards ceremony was held at the Dorothy Chandler Pavilion in Los Angeles. Honouring the films released between January 1, 1985, and December 31, 1985, the awards were held on March 24. The ceremony was hosted by Alan Alda, Jane Fonda, and Robin Williams.

At 79 years-old, John Huston became the oldest person to be nominated for Best Director – a record he still holds to this day. For the second time in his career, Huston would direct a family member to an Oscar win. In 1948, it was his father, Walter. This year, it was his daughter Anjelica, who took home Best Supporting Actress for her performance in Prizzi's Honor. This made the Huston family the first third-generation Oscar winners in history.

After seven failed nominations over her three-decade career, Geraldine Page finally took home an Academy Award, for her performance in The Trip to Bountiful. Page's victory was met with a standing ovation from the audience.

Leading the field this year with 11 nominations each were Steven Spielberg's The Color Purple and Sydney Pollack's Out of Africa. Despite winning the Directors Guild Award, Spielberg strangely failed to receive a nomination for Best Director at the Oscars. It turned out to be a warning sign of further troubles ahead, as the film would go on to walk away completely empty-handed. It equaled the record of The Turning Point as the most nominated film in Oscar history without a single win.

The night's big winner was the sweeping romantic drama Out of Africa, which won seven Academy Awards (five of which The Color Purple was also nominated) including Best Picture, Best Director for Pollack, Best Adapted Screenplay, Best Original Score, and Best Cinematography.

The nominees:
The Color Purple
Kiss of the Spider Woman
Out of Africa
Prizzi's Honor
Witness

The winner:
Out of Africa

Based on Karen Blixen's 1937 autobiography of the same name, Out of Africa is the epic retelling of one woman's life in the African savanna. Initially set on being a dairy farmer, the aristocratic Karen Dinesen (Meryl Streep) travels to Africa to join her soon-to-be-husband, Baron Bror Blixen (Klaus Maria Brandauer), who instead spends their money on a coffee plantation. What initially begins as a marriage convenience becomes something deeper for the pair. But it's not enough to keep Bror's wandering eye in check. After discovering her husband has been unfaithful, the pair separate. In an attempt to mend her broken heart, Karen begins to develop feelings for local big-game hunter Denys Hatton (Robert Redford) but realises he prefers a simplistic lifestyle compared to her desire to settle down and be married, once more. Despite their differences, the two cannot deny their romance. But soon a series of events will force Karen to choose between her love and personal growth.

Why did it win?
Marking another example of the Academy lapping up a blindingly obvious Oscar-bait movie, Out of Africa represented everything a Best Picture winner often needed to take home the prize. It starred two beloved and Oscar-winning actors, playing out an against-the-odds romance. It was crafted by an Oscar-nominated director, working from a script by an Oscar-nominated writer. It had an immense and sprawling scope and running time. It was a biopic, taking place in an exotic location. It was visually impressive, with stunning cinematography and on-location filming. Need I go on?

The Academy's 1980s obsession with the biopic continued, with Out of Africa marking the fourth biography film to win Best Picture in this decade. The film was based on the life and times of Karen Blixen, a Danish Baroness who moved to Kenya in 1913 to be with her husband and start a coffee farm. However, after his infidelities caused Karen to contract syphilis, she ultimately fell in love with a wild and untamable hunter who refused to settle down. It's certainly an odd romance, which would naturally lead to a cinematic adaptation of her life. It was also practically destined to win over the Academy too.

Filmed on location in Nairobi, the film's look and feel became instantly iconic, with gorgeous cinematography from David Watkin capturing the glorious African landscapes. Karen and Denys' romance also became one for the ages, particularly in memorable scenes aboard Denys' plane and that classic scene featuring Denys washing Karen's hair by the river. With its sweeping love story and dazzling setting, Out of Africa was simply an old-fashioned romance film, and it gave the Academy the chance to reward something that reminded them of the good ol' days.

Out of Africa was a huge commercial success for Universal Pictures. On a modest budget of $18 million, it would earn over $87 million at the U.S. box-office, to end the year as the fifth highest-grossing film of 1985. It would also earn a further $40 million at the international box-office, bringing its worldwide total to over $128 million.

Despite its success with audiences, Out of Africa received decidedly mixed reviews in its initial release. It marks one of the earliest modern Best Picture winners to receive a less than positive response from critics. While the Chicago Sun-Times praised the film for having "the courage to be about complex, sweeping emotions, and to use the star power of its actors without apology," the New York Times criticised the film, writing "the pleasures of Out of Africa are all peripheral – Watkin's photography, the landscapes, the shots of animal life – all of which would fit neatly into a National Geographic layout."

The precursor awards painted a sketchy picture of how the Oscars may go down. The National Board of Review went with The Color Purple for Best Picture, while the New York Film Critics Circle gave it to Prizzi's Honor. And, as mentioned above, the Directors Guild gave their prize to Spielberg for The Color Purple. The only real success for Out of Africa came at the Golden Globes, where it took home Best Motion Picture – Drama, Best Supporting Actor, and Best Screenplay. Once the nominations were announced, and Out of Africa led with 11 nominations, and Spielberg was left out of the Director race, it sealed its Oscar narrative, and became the obvious choice for Best Picture.

Did it deserve to win?
Out of Africa is a tedious, drag of a film to watch in 2018. It may be the most difficult watch of this journey, so far. There's nothing inherently wrong with the film. It's a fine and competent piece of cinema. But when the Academy is daring to call it the best film of the year, you expect something more than some lovely cinematography and a nice performance from Meryl Streep. That's really all this film has going for it. Outside of that, it is downright boring. Very little happens in this film, and yet, it runs for almost three hours. I genuinely couldn't wait for this film to end.

As always, Streep does give it her all, and, if nothing else, the film is worth a watch to see her impeccable performance. She inhabits Karen with her typical brilliance for disappearing into the character she's playing, and Streep ultimately carries this film entirely on her own. She's let down by Redford, who seems to have completely forgotten how to act in this film. His performance relies far too much on his dazzling charm, but falls flat on its face by giving us nothing more than a cheeky smile and his dashing good looks. It's not entirely his fault. The screenplay is rather woeful, with poor character development for Denys and dialogue that's terribly cliché and rather unbelievable. It's laughable this film was able to win an Oscar for Best Adapted Screenplay. Were voters even paying attention?

What it lacks in narrative, it does indeed overcompensate with its visuals. Watkin's cinematography is truly some of the greatest ever committed to film. Watkin captures the startling beauty and majesty of Africa, creating indelible imagery that's hard not to be impressed by. Likewise with John Barry's sublime and sweeping score, which matches these images so perfectly to create something that's genuinely masterful. However, this is not a documentary on Africa. If it was, it would be a triumph. As such, sensational visuals and a glorious soundtrack are not enough to elevate the film above its failings.

There may be an audience for this kind of sappy melodrama. It's not hard to see why the film was such a success with audiences of 1985. It offered some dazzling escapism, and there's nothing wrong with that. But to call it a Best Picture winner is confoundingly confusing. It's easy to understand why it won. It ticked all the boxes for the Academy by being a big, lavish production with a sweeping, epic romance. It ultimately became one of those "well, we're giving it six other awards, so we may as well give it Best Picture too" type winners. This will happen again several times in the next few decades. Thankfully, those days seem to be over.

Out of Africa also ran away with the prize due to pure luck of having a field of relatively light competitors. It wasn't a particularly great year. Look at the other four nominees, and try to pick a more deserving winner. Even I, a Spielberg fan, can't say The Color Purple was more worthy of the Best Picture prize. The only film you could make an argument for was Akira Kurosawa's Ran, but, of course, it wasn't even nominated. You have to just accept Out of Africa as one of those Best Picture winners you can't agree with, but a victory you can ultimately understand. It's a grand, stirring epic, and, sometimes, that's enough for the Academy.