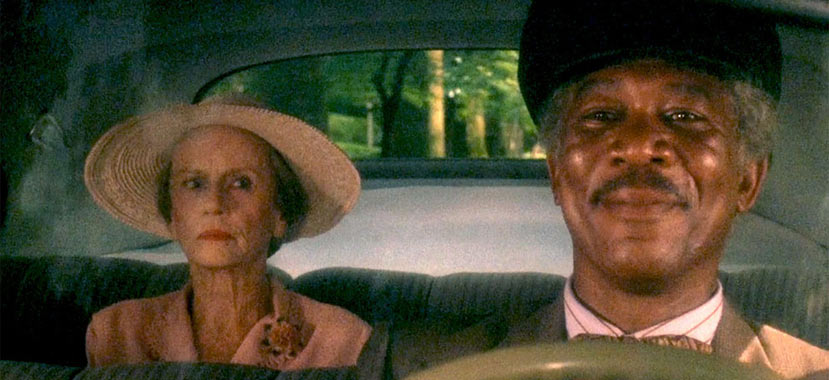 04 Feb

THE BEST PICTURE PROJECT – 'Driving Miss Daisy' (1989)

In 1990, the 62nd Academy Awards ceremony was held at the Dorothy Chandler Pavilion in Los Angeles. Honouring the films released between January 1, 1989, and December 31, 1989, the awards were held on March 26. The ceremony was hosted for the first time by Billy Crystal, who would become a staple of the next decade of Oscar ceremonies.

All four acting winners were first-time victors. With his win for Best Supporting Actor for his performance in Glory, Denzel Washington became only the fourth African-American to receive an Oscar for acting. At 80 years-old, Best Actress winner Jessica Tandy became the oldest performer to win a competitive Oscar. She held this record until 82-year-old Christopher Plummer won Best Supporting Actor in 2011. For his work in Henry V, Kenneth Branagh became the fifth person nominated for both Best Actor and Best Director for the same film.

To commemorate the 50th anniversary of The Wizard of Oz, Diana Ross performed "Somewhere Over the Rainbow," which resulted in a huge audience singalong of the beloved Oscar-winning song. The show's new producer Gilbert Cates chose the theme "Around the World in 3 1/2 Hours" for the ceremony. As such, several presenters announced winners live via satellite from locations around the world including Buenos Aires, London, Moscow, and Sydney.

Leading the way this year with nine nominations was Bruce Beresford's comedic drama Driving Miss Daisy, followed by Oliver Stone's anti-war film Born on the Fourth of July with eight nominations. Despite Beresford failing to receive a Best Director nomination, the night's surprise winner was Driving Miss Daisy, taking home four Academy Awards for Best Picture, Best Actress for Jessica Tandy, Best Adapted Screenplay and Best Makeup. Driving Miss Daisy became the first film since Grand Hotel in 1932 to win Best Picture without a Director nomination.

The nominees:
Born on the Fourth of July
Dead Poets Society
Driving Miss Daisy
Field of Dreams
My Left Foot


The winner:
Driving Miss Daisy

Based on Alfred Uhry's 1987 play of the same name, Driving Miss Daisy is the story of an unlikely friendship that spans over 25 years. Daisy Werthan (Jessica Tandy), an elderly Jewish widow living in Atlanta, is determined to maintain her independence. However, when she crashes her car, her son, Boolie (Dan Aykroyd), arranges for her to have a chauffeur, an African-American driver named Hoke Colburn (Morgan Freeman). Daisy and Hoke's relationship gets off to a rocky start, but they gradually form a close friendship over the years, one that transcends racial prejudices and social conventions.

Why did it win?


With a victory that still shocks people to this day,

Driving Miss Daisy

overcame a 57-year-old piece of history to snatch the Academy Award for Best Picture. When Bruce Beresford failed to receive a Best Director nomination, many assumed this was the end of his film's chances to win the top prize. Even with its field-leading nine nominations,

Driving Miss Daisy

was still the outsider to take home Best Picture. Films without directing nominations simply did not win this prize. This was one of the most rock-solid rules of the Academy Awards. But, as they say, rules are made to be broken, and

Driving Miss Daisy

shattered this preconceived notion with its upset win.With history not in its favour, how did

Driving Miss Daisy

win Best Picture? Well, for starters, they had just recently awarded Best Picture to an Oliver Stone anti-war film

Platoon

. The Academy does not like to repeat themselves so soon, which essentially killed the Best Picture chances of

Born on the Fourth of July

. They were evidently fine with giving him Best Director for the second time, but couldn't bring themselves to award his film, once again. With its greatest competitor essentially eliminated, it left

Driving Miss Daisy

with the relatively easy task of overcoming the remaining three nominees.

My Left Foot was the surprise smash of awards season, led by a daring Oscar campaign by none other than Harvey Weinstein, which would snare Oscars for Daniel Day-Lewis and Brenda Fricker. But the Academy's love affair with British cinema had ended, for now, so it never really stood a chance with Best Picture. That left Dead Poets Society and Field of Dreams. Two inspiring and tear-jerker films, starring two beloved actors in Robin Williams and Kevin Costner, respectively. But neither film was well-represented in other key categories, with only four and three nominations, respectively. For this fact, neither could be viewed as serious contenders. Films with so few total nominations do not win Best Picture.

That left Driving Miss Daisy in, excuse the pun, the driving seat to take home Best Picture. It offered the liberal members of the Academy the chance to make a statement about racial issues in America, even if that came from a film written and directed by two white guys. It was another Oscar-bait film the Academy fell for. It was another feel-good tear-jerker featuring three beloved actors, including one screen legend in Tandy. And, at the end of the day, it was simply a film they fell in love with. We've seen this happen before. We'll see it again in years to come. Sometimes, you cannot beat a film that hits the heart, particularly one that also won over audiences and critics.

On a tiny budget of $7.5 million, Driving Miss Daisy was a surprise hit at the box-office. The film earned over $106 million at the U.S. box-office to end the year just outside the top 10 earners of 1989. It also garnered an additional $39 million internationally to bring its total to over $145 million worldwide. The film also received positive reviews from critics. The Chicago Tribune called it "one of the year's best films," Variety hailed it as a "skillful adaptation" of the play, and the Chicago Sun-Times declared it "a film of great love and patience."

While Driving Miss Daisy failed to sweep the precursor awards season (it didn't win a single critics award for Best Picture), it did succeed at the Golden Globes, due to the film being nominated in the Comedy/Musical categories, where it won Best Motion Picture and Tandy and Freeman won Best Actress and Actor. The film also won the Writers Guild award for Best Adapted Screenplay and it was awarded Best Picture by the National Board of Review.

Did it deserve to win?
As enjoyable a watch as Driving Miss Daisy may be, it remains one of the most undeserving winners of Best Picture in Oscar history. It's not that it's a bad film, per se. It's a perfectly competent piece of cinema, with charming performances from Tandy and Freeman. But there's a condescending tone to this film that's hard to overlook. It paints itself as a revelatory piece of cinema for daring to showcase a black man and a white woman overcoming racial differences to become great friends. However, when you dig a little deeper, it's anything but.

That black man is still working for that white woman in a subservient role that seems to almost romanticise the lost practice of slavery in the Deep South. The film's subtle subtext seems to portray a sense of nostalgia for the good ol' days before those damn, pesky civil rights came into play. For a film marketing itself as progressive, it's actually decidedly backwards. In a 2018 context, Driving Miss Daisy is problematic as all hell.

The film's biggest issue is a lack of understanding of people of colour. As we saw last year with Detroit, when you tackle the sensitive subject of the treatment of black people in America, it's probably not a great idea to have that screenplay written by a white dude. The African-American characters are terrible caricatures of what a white person assumes black people to be. Freeman does his best to rise above this, but even he's unable to pull Hoke out of the doldrums of stereotype.

That's not to suggest this film is intentionally this way. It was the late 80s, after all. Times were different, and the film was clearly well-intentioned. It strived to be more than it ultimately was, but it fails to ever deliver a genuine and authentic portrayal of this point in American history. It's a rose-coloured view of this time that was not the common experience of black people in the Deep South in the 1950s. It almost has no basis in reality, and instead is a sappy, sentimental fairy tale of what white people in the 1980s like to dream this era was actually like.

But the film provided the Academy with an opportunity to award a race movie, without actually awarding a race movie. It heralded the beginning of a new age of feel-good, self-congratulatory films winning Best Picture over far more deserving and challenging pieces of cinema. It's not hard to see why Driving Miss Daisy won. The Academy fell for this film, despite its many flaws and issues. It's one of their most baffling and ridiculous decisions that still confounds me to this day.