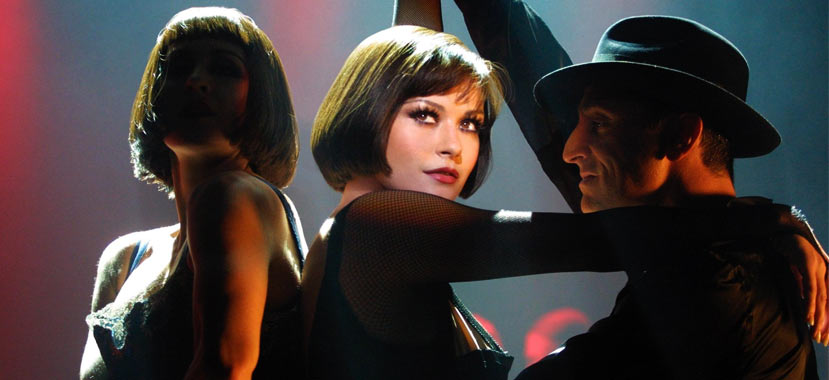 17 Feb

THE BEST PICTURE PROJECT – 'Chicago' (2002)

In 2003, the 75th Academy Awards ceremony was held at the Kodak Theatre in Los Angeles. Honouring the films released between January 1, 2002, and December 31, 2002, the awards were held on March 23. For the second time, the ceremony was hosted by Steve Martin.

To commemorate the 75th anniversary, the show's producers gather 59 actors who had received either competitive or honorary Academy Awards to appear together on-stage in an 11-minute long segment called Oscar's Family Album. Each winner was individually introduced, in alphabetical order. At the end of the segment, the latest winners Adrien Brody, Nicole Kidman, Chris Cooper, Catherine Zeta-Jones, and Honorary Oscar recipient Peter O'Toole joined the class photo. When the curtain opened on the 59 winners, the audience gave them a standing ovation, and did not sit down for the entire segment, essentially making this the longest standing ovation in Oscars history.

Just three days prior to the ceremony, the American-led invasion of Iraq had commenced. Broadcaster ABC begged Academy president Frank Pierson to postpone the Oscars ceremony. Pierson stated this was simply not feasible, as the Kodak Theatre was not available and the move would be far too costly for the Academy. The show would proceed as planned, with no red carpet festivities, and the removal of the traditional competition-winner filled bleacher seats along Hollywood Boulevard. The winners were given a rain check to fill these seats at the next ceremony. Despite the changes, several prominent presenters including Cate Blanchett, Jim Carrey, and Will Smith declined to attend the ceremony, out of respect for military families.

In one of the most infamous moments of recent Oscars history, Bowling for Columbine director Michael Moore used his victory speech for Best Documentary Feature to speak out against the invasion and President George W. Bush. Moore stated, "We live in a time with fictitious election results that elect fictitious presidents. We live in a time when we have a man sending us to war for fictitious reasons." The speech received a mixed reaction from the audience, with some booing, some applauding, and some even giving Moore a standing ovation.

With her 13th nomination, Meryl Streep became the most nominated actor in Oscars history. She has since gone on to be nominated a further eight times. With his 12th nomination, Jack Nicholson extended his record as the most nominated male performer of all time. Julianne Moore became the ninth performer to receive two acting nominations in the same year. Moore was nominated for Best Actress for Far From Heaven, and Best Supporting Actress for The Hours. She was unsuccessful in both categories.

In a surprise upset, 29-year-old Adrien Brody took home Best Actor for his performance in The Pianist. Up against four heavyweights of the industry and previous winners in Nicholas Cage, Michael Caine, Daniel Day-Lewis, and Jack Nicholson, Brody wasn't expected to have a chance at winning. His reaction said it all when he took to the stage and gave presenter Halle Berry a huge kiss on the lips. Brody became the youngest Best Actor winner in Oscars history – a record he still holds to this day.

Leading the way this year with an incredible 13 nominations was Rob Marshall's dazzling musical Chicago. The film would go on to win six Academy Awards for Best Picture, Best Supporting Actress for Catherine Zeta-Jones, Best Film Editing, Best Art Direction, Best Costume Design and Best Sound. Chicago became the first musical to win Best Picture since Oliver! in 1969.

The nominees:
Chicago
Gangs of New York
The Hours
The Lord of the Rings: The Two Towers
The Pianist

The winner:
Chicago

Based on the hit Broadway musical of the same name, Chicago is the lavish and spectacular tale of murder, greed, corruption, violence, exploitation, adultery, and treachery – all the things we hold near and dear to our hearts. Nightclub sensation Velma (Catherine Zeta-Jones) murders her philandering husband, and Chicago's slickest lawyer, Billy Flynn (Richard Gere), is set to defend her. But when Roxie (Renée Zellweger) also winds up in prison, Billy takes on her case as well — turning her into a media circus of headlines. Neither woman will be outdone in their fight against each other and the public for fame and celebrity.

Why did it win?
After a 34-year break, a musical once again broke through to take home the Academy Award for Best Picture, and it just so happened to be one of the finest movie musicals in cinema history. Chicago was a dazzling, glitzy, energetic and spectacular production unlike anything cinema had seen for decades. Sure, we had Moulin Rouge! the year before, but its frenetic and rather garish style made it inaccessible for many viewers. Chicago curtailed these issues, and delivered something even those who usually despised the musical genre could enjoy. One deft choice of production was the key to its success.

One of the biggest issues many people have with movie musicals is the singing. Sounds odd, but hear me out. Many audiences members find the idea of characters breaking into song when they should be talking to be extremely offputting, illogical, and nonsensical. It requires a suspension of disbelief unlike few others genres of cinema. A tree that walks and talks? Audiences eat it up. People singing for no apparent reason? One of the most divisive cinematic techniques there is. What works easily on-stage is much harder to achieve on-screen, especially when the musical genre was not as common as it once was.

Musicals were no longer the genre de jour of Hollywood, and this suspension of disbelief was now much harder to achieve. Audiences of the past were so overloaded with movie musicals, they accepted its style and techniques without any issue. In 2002, that was no longer the case. Director Rob Marshall found the perfect solution – every single song in Chicago would take place in the lead character's head. These were no longer musical numbers, per se, but rather elaborate fantasies in the imagination of a musically-minded individual. Fantasy is something audiences have no issue accepting. Note that talking tree example again. The result was a piece of musical cinema far more accessible for both audiences, and, more importantly, Academy members.

It's not the sole reason Chicago won Best Picture, but it certainly provides an intriguing backstory which explains its appeal, success, and admiration. Of course, it mainly won because the acting, singing, dancing, costume design, choreography, cinematography, production design, and direction were all spectacular. Despite an extremely strong year of contenders where it was perhaps not necessarily the "best" film of the year (yes, I can admit it, and yes, we'll get there), Chicago was simply the most lovable and enjoyable nominee. It managed to entertain and delight like nothing else this year. And the general public ate it up.

On a moderate budget of $45 million, Chicago would earn an impressive $170 million at the U.S. box-office to end the year as the 10th highest grossing film of 2002. The film would earn a further $136 million internationally to bring its worldwide figure to $306 million, making it the 12th highest-grossing film worldwide of 2002. This result also made Chicago the highest-grossing musical worldwide in history, at the time. This phenomenal success with the public only strengthened its chances at the Oscars. It stood as the first truly successful movie musical in decades, and marked the revival of a genre once thought long-dead.

Adding to the film's incredible box-office success, Chicago also received widespread acclaim from critics, with many calling it the best movie musical in years. The Hollywood Reporter raved that Chicago "delivers the sexy razzle-dazzle that everyone, especially movie musical fans, has been hoping for," the Chicago Sun-Times called it "big, brassy fun," and Slate hailed the film as "the most explosively entertaining movie musical in a couple of decades" and "the most influential."

Once again, our eventual Best Picture winner did not have the greatest of initial precursor seasons. Chicago failed to take any of the critics' prizes. New York went with Far From Heaven, Los Angeles went with About Schmidt, and the National Board of Review went for The Hours. But, as expected, the Golden Globes were the gamechanger, where Chicago received eight nominations – more than any other film this year. The film avoided its Oscar competitors by falling into the Comedy/Musical category, where it won three awards for Best Motion Picture, Actor, and Actress. From here, Chicago went on to win the PGA, the DGA, and SAG Ensemble award, making it all but unstoppable come Oscar night. It faced strong competition from The Pianist, particularly after Roman Polanski won Best Director over Marshall, in a shock upset. But it wasn't enough to stop the razzle-dazzle, and Chicago danced away with Best Picture.

Did it deserve to win?
Full disclosure for those who aren't aware – I love Chicago almost more than any other film I have ever seen. I saw it seven times in the cinema. I listened to the soundtrack relentlessly for months. I've seen the stage version at least ten times. I could likely quote every single word of this movie. I cheered like I've never cheered before when it was announced the winner of Best Picture. It's a truly special film to me, and one I can watch again and again, yet never tire of. As much as I'm attempting to remain objective with these pieces, it's hard for a film that I truly adore.

As far as I'm concerned, yes, it absolutely deserved to win Best Picture. It stood as a defining moment for the musical genre, and delivered something entirely fresh and unique, which the genre was in such dire need of. With Rob Marshall's masterful approach to crafting his opus, Chicago felt authentic to the traditions of movie musicals, while still paving its own original path. By choosing to set the musical numbers in Roxie Hart's imagination, the film becomes far less confronting for the everyday cinemagoer. You don't question the place and purpose of the singing and dancing. It feels natural by taking place outside of reality. It's truly a genius stroke of filmmaking by a director who keenly understood this genre so perfectly.

And those musical numbers became some of the most dazzling and captivating every captured on film. From the sublime opening number to the wildly entertaining closing sequence, we're gifted with moment after moment of sheer, joyful entertainment. The choreography, the vocal talents of its performers, the costume design, and the staging are downright glorious. There isn't a single frame of Chicago that doesn't leap off the screen. It makes for a truly scintillating viewing experience, and you cannot leave this film without feeling truly entertained.

The film shines even brighter from its terrific ensemble cast. Zellweger is a revelation as Roxie, capturing both her insatiable lust for fame and desperate need for attention with deft skill. Unsurprisingly, Zeta-Jones steals every moment from under her, devouring every piece of scenery she can with Velma's delicious sass and biting wit. Gere is sublime as the unscrupulous lawyer Billy Flynn, exuding lashings of charm and charisma at every turn. In sublime supporting performances, John C. Reilly and Queen Latifah also deliver the goods, and rightly earned their Oscar nominations. When combined, the cast has the most glorious chemistry, and play off each other so wonderfully. It's no surprise it took home that SAG Ensemble award. No other film came close to award-worthy ensemble work this year.

In saying all of this, yes, even I can admit to Chicago not exactly being the "best" or most "important" film of 2002. It doesn't have the gravitas of The Pianist, The Hours, or Gangs of New York. Most people bemoan the victory of Chicago as this year's Best Picture winner, and I can see why, especially if you're not a fan of musicals. On the surface, it's nothing more than a showy, glamour-fest with some toe-tapping numbers and flashy outfits. Something like The Pianist would be a far more appealing winner for most people. It's a brilliant and heartbreaking piece of cinema, elevated even higher by the impeccable and devastating performance of Adrien Brody.

But while many will say Chicago has no importance, I will counter that by arguing it hit at just the right time with its message of fame, celebrity, and the idol-status often bestowed upon criminals. In a post-O.J. Simpson world, the idea of a criminal becoming a celebrity, and a murder trial becoming a public sensation was all-too-familiar. Just one month after the Academy Awards, well-known actor Robert Blake would murder his wife, and his trial became a tabloid field day. Life imitating art, indeed. With its biting wit and sharp satire, Chicago showcased just how easily the public (and the legal system) could be manipulated, and why two-bit criminals are not your wisest choice for an idolised celebrity.

Say what you like, but I'm sticking with my love for Chicago and my opinion it did indeed deserve to take home Best Picture. It's a masterful work of art, and a damn entertaining one too. Perhaps had it lost, it wouldn't receive so much hatred. Perhaps many could see it for what it is, and just enjoy the dazzling piece of cinema Chicago ultimately is. You can say it wasn't deserving, but you cannot possibly say it isn't a great film that still has the power to entertain and delight, 15 years later. If that isn't the sign of a worthy Best Picture winner, I don't know what is.