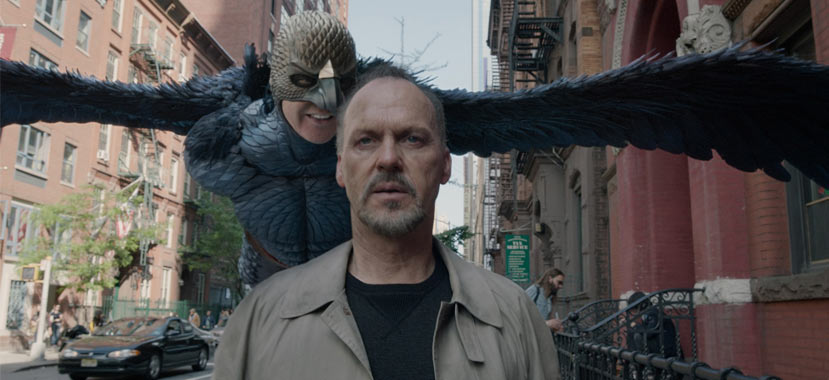 01 Mar

THE BEST PICTURE PROJECT – 'Birdman or (The Unexpected Virtue of Ignorance)' (2014)

In 2015, the 87th Academy Awards ceremony was held at the Dolby Theatre in Los Angeles. Honouring the films released between January 1, 2014, and December 31, 2014, the awards were held on February 22. The ceremony was hosted by actor Neil Patrick Harris.

The Academy received a firestorm of backlash after the nominations were announced, regarding the lack of racial diversity amongst the nominees in major categories. This marked the second time since 1998 all 20 acting nominees were Caucasian, with notable snubs for films and performances from people of colour. #OscarsSoWhite became the #1 trending topic, in the days following the nominations announcement. Civil rights activist Al Sharpton announced plans to demonstrate outside the Dolby Theatre on the day of the ceremony.

After pleas from Selma director Ava DuVernay, who many felt was snubbed of a Best Director nomination, Sharpton cancelled the planned protest. Academy president Cheryl Boone Isaacs later told a reporter the Academy were committed to seeking out diversity in the future and would look to increase their membership to more diverse members of the film community, but stopped short of relaying any disappointment over this year's chosen nominees.

With his win for Best Director for Birdman, Alejandro G. Iñárritu became the second consecutive Mexican to win Best Director. His close friend Alfonso Cuarón had won the previous year for Gravity, meaning two of the so-called "Three Amigos" (Iñárritu, Cuarón, and Guillermo Del Toro) now had Academy awards. With his win for Best Cinematography for Birdman, Emmanuel Lubezki became the fourth person in Oscars history to win this category two years in-a-row.

With his nomination for Best Supporting Actor for The Judge, at age 84, Robert Duvall became the oldest male acting nominee in Oscars history. With his nomination for Best Actor for American Sniper, Bradley Cooper became the 10th performer to receive three or more consecutive acting nominations.

For the first time since the expansion of the Best Picture category to potentially-10 nominees, all of this year's eight Best Picture nominees won at least one Academy Award. This feat has yet to be repeated.

Leading the way this year with nine nominations each were Iñárritu's absurdist black comedy Birdman and Wes Anderson's ensemble comedy The Grand Budapest Hotel. Both films walked away with four Academy Awards each, but the big winner was Birdman, taking home Best Picture, Best Director for Iñárritu, Best Original Screenplay, and Best Cinematography. Birdman became the first win to win Best Picture without a Best Film Editing nomination since Ordinary People in 1981.

The nominees:
American Sniper
Birdman or (The Unexpected Virtue of Ignorance)
Boyhood
The Grand Budapest Hotel
The Imitation Game
The Theory of Everything
Selma
Whiplash

The winner:
Birdman or (The Unexpected Virtue of Ignorance)

Former cinema superhero Riggan Thomson (Michael Keaton) is mounting an ambitious Broadway production that he hopes will breathe new life into his stagnant career. It's risky, but he hopes that his creative gamble will prove that he's a real artist and not just a washed-up movie star. As opening night approaches, a castmate is injured, forcing Riggan to hire an actor (Edward Norton) who is guaranteed to shake things up. Meanwhile, Riggan must also deal with his girlfriend (Andrea Riseborough), daughter (Emma Stone), and ex-wife (Amy Ryan).

Why did it win?
Another year, another crazy rollercoaster of an awards season, with an outcome few ever thought possible. Birdman, a film many assumed was far too left-of-centre and divisive to ever win Best Picture, ends up stealing it away from one of the most ambitious film productions in the history of cinema. It's still astonishing to remember Boyhood took 12 years to craft. Writer/director Richard Linklater began filming his masterpiece back in 2002, and systematically produced segments of the film over the last 12 years, creating something wildly original and stunningly unique. It seemed almost unfathomable the Academy wouldn't award such an enormous and exhaustive creative endeavour. And, for a while there, it certainly seemed to be going that way.

Early on in the race, it was all about Boyhood. It quickly started to look like we were heading for another year of a frontrunner emerging early, and sweeping the entire season. The film was awarded Best Picture by the critics' groups of New York, Los Angeles, Boston, Chicago, Detroit, Houston, London, San Francisco, Toronto, Vancouver, Washington D.C., and the Broadcast Film Critics Association. It won three Golden Globes for Best Motion Picture – Drama, Best Director and Best Supporting Actress for Patricia Arquette. It would later repeat those same awards at the BAFTAs, and snatch the all-important PGA, DGA, and SAG Ensemble nominations. The race was over, right? Nope.

From seemingly nowhere, and despite losing Best Motion Picture – Comedy to The Grand Budapest Hotel at the Golden Globes, Birdman won the PGA, stunning the awards watcher community, and spinning the entire Oscar race on its head. Given the last seven PGA winners had all gone on to win Best Picture (well, 12 Years a Slave tied with Gravity, but it still counts), a new frontrunner emerged. When Birdman continued the surprises by taking both the DGA and SAG Ensemble prizes (it was ineligible at WGA), the race was done. Many of us (including me) clung on to the foolish hope Boyhood would somehow recover, but it was not to be. Birdman had defied all precursor season logic and stolen the race. But how? The answer lies with Linklater's film.

Boyhood was always a problematic frontrunner, in that it received too much universal praise and awards success in such a short amount of time, putting a target squarely on its back. When a film starts winning everything in sight, many try their hardest to bring it down. The film was hit with criticism of being too simple, nothing special, and if it hadn't been crafted over 12 years, it wouldn't even be considered for awards contention. If you hadn't seen the film, but had heard the praise it was receiving, Boyhood could ultimately be somewhat disappointing. If you went in expecting some sort of dazzling masterpiece, you were likely to be left baffled by its frontrunner status.

The other problem with becoming the early frontrunner is over-exposure and voter exhaustion. Academy members can often tend to get bored with seeing the same film win Best Picture at every awards show. By the time the tail-end part of awards season comes around, it seems people may have simply been sick of seeing Boyhood win Best Picture. They craved something different. They wanted to differentiate themselves from the rest of the groups. It's utter nonsense, given the frontrunner is clearly winning these prizes for a reason, but it happens. Birdman offered the perfect alternative, especially with its narrative.

As we saw with The Artist and Argo, the Academy love a film about the film industry itself. Birdman fell into the same category, with its narrative regarding the complicated and exhaustive creative process behind crafting works of art and the risks actors often take to revitalise their lagging career. You ultimately have to win over the actors to win Best Picture. They make up the biggest segment of Academy voters. Is there an easier way to capture the actor vote than with a film about how horribly difficult it is to be an actor and how dismissive the industry can be to its veteran performers? They related to this film. Hard. So did producers, writers, designers, editors, and any other fascist of the industry. It was their story, even if it was told in a peculiar way. In hindsight, it's not that difficult to see why it stole the race.

Birdman celebrated art and the blood, sweat, and tears artists must provide to achieve true greatness. The artist is the hero of this film. The fickle entertainment industry and the mercurial public are the villains. Boyhood may have been an impressive cinematic feat, but it couldn't possibly capture this same kind of empathy and connection from Academy members. Birdman attacks every aspect of the industry, especially the rising dominance of the comic-book culture and how once-revered actors were now nothing more than the superhero characters they were portraying. For those in the Academy, it was like every disappointing thought they'd ever had about the industry, all rolled into one.

Beyond that, Birdman was impeccably crafted, wonderfully acted, supremely edited, and provided a decidedly different Best Picture choice. It was filled with magical realism which blurred the lines between reality with fantasy, and an ambiguous and mysterious ending which many are still attempting to decode. It was absurd and bizarre, and not the kind of film that's meant to win Best Picture. That proved to be its power when Academy members went looking for an alternative to the blazing frontrunner that was Boyhood. They wanted something different. Something dazzling and exciting. Something unlike any Best Picture winner before. They found the one film at the polar opposite end of the spectrum, and the rest is history.

Did it deserve to win?
I'll never forget my initial reaction after seeing Birdman for the first time. I thought it was a brilliant film. As a huge fan of the industry, it spoke to me on many levels. I thought Michael Keaton was a shoe-in to win Best Actor. I thought there was a good chance Emma Stone and Edward Norton could win the Supporting Categories. Actually, I think I proclaimed it deserved to win anything it was ultimately nominated for. However, deep down, I genuinely thought it would never in a million years win Best Picture. The Academy clearly still has the power to defy the odds and expectations of the most ardent of Oscar watchers. Even four years later, the Best Picture victory of Birdman is still an astonishing one.

But first things first – Boyhood losing Best Picture was a total travesty and a loss which still upsets me to this day. Many people dismiss this film as being nothing more than a gimmick. That the film had nothing more going for it than its insane 12-year long production schedule. I hear it. I get why some may think that. And when you've spent 12 years of your life crafting a piece of cinema, you're welcome to provide this kind of criticism. Until then, please stop talking. Boyhood is a revolutionary film and one of the greatest cinematic achievements in the history of this medium.

Yes, its production technique is a tad gimmicky, but its a gimmick we've never seen before. To have the chance to see a family literally grow and age in front of your eyes is just so damn glorious. It's a beautiful time-capsule of the last 12 years. It's a statement of life and love and family and everything in between. It's a sublime journey through one family's ordinary life, with the intimacy and scope of a documentary making it so wonderfully relatable. There's an almost voyeuristic quality to Boyhood, and therein lies its power. Arquette's performance (and her willingness to allow her ageing process be captured on film) is something truly special. She earned every inch of that Academy Award statuette. Yes, it's a simple film where not a lot happens. But why should that matter? Boyhood is an absolute masterpiece and the best film of 2014. The Academy's failure to award it with Best Picture may be their biggest mistake of the last few decades.

Despite this opinion, my initial reaction to seeing Birdman should be what stands as deciding if it were a worthy Best Picture winner or not. I initially loved Birdman. I called it brilliant. I said it should win everything at the Oscars. But I never thought it would actually happen. When it did shockingly beat Boyhood, the hatred and anger began to rise. And that fury was focused squarely on Birdman. This is the inherent problem with something like the Academy Awards, or any awards show, for that matter. When a film or performance wins over the one you truly adore, you begin to hate the winner for no reason other than its victory. It's hard not to, especially when you really, really love a losing nominee. We're all guilty of it. But with a few years of hindsight and a re-watch, the memories of why I initially loved Birdman so much all come flooding back.

Birdman is, in fact, a brilliant film. It's certainly not everyone's cup of tea. You're either going to really love it or absolutely hate it, without much grey area in-between. This is why we all deemed it so unlikely to win. Divisive films simply don't find themselves Best Picture winners. But its narrative broke through that problem, and the sensational way this film was crafted made it too hard to ignore. It's a bold and risk-taking piece of cinema and the kind of film the Academy usually chooses to ignore. Even though it meant the more deserving film had to lose, the fact they rewarded something like Birdman is a remarkable moment in Oscars history you have to admire.

If Boyhood losing Best Picture wasn't bad enough, Michael Keaton losing Best Actor may have been even more idiotic a decision. How you award Birdman with Best Picture but not award the actual Birdman himself is beyond me. Keaton is the heart and soul of this film. It ultimately lived or died by his performance, but what a performance it is. It was the career resurrection of a former movie star we'd been so desperately missing. Its narrative of a down-and-out actor, best known for portraying a superhero, desperately mounting a comeback of his own, is so deliciously ironic and gloriously meta for the former Batman actor. At times, the dialogue feels like we're talking about the Keaton himself, as opposed to his character, and no one else could have played this role. This is self-reflection on a new level. Keaton plays Riggan with such ferocity and desperation, and it really is one of the most dazzling performances you'll ever see, regardless of how the Academy saw it.

Elevating Keaton's performance even higher is the work of the terrific ensemble cast surrounding him. Emma Stone is utterly sublime as Riggan's neglected daughter, Sam. Her sharp wit and fiery temperament are electric to watch, as are Sam's more fragile and longing moments. Sam is such a damaged and shattered character, and in Stone's capable hands, she's someone you cannot take your eyes off. If it weren't for Arquette, you can be sure she would have walked away with the Oscar.

Likewise with Edward Norton, who very likely also would have won, had it not been for J.K. Simmons spectacular performance in Whiplash. As the conceited and vain thespian Mike Shiner, Norton is magnificent and hilarious, and his chemistry with Stone is one of the film's true highlights. You add in Naomi Watts, Andrea Riseborough, Amy Ryan, Zach Galifianakis, and a wonderful cameo from Lindsay Duncan, and you have one of the finest ensemble pieces we've ever been gifted with. The SAG were right with their choice for Best Ensemble.

Then there are the technical elements, with Iñárittu's masterful direction bringing it all together. Yes, even I can admit he did deserve to win that Best Director prize. His most ambitious masterstroke is making Birdman look like it's one single shot. This confused Academy members so heavily, they didn't nominate the film for Best Editing. In actual fact, this was the one award it probably deserved more than anything else. For a film to look like it's actually one continuous take requires editing of the highest order, and Douglas Crise and Stephen Mirrione's work should have been acknowledged. If you don't actually believe this film features minimal editing, they've done their job.

And then there's Emmanuel Lubezki's cinematography which is a genuine work of art. How he even managed to achieve several shots, particularly one which ventures from high above the stage on the gantry and slowly down through ropes and wires to the stage itself, is beyond me. Lubeski stalks the actors with such intimacy and precision, and there isn't an area of the St. James Theater which he doesn't somehow manage to capture. At times, his work feels uncomfortably claustrophobic and confined, but then we're zooming high above the New York City streets and gifted with glorious wideshots to give the audience a moment of rest. Lubeski is a master of visuals, and his work here is nothing short of beautiful.

I've waffled on far too long, and could probably keep going, so I'll stop. Yes, I love Birdman. It's fine if you didn't. It's an alienating and polarising piece of cinema. I know just as many people who love it as those who despise it, but that's cinema, in a nutshell. Did it deserve to win Best Picture? Perhaps in another year, but not this year and not over Boyhood. They are clearly two very different films, utilising very different techniques to deliver their final product. Both films achieve their goal, and both are works of art, but there's just something about Boyhood which should have seen it win Best Picture. Boyhood had the heart Birdman lacked, and it was so bizarre to see the Academy reject something so warm in favour of something so cold. Regardless, it's admirable to see them choose something so daringly different, and in the end, you have to admire them for that.