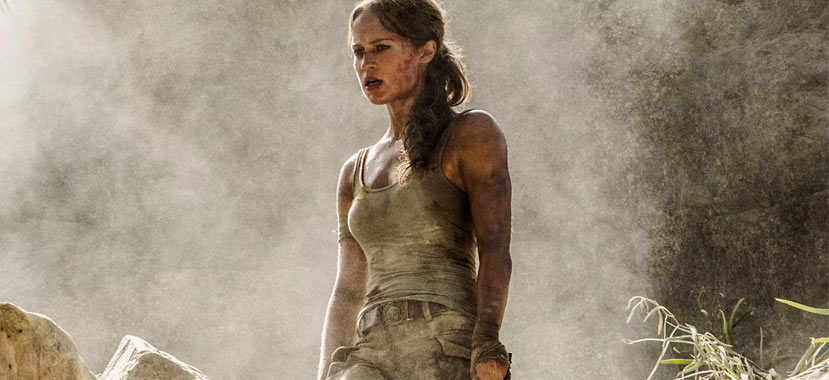 15 Mar

REVIEW – 'Tomb Raider'

The video game to movie adaptation genre has been a tricky beast to conquer for the past few decades. While there's been a handful of decent and fun interpretations (Resident Evil, Mortal Kombat), the majority have been fairly woeful, particularly 2016's garish disaster Warcraft and dull disappointment Assassin's Creed. Now comes Tomb Raider, a reboot of sorts, after those early millennium Angelina Jolie films, which takes its inspiration from the 2013 video game reboot of the same name. While the film finds itself amongst the better video game adaptations we've been served lately, the bar on this genre is so low, that's not really saying much.

In this incarnation, we find Lara Croft (Alicia Vikander, who is better than this) as a scrappy young Londoner, making her living as a bike messenger while dabbling in some extreme sports gambling, for some extra cash on the side. Her penniless existence is completely unnecessary, given a vast inheritance is merely awaiting her signature to receive. But doing so would mean accepting her father, Lord Richard Croft (Dominic West), is dead. Her doting father went missing seven years ago, while on a mysterious quest off the coast of Japan, and Lara refuses to accept he's not coming back.

After a meeting with Lord Croft's business partner, Ana Miller (Kristen Scott Thomas, who's definitely better than this) leads Lara to her father's secret office, she finds the research of his final mission to find Himiko, a mythical Japanese Queen who was said to have been buried alive on a remote uninhabited island called Yamatai. Despite her father's desperate pleas to destroy his research to keep it from falling into the wrong hands, Lara sets off to Hong Kong to trace Richard's last known steps and find the man he paid to help search for the mysterious island.

Upon her arrival, Lara instead finds the man's son, Lu Ren (Daniel Wu), a drunken boat captain whose father also mysteriously disappeared seven years earlier. Lu reluctantly agrees to help Lara on her quest to find Yamatai, but warns the sea path may be a treacherous one. Unsurprisingly, he's right, and the pair finds themselves shipwrecked on the island, now home to a band of treasure hunters, led by Mathias Vogel (Walton Goggins), also looking for the tomb of Himiko, and may or may not be the man responsible for her father's disappearance.

Mathias, working for a mysterious company linked to the evil Trinity corporation, takes the pair hostage, like numerous other unfortunate souls who find themselves on the island, and puts them to work in helping locate the tomb. But when Mathias discovers Richard's research book in Lara's bag (shoulda burned it, like you were told), he may finally have the clues to achieve his mission. After Lara boldly escapes her captor, the race is on to be the first to locate Himiko.

As narratives go, it's a fairly by-the-numbers affair, but were you really expecting anything less from a film based on a video game where you literally go from point A to point B? There's nothing inherently wrong with that, and for fans of the game, you're likely going to love seeing this adventure come to life. As in the game, Lara cleverly navigates her way around the island by utilising her surroundings and environment, which makes for interesting fare. And, of course, the tomb itself is filled with an array of booby traps and tricky puzzles, which take a heavy dose of inspiration from the adventures of Indiana Jones.

Many have referred to Lara Croft as the female version of Indy, but you're probably unlikely to make that comparison by watching Tomb Raider. Indiana Jones was fun, lively, and charismatic. Lara is anything but. That's the biggest issue here – this film takes itself so damn seriously. The reboot game was praised for its dark and gritty reimagining, and there's certainly merit to that. But on the screen, it makes for a decidedly bleak and flat film, devoid of any levity whatsoever. A wise-cracking sidekick or a smarmy villain wouldn't have gone astray to provide some balance to the roughness of this film.

Unfortunately, Lara is surrounded by a host of underdeveloped and one-dimensional supporting characters, who really add nothing to the film than exposition for the necessary plot points. Even someone as typically wonderful as Goggins can't haul his character from the depths of nothingness, and without a truly great villain, something like this becomes very uninteresting very quickly. If we're comparing this to Indiana Jones, even that franchise's worst entry (Indiana Jones and the Crystal Skull) still had a spirited and scenery-chewing villain. Mattias is merely a lackey in someone else's game. An evil lackey, sure, but one devoid of any true villainous motivation.

West is thankfully given more to work with, and the father-daughter storyline is one of the film's highlights, even if it is a tad heavy-handed. Richard's connection to Lara is charming, and West and Vikander have wonderful chemistry together. Likewise with the chemistry between Vikander and an underused Wu, which sadly goes underdeveloped, and seems to be more of sequel-setting exposition than anything else. Quite a lot of the narrative actually feels like that, which becomes rather frustrating. Yes, we know you want to turn this into a franchise, but stop getting ahead of yourself, please.

The saving grace in all these disappointments is Vikander, who really does give this role her absolute all. The production looks like almost The Revenant levels of hell, with Vikander put through the ringer on numerous occasions. But she never falters, taking everything thrown at her with vigour and enthusiasm. She may not have the Amazonian physique, but Vikander instils Lara with enormous inner strength and grit determination, making the character all her own. As a supporting player, Vikander has always stolen the focus (hence her "supporting" Oscar win for The Danish Girl), but in a leading role, your attention is never elsewhere.

By working as an origin story, Lara is far more grounded, human, and vulnerable, making her far more interesting and complex as a character. She is not an invincible hero or a daring treasure hunter, but merely a daughter desperately searching for her father. It gives Vikander more room to grow, and Lara's character arc is another of the film's highlights. Yes, it becomes a little exhausting to see her constantly pummeled and beaten, but it makes our viewing far more enjoyable to see our hero fail more times than she succeeds.

The action scenes are exciting but far from groundbreaking, and mostly what we've come to expect from this genre. Still, director Roar Uthaug clearly has a flair for visual dazzles, and his set pieces are terrifically crafted, particularly one involving a wrecked and rusty plane, sitting precariously atop a mammoth waterfall. But Uthaug fails to properly understand pacing, and the film's running time becomes rather exhaustive. The real guts of the plot take far too long to truly get going, and by that point, many may have stopped caring. The dialogue is also rather woeful, but never fatal enough to ruin the film completely.

Tomb Raider is a great reinvention but far from a truly great film. That being said, the impeccable talent and captivating charm of Vikander make the film entertaining enough to warrant a viewing. It's always wonderful to have an action film led by a gutsy female heroine, even if the final product is a tad disappointing. There's enough here to greenlight a sequel, particularly now Vikander can hit the ground running. But, if it happens, some huge changes need to be made to keep our attention for another two hours.
★★★☆☆