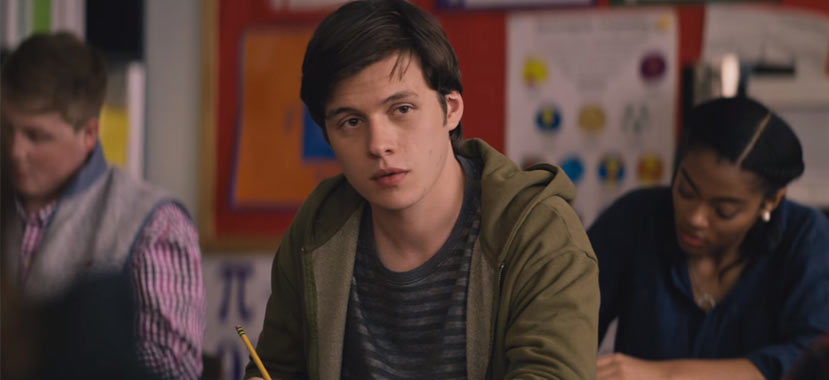 22 Mar

REVIEW – 'Love, Simon'

Love, Simon is a groundbreaking film. Not necessarily with its narrative, the way it's told, or what it has to say. Independent and foreign cinema has been tackling gay subjects for decades. Just last year, we were dazzled by gay-themed gems like Call Me by Your Name, BPM (Beats Per Minute), and God's Own Country. But never before has a major studio released a romantic teen comedy focusing on a gay protagonist and his struggles with coming out.

That in itself makes Love, Simon a triumph. A turning point for cinema. A potentially game-changing moment. Sure, with its light touch and saccharinely-sweet outlook, it may not have the impact of Call Me by Your Name or Brokeback Mountain, but just the fact this film exists in the first place is something we need to celebrate, even if the end result is a little too safe.

17-year-old Simon Spier (a wonderful Nick Robinson) is "just like you." That is if you have a loving, nuclear family, a beautiful home, and a great set of friends. His therapist mother, Emily (Jennifer Garner, again showing her flair for these maternal roles) is a typical doting mom. His man's man father, Jack (Josh Duhamel) is a sweet-natured, but rather dopey dad, who, in typical jock fashion, isn't opposed to the occasional homophobic joke. And his younger sister, Nora (Talitha Bateman) is a wannabe culinary master. Despite the closeness of his family, Simon is keeping "one huge-ass secret" from them – he's gay.

Equally unknowing of Simon's big secret are his three closest friends – childhood best friend Leah (a sadly underused Katherine Langford), sports enthusiast Nick (Jorge Lendeborg Jr.), and the new girl with a fractured home life Abby (Alexandra Shipp). Simon's life is flipped upside down when a fellow closeted gay schoolmate writes an anonymous blog post, under the pseudonym "Blue," revealing his own struggles with coming to terms with his sexuality.

Inspired by Blue's daring post, and desperate to find a sense of solidarity with someone who can empathise with his situation, Simon crafts his own secret identity as "Jacques," and reaches out to Blue via email. The two quickly form a connection, sharing their similar frustrations, fears, and desires. And, unsurprisingly, a rather modern romance begins to form, causing Simon to frantically attempt to determine which of his classmates may be his new online flame.

But when an insecure and loathsome classmate Martin (Logan Miller) stumbles upon Simon and Blue's email conversations, he uses the secret relationship to blackmail Simon into helping him garner the attention of Abby, who naturally can't stand the sight of him. As he battles his inner turmoil at falling to Martin's demands, and his desperate hunt to uncover the man he's falling in love with, Simon's road to coming out is quickly spiralling out of his control.

There will likely be a lot of criticism of this movie for only showing the mostly positive gay experience of a kid who really has nothing to worry about. Simon has the "perfect" life, with loving parents and close friends creating a great supporting system around him. Even Simon's vice-principal, Mr. Worth (a scene-stealing Tony Hale) is on his side. And many may confuse this as making his coming out seem relatively simple. They'll all understand, right? Surely they'll be supportive. Why is he stressing so much? It's 2018. This isn't an issue anymore.

On a personal level, I can attest to having a very similar setup behind me as a closeted teenager, and it honestly made no difference. Coming out is never easy. No matter how supportive your network may be, and despite how progressive this world has become, the nagging fear all around you will instantly turn on you the minute you leave the closet is a very real nightmare for almost all gay teens.

Love, Simon seeks to highlight how overwhelming this experience ultimately is. Yes, Simon may have it much easier than a lot of gay kids. He's handsome, smart, popular, and seems like the kid who's going places some day. But that should not discount his personal struggles. The film's heart is in the right place, even if it takes the crowd-pleaser path to convey its messages.

The narrative itself is fairly formulaic. We've seen this kind of teen romantic comedy dozens of times before. Besides it being headed by a gay character, there's really nothing new here. It's Never Been Kissed with a gay twist. The finale is straight-up plagiarism of that film's conclusion, substituting a carnival for a baseball game. There's nothing inherently wrong with following a genre formula. But for the "first film of its kind," it would have been more pleasing to see Love, Simon deal with issues a little deeper and a little darker.

That's not to suggest the film is entirely devoid of drama. It errs on the side of light, but still packs an impressive punch when it needs to, particularly the moments between Simon and his parents when the time comes to have "that talk." Unfortunately, after last year's astonishing parental monologue from Michael Stuhlbarg in Call Me by Your Name (which should have been enough to secure an Oscar nomination…sorry…letting it go), these moments look tame by comparison. There's also one moment with Simon's sister which is genuinely devastating.

As hokey and riddled with plot holes as the blackmail plot may be (how could Martin prove "Jacques" is really Simon?), it ultimately stands as a brilliant example of the desperation one will go to keep a secret hidden. Being outed is every gay teen's worst fear. Many would go to any length to avoid it, which stands to highlight how selfish coming out can sometimes be, in that Simon would rather betray his closest allies than risk exposing his secret. It may seem baffling to some, but it's painfully relevant to those who've been there.

As light as the film may be, director Greg Berlanti never truly sugarcoats the turmoil and despair gay teenagers face in coming to terms with their sexuality. Homophobic bullying is touched upon, as is Simon's desperate isolation and conflict with accepting who he is. When Simon finally discovers a kindred spirit, it's genuinely touching to see how this allows him to open up, relax, and breathe, as if for the first time. It's that lightbulb moment in a piece of cinema that reminds us we're never truly alone in our struggles.

At the centre of this is Nick Robinson's beautiful performance as Simon. He's crafted a character who so damn loveable and entirely endearing, creating a true sense of empathy and connection with the audience. Much like a John Hughes protagonist (think Ferris Bueller), Simon is a character you genuinely want to see succeed. You'll cheer for Simon, as he bumbles his way through his final days of high school, like the most awkward of cinematic heroes often do. He's flawed, and Robinson knows this, but therein lies his effortless charm.

As a heterosexual male (something which may cause contention with some in the gay community), Robinson still deftly understands his character's turmoil. Even when not outwardly expressing Simon's crippling fear and anxiety, Robinson conveys how tightly wound his character ultimately has become. Watch how he tries not to react when his father calls a man "fruity," and how perfectly Robinson captures that moment of true fear and disappointment. Every gay teen has felt this moment, and somehow Robinson nails it so perfectly.

Surrounding Robinson is a terrific supporting cast of characters, who bring the levity and humour to the film. While the dialogue they're given lacks the true teenage authenticity of John Hughes' work (or even last year's sublimely scripted Spider-Man: Homecoming), the teen cast is a delight, particularly an underused Ethan (Clark Moore), an out-and-proud classmate of Simon's, with the most delicious comebacks and fierce strength. Simon's parents aren't given a whole lot to do, but Garner and Duhamel make the most of their roles, with the latter getting the film's best joke involving Grindr (maybe look it up, if that word doesn't register).

But the film's true scene-stealer is Natasha Rothwell as the sassy Ms. Albright, Simon's no-nonsense drama teacher. Through her desperate attempts to craft a high school production of Cabaret, which is as god-awful as it sounds, Rothwell gets the bulk of the film's greatest lines. She really gets to shine when dealing with a pair of bullies, gifting us the kind of teacher we all wished we had. Somebody give this woman her own spin-off, please.

Look, we all know mainstream cinema rarely trumps an indie darling when dealing with a serious topic like sexual identity. And Love, Simon ultimately can't hold a candle to the pieces of independent gay cinema that have come before it. But, when you get down to it, it's not trying to. It's just taking the far more positive and hopeful look at the gay experience, and there's absolutely nothing wrong with that.

Does Love, Simon represent every gay teenager's path to coming out? Of course not. But it touches on moments painfully familiar and relevant to those who've been there and those currently experiencing this journey. If this film even remotely helps one single gay kid come to terms with their sexuality and inspires them to love who they are, that's a monumental success few films can ever hope to achieve. It's the kind of film I genuinely wish we had when I was a teenager.

But Love, Simon is not just a film for members of the LGBTQI community. It's so damn accessible to any audience member, which is not something you can often say of gay cinema. You don't have to be gay to empathise with Simon's journey of self-acceptance and self-discovery. We all went through that during our teenage years, or we're currently going through it now, and there's really something here for any audience member to empathise and connect with.

As groundbreaking as Love, Simon is for mainstream cinema, we still need Hollywood to show us other angles of the gay youth experience. This is but the tip of the iceberg. The gay kid who comes out but is shunned by his family. The gay black kid who comes out and is rejected by his community. The Asian kid. The Hispanic kid. The Muslim kid. The Jewish kid. The lesbian kid. The bisexual kid. The transgender kid. They deserve their moment too.

Love, Simon represents a small and ultimately very positive fascist of a huge world of LGBTQI narrative opportunities for mainstream cinema. It remains to be seen how financially successful something like this can be, and what that could do for Hollywood going forward. Regardless, it's a huge moment that needs to be celebrated. The film is far from perfect, but it's a damn fine place to start.

Ultimately, Love, Simon is a gorgeous film with immensely likeable characters, lashings of humour, and a truly beautiful love story. Yes, it's a little too safe, a little too fluffy, and somewhat unrealistic, but you'll be too entertained to give a damn. We've done the devastating gay movie to death. It's time for something to give us some hope again. To make us laugh and cry and smile and cheer. And that's precisely what Love, Simon delivers.
★★★1/2☆☆

Love, Simon hits Australian cinemas on March 29.