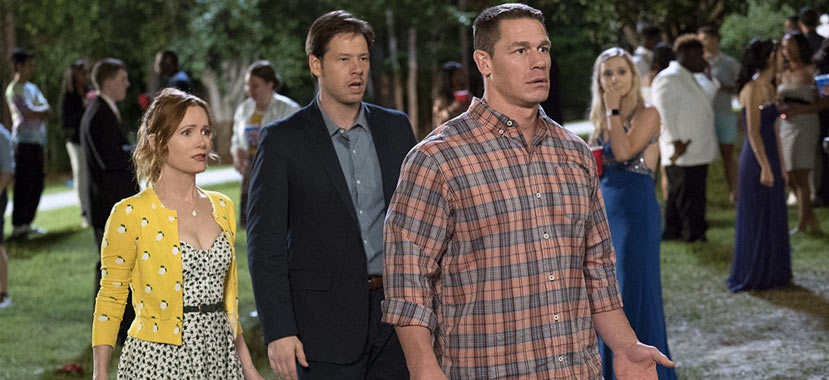 28 Mar

REVIEW – 'Blockers'

After watching the dudes dominate the raunchy comedy genre for decades, females have taken charge in recent years. After Bridesmaids broke new ground in 2011, we've been gifted with several brilliant female-centric R-rated comedies including The Heat, Trainwreck, Bad Moms, and last year's underrated masterclass, Girl's Trip. But these entries in the genre focused on the misadventures of adult women, not the younger generation. There's been an onslaught of male teenage calamities over the years (Porky's, American Pie, Superbad et al.), but rarely a film which shows girls can be just as bawdy as the boys. Enter Blockers, a hilarious and surprisingly touching new entry to this well-worn genre, which wisely places a trio of rambunctious girls at the forefront.

Our triad of protagonists have been BFFs since the first day of kindergarten, where their parents also made an instant connection, whether they wanted to or not. Headstrong Julie (Kathryn Newton, continuing to show why she's one to watch) is her single mother Lisa's (Leslie Mann, never better) sole focus. Just the thought of Julie heading off to college and starting a new life without her is giving Lisa severe separation anxiety. Confident and self-reliant Kayla (Geraldine Viswanathan) is the apple of her father Mitchell's (a terrific John Cena) eye, but he's grappling with the realisation she's quickly becoming a young woman. And then there's the shy and insecure Sam (a scene-stealing Gideon Adlon), who's struggling with her sexuality, while dealing with the reemergence of her deadbeat, adulterous dad, Hunter (the ever-reliable Ike Barinholtz).

As prom night approaches, Julie decides to take destiny into her own hands, announcing to the girls she's ready to lose her virginity to her boyfriend Austin (Graham Phillips) at the after party festivities. Spurred by Julie's plans, Kayla makes the rash decision to join her best friend, and randomly selects a fellow classmate, Conner (Miles Robbins) in the cafeteria to also lose her virginity to. But Sam is not quite as willing to join the pact. Completely unbeknownst to her two pals, Sam is crushing hard for the mysterious and etherial Angelica (Ramona Young).

The so-called #SEXPACT2018 hits a snag when Julie leaves her laptop open, catching the eye of her overbearing and ever-snooping mum. After desperately attempting to decipher what a series of suggestive emoji text messages between the three girls really mean, Julie cottons on to her daughter's plans and promptly decides she needs to put a stop to them immediately. Mitchell quickly becomes her wingman, equally as keen to save his daughter's purity. While Hunter initially attempts to halt the "cock-blocking" scheme, he worries Sam may be inadvertently dragged into the agreement to mask her secret sexuality (which he is seemingly the only one aware of) and soon joins the pair to rescue his daughter.

What follows is a series of madcap disasters, as the young trip float from prom night to a series of house parties, inadvertently outsmarting their pursuing parents who are consistently one step behind their children. This ends up being one of the film's key successes. The girls are completely in the dark of their parents' insane and unrelenting chase. It allows the characters to simply enjoy and experience their wild night, instead of turning them into impudent or cynical brats who are out to defy their overprotective parents. The trio remain sweet, aloof, and relatable, making them far more accessible and likeable.

A large part of the ultimate success of these teenage comedies comes down to casting. With Newton, Viswanathan, and Adlon, they've found three wonderful performers who you genuinely believe could be best friends. The trio has wonderful chemistry together, despite each character being wildly different from one another. Their camaraderie is a delight, never once feeling forced or contrite. Likewise with the pairing of Mann, Cena, and Barinholtz, who are three of the finest comedic performers we've got right now. We rarely get to see the parental side of a tale like this, besides the occasional supporting turn ala American Pie, and it's decidedly refreshing to witness both narratives at once, as they intertwine over a series of downright hilarious chain of events.

There are laughs aplenty in Blockers. And genuine gut-busting ones, at that. My particular cinema was in true hysterics several times in this film. Of course, there are the typical gross-out moments we come to expect from this genre, including that butt-chugging beer scene you've likely seen in the trailers and a vomit-laden sequence you haven't. Thankfully, they never cross the line into a truly disgusting territory. But the film's comedy truly shines in its more risque moments, particularly one scene involving Mitchell stumbling into the middle of a kinky game of naked hide-and-seek, played by a pair of frisky parents. And Mann steals the entire film with a piece of physical-comedy brilliance involving Lisa attempting to escape a hotel room without being spotted by Julie. It will still have you chuckling, long after the film ends.

But what is most surprising about Blockers is how many of its moments are wonderfully touching and downright moving. The entire storyline of Sam's homosexuality is handled with deft care, capturing her confusion, fear, and inner turmoil with pitch-perfect precision. These segments make for slices of gay cinema no one would likely expect from a film of this genre. While Sam may not be the main character of the piece, having such a narrative in a major studio comedy should deserve the same sort of kudos Love, Simon is currently receiving. Unfortunately, Sam's potential romance with Angelica is completely bumbled, with the connection between the pair never given enough time to fully develop before its inevitable and rather forced conclusion.

The moments between the parents and their children are also rather beautiful, particularly as each parent begins to accept the inescapable fact their daughters are no longer little girls who need their watchful gaze to protect them. And that's the film's ultimate crowning glory – giving fuel to the flames of the notion of young female independence. Even as they make mistakes and take a few wrong turns, it's clear these girls are strong and capable enough to make their own decisions and control their own path, especially with how and when they "become a woman." That element has always been lacking from the teenage comedies centred on horny boys desperate to lose their virginity. Thoughts or focus is rarely given to how the female feels in this situation, making Blockers that much more refreshing and unique.

Comedy lives and dies by its cast and its screenplay. Blockers fires on both cylinders, gifted with a sublime ensemble cast who all give stellar performances, thanks, in large part, to the terrific screenplay they are gifted with. Mann is sensational as the painfully overbearing and panic-stricken mother, who begins to realise making your daughter your entire world is fraught with problems when they eventually fly from the nest. No matter how unstable Lisa ever gets, Mann never loses the audience's empathy. Her gift is being so damn lovable, and it works to her advantage with a character who could be rather painful in the hands of a lesser performer.

Cena continues to prove comedy is the genre where he truly belongs in. After wonderful supporting turns in Trainwreck and Sisters, he's finally given a chance to truly shine. As Mitchell, he's the typical muscle-man jock with a heart of gold and the kind of father who can't help but meddle in his daughter's life. His overprotective nature is ultimately ridiculously charming, and likely very relatable to most women. Barinholtz gets the meatiest character arc, with Hunter evolving through the course of the film, as he seeks redemption for his past mistakes. Barinholtz is gifted a great monologue which is unwisely played for laughs, as it contains some deeply painful truths for any parent separated from their child by divorce.

But the film ultimately belongs to its young cast, and the three young performers show great promise of things to come. Newton is a delight as Julie, perfectly capturing her character's conflict between remaining her mother's safety blanket versus achingly wanting to break free of the apron strings. Viswanathan gets the bulk of the film's best one-liners, and her comedic timing is impressive for such a young actress. Oh, and she's also Australian, which you'll never guess from her pitch-perfect American accent. But the real surprise is Adlon who is downright captivating to watch. There's something so deeply engaging about Sam, and that's entirely thanks to Adlon's understated but terrific performance. Expect to hear her name again in the future.

With a truckload of laughs, a wonderful ensemble cast, and a firecracker of a screenplay filled with hilarious situational comedy, quick wit and delicious sarcasm, Blockers is a wonderful crowd pleaser. Both a touching ode to the perils of young adulthood and a tribute to the difficulty of being a parent, the film is ultimately a terrifically entertaining comedy for all ages. By showcasing both sides of this narrative, Blockers is relatable and accessible for any generation. Parents will love it. Teenagers will adore it. And they'll both laugh their damn asses off.
★★★★☆

Blockers hits Australian cinemas on March 29.