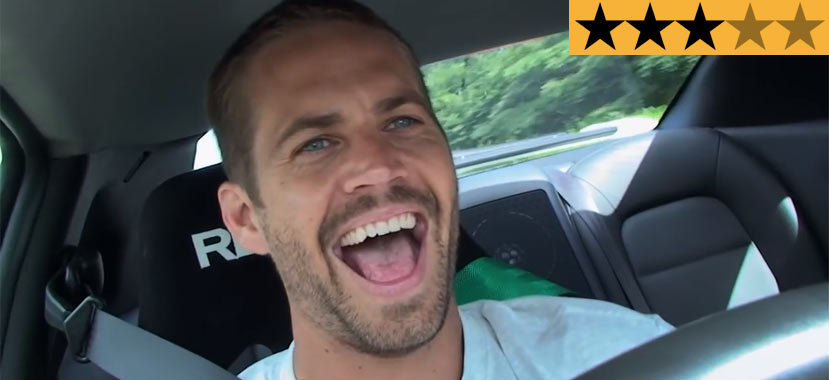 21 Sep

REVIEW – 'I Am Paul Walker'

For as long as Hollywood has existed, there have been those movie stars whose lives have been tragically cut short. Whether their death has come by their own hand or a fateful accident, the general public has always held a deep fascination to study the life and times of those lost before their time. In recent years, producer Derik Murray has tapped into that curiosity with his I Am… documentary series, which, thus far, has covered the lives and careers of infamous figures like Bruce Lee, Steve McQueen, Chris Farley, and Heath Ledger.

With I Am Paul Walker, Murray turns his attention to a bonafide movie star (you've probably forgotten how outrageously handsome Paul Walker was) who was perhaps never given the respect he truly deserved before his untimely passing in a car accident in 2013. Through home movies, film clips, and a series of intimate interviews with Walker's immediate family and close friends, the documentary chronicles Walker's formative years, his meteoric rise to fame, his surprising aversion to the glitz and glamour of the industry, and the devastating impact of his premature death.

From his early days as a child actor, there was clearly something about Walker that suggested a huge career was awaiting him in the future. The documentary highlights his pre-teen appearances in commercials and bit parts in television series like Highway to Heaven (his audition apparently blew Michael Landon away). Even at such a young age, the camera adored him and your eye is immediately transfixed on everything Walker was giving. But it was clear even then it wasn't a life he particularly wanted to chase.

Despite his lack of interest in an acting career, the auditions kept coming and he kept landing gig after gig after gig. It was as if Walker had no choice but to become the actor the industry told him he should be. Walker was far more at home on a surfboard or hiking in the woods than he ever was on a film set or a red carpet. But Hollywood beckoned and a breakout role in Pleasantville, where he stole focus from big-name stars Reece Witherspoon and Tobey Maguire, led to a career path most actors could only dream of.

As we all know now, Walker was thrust into superstardom with the Fast and the Furious franchise, which surged in popularity with each film. But fame was never something the actor was comfortable with. His brother, Cody even states that Walker would declare "this is the last one," after each Furious film was wrapped. The documentary paints an image of a man in deep conflict and contradiction with his own wildly successful career. Walker shunned press events as best as he could and would often take extended breaks between film projects, unlike most actors who seize the next opportunity immediately.

Walker's long-time manager, Matt Luber shares a startling story about how the actor was J.J. Abrams' top choice in 2002 to play Superman in the reboot that would eventually become Superman Returns. Luber recalls Walker frantically calling him from the set of a costume fitting, where he was completely decked out in the famous tights and cape, informing him the project just wasn't for him and he wanted out. It's a stark contrast to the image most of us assume of the biggest actors in the industry who would be desperate for such an opportunity. But Walker knew his limits, and the idea of a multi-picture contract and another neverending franchise was too much for him to bear.

It's this total aversion to fame that makes Walker such an incredibly intriguing character. Here was a man who "had it all," and yet, he wanted none of it. A self-confessed adrenaline junkie, Walker began to find refuge and escape from his Hollywood career by seeking thrills and excitement elsewhere. Whether perilously driving a buggy around his sprawling San Fernando estate or piloting high-speed race cars around local tracks (which are deeply uncomfortable to watch, given his eventual cause of death), Walker really came alive away from a film set. His life-long love of the ocean led to Walker devoting his time and money to numerous marine charities which thrived with the attention he brought to their causes.

Another surprising revelation is how Walker even contemplated abandoning his film career completely to become a marine biologist. The only point that stopped him was the suggestion he could highlight the need for oceanic conservation more effectively by remaining a big-name star than becoming a no-name scientist. Despite his acceptance of his stature, Walker despised using his fame for any advantage, unless it was to help those in need. This is keenly on display in his volunteer efforts after the 2010 earthquake in Haiti where Walker organised a rescue mission but refused to publicise his visit in any way. This wasn't a PR stunt. Walker just genuinely wanted to help. You can't say that about most A-list stars.

With glowing anecdotes like this, the intention of I Am Paul Walker is painfully clear. This is to be a positive and loving tribute to a man deeply adored by those who knew him best. There's nothing inherently wrong with that. It stands as a beautiful portrait of a dashing megastar who was more than just good looks. However, at times, the film can feel more like a glowing eulogy than an introspective documentary. You can't help feeling the filmmakers have ignored anything that didn't fit the favourable tone they were reaching for. It never delves too deeply behind the actor's many impressive attributes and that can feel frustrating to those wanting a little more.

The best documentaries explore both the good and the bad of their subjects, and there's appears to be a concerted effort to avoid the latter here. That's not to suggest I Am Paul Walker needed to feature some damning disclosures of Walker's private life. But there's clearly more to his story than the documentary is revealing, and you're likely to walk away yearning for a little more depth to balance the fluff. The film barely touches on his somewhat distant relationship with his daughter, Meadow and there's zero involvement from anyone outside Walker's deeply loyal inner circle, leaving us without any semblance of balance in the film's storytelling.

Regardless, I Am Paul Walker stands as a touching and moving tribute to a charismatic and talented actor taken far too soon. There was clearly more to the man than his physical appearance, and the film leaves you pondering an impressive post-Furious career that never came to fruition. To know Paul Walker was to love Paul Walker, and it's hard not to be touched by the retrospectives of those he left a lasting impact on. An intimate and faithful representation of a man who never wanted to be a star, I Am Paul Walker captures the life of a performer we potentially took for granted.

 





Distributor: Paramount Pictures
Director: Adrian Buitenhuis
Producers: Derik Murray, Eric Maran
Editor: Tony Kent
Running Time: 98 minutes
Release Date: 21st September 2018 (Australia)