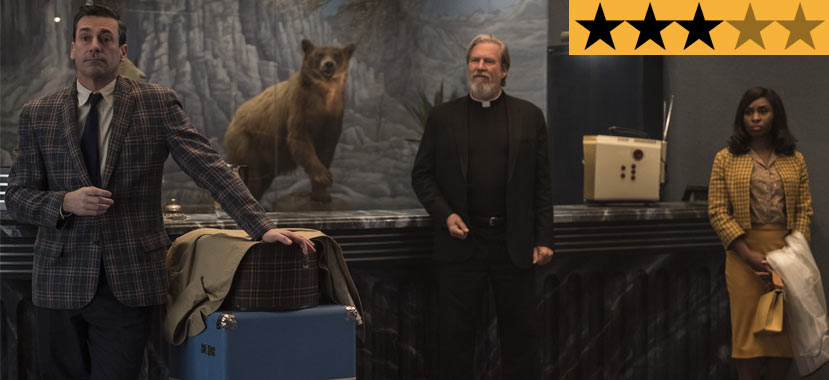 11 Oct

REVIEW – 'Bad Times at the El Royale'

One by one, a group of seemingly innocent strangers arrive at a deserted location. Each harbours their own scandalous secrets and personal motivations for being in this particular spot at this particular time. None are what they seem. Some are good. Most are bad. One is very bad. And over the next two-and-a-half hours, all will slowly be revealed. No, we're not talking about The Hateful Eight. It's the deliciously entertaining but exhaustively long Bad Times at the El Royale, the second feature film from writer/director Drew Goddard, which (for better or worse) takes hefty inspiration from the work of Quentin Tarantino.

Our mysterious players take form in an elderly priest, a Motown back-up singer, a travelling salesman, a hippie chick, and a lonely hotel bellhop. The locale is the El Royale, a former Rat Pack hotspot located in Lake Tahoe, literally straddling the borderline of California and Nevada, allowing guests their choice of a stay in either state. With this rather kitschy setup, a sensational ensemble cast, a killer soundtrack, and superb production design, Bad Times at the El Royale is a film that holds great promise but sadly falls over in its third act, ultimately dragging on far longer than it needs to.

It's best to go into a movie like this as cold on details as possible, so I will try to only give the barest of summaries. The time is 1969, and the El Royale has seen better days. With its gimmicky concept of hotels room split over two states and lavishly garish interior design, the hotel was once a roaring den of iniquity. But then the hotel lost its gambling license, leaving it all but abandoned, bar the establishment's loyal lone employee, Miles Miller (an endearing Lewis Pullman). To his delight, the stammering Miles has a few new guests waiting to check in for a brief stay.

Arriving first are Father Daniel Flynn (Jeff Bridges), a Catholic priest of suspicious nature, and Darlene Sweet (a dazzling Cynthia Erivo), a soul singer relegated to performing backup but longing to take the lead. In the empty lobby, they discover Laramie Seymour Sullivan (Jon Hamm, in a performance that feels like the Southern incarnation of Don Draper), a no-nonsense, smooth-talking travelling vacuum salesman. Biding their time until the absent Miles awakens from his heroin-induced slumber, the trio is soon joined by Emily Summerspring (Dakota Johnson), a morose hippie with no interest in making new friends.

After Miles performs his perfectly rehearsed spiel, where he lovingly recounts the hotel's glittering history and unique arrangement, the newly-acquainted quartet each picks their chosen room (FYI – California-based lodges cost $1 more) and settle in for the stormy night ahead. But as the film unfolds, we learn each guest has ulterior motives for their stay, leading to a calamitous interweaving narrative where each player will entwine with one another in varying ways. And the night will take a sharp dark turn when devilishly charismatic but wildly unpredictable cult leader Billy Lee (a disappointing Chris Hemsworth) arrives at the El Royale's door.

As you can probably surmise, Bad Times at the El Royale will take plenty of twists and turns, as we uncover further details behind each character's hefty backstories. Each player is holding tight to their secrets (including the El Royale, which is a pseudo character in itself), either willingly revealing them at their chosen moment or being exposed by an unfortunate slip up. Goddard wisely takes us out of his mostly single-location production with flashbacks to other times and locales to fill in the past events that brought each character to the hotel. Several key sequences are also played from multiple perspectives, which doesn't add quite as much to the production as Goddard likely assumed it would.

This is a slow-burn of a film that takes great delight in teasingly unveiling its true (and often unsettling) intentions. There's certainly a concerted case to be made for this style of narrative to be presented in such a manner. But that only rings true when you're delivered something entirely worth your patience. For the most part, Bad Times at the El Royale feels more frustrating than satisfying. Goddard has a blast subverting expectations, crafting a final product which defies assumption. It's enormously fun attempting to guess where this film is heading, knowing you have absolutely no clue. But it begins to wear out its welcome, as it stretches well beyond an acceptable running time.

The film's third act and ultimate payoff are also somewhat disappointing. For all its exhaustive setup getting there, the climax is rather flat, as Hemsworth chews every piece of scenery (to varying success) and the half dozen or so narrative plot points finally circle back to all make sense. Perhaps after the sublimely ridiculous and gloriously entertaining conclusion of Goddard's debut film, Cabin in the Woods, there's the supposition he'll pull another proverbial rabbit out of the hat here too. He sure gives it an almighty attempt, with shocks and surprises aplenty, but the effort to get there hardly feels worth it.

Perhaps the saving grace of Bad Times at the El Royale is the sublime cast, with Goddard gifted a smorgasbord of incredible talent to elevate his fairly generic roster of characters. Bridges is typically charming and inviting as the gruff and grizzly priest with a checkered past. It's a role tailor-made for an actor well versed in this form of character, and he makes it work as only he can. Hamm brings out his old Mad Men shtick with a familiar but welcome performance that gets the lion's share of twists. Johnson isn't given a whole lot to do but pout and cower, but it's a welcome change from her dour Fifty Shades persona. Hemsworth appears to be having enormous fun with a decidedly wicked role, but it never feels quite right. And the less said about his sketchy accent, the better. But bonus points for having him practically shirtless the entire time.

Pullman is a real find, delivering a captivating performance as the beleaguered hotel clerk with a heavy heart full of sins he's desperate to atone for. Pullman's deeply expressive eyes tell you everything you need to know about Miles, with his pain and yearning constantly echoed through his gaze. But the real star here is Tony Award-winner Erivo, who is a total revelation in a debut performance that announces the arrival of a future screen superstar. Darlene is the film's heart and soul, and, in Erivo's capable hands, a character you will genuinely cheer for. Her presence is already magnetic on its own but when she opens her mouth to sing, it reaches an entirely new level. Goddard knows Erivo's strengths, and perfectly plays them to magnificent effect.

Dotted with a fabulous jukebox soundtrack of R&B, soul and rock 'n' roll delights (including several featuring the vocal talents of Darlene Love, suggesting Goddard's potential inspiration for Erivo's character) and sumptuous production design from Martin Whist, Bad Times at the El Royale looks as good as it sounds. It's just a shame the final product is nowhere near as impressive. Perhaps this is a film that will hold up far greater in a second viewing. When you know the ride you're in for, the journey may be more enjoyable. Regardless, there's enough here to have a good time while enjoying the bad times of some very nasty people.





Distributor: 20th Century Fox
Cast: Jeff Bridges, Cynthia Erivo, Dakota Johnson, Jon Hamm, Cailee Spaeny, Lewis Pullman, Chris Hemsworth, Nick Offerman
Director: Drew Goddard
Screenplay: Drew Goddard
Producers: Jeremy Latcham, Drew Goddard
Cinematography: Seamus McGarvey
Production Design: Martin Whist
Music: Michael Giacchino
Editor: Lisa Lassek
Running Time: 141 minutes
Release Date: 11th October 2018 (Australia)