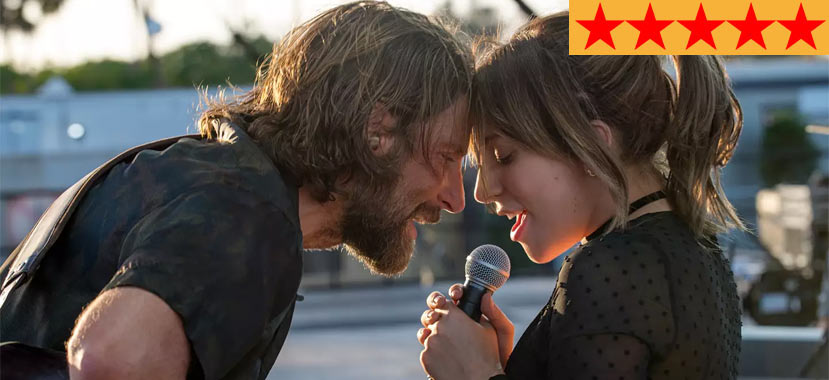 18 Oct

REVIEW – 'A Star Is Born'

When it comes to Hollywood remakes, you'd think rehashing a piece of cinema that's already been done three times before would be a colossal waste of time. Many were likely sneering at the thought of the fourth version of A Star Is Born, a film that has seen incarnations in 1937, 1954, and 1976. Plenty were also rolling their eyes when this latest version was delayed from May to October, with the hope of an awards season push. Writer/director (and actor and producer and songwriter) Bradley Cooper has promptly silenced the doubters with one of the year's best films and strongest awards contenders.

With a style and tone of its own, A Star Is Born is a familiar tale made entirely fresh by a stellar directing debut from Cooper. With a hand in practically every aspect of this film, Cooper has crafted an entertaining pseudo musical with an impressive original soundtrack you will want to buy the second the credits roll. More than just great music, A Star Is Born is also a beautifully tragic love story, cemented by Cooper's keen choice of leading lady. Already a star in her own right, Lady Gaga shines even brighter in her feature film debut (no, I don't count Machete Kills and neither should you). When it's all mixed together, the end result is a thing of true beauty.

When we first meet veteran country singer Jackson Maine (Cooper, in career-best form), he's washing down a handful of pills with a gin on the rocks before taking the stage to perform for his adoring fans. A semi-functioning addict, Jack's alcoholism and drug dependency aren't affecting his career…for now. After the show and in search of another drink, Jack stumbles into a local bar on their weekly drag queen night. He's immediately recognised by starstruck fan Ramon (Anthony Ramos), who encourages Jack to stick around to see his best friend Ally (Gaga) perform.

Ally is a former employee of the bar, and the drag queens (including Shangela and Willem of RuPaul's Drag Race fame) adore her so much, they're more than happy to briefly relinquish the stage to a "real girl" anytime she chooses to visit. As Ally belts out a showstopping cover of "La Vie en Rose" (complete with white make-up, fake razor-thin Edith Piaf eyebrows, and jet-black hair), Jack is instantly smitten with her voice, her talent, and the real woman hiding behind the mask that is her stage getup.

A mistreated waitress who's been burned by her attempts to make it in the music industry, Ally has all but given up on her dreams of becoming a successful musician. Record executives like the way she sounds but not the way she looks (her nose, she says, is what's holding her back), leaving her unwilling to perform her own music anymore. But after a brief rendition of a song she's working on ("Shallow," the immediate frontrunner for Best Original Song at the Oscars), Jack recognises Ally's impressive songwriting skills and the tortured soul behind her words.

So completely besotted by his new discovery, Jack shocks Ally by sending a car to whisk her away in a private jet to stand side of stage at his next concert. The surprises continue when he pulls her onstage with no warning to perform "Shallow," as a hastily arranged but entirely heartfelt duet. In a moment of pure cinematic make-believe, the unrehearsed number naturally goes perfectly, with the crowd going wild and cellphone video footage of the performance going viral. A star is born, indeed.

As Ally's star rises into the stratosphere under the guidance of bullish music producer Rez Gavron (Rafi Gavron), Jack is initially thrilled to see his beloved reach the heights of fame he knows too well. But as Ally morphs into a shallow popstar devoid of the heart that captured Jack's gaze and his alcoholism and substance abuse spirals out of control, the divide between these two star-crossed lovers grows deeper, with their paths beginning to lead them away from one another.

Supplementing Ally and Jack's love story are an outstanding supporting cast, including an unrecognisable Andrew Dice Clay as Lorenzo, Ally's caring and supportive father, Dave Chapelle as Noodles, Jack's best friend and pseudo counsellor, and veteran character actor Sam Elliott as Bobby, Jack's much older half-brother and deeply conflicted tour manager, who's been dealing with his brother's destructive path for too many years. With his gravelly voice and weathered face, Bobby is the film's beleaguered heart, in a touching performance that will put Elliott firmly in the awards race.

In a career of stellar performances (and four Oscar nominations), Cooper has delivered his greatest performance yet, crafting the self-sabotaging, washed-up singer with an immense level of heart and warmth, despite his sometimes horrendous behaviour. With his movie star good looks slightly hidden behind the worn out exterior of an artist on the brink of collapse, Cooper's charisma still effortlessly shines through, allowing Jackson's charming soul to capture your attention. He finds the deep pathos in his character, delivering a layered turn that is undoubtedly the year's best leading male performance, thus far. His singing voice is also surprisingly good, making us wonder why on earth we haven't heard it before.

For all her extravagant outfits and outlandish behaviour, Lady Gaga's vocal talents were too often hidden behind her wacky persona. In recent years, she's managed to shed a lot of the fluff to show us what she's really made of, typified by that attention-stealing The Sound of Music viral moment at the 2015 Academy Awards. Tossing the meat dress further into the distance, Gaga emerges minus the flashy devices that made her a household name. As a platform to announce her acting debut, she couldn't have picked a better role.

With plenty of parallels between Ally and Gaga, she instantly connects with her character, instilling her with a skilful balance of powerful strength and crippling vulnerability. As an actress, there's a natural, relaxed aura to Gaga's performance that's impossible to resist. And when she's given the opportunity to sing (which Cooper exploits every chance he gets), her revelatory performance rises to another level.

Cooper and Gaga's onscreen chemistry is downright electric. With an almost Romeo and Juliet quality to their instant connection, this narrative needs you to believe in this immediate spark that leads to this dizzying romance. The film would fall completely on its face otherwise. You'll feel it and you'll believe it with every look, touch, and affection shown between the two. That intense spark soon evolves into a deep love, with Jack and Ally falling further into their love story, and all the highs and lows its set to provide.

The real surprise here is Cooper's formidable directing and writing, in only his first time playing his hand at both. Cooper shows a keen understanding of visuals, consistently capturing the performances with the focus on the artist as opposed to the roaring crowds. He filmed these sequences at various music festivals including Coachella, Stagecoach, and Glastonbury, gifting the film a wonderful sense of authenticity you simply couldn't recreate. But it's in the quieter, simpler moments that his direction is equally impressive. With a penchant for focusing on the eyes of his subject, Cooper deftly captures every emotion from his performers.

And then there's perhaps the film's crowning achievement – its soundtrack. With a mix of thumping country jams, catchy pop numbers, and a handful of tear-jerking ballads, it's everything you could want from a film so deeply rooted in its music. The dozen-or-so original numbers are co-written by Cooper and Gaga with other noted artists/songwriters including Mark Ronson, Dianne Warren, Jason Isbell, and Lukas Nelson (yes, Willie's equally talented son). Picking a standout is all but impossible, but you'll likely need a whole box of tissues for the film's touching closing number, "I'll Never Love Again," which Cooper wisely films in full, allowing Gaga one final chance to dazzle.

There will likely be plenty with their knives out, ready to tear A Star Is Born to shreds, particularly as both the box office numbers and Oscar buzz continue to grow. And you can hate on me all you like for my star rating on this one. If you can't allow yourself to be completely taken away by this film, you have my sympathies. It may not be a daringly original piece. It may be a crowd-pleaser that's more populist cinema than an artistic masterpiece. But when the end result is this engaging, captivating, entertaining, and downright heartbreaking, it demands to be called one of the year's finest achievements.

Hell, it may even be enough to award it with Best Picture and a whole swag of other Oscar categories. In a time when the Academy is desperate to hold on to relevancy, would it really be so bad for something like A Star Is Born to take home their top prize? With two glorious lead performances, a narrative overflowing with tremendous heart, and a soundtrack of terrific original music, A Star Is Born is an absorbing experience like few others this year.





Distributor: Roadshow
Cast: Bradley Cooper, Lady Gaga, Andrew Dice Clay, Dave Chappelle, Sam Elliott, Anthony Ramos, Rafi Gavron, Michael Harney, Michael D. Roberts, Greg Grunberg
Director: Bradley Cooper
Screenplay: Bradley Cooper, Will Fetters, Eric Roth
Producers: Bill Gerber, Jon Peters, Bradley Cooper, Todd Phillips, Lynette Howell Taylor
Cinematography: Matthew Libatique
Production Design: Karen Murphy
Music Supervisors: Julianne Jordan, Julia Michels
Editor: Jay Cassidy
Running Time: 135 minutes
Release Date: 18th October 2018 (Australia)