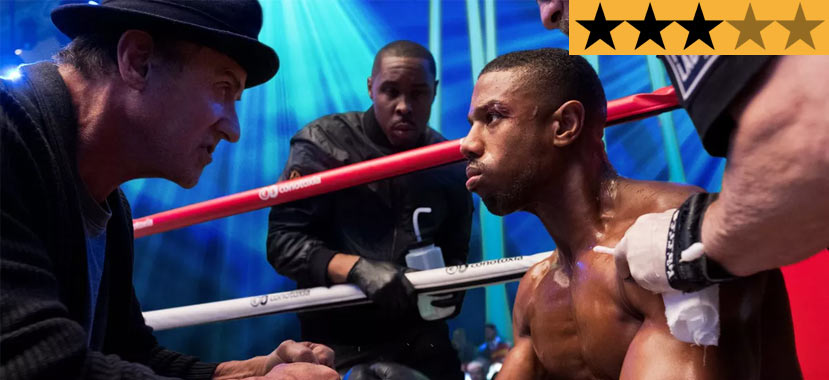 29 Nov

REVIEW – 'Creed II'

In 2015, writer/director Ryan Coogler resurrected the tired Rocky franchise with Creed, a spin-off/reboot/re-whatever-you-wanna-call-it that wisely shifted the focus away from Rocky Balboa and, in the process, felt like a genuine breath of fresh air. With a screenplay bursting full of life, a star-making turn from Michael B. Jordan, and breathtaking cinematography capturing dazzling fight choreography, it stood as one of that year's best films, even if the Academy didn't seem to think so. After an impressive box office result, a sequel was all but assured. With Black Panther taking up Coogler's time, he's handed the directing reigns for Creed II over to newcomer Steven Caple Jr. and left the writing to Balboa himself Sylvester Stallone and Juel Taylor. Therein lies this film's problem.

Without Coogler at the helm, Creed II simply doesn't quite land the same punch (excuse the pun) as its predecessor. Everything here feels far too safe and predictable, hitting every beat you'd expect and offering very little surprises along the way. The first film subverted expectations, crafting something entirely fresh and lively. This sequel seems to resist the same approach, instead blindly following every well-worn trope found in the sports film genre. Even the film's uncredited cameos are entirely foreseen by anyone with half a shred of experience with this franchise. That being said, the triple combo of Jordan, Stallone, and scene-stealer Tessa Thompson are as enthralling as it was in the first film. And as cliché-ridden as the screenplay may be, there's an entertainment factor here that's hard to resist.

Set three years after the events of the previous film, Creed II begins with Adonis Creed (Jordan) fighting his way to the title of world heavyweight champion. After easily defeating his opponent, Adonis is now a superstar of boxing. Riding high on adrenaline, he finally plucks up the nerve to ask his adoring girlfriend, Bianca (Thompson) to marry him. While their life together takes an unplanned turn, a new imposing opponent for Adonis is biding his time in Ukraine. It just so happens to be Viktor Drago (real-life boxer and human colossus Florian Munteanu), aka the son of Ivan Drago (a surprisingly great Dolph Lundgren) aka the man responsible for the death of Adonis' father, Apollo in the ring 33 years ago.

After his subsequent defeat at the hands of Rocky Balboa (Stallone), Ivan lost everything. His country turned its back on the boxer. His pride was gone and career over after the humiliating loss. And his wife and Viktor's mother, Ludmila (Brigitte Nielsen) left him and abandoned her son. Fueled by vengeance, both Ivan and Viktor see their chance to regain glory in challenging Adonis to fight Viktor in a championship bout they know he'll be unable to refuse. The chance to avenge the death of his father does indeed prove too tempting to Adonis, despite his trusted trainer Rocky warning against the idea and refusing to play any part in the event.

Feeling abandoned by his closest ally, Adonis flees to Los Angeles to seek the guidance of Tony "Little Duke" Evers (Wood Harris), the son of Apollo's late trainer. Ill-prepared and blinded by his lust for revenge, Adonis is embarrassed by Viktor in the ring, leaving the champ bloody and defeated, but a satisfying victory for Viktor goes begging, care of a technicality. With an inevitable rematch on the cards, Adonis returns to the tutorship of Rocky, hoping to rediscover the fire that made him such a champion. But after Viktor's impressive performance leaves Adonis suffering crippling self-doubt, the boxer finds himself in a position he thought he'd left behind – the underdog.

While Creed seemed to forge its own daring path away from the franchise of old, the sequel falls back on the familiar formula of Rocky films of old. That will likely be fine for many, but for those impressive by the predecessor's originality, the follow-up has to come as somewhat of a disappointment. There's an inescapable feeling Creed II is merely a by-the-numbers film that delivers everything you're expecting and very little else. From the "surprise" defeat that everyone but Adonis sees coming to the obligatory training montage on his road to redemption, this is a formulaic approach that rarely steps outside the box (or should that be ring?). There's still hefty entertainment to be found within the generic nature of its narrative, but when you've been served so much more from this franchise, it's hard not to have an expectation of something more enriching.

Even the film's boxing scenes lack the dazzling spark found within Coogler's first film. They're naturally brutally exhilarating, especially for those who love the sport. You feel every punch and swing with the fiery intensity in which they're delivered. But the choreography and framing of each bout are nothing particularly new and it's all delivered in a style we've seen dozens of times before. There's a conventionality to the sequel that masks the fear to try something different. Maybe that comes from Stallone being the scribe behind the screenplay. He knows this franchise too intimately and can't seem to move outside the Rocky comfort zone as Coogler could. That also shows in the dialogue which is overloaded with stale lines and endless parades of exposition for those who prefer to have everything spelled out for them.

It's strange to see Stallone responsible for the script, as Rocky takes a decidedly odd backseat here. The character isn't given all that much to do but stand back and watch or give the occasional inspiration line or corny joke. He was such an impressive force in the first film, given his gripping character arc of confronting his own mortality and his new standing as a pseudo-father to Adonis. None of that exists here, and his role is reduced to nothing more than background fodder. Even the plot's unnecessary falling out between Rocky and Creed feels entirely forced and unnature. It's plonked in to provide tension and drama but succeeds at neither. It's a lazy complication that really only exists to stretch the thin narrative further and provide a reason to hope for a different outcome from the rematch beckoning on the horizon.

Thankfully, the impressive talents of Jordan elevate the film above its narrative disappointments. The man is a stone-cold superstar in the making, and once again, he shows us why. Jordan commands attention throughout, deftly capturing Adonis' foolhardy confidence and debilitating vulnerabilities. That tough exterior hides deep pain, and Jordan unfurls his performance with sharp skill, not to mention take every opportunity to show off his imposing physique. He throws himself into the physical elements of the role but is just as impressive in the film's quieter moments, particularly his interactions with Thompson, who threatens to steal the entire film. Their love story is again sweet and charming, with Bianca torn between supporting her fiance's daring dreams and wanting to scream at him to walk away before he suffers a similar fate to his father.

The biggest surprise of Creed II is its impressive portrayal of its two "villains." Both Dragos are given strong focus here, with each blessed with an engaging and captivating backstory that drives their character journeys. Ivan is a man whose entire life was destroyed by one fateful moment. His son harbours furious anger for those who turned their back on his father after defeat, especially his estranged mother. Yet, surprisingly, Ivan accepts it was entirely his fault. He lost. He deserved to be shunned. It's why he's so driven to push Viktor to achieve redemption for the family name. Lundren is wildly impressive here with an understated performance that easily could have been bombastic and silly. Likewise with Munteanu, who barely utters a few words, but is powerfully imposing in every moment on screen. There's deep pathos and pain to these characters, and both actors find the compassion and fear hiding within these behemoths.

As disappointing a follow-up as Creed II may be, it still provides enough joyous enjoyment to entertain its audience. You really can't complain too much when a film gives you exactly what you paid for. For all its focus on the brutal sport of boxing, this franchise has always been centred on the endearing heart of those men brave enough to step into the ring. That heart is still keenly on display in this sequel, even if it's pounding to the same beat as most of its predecessors. Far from the knock-out punch of the first film, Creed II still makes an impact.





Distributor: Roadshow
Cast: Michael B. Jordan, Sylvester Stallone, Tessa Thompson, Wood Harris, Russell Hornsby, Phylicia Rashad, Dolph Lundgren, Florian Munteanu
Director: Steven Caple Jr.
Screenplay: Juel Taylor, Sylvester Stallone
Producers: Sylvester Stallone, Kevin King-Templeton, Charles Winkler, William Chartoff, David Winkler, Irwin Winkler
Cinematography: Kramer Morgenthau
Production Design: Franco Giacomo Carbone
Music: Ludwig Goransson
Editors: Dana E. Glauberman, Saira Haider, Paul Harb
Running Time: 130 minutes
Release Date: 29th November 2018 (Australia)