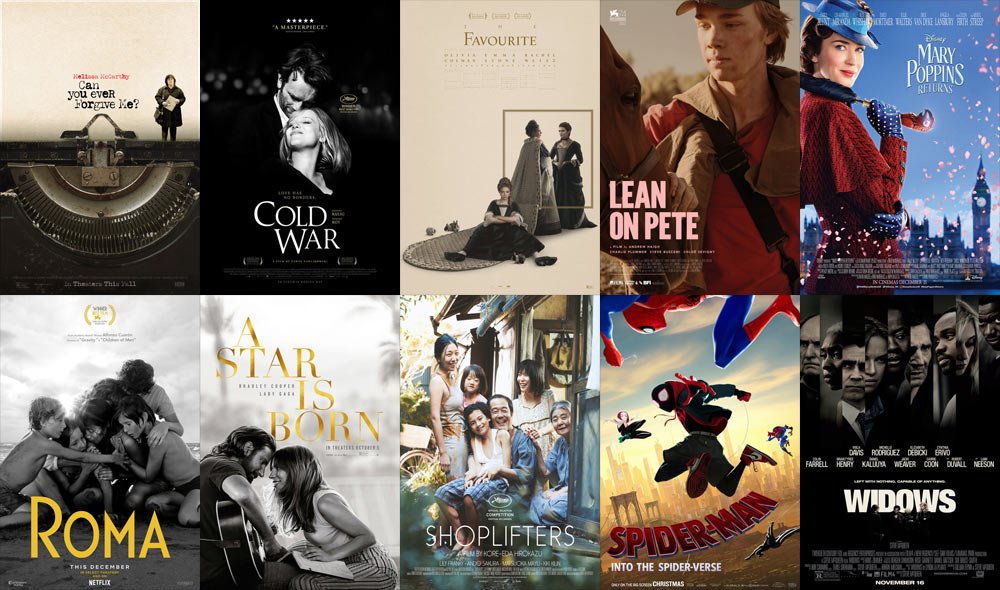 04 Jan

The Jam Report's Top Ten Films of 2018

It seems like only yesterday we were bidding farewell to 2017, and yet, here we are doing it all again with 2018. It's been another magnificent year for cinema. Don't let anyone tell you otherwise. As always, the best came towards the latter stages of the year, but, on the whole, it was a spectacular roster of bombastic blockbusters, indie darlings, foreign language wonders, and quite a few glorious surprise packages.

We film critics live a charmed life where we are blessed to see dozens and dozens of films released within the calendar year. We know you probably only ventured into the cinema several times in 2018. Hopefully, the wave of "best of" lists released around this time of year give you plenty of inspiration on what you should be catching up on. Every genre has offered up some wonderful treats this year, so there really has been something for everyone.

As for the standing of film critics in the zeitgeist of 21st-century life, we've faced some backlash from many impassioned fanbases this year over the validity and need for the entire industry of film criticism. We understand it's always tough to read a less-than-stellar review of something you found yourself loving. Even I have personally felt that several times this year. But it's not the inherent basis of film criticism to tear something down, despite many believing that is entirely our intention.

There is a misconception film critics purposely look for a reason to hate a piece of cinema. That we crave the chance to be negative. That we want to get our claws out. That we hate modern cinema. Contrary to popular belief, we really do care about films. We love movies. We want them to be great because we know they can be great. It's why we've found ourselves writing about films in the first place. Something made us fall in love with the glorious world of cinema, and we hope future films can remind us of that magic. And, no, that does not mean everything has to be a masterpiece.

This seems another common fallacy of film critics. That we demand every film be an Oscar-worthy work of art, while the general public just wants some great entertainment. Entertainment is a fundamental aspect of cinema that absolutely has its rightful place. Now more than ever, the world needs cinema to provide blissful escapism. There's nothing wrong with some good old-fashioned popcorn cinema that merely wants its audience to have a good time. This may surprise you, but we film critics enjoy having a good time too. Shocking, I know.

That being said, the construction of "entertainment" still has to follow several basic cinematic principles to be considered a great film. Sure, the average punter likely isn't specifically inspecting the cinematography, screenplay, or direction. But somewhere deep down, they know when these factors are off, and that's where the film critic's work comes into play to verbalise the successes or failures of a piece of cinema. It's our task to analyse a film for the sum of its parts and surmise the overall success of the final product. That's really all film criticism is.

Let it be known that we know our place. We are not gods. Our words are not all-powerful. If you want to go and see something, you will go and see it, regardless of a film critic's review or the film's overall score on an aggregate collector like Rotten Tomatoes. The box-office success of Venom certainly proved that. My goal has never been (and will never be) to stop people seeing films, but rather, I'd prefer you see everything and make up your own mind. That way, my review stands as a touchpoint to see if we agreed or disagreed. Nothing more. Nothing less.

Can a film review give you an indication of whether you'll love something or not? Perhaps, but films are such subjective art forms, it's impossible to know someone's personal reaction until they've experienced it for themselves. If you follow a film critic closely, you may start to see your tastes aligning with them, and that can absolutely prove as a beacon for what you may ultimately enjoy watching. Regardless, we film critics implore you to take a look for yourself, particularly at films outside the tentpole franchise fluff Hollywood continues to pump out.

It's a fool's dream to think we'll see film critics treated better in 2019. Social media has given rise to the mob mentality that we deserve to be abused when we dare criticise something enormously popular. We take it because, at the end of the day, we love what we do. We adore watching and analysing films. We love that there are people who want to hear what we have to say. It's a position of privilege I don't take lightly.

On that note, The Jam Report has seen its visitor numbers skyrocket in 2018. More people have stopped by my little site than any other year. Let me take this moment to acknowledge each and every one of you. Whether you read one review or all of them. Whether you agreed with or opposed my critiques. Whether you've been here for the last few years or have just discovered my work now. I am eternally grateful you dropped in. It never escapes me how truly lucky I am to have people read what I have to say about the world of cinema. From the bottom of my heart, I thank you.

Alright, you came here for a list of the top ten films of the year. Let's get into it. As was said last year, these are the ten films that ultimately made the strongest impact. In a year of so many wonderful films (my shortlist this year was over 30 films), these are the ten that hit the deepest and impressed the most, all for varying reasons. It's never an easy task whittling it down, so before we jump into the final list, and because it's been such a bumper year, it would be remiss of me not to hand out honourable mentions to ten other films which easily could have been in the final list. I apologise to each of them profusely.

20. Teen Titans Go! To the Movies (full review)
19. Crazy Rich Asians (full review)
18. Avengers: Infinity War (full review)
17. A Quiet Place (full review)
16. Searching (full review)
15. Black Panther (full review)
14. BlacKkKlansman (full review)
13. Leave No Trace
12. Hereditary (full review)
11. First Man (full review)

And now, without further ado, presenting The Jam Report's Top Ten Films of 2018.

10. Spider-Man: Into the Spider-Verse (full review)

"You can't think about saving the world. You have to think about saving one person."
I'll admit it. I saw no point to the existence of an animated Spider-Man film. With the character now finally part of the MCU and the second reboot of the franchise beginning with such a bang, why did we need to muddy the waters with another Spidey film? Happy to admit I was wrong. Spider-Man: Into the Spider-Verse was not only the best animated film of 2018 but also the best superhero film of the year as well. Much love to the offerings from the live-action universe, but no other comic-book adaptation was as unique, entertaining, and downright sensational. With stunning animation, a wonderful voice cast, and an emotional core that leaves a heavy impact, this is a remarkable film. If it fails to win Best Animated Feature at the Oscars, we riot.
9. Can You Ever Forgive Me? (full review)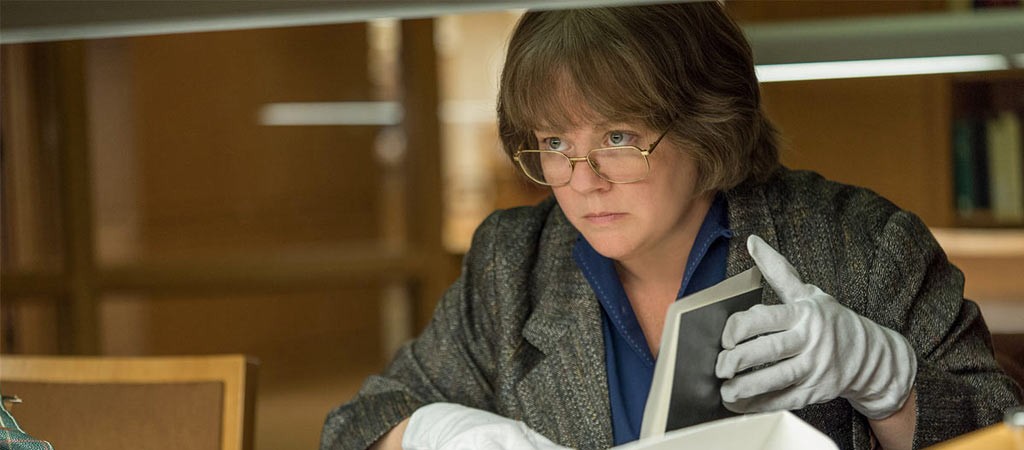 "I was supposed to be something more than this."
It's expected every movie star comedian will try their hand at drama eventually. We like to call it their "departure" role. For better or worse, there's a long history of funny guys and gals taking a stab at flipping their persona with a dramatic performance, generally in the hopes of securing an Oscar nomination. After all, the Academy loves their hefty dramas. Comedy, not so much. The best performers know the key to success is still retaining some of their comedic charms to sprinkle amongst the heavy drama. Case in point – Melissa McCarthy's sublime turn in Can You Ever Forgive Me?. Easily one of the biggest surprise packages of the year, this bizarre true story proves to be a true turning point for the actress. She still elicits plenty of laughs, as a cantankerous character you can't help but strangely empathise with. But when the script requires McCarthy to venture to the dramatic side of the spectrum, she's a damn revelation. Her chemistry with Richard E. Grant (who absolutely should win Best Supporting Actor) is utterly sublime, as is the screenplay and Marielle Heller's sympathetic direction. If McCarthy's goal was to nab another Oscar nom, mission (likely) accomplished.
8. Mary Poppins Returns (full review)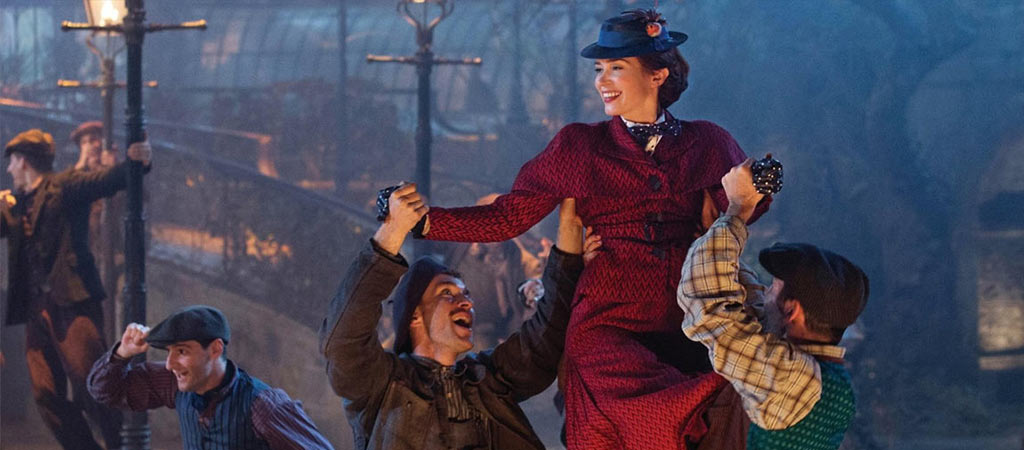 "Everything is possible. Even the impossible."
There was much anxiety and dread felt when a sequel to Mary Poppins was announced. After 54 years since the original, the idea of a follow-up to one of Disney's most iconic and beloved films seemed entirely unnecessary and doomed to fail. Enter director Rob Marshall and the luminous Emily Blunt to save the day with one of the year's most joyous and uplifting delights. Mary Poppins Returns proves to be the blissful cinematic escapism the world is in desperate need of. Making the role entirely her own, Blunt is simply sensational and a shoo-in for her first Oscar nomination. With dazzling costume and production design, a gorgeous soundtrack of wonderful original songs, and plenty of magical wonder for the whole family, this is the sequel that never should have worked, but thankfully did.
7. A Star Is Born (full review)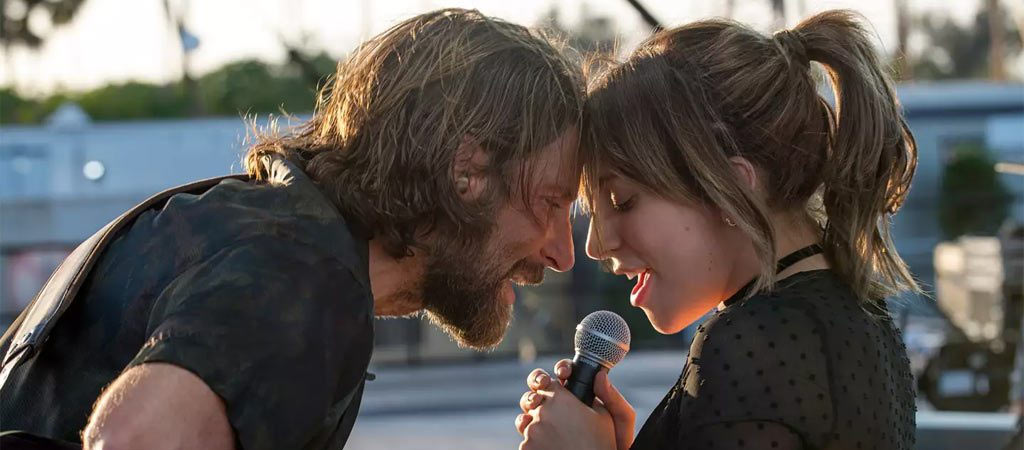 "Tell me something, boy. Aren't you tired tryin' to fill that void?"
Backlash be damned, A Star Is Born is indeed one of the best things you will see this year. Now on a crash course to Oscar glory, it was almost predestined there would be many turning their noses up at the idea of the fourth remake of this story taking home a whole swag of Academy Awards. But take another look at this emotionally raw and brilliantly entertaining film to see why it's captured so much attention this season. With a remarkable directorial debut from Bradley Cooper (plus another stellar performance in his impressive career) and a sublime "debut" acting performance from Lady Gaga, A Star Is Born is an absorbing experience like few others this year. Sure, it's a crowd-pleaser at heart, but there's so much more here than just box office dollars and soundtrack sales.
6. Shoplifters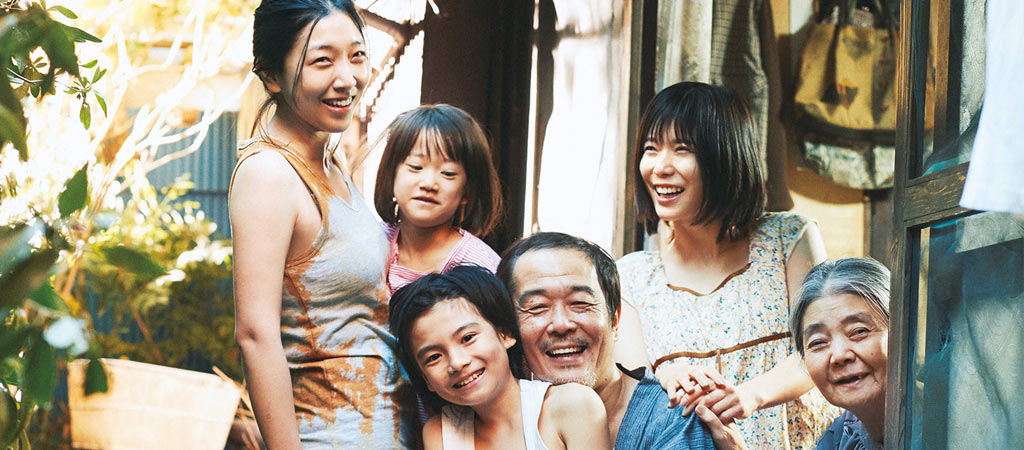 "If someone hits you and tells you they are doing it because they love you, they are a liar."
Sometimes, it's the simplest films which can be the most powerful. Such is the case with the beautifully tragic Shoplifters, one of the most understated films this year, yet one of the most deeply affecting. Writer/director Hirokazu Kore-eda focuses his quiet tale on a poor "family" of squatters who, despite their impoverished lifestyle, find joy and comfort in each other. Dotted with a few key moments which lead up to a conclusion we know is coming but foolishly hope will not, Shoplifters is mostly content to allow us to just sit back and watch, as we learn more about these richly crafted characters and their deep love for one another. It's a deceptively modest film that lands an emotional wallop like few others. With a gorgeous ensemble cast, highlighted by a pair of adorable youngsters and a scene-stealing grandma (the final performance from the late Kirin Kiki), and a familial narrative that will touch your heart and likely reduce you to tears, Shoplifters is an unassuming treasure you absolutely must-see.
5. Lean on Pete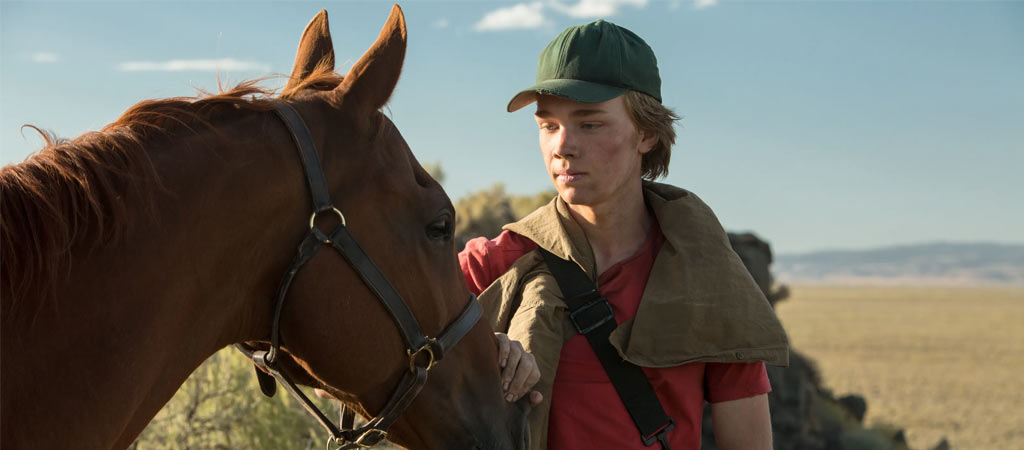 "You can't get attached to the horse. They're here to race and nothing else."
My biggest surprise package for 2018. On a rainy June evening, I strolled into a Sydney Film Festival screening of Lean on Pete with no expectations or even really any knowledge of the film. What I was gifted was nothing short of an unassuming and understated masterpiece that won't get any awards season love, but absolutely should. The deceptively simple narrative of a boy's journey across several U.S. states with a horse sounds rather nauseating, but thanks to a star-making performance from Charlie Plummer and a whole host of intriguing turns in the storyline, Lean on Pete becomes a truly special experience. With its unflinching portrayal of rural America, there's deeper meaning to be found hiding within this film's premise. It captures the life of an American teen we rarely see on screen. There's plenty of tragedy here, but also plenty of light. Moving, heartbreaking, and deeply earnest, Lean on Pete is one of the year's finest cinematic achievements.
4. Cold War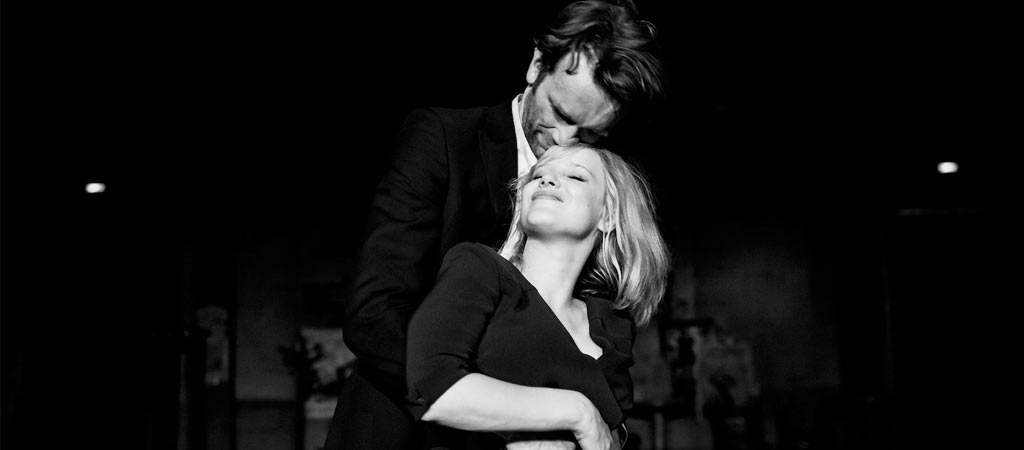 "Two hearts, four eyes, crying all day and all night."
The focus this awards season will be on another black and white foreign language masterpiece, but much adoration and attention should also go to Pawel Pawlikowski's bittersweet and captivating romance Cold War. In a bumper year for foreign cinema (if all you saw this year was American cinema, you're missing out), this visually striking and emotionally heavy film leaves a mighty impression. Haunting and devastating, Cold War is an unassuming masterpiece that somehow becomes entirely beautiful and captivating. It's a film that will linger long in your mind, and therein lies its power. With a stellar (and star-making) performance from Joanna Kulig that likely would earn her an Oscar nom, if the Best Actress field wasn't so damn crowded, beautifully crafted musical performances, and some of the year's most stunning cinematography from Lukasz Zal, Cold War is exquisite, heartbreaking, breathtaking, and utterly spectacular.
3. The Favourite (full review)
"They were all staring, weren't they? I can tell even if I can't see. And I heard the word fat! Fat and ugly!"
If you like your period pieces with a splash of naughtiness and debauchery, The Favourite is the film for you. A sardonically dark and deliciously nasty piece of cinema, it's hard not to have a giant smile plastered on your face the entire time while watching this glorious romp. With a trio of dynamic (and Oscar nom-worthy) performances from Rachel Weisz, Emma Stone, and the indomitable Olivia Colman, this tale of power, envy, and revenge is further elevated by the impressive talents of its impeccable ensemble cast. Throw in sumptuous period costume and production design, the quirk that comes from a daring director like Yorgos Lanthimos, and a screenplay that's an absolute riot of twists, turns, and wicked dialogue, and you have one of the best experiences you will have in a cinema this year. With its sublime mix of wild entertainment, true moments of hilarity, and a dash of devastating sorrow, The Favourite is an absolute bloody triumph. A twisted period piece with a caustic bite, this is a film you will long remember.
2. Widows (full review)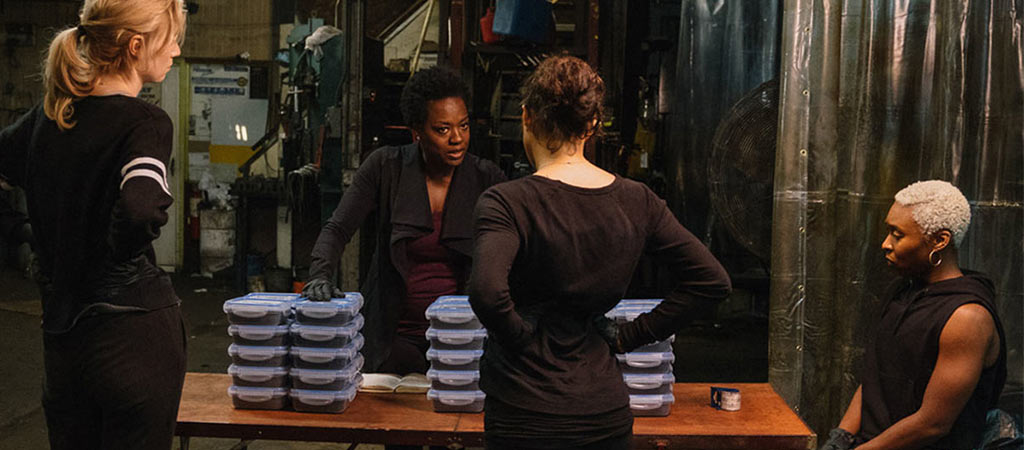 "Now the best thing we have going for us is being who we are. Because no one thinks we have the balls to pull this off."
Its Oscar campaign may be done and dusted (which is going to anger me for many years to come) and it may have failed to ignite the box office (this is why we can't have nice things), but to hell with all that. Widows is one of the year's greatest films and I won't hear a bad word said about it. The latest film from Steve McQueen slyly presents itself as your everyday popcorn thriller but ultimately flips the well-worn crime caper genre right on its head. With another commanding performance from Viola Davis leading a sensational ensemble (what were you thinking ignoring this, SAG?), it's an acting roster that's an embarrassment of riches, and McQueen doesn't waste one single member of his impeccable cast. Socially-aware and enormously entertaining, there's so, so much to love about Widows. There are layers upon layers upon layers here, and McQueen takes deft delight in unveiling the true intentions of his latest masterwork that show have stolen the entire Oscars race. Hang your heads in shame, awards voters.
1. Roma (full review)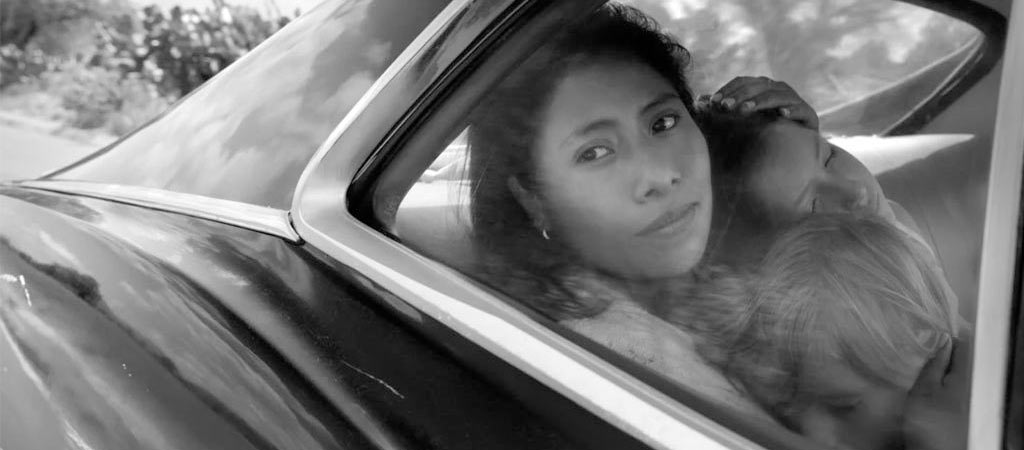 "We are alone. No matter what they tell you, we women are always alone."
And then there was one. In a year of several masterful films, one stood above them all. The one film you can truly call a work of art. The one film that's as unforgettable and astounding as cinema gets. A film that left me in a delirium of wonder and delight at what I had just experienced. A film that reminds us why we love the art form that is cinema. That film was Roma – my #1 film for 2018.
You will likely see it at the top of many a film critic's top ten list, and rightly so. What director, producer, writer, cinematographer, and editor (yep, he did it all) Alfonso Cuarón has crafted is nothing short of a miracle of cinema. With a hand in crafting practically every aspect of this film, Roma is a personal work of the highest order. Every single moment of this film is crafted with Cuarón's meticulous attention to detail, where nothing happens by chance. This is a filmmaker at the top of his craft, and we are blessed to witness the results.
There's very little grandeur within Roma. In its place is a deeply personal and captivatingly intimate portrayal of common civilians so often lost in the background. This is a beautiful character study, gifting us the opportunity to take a glimpse at the life and times of those we rarely consider, all led by an actress in her debut performance. In Yalitza Aparicio, Cuarón has discovered a genuine talent you cannot take your eyes off.
Paying tribute to the women of his childhood, Cuarón has made a piece of cinema that's deeply personal, yet entirely accessible and moving to all who view it. Every frame is a work of beauty, often elicited from the strangest of places. Simple moments become extraordinary. There was truly nothing else like it this year. In a time when the word "masterpiece" gets attached to films far too often, Roma is indeed a cinematic masterpiece, and a film I am honoured to bestow with the recognition as my top film of 2018.