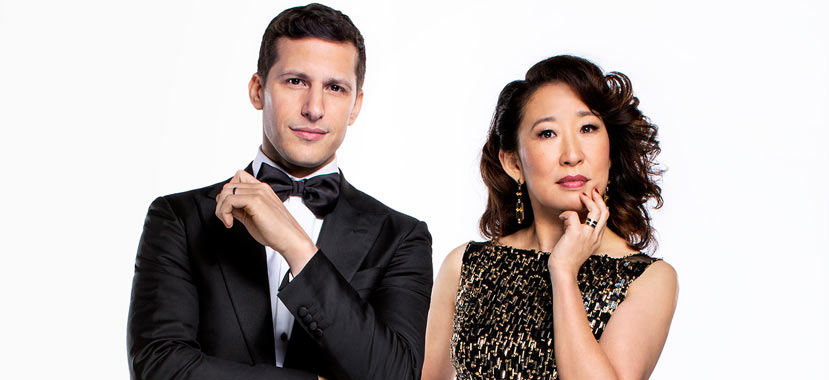 07 Jan

Predictions for the 2019 Golden Globes

Predicting the nominees for the Golden Globes is hard. Predicting the winners is nigh-on impossible. With all sorts of category fraud this year and a bevvy of big celebrities nominated, this could take all sorts of nutty paths. We could see another La La Land style sweep and A Star Is Born takes the lion's share of the big prizes. Or this could be the moment Black Panther pounces and makes its strongest play for that Best Picture Oscar.

And without other pseudo musicals A Star Is Born and Bohemian Rhapsody in its way (yes, they're "dramas" in the HFPA's eyes), could Mary Poppins Returns clean up the Comedy/Musical categories? Or is this where The Favourite picks up steam and becomes our new frontrunner? And don't discount Green Book which the HFPA clearly loved, given the surprise Best Director nomination for Peter Farrelly.

As for the acting categories, these are even more up-in-the-air. The HFPA tend to go their own strange way and honour performances that often don't go on to Oscar wins. While we may have our presumed Oscar frontrunners for the four acting prizes, it likely means very little here. Throw darts at a dartboard for these categories and you're likely to still get a few correct.

As such, take these predictions with a grain of salt. It's reading tea leaves territory here. Alas, here are my final predictions for the Golden Globes film categories for 2019.

MOTION PICTURE – DRAMA
BlacKkKlansman
Black Panther
Bohemian Rhapsody
A Star Is Born
If Beale Street Could Talk

You could make a case for any of the nominees, but the HFPA love to go with the big crowd-pleasers, so that knocks out BlacKkKlansman and Beale Street. It could be the moment for Black Panther, allowing the HFPA to get the jump on the Academy by awarding a superhero film with such a top prize. Tempting as that may be, the film didn't see love for Ryan Coogler in the directing category, so my money is on A Star Is Born.

BEST ACTOR – MOTION PICTURE, DRAMA
Bradley Cooper – A Star Is Born
Willem Dafoe – At Eternity's Gate
Lucas Hedges – Boy Erased
Rami Malek – Bohemian Rhapsody
John David Washington – BlacKkKlansman


For the longest time, I've thought this was Cooper's to lose. And given the fact he's never won before (and probably won't win Best Director), it could still absolutely happen. But then Bohemian Rhapsody got in for Best Picture – Drama (ugh), and it's hard not to see that sign of adoration for the film flow over to a win for its bombastic star performer in Malek. He's also somewhat overdue, given Mr. Robot won Globes a few years ago for Best Drama Series and Best Supporting Actor for Christian Slater, but, strangely, not a win for its leading man.

BEST ACTRESS – MOTION PICTURE, DRAMA
Glenn Close – The Wife
Lady Gaga – A Star Is Born
Nicole Kidman – Destroyer
Melissa McCarthy – Can You Ever Forgive Me?
Rosamund Pike – A Private War

The HFPA gave Lady Gaga an acting award for her role in American Horror Story: Hotel. If you've seen that scenery-chewing farcical performance, you know that's enough of a reason to predict another win for her here. They love her. She's a huge star. It'll make headlines. And she just so happens to give a stellar turn. Case closed. One of the few locks of the night. That'll come back to haunt me when it goes to Close…

MOTION PICTURE – COMEDY OR MUSICAL
Crazy Rich Asians
The Favourite
Green Book
Mary Poppins Returns
Vice

The one category I genuinely cannot predict. Once upon a time, the musical nominee would take it home by default, but we're not in those days anymore. As much as I'd like to see Mary Poppins Returns win, it's probably not happening, especially after that baffling snub for Best Original Song. My next guess would be The Favourite, but it missed out in Best Director, and that's too big a negative to overlook. Crazy Rich Asians is just happy to be here. So, that leaves Vice and Green Book aka two of the most divisive films of the year. Both have surprising Director nominations (ugh) and both are in for Screenplay. Flip a coin really. I can't believe I'm saying this, but I'm going with the "crowd-pleasing" Green Book.

BEST ACTOR – MOTION PICTURE, COMEDY OR MUSICAL
Christian Bale – Vice
Lin-Manuel Miranda – Mary Poppins Returns
Viggo Mortensen – Green Book
Robert Redford – The Old Man and the Gun
John C. Reilly – Stan and Ollie

Much like the previous category, it's another battle between Vice and Green Book. Again, just flip a damn coin. Personally, I don't see how you can overlook Bale's incredible transformative performance, particularly in favour of Mortensen's fuggedaboudit Tony Soprano-esque turn. Then again, it's the HFPA, so it's probably going Viggo's way.

BEST ACTRESS – MOTION PICTURE, COMEDY OR MUSICAL
Emily Blunt – Mary Poppins Returns
Olivia Colman – The Favourite
Elsie Fisher – Eighth Grade
Charlize Theron – Tully
Constance Wu – Crazy Rich Asians

The smart money would be on Colman taking this one. She probably will, but the HFPA love, love, love Blunt (five nominations and one win), so that's hard to overlook. She's the bigger star (always a key factor here). She's incredibly likeable. And she's playing an iconic role that previously won a Golden Globe. Just seems to tick a few more boxes, no? Colman has other awards in her future, so maybe it's wise to just let Blunt have this one.

BEST SUPPORTING ACTOR
Mahershala Ali – Green Book
Timothée Chalamet – Beautiful Boy
Adam Driver – BlacKkKlansman
Richard E. Grant – Can You Ever Forgive Me?
Sam Rockwell – Vice

Remember when the HFPA gave Best Supporting Actor to Aaron Taylor-Johnson over eventual Oscar-winner Mahershala Ali? Yeah, that head-scratcher still stands as one of the most baffling decisions in recent Globes history. This could be the moment to right that wrong. It should be the magnificent Grant, who has been cleaning up along the critics' awards circuit, but Ali is owed a trophy and they're likely going to give it to him. Truly hope to be wrong on this one.

BEST SUPPORTING ACTRESS
Amy Adams – Vice
Claire Foy – First Man
Regina King – If Beale Street Could Talk
Emma Stone – The Favourite
Rachel Weisz – The Favourite


King has been the presumed frontrunner for most of the season. But that recent nomination snub at the SAG Awards didn't help her campaign and could potentially turn off HFPA voters. Adams is enormously beloved by the Globes and likely going to win over on the TV side for Sharp Objects. Could she really walk home with two awards? Sure, but I'm sticking with King. Don't be surprised to see King and Adams split the vote and someone like Weisz stroll through in a shock win.

DIRECTING
Bradley Cooper – A Star Is Born
Alfonso Cuarón – Roma
Peter Farrelly – Green Book
Spike Lee – BlacKkKlansman
Adam McKay – Vice

I'm still staggered McKay and Farrelly are here, but, hey, it's the Globes. Cuarón seems fairly unstoppable here, even though they awarded him just a few years ago for Gravity and it would make him one of only a handful of directors to win this category more than once. But with Roma ridiculously ineligible for Best Motion Picture – Drama, it seems unlikely they won't award his direction. Then again, if the HFPA are happy with just giving him Foreign Language Film, expect to see Lee take this out, which wouldn't be the worst thing in the world.

SCREENPLAY
The Favourite
Green Book
If Beale Street Could Talk
Roma
Vice

Given it's unlikely to win the Best Comedy/Musical prize, expect to see the HFPA spread the wealth and give this one to The Favourite as a consolation prize. It's one of the year's most gloriously crafted scripts, so it absolutely deserves it.

ANIMATED FEATURE
Incredibles 2
Isle of Dogs
Mirai
Ralph Breaks the Internet
Spider-Man: Into the Spider-Verse

The Globes have given this prize 12 times, and Disney/Pixar have only ever lost twice, which would suggest either Ralph Breaks the Internet or Incredibles 2 are taking this out. But all the buzz has been with Spider-Man: Into the Spider-Verse lately and it would be a refreshing change for the HFPA to honour someone other than the house of mouse. They'll still probably go with the safe option of Incredibles 2, especially given this category wasn't around for the original film to win. For now, this nerd will dream and play things dangerously.

ORIGINAL SCORE
A Quiet Place
Black Panther
First Man
Isle of Dogs
Mary Poppins Returns


That nomination for A Quiet Place (its sole nomination) is honestly the most bizarre thing the HFPA did this year. That and snubbing the gorgeous (and possibly Oscar-winning) score from If Beale Street Could Talk. There's a hell of a lot of love for Justin Hurwitz's sublime score for First Man, but the film has lost all of its awards season steam and Hurwitz won this category far too recently. The likely victor seems to be Mary Poppins Returns, as a way to make up for forgetting it also had original songs as well as score music.

ORIGINAL SONG
"All The Stars" – Black Panther
"Girl in the Movies" – Dumplin'
"Requiem For a Private War" – A Private War
"Revelation" – Boy Erased
"Shallow" – A Star Is Born

Nothing but "Shallow" is winning this category. Next.

FOREIGN LANGUAGE FILM
Capernaum (Lebanon)
Girl (Belgium)
Never Look Away (Germany)
Roma (Mexico)
Shoplifters (Japan)

And nothing but Roma is winning this category. The end.