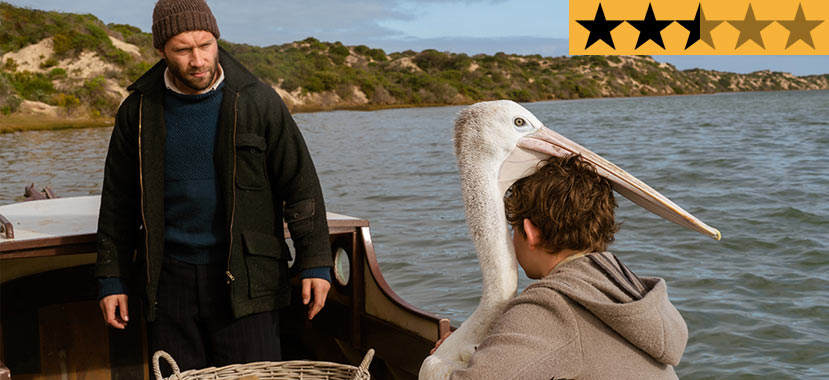 16 Jan

REVIEW – 'Storm Boy'

Australian cinema has somewhat of an obsession with crafting adorable animal characters audiences instantly fall in love with. From the gutsy little pig in Babe to the tough cattle dog in Red Dog to those toe-tapping penguins in Happy Feet, it's a long-running subgenre we Aussies do particularly well. A pelican hardly seems the next likely evolutionary step in this chain of cute creature films, but in Storm Boy, you're likely to find yourself captivated by these awkward birds. It's just a shame the film surrounding them is somewhat of a dud.

A new film adaptation of the classic 1964 novel of the same name by Colin Thiele that become a highly-successful film in 1977, the tale of a young boy and his pelican chum has a long history with Australia. For the last few decades, most Aussie kids have all likely found it as part of their mandatory primary school curriculum. In an age of remakes, it was all but assured we'd be offered a new version some day. But when the original movie is such a beloved classic, the necessity for such a re-imagining has to be questioned.

Unfortunately, director Shawn Seet fails to answer that question admirably, with this rather bleak and monotone remake devoid of most of the joy and wonder that made the original such a beauty of a film. This is a heavy film without any thought or care for who its intended audience should be. With the addition of an environmentally conscious message that's as subtle as a sledgehammer and a completely unnecessary new framing device linking past and present, it's commendable to see a filmmaker avoid the temptation to merely do a shot-for-shot remake. Perhaps that would have actually worked more effectively.

Beginning in present-day Adelaide, retired businessman Michael Kingsley (Geoffrey Rush) is venturing back into the offices of his company to vote on a controversial proposal to lease coastal land in the Pilbara region of Western Australia to a nefarious mining company. Outside the building, Michael is confronted by protesters and a swarm of media, highlighting the public's distaste for the plan. His over-zealous son-in-law, Malcolm Downer (Erik Thomsen) is desperate for the vote to be successful, despite the strong objections from his teenage eco-warrior daughter, Maddy (Morgana Davies).

After a freak accident causes a delay in the board meeting and subsequent vote, Michael retreats to Malcolm's lavish beachside mansion to spend some long overdue quality time with his granddaughter. But Maddy wants nothing to do with her grandfather, feeling deeply disappointed he won't stand up to her father and stop the mining proposal from progressing further. When she accuses Michael of having no love of the environment, he decides to tell her the tale of his childhood and a time when "the world came to me."

Flashing back to the 1950s, young Michael (a wonderful Finn Little) lives with his widowed father, "Hideaway" Tom (Jai Courtney) in a dilapidated shack on Ninety Mile Beach, far away from civilisation, which is exactly how his emotionally damaged father likes it. While Tom heads out fishing to occasionally use as barter for essentials, Mike spends his days exploring the nearby lands of the Coorong National Park, where he befriends local Indigenous man Fingerbone Bill (Trevor Jamieson), who teaches Mike about the land, its creatures, and his spiritual heritage.

While wandering through some dunes, Mike stumbles across three orphaned baby pelicans whose mother was killed by local hunters. Bound for certain death without their mother's care, Mike rescues the chicks, determined to feed and house them back to good health. As the young pelicans flourish and grow, Mike forms a close connection with his three new friends, even naming them Mr. Proud, Mr. Ponder, and Mr. Percival, who he develops a particularly strong connection with. But, as his father reminds him, they are wild animals, and a painful goodbye seems all but inevitable.

When the film remains in its flashback storyline, it's entirely breezy and enjoyable. It's hard not to be taken by the blossoming friendship developing between child and animal. Little is a terrific find, with an empathetic performance that's well beyond his years. He's entirely charming and effortlessly adorable, but also wildly impressive in the film's more dramatic scenes. Likewise with Courtney, who, after several disappointing roles, reminds us why he's such a big name with a quiet but commanding performance as the deeply damaged father. Jamieson is endearing as the proud Aboriginal man with a damaged past that's sadly never explored, leaving him with a character that feels shamefully undeveloped.

But the inescapable elephant (or should that be pelican?) in the room is Rush, whose unfortunate inclusion in the film brings a heavy (and uncomfortable) dose of controversy, after a string of recent bad press surrounding allegations of sexual harassment, which he vehemently denies. His name is the first to appear in the opening credits and his presence in the film is undeniably distracting. Even without this awkwardness, his role is surprisingly the weak link in the film, with a flat performance devoid of his usual impressive skills. After several delays in this film's release, it's hard not to comprehend why his entire role wasn't chopped altogether. The film likely would have been stronger for it.

Every time the film frustratingly brings us back to the present, the entire flow of the piece comes to an abrupt halt, leaving us desperately longing to head back to the far more interesting flashback narrative. Michael's fractured relationship with his granddaughter is terribly uninteresting and entirely dull, particularly given Maddy generally comes across as somewhat of an insufferable, know-it-all brat. It's in these moments screenwriter Justin Monjo endlessly hammers his message of environmental conservation in a misguided and unnecessary attempt to make this film more relevant than it needs to be.

The marketing for Storm Boy appears to be aiming this film squarely at children, but with such a depressing and bleak tone hanging over much of the film (especially the ending which caused several screams from the young children in my audience), it's hard to call this a great film for the whole family. It's entirely admirable the harsher elements of this story are tackled head-on, but the end result could cause all sorts of trauma for younger viewers. There's still a concerted effort to relay some hope and optimism into this tale, but after such melancholia, you're unlikely to leave this film feeling particularly joyful.

Narrative and structural issues aside, Storm Boy is gorgeously filmed by cinematographer Bruce Young, with plenty of sprawling wide shots of the dazzling South Australian coastlines that ultimately serve as a wonderful tourism commercial for the beachside locales. The film is further elevated by the impeccable period creations of production designer Melinda Doring and costume designer Louise McCarthy, who both expertly capture the style of 1950s Australia.

There's no denying environmental protection is an important issue and its inclusion in Storm Boy does indeed seem entirely organic on paper. It's just a mighty shame it's handled in such a haphazard way that clouds the film's truest intentions of highlighting the connection man can have with a wild animal. There was an opportunity to explore the original film further, especially delving deeper into its adult characters, but that opportunity never comes to fruition, leaving us with a rather dour and pointless experience that never answers the question of why this remake was attempted in the first place.

Distributor: Sony Pictures
Cast: Geoffrey Rush, Jai Courtney, Finn Little, Trevor Jamieson, Morgana Davies, Erik Thomson
Director: Shawn Seet
Producers: Michael Boughen, Matthew Street
Screenplay: Justin Monjo
Cinematography: Bruce Young
Production Design: Melinda Doring
Music: Alan John
Editor: Denise Haratzis
Running Time: 109 minutes
Release Date: 17th January 2019 (Australia)
This review was originally posted at the AU review and can be viewed here.