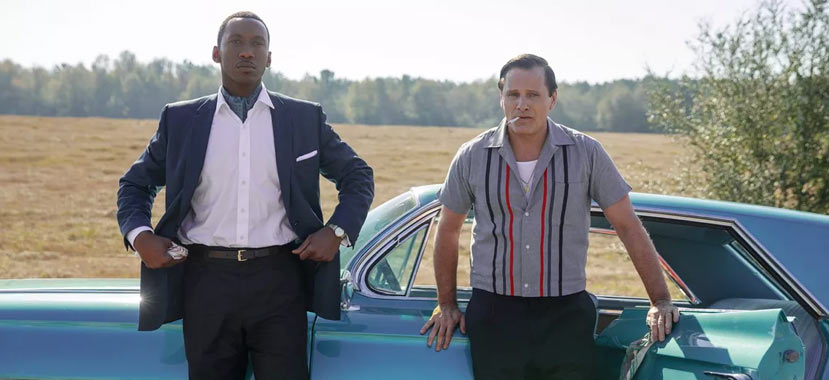 22 Feb

The case for and against 'Green Book'

Oh, boy. Here we go. We've reached the Best Picture nominee that's victory will cause a Film Twitter riot unlike any seen before. Yes, it's time to take a closer look at Green Book, the film that's caused all sorts of anger and fury this awards season. With as many supporters as haters, the film has become a genuine force to be reckoned with this year. Like it or not, it's a strong frontrunner, and we all have to accept the very real possibility of it taking home Best Picture. Let's see why it may or may not happen.

Why it could win Best Picture:
It's the feel-good nominee. We get one of these nominees every year. Sometimes more than one. And, once upon a time, they often won. While it's true to say we haven't seen a sappy and sentimental winner for a few years now, nothing screams Best Picture like a film that makes its audience feel good. With its rose-coloured view of racism and simplistic ideas on how to overcome our differences, Green Book has a warmth and heart that's hard to ignore. Sure, it's misguided and tone-deaf, but its intentions were pure (I have no idea if that's true but I have to keep saying it to myself) and it tried its best. At the end of the day, Green Book is reverse Driving Miss Daisy. If that film could charm its way to Best Picture, there's no reason to think this one can't as well. It's pure Oscar bait and it's foolish to assume voters won't bite.

It's overperformed. When the backlash started and the reviews were somewhat mixed, plenty of Oscar pundits began to believe Green Book would contend in the acting categories only. But it's proven to be a serious contender. First, it surprisingly took the People's Choice Award at the Toronto Film Festival, ahead of Roma and If Beale Street Could Talk. Then the National Board of Review declared it their Best Film winner. Next up were the Golden Globes, where, against more favoured rivals like Vice and The Favourite, it won Best Motion Picture – Musical or Comedy. But most telling was its victory at PGA, aka the only other awards ceremony to employ the preferential ballot also used at the Oscars for Best Picture. While the PGA has a spotty history the last few years with matching the eventual Best Picture winner, it's a huge sign of how Green Book can come out on top of such a voting system.

It's got the importance factor. While many believe Green Book poorly handles the serious issue and history of race relations in the U.S., it's still presenting itself as a film that's brave enough to tackle such a tough topic. The Academy love to reward films that dare to confront issues many would shy away from. Whether the film is successful and honourable in its intentions is almost superfluous. The filmmakers went there and deserve adoration for their "courage." In battles of style versus substance, the latter is often the victor with Best Picture. Think Avatar versus The Hurt Locker or La La Land versus Moonlight. Green Book paints itself as one of the most important films of the year. Its narrative is relevant and topical, offering the Academy the chance to award Best Picture to a film that, by virtue of honouring, makes them feel great about themselves. It's an easy vote that leaves voters feeling like they've done the right thing.

Why it won't win Best Picture:
It's too controversial. Besides Bohemian Rhapsody and its disastrous publicity over the last few months, Green Book has also been hit with several scandals that could prove far too costly for its Best Picture campaign. After they weren't consulted during production, Dr. Don Shirley's family have denounced the Green Book as being "full of lies" and the film is nothing but "a white man's version of a black man's life." While not fatal (A Beautiful Mind rode a similar wave before taking Best Picture), calling into question the accuracy of a Best Picture contender is a huge blight on its campaign. Making matters worse, a 2015 anti-Muslim tweet from Green Book screenwriter Nick Vallelonga was uncovered, leading to the writer shutting down his Twitter page and issuing a hasty apology. Given one of the film's stars is a Muslim, the scandal was awkward as all hell. Add in the discovery of a 1995 Newsweek article where Green Book writer/director Peter Farrelly joked about exposing his penis on the set of There's Something About Mary and it hasn't been a great few weeks for Green Book. It all could prove too much for some voters. Or it could mean nothing at all.

It's too divisive. With a Rotten Tomatoes score of 79% and a Metacritic rating of 69%, the critical reaction to Green Book has been far too low for a real Best Picture contender. While it's true critical reaction isn't everything and we've certainly seen poorly reviewed films win Best Picture in the past, in the last few years, the eventual winner has been one met with universal acclaim. The last decade of winners have all received well over 90% on Rotten Tomatoes, showing critical love of the highest order. Green Book simply doesn't have that admiration. The film has also been met with plenty of scorn and fury from members of the black community, with many finding its depiction of the nauseating "white male saviour" narrative grossly out of touch with 21st-century cinema. That kind of divisive reaction does not bode well for the preferential ballot. One would have to assume those who aren't fawning over this film are highly unlikely to rank it particularly high on their ballot.

It's missing two key nominations. It's easy to dismiss the lack of a SAG Ensemble nomination for Green Book. It's not an ensemble piece, and both its actors were nominated in the individual acting categories. While last year The Shape of Water was able to overcome its lack of a SAG nomination and become only the second film in history to win Best Picture without this important precursor nomination, it could be the exception to a concrete rule that stood for 25 years. What may prove to be the true nail in the coffin for Green Book is Peter Farrelly's snub for Best Director. Only two films in history have won Best Picture without the film's director being nominated. Co-incidentally, the first was Driving Miss Daisy, so perhaps that's a good sign for the similarly themed Green Book. But we're in an age where Picture and Director nominations need to line up. The lack of a Best Director nomination killed the campaign of Three Billboards Outside Ebbing, Missouri last year, and it's possible it has for Green Book as well.

Major wins: PGA, Golden Globes, National Board of Review

Major nominations: BAFTA, DGA, WGA, Critics' Choice

Will Film Twitter go into an absolute meltdown over this year's winner? Have the controversies simply proved too much to overcome? Are we heading for one of the worst winners of all time? Am I actually predicting Green Book to win Best Picture? Find out when I reveal my final Oscar predictions this Sunday, February 24.