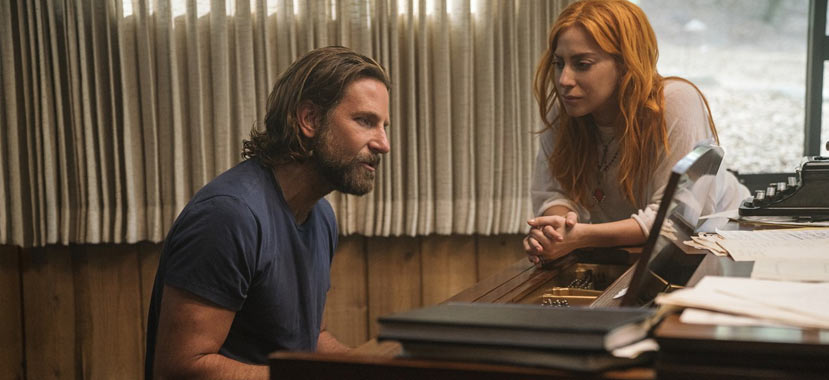 23 Feb

The case for and against 'A Star Is Born'

One of our earliest frontrunners this season was Bradley Cooper's directorial debut A Star Is Born. After its dazzling debut at the Venice Film Festival and a roaring box office result, it leapt to the front of the pack. Since then, its campaign has all but fallen over and, despite eight Academy Award nominations, few are predicting it to fulfil its initial potential of taking Best Picture. But hold your horses. In a crowded year of contenders without a clear and obvious winner, anything could still happen. Let's dive in.

Why it could win Best Picture:

It's about the industry. The Academy love to reward films about the entertainment industry. Recent Best Picture winners Birdman and The Artist both focused their narratives on the lives of members of the very community voters find themselves in. It's that kind of instant connection which immediately captures the attention of Academy members. They can empathise and relate to the events of A Star Is Born, particularly those in the acting branch who may have seen firsthand the perils of a meteoric rise to fame. While it may focus on the music industry rather than Hollywood, the highs and lows faced by Ally and Jackson are fairly similar to those faced by actors, especially its depiction of addiction, celebrity, and mental illness. Voters get this film because it's ultimately about them. Connecting with a nominee is one of the best ways to ensnare votes.

The box office factor. Before voting closed, A Star Is Born actually had a higher box office gross than Bohemian Rhapsody in the U.S. And while its global box office doesn't quite match the Queen colossus, the film was a huge success. On a budget of $36 million, it has grossed over $420 million worldwide. The soundtrack has been #1 in 15 countries including the U.S., UK, Canada, and Australia, while its Best Original Song nominee "Shallow" has also topped the charts around the globe. In a year where the Academy is desperate to connect to audiences, A Star Is Born stands as one of the most popular nominees in contention. If they're keen to show they can still award a film the general public adore, the one that dominated both the film and music worlds seems an obvious choice.

The preferential ballot. Very few people dislike A Star Is Born and that bodes extremely well for its response with preferential voting. While it's true it won't capture the majority of #1 votes, it could find itself the #2 or #3 pick of a large number of voters who agree it's not necessarily the most artistically brilliant film of the year, but one that sits higher than those they truly disliked. In a year of a number of divisive nominees, A Star Is Born may be the least divisive pick of the bunch. Even those who have issues with the film will likely still find it highly enjoyable and entertaining. That's not a film you place at #8. As I've said several times now, the Best Picture winner may just be the most universally liked film of the year. With no controversies or backlash to bring it down, A Star Is Born could easily sail past all other contenders.

Why it won't win Best Picture:

It peaked too early. No film wants to be the first frontrunner. Those that find themselves with the early buzz are very, very rarely able to sustain that hype for the entire season. Dunkirk, La La Land, and Boyhood all found themselves in this position and all of them fell over during the season. Back at the beginning of the season, there were many who thought A Star Is Born was going to sweep this whole damn thing. It looked to finally be Bradley Cooper's year to win his Oscar. Or maybe even multiple Oscars. Lady Gaga looked to be another singer-turned-actress to win an Academy Award for her breakthrough role in cinema. And most started presuming it could take home Best Picture. In another example of overexposure, people clearly became sick of hearing about A Star Is Born. Its campaign displayed a sense of self-assurance and hubris. It bought into its own hype. And, without a single major win for the remainder of the season, the film may have simply run out of steam.

It's a remake. In the 90-year history of the Academy Awards, only two remakes have won Best Picture: 1959's Ben-Hur and 2006's The Departed. The latter had the upper hand by being a remake of a film few had either seen or heard of. Oh, and it was crafted by Martin Scorsese, one of the most respected (and overdue) directors in Hollywood history. A Star Is Born does not have either luxury. Voters are entirely aware this is not only a remake of a classic Hollywood film but the fourth remake, at that. It's a debilitating tag the film simply has not been able to shake. It's perceived lack of originality is a curse on its Oscar campaign for Best Picture, particularly after several years of awarding truly remarkable and original pieces of cinema. While it's true Cooper has admirably adapted the storyline to be unique and different enough to stand on its own, its basis is a tale that has been seen several times before. It's could be too difficult for voters to overlook this fact. "Been there, done that" is not a statement synonymous with Best Picture winners.

It hasn't won anything. The baffling decision to move A Star Is Born into the Drama categories at the Golden Globes may have proved to be the fatal move that killed the film's Oscar campaign. Had it stayed in the Musical or Comedy categories (where it belonged), it easily could have won Best Motion Picture, Actor, and Actress. But up against the popularity of Bohemian Rhapsody and Rami Malek (which both should have also been in the Musical or Comedy categories), it simply couldn't compete. And, even though many presumed she would prevail, Lady Gaga ultimately lost out to Glenn Close, which reignited Close's lagging Oscar campaign for Best Actress. A Star Is Born walked away with zero headlines and buzz from the Globes, a ceremony most assumed would be its crowning achievement. The campaign has never recovered. Cooper failed to win the DGA for Best First Feature, as many had presumed he would. The film couldn't take the SAG Ensemble award, despite no competition from other Best Picture heavyweight contenders like Roma or Green Book. And then Cooper failed to receive an Oscar nomination for Best Director, which may have been the final nail in the coffin. The buzz around A Star Is Born has been nothing but disappointment all season, which could push Academy voters far away from selecting it as their choice for Best Picture.

Major wins: None

Major nominations: PGA, DGA, SAG, BAFTA, WGA, Critic's Choice

Can the film with the early frontrunner status recapture the buzz in the final moments? Is the Academy ready to celebrate another remake that's proven enormously popular with audiences? Did this one simply peak too early and has never been able to receover? Am I actually predicting A Star Is Born to win Best Picture? Find out when I reveal my final Oscar predictions this Sunday, February 24.