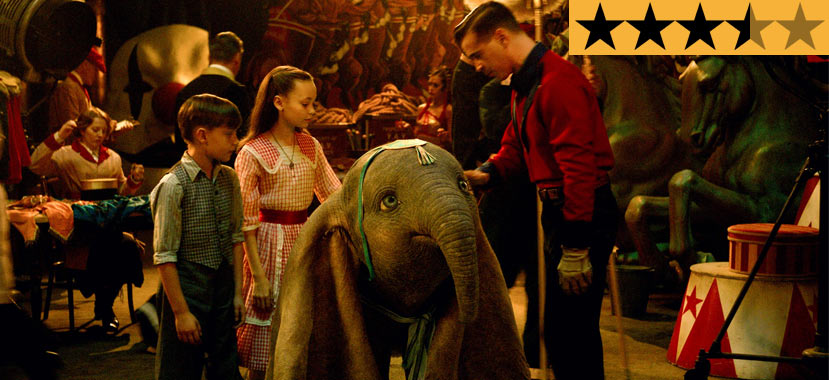 27 Mar

REVIEW – 'Dumbo' is a sumptuous visual treat with an adorable CGI star at its helm

As we head towards our ninth year of Disney live-action re-imaginings, we're starting to reach the point of exhaustion, particularly when we realise we've got not one, not two, but three of them in 2019. These films represent a cash cow for the studio they simply cannot ignore. Audiences keep turning out in droves to watch the animated films of their childhood reworked into visual spectacles that have mostly artistically failed more than they've soared. Few films from my youth have meant more to me than the tale of the little flying elephant with a heart of gold, so one approaches this remake with immense anxiety and trepidation.

Breathe a sigh of relief, fellow Dumbo fans. They haven't quite destroyed this one. While it may lack some of the heart of the animated classic, Dumbo is still a sumptuous visual treat with an adorable CGI star at its helm, even if it never quite reaches the emotional heights of its predecessor. Ultimately let down by its disappointing human characters, the film is saved by its endlessly cute titular star who will steal your heart and leave you in a mess of tears. With many familiar nods to its animated inspiration, the film charts a new course with a fresh yet messy narrative and a stunning array of visual wonders to dazzle your eyes.

Our tale beings in 1919 where we find the struggling Medici Bros. Circus boarding the rather dilapidated steam-train Casey Jr. in Sarasota, Florida, as they set off on a grand tour of the Deep South. With crowds constantly dwindling at every stop, ringmaster Max Medici (Danny DeVito) is becoming desperate for a new act to save his ailing circus. When the train arrives in Joplin, Missouri, the troupe are reunited with their former star Holt Farrier (Colin Farrell), who returns from World War I to find his life back home has flipped upside down.

His beloved wife, Gloria passed away during Holt's deployment. He lost his left arm during combat. Max has sold the circus' gang of horses that were part of Holt's daring circus act. And, after years of absence, he's struggling to reconnect to his two young children, Milly (Nico Parker) and Joe (Finley Hobbins). Joe has inherited his father's passion for performing, even if his skills aren't quite up to scratch, but headstrong Milly is far more interested in science and being known for a life of academia than a life of theatrics.

With his horse act gone, Holt is assigned the unenviable task of tending to the circus' new herd of elephants including a mammoth Asian elephant known as Mrs. Jumbo, who is just days away from giving birth. After witnessing the cruel treatment of Mrs. Jumbo by the other elephant handlers, Holt takes pity on the pregnant mammal, forming an instant bond with her in the process. When the newborn elephant arrives, there's immediate shock at the size of his ghastly, ginormous ears and a "face only a mother could love," dashing Max's hopes of an adorable baby pachyderm providing a huge drawcard for crowds.

Despite his reservations, Max has no choice but to include "Dear Baby Jumbo" in this circus, hiding his ears away under an oversized baby bonnet. But when the act goes awry, those big ears come flapping out, leading to ridicule and mockery from the harsh circus crowd. After an unfortunate re-arrangement of letters on the sign above his baby stroller, the cruel nickname Dumbo is assigned to the sweet-natured baby elephant. Fiercely protective of her offspring, Mrs. Jumbo storms to her son's defence, leading to catastrophic results.

When Max makes the difficult decision to sell the "mad elephant" to another circus, Dumbo is left lost, alone, and without his beloved mother to raise him. Stepping up to help the lonely animal, Milly and Joe befriend Dumbo and quickly discover his extraordinary ability of flight, thanks to those enormous ears. In no time at all, Dumbo becomes the new star of the Medici Bros. Circus, which catches the eye of the "Columbus of Coney Island" V.A. Vandevere (Michael Keaton), an entrepreneur and proprietor of a state-of-the-art amusement park called Dreamland. With the help of French aerial acrobat Colette Marchant (Eva Green), Vandevere hopes to turn Dumbo into his latest star attraction, but is this nefarious businessman all he appears to be?

Standing as the eighth live-action remake in Disney's uber-successful line of re-imaginings of the last nine years, Dumbo is one of their better efforts. While films like Cinderella and Beauty and the Beast stuck frustratingly close to their animated counterparts, director Tim Burton and screenwriter Ehren Kruger have made a concerted effort to deviate sharply from what's come before. This may upset Disney purists, but, frankly, if you're going to remake a film, delivering a shot-for-shot rehashing is pathetically lazy. Burton has made an admirable effort to expand on the foundations of the original animated classic, and, while it doesn't all quite work, at least you're not subjected to viewing a film you've essentially already seen before.

While the original film focused solely on the circus animals, with the humans left to play mostly villainous supporting roles, Dumbo makes its human characters as central to the plot as the titular elephant. There are no talking animals here. Dumbo's closest ally and mentor Timothy Q. Mouse is nowhere to be seen. Our protagonists are instead a whole host of new humans, which sadly proves to be the film's biggest flaw. It's an interesting move to switch the focus of this narrative, but practically every character is entirely thin and hollow, losing much of the heart and soul that makes the animated film such a glorious classic.

Bar two notable exceptions, it doesn't help these characters are all so mind-numbingly uninteresting and dull, made further frustrating by the disappointing performances behind them. Farrell is terribly miscast as the beleaguered father desperately trying to find some connection with his children. It's a role that simply doesn't fit the actor well, compounded by his woeful southern accent, which is patchy, at best. Green tries her utmost with a character that's nothing more than a soulless prop to kick the story along when it starts to drag in its final act. And while it always feels rather harsh to criticise the performances of youngsters, neither Parker and Hobbins provide anything more than performances that feel like rehearsal read-throughs where the actors are merely presenting the screenplay without any semblance of emotion or enthusiasm.

Thankfully, perennial Burton collaborators DeVito and Keaton provide a much-needed boost of energy to the film with two lively performances that pull this film from the depths of total failure. As the struggling and down-on-his-luck ringmaster, DeVito is a genuine delight, as he battles to save his beloved circus from ruin. He fights a losing battle with a cheeky monkey who always gets the better of him. His affection for the members of his troupe is endearing, but it's when Dumbo takes flight and saves his circus that DeVito's performance truly comes to life. Keaton chews the scenery with a supremely silly performance that gifts the film with the true villain lacking from its animated predecessor. Vandevere's treacherous plans allow the film a sense of conflict and obstacle the original simply did not have.

But the real star of the show here is unsurprisingly our titular elephant, who is hands-down the most adorable creation you will see on screen this year. Dumbo's endlessly expressive face and those big beaming blue eyes are downright gorgeous to behold, gifting us with a character we cannot help but cheer for. As an outsider thrust into a world intent on making him a clown, Dumbo is forced to endure a relentless parade of hurdles he must clear to achieve his greatness. It's a beautiful character arc that runs the full gambit of emotions. When he first arrives on screen, your heart will completely melt. When he's forced to say goodbye to his cherished mother, your heart will absolutely shatter. And when he finally soars in the air, your heart will follow along. Most of his human companions may lack soul, but this little pachyderm more than makes up for their failures.

It's a testament to the impeccable CGI work and character design of visual effects supervisor Richard Stammers, whose team have brought Dumbo to life like never before. While still cartoonish in style (it's impossible to make those ears anything but), there's a realistic quality to Dumbo that blends seamlessly with the natural environments he finds himself within. Credit has to also be given to the actors for instilling an accuracy into their interactions with an elephant who clearly wasn't on set.

The same can't be said for most of the other menagerie of circus creatures who never quite look anything but computerised creations. Max's monkey nemesis looks horrendously artificial, which is rather shocking, given Disney proved with The Jungle Book they could deliver photo-realistic animals. A potentially soaring sequence where Colette mounts Dumbo for a flight around the circus tent ultimately looks rather clunky and laughable. It's clear the lion's share of time and energy was spent on the titular character, which is hardly surprising. A lot was riding on nailing the look of the star, and they've accomplished a seemingly impossible task there.

Ultimately, Dumbo is a visual triumph, thanks in large part to the stunning production design of Rick Heinrichs and the gorgeous costume designs from the legendary Colleen Atwood. From the vintage and faded motifs of the Medici Bros. Circus to the dazzling art deco wonders of Dreamland, the worlds these masters have created are nothing short of spectacular. With a few nostalgic nods to Disneyland (a "Wonders of Science" exhibit closely resembles Walt Disney's beloved Tomorrowland) and an impressive showground known as the "Dreamland Colosseum," everything within Dreamland is a treat for the eyes.

When Dumbo makes his Dreamland debut within the Colosseum, it's a sequence that's utterly spectacular, typified by a dazzling opening performance set upon a wedding cake stage, adorned with 50+ dancers and acrobats, in a total re-imagining of the classic "Pink Elephants on Parade" technicolour sequence. And just try not to grin like a fool when legendary boxing announcer Michael Buffer takes centre stage to boom, "Let's get ready for Dumboooooo!" The visuals are all complemented by a typically ethereal score by Danny Elfman, which playfully includes a number of musical nods to several of the original film's beloved songs.

Kruger's screenplay lacks the animated film's narrative message of what makes you different is what makes you strong. The notion of the "very things that hold you down are going to lift you up" never quite comes through as strongly as it once did. While it's true Dumbo's biggest weakness still proves to be his greatest attribute, it's not truly the crux of the plot. In its place is an endearing anti-animal cruelty message, with much more emphasis placed on freeing Dumbo from the confines of his circus life and a potential reunion with his mother in the freedom of nature. This could be criticised as an obvious attempt to make Dumbo more "woke", but it's clear Kruger and Burton wanted to rework many of the unfortunate missteps that have long plagued the animated film. No, there are no racially stereotypical crows here. Nor is the Medici Circus constructed by a band of faceless black men.

While its length may prove too long for younger viewers (and there's a few typically Burton dark moments that are far from child-friendly) and the pacing drags considerably towards the middle of the film, there's far too much to adore about Dumbo to deem it a total failure. With deft tribute paid to the animated classic that provides the foundation for this remake, Burton reaches for something entirely different and that has to be admired. You've plonked your money down to let an adorable flying baby elephant capture your heart and that's exactly what you're given.

Distributor: Walt Disney
Cast: Colin Farrell, Michael Keaton, Danny DeVito, Eva Green, Alan Arkin, Nico Parker, Finley Hobbins
Directors: Tim Burton
Producers: Justin Springer, Ehren Kruger, Katterli Frauenfelder, Derek Frey
Screenplay: Ehren Kruger
Cinematography: Ben Davis
Music: Danny Elfman
Production Design: Rick Heinrichs
Editor: Chris Lebenzon
Running Time: 112 minutes
Release Date: 28th March 2019 (Australia)