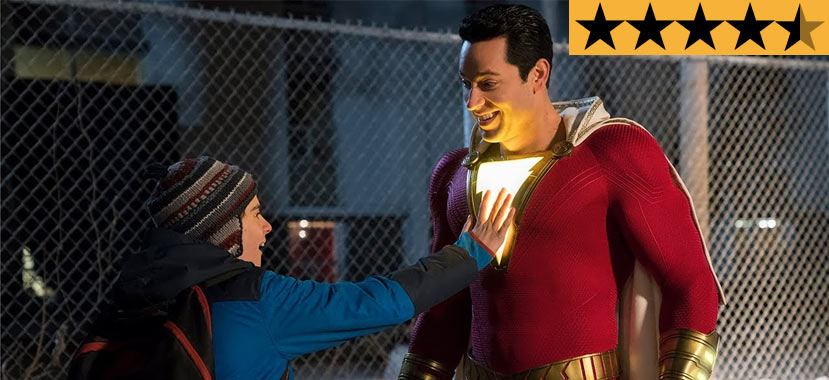 02 Apr

REVIEW – 'Shazam!' is pure cinematic bliss from start to finish

It's been a rocky road for the DC Extended Universe. From the dizzying delights of Wonder Woman to the hyper-colour mess of Suicide Squad. From the delicious ridiculousness of Aquaman to the dark and sloppy disaster of Batman v Superman: Dawn of Justice. And it's hard to forget what should have been their crowning glory but was perhaps their worst misstep with Justice League. Constantly compared to their rivals at Marvel Studios (a reminder it's okay to like both cinematic universes), it's been a case of one step forward, two steps back for this franchise.

But with their latest offering Shazam!, they may have finally found their groove, and it's a groove that dances to an entirely different beat than anything this universe has offered thus far. With an enthusiastic energy that's genuinely infectious and a screenplay that deftly flows with equal lashings of humour and heart, the resulting film is pure cinematic bliss from start to finish. Boosted by the wonderful performances of its ensemble cast, Shazam! is endlessly entertaining and a huge step in the right direction for this beleaguered superhero series.

As all good origin films do, Shazam! kicks things off with a flashback sequence to 1974, where we find young Thaddeus Sivana (Ethan Pugiotto) in the backseat of his oppressive father's car. In the blink of an eye, Thad is magically transported to a mystical cave, where a cantankerous elderly wizard Shazam (Djimon Hounsou) resides. Desperate to find a successor to take his throne, Shazam puts Thad through a test to see if he is "strong in spirit and pure of heart" and can resist the allure of the dark magic of the Seven Deadly Sins. But Thad's heart is cold and filled with anger (i.e. he fails the test), leaving Shazam to continue his hunt for the true heir to his mantle.

Jumping forward to present day, we meet Billy Batson (an impressive Asher Angel), a delinquent teenager who has bounced from foster home to foster home ever since becoming separated from his mother (Caroline Palmer) at a Philadelphia carnival when he was four. Convinced his mother is still out there searching for him, Billy constantly flees from every foster family he's saddled with. When he's plonked in the care of Victor and Rosa Vasquez (Cooper Andrews and Marta Milans), he's hardly keen to get cozy with his new extended family of five other foster children.

Making up the family of misfit kids are painfully shy Pedro Peña (Jovan Armand), techno-geek Eugene Choi (Ian Chen), the elder matriarch Mary Bromfield (Grace Fulton), the effortlessly adorable Darla Dudley (a scene-stealing Faithe Herman), and Freddy Freeman (an endearing Jack Dylan Grazer), a quippy, superhero obsessed nerd in desperate need of a best friend and brother. Walking with the assistance of a crutch, Freddy is an easy target for the bullies at school, which proves to be the catalyst for Billy finally connecting with his new step-sibling when he comes to Freddy's aide.

While riding the subway to escape his step-brother's tormentors, Billy also finds himself spirited away to Shazam's ancient cave, where he passes the wizard's challenge and is deemed the worthy champion Shazam has been waiting for. At the utterance of the wizard's name, he is instantly transformed into a red-costumed, muscular adult superhero alter ego (Zachary Levi, in terrific form) and gifted with the wizard's impressive powers. The wisdom of Solomon. The strength of Hercules. The stamina of Atlas. The thunderous power of Zeus. The courage of Achilles. And the speed of Mercury. Get it yet? S.H.A.Z.A.M.

With nowhere else to turn, Billy unveils his new persona to a giddy Freddy, who is more than happy to help Shazam (full disclosure – he never truly inherits the wizard's name, but it's just easier to refer to him as such) uncover and explore his incredible superpowers. While Shazam may exude the exterior of a grown man, he's still a tempestuous and immature teen inside, and Billy has little interest in becoming the superhero Freddy so desperately wants him to be. But when a now-adult Thad (the ever-reliable Mark Strong) emerges with the villainous power of the Seven Deadly Sins, he may not have a choice.

While still existing in a much larger cinematic universe, Shazam! wisely stands on its own two feet, free of the often incessant need to connect the dots between the other franchises or storylines surrounding it. As expected, the film is dotted with earnest references to Shazam's fellow DC cohorts Batman, Superman, Wonder Woman, et. al, but never in a way that feels unnecessarily referential. Freddy's adoration of the exploits of the Justice League (typified by a shrine of cherished collectables within his bedroom) provides the very backbone for his place within the narrative and a glimpse inside his deep longing for the abilities his heroes are gifted with.

Instead of pointless franchise-bait, director David F. Sandberg and screenwriter Henry Gayden are far more concerned with Shazam! blazing its own fresh and lively path away from the dark and dreary realms most of the DCEU films have drowned themselves in. There's boundless joy to be found within this ingenious screenplay that injects plenty of well-earned humour and engaging heart to counterbalance the bombastic action set pieces this genre demands. Every inch of this film shines with an exuberance that offers up the most genuinely fun experience the DCEU has delivered thus far.

With plenty of Big-style comedy (there's even a cheeky reference to the seminal Tom Hanks classic), there are plenty of gags played on the teenager-in-an-adult-body conceit, cemented by the charming chemistry between Grazer and both Angel and Levi. Set to the refrains of Queen's "Don't Stop Me Now," a hilarious sequence featuring Billy's attempts to test out Shazam's full breadth of powers is a particular highlight, dotted with plenty of slapstick physical comedy that Levi executes with perfect precision. And, naturally, the teens use Shazam's adult facade to attempt to buy some beer, providing Levi with the chance to show his deft skill at playing awkward and sheepish.

But it's not all entirely light-hearted, with Sandberg allowing his horror roots to shine through in a few dark sequences that may be somewhat intense for younger audiences. When Thad inherits the power of the Seven Deadly Sins, the spirits take form in a gang of CGI gargoyle-like beasts who delight in ripping hapless humans to shreds. One particular scene within an office boardroom is jarringly dark, feeling like something from another film entirely. The visual effects work on Thad's demons is disappointingly clunky and surprisingly cheap-looking. Their demonic voices are also rather ineffective, particularly when their only purpose within the film is to bark out the screenplay's worst dialogue. Thankfully, it's really the film's only non-fatal misstep.

What truly elevates Shazam! is its wonderful ensemble cast who offer a whole host of new characters most audiences will be completely unfamiliar with. Much like Ryan Reynolds' casting in Deadpool, Shazam is the role Levi was clearly always born to play. With his matinee idol good looks and endless charisma, Levi's physical performance is entirely effortless. But it's in his body language and characterisation that his performance truly shines, as he keenly conveys Billy's teenage energy and spirit. Angel and Grazer are just as perfectly cast, and it's a genuine joy to watch their deeply sincere brotherly bond develop over the course of the film. Strong has proven to be the go-to actor for these villainous roles and it's another impressive turn from the solid performer. But there's intriguing pathos and emotional damage to Thad, offering Strong the opportunity to deliver something a little deeper, more complex, and maybe even slightly sympathetic.

When it's required, the action elements kick in to terrific effect, especially the thrilling finale, which is thankfully far less subdued than what we've come to expect from the DCEU. The jealous conflict between Thad and Shazam provides a showdown that's refreshingly personal and far more intimate than most good guy vs. bad guy matchups. It's the keen eye of Sandberg to provide something more than just calamitous explosions and waves of destruction in his set pieces. There's a beating heart behind every frame of Shazam!, something so often missing from the superhero genre. It's an emotional core that captures the importance of family, the power of self-belief, and the strength of brotherhood.

At one point late in the film, a young boy is seen playing with Batman and Superman action figures when he catches sight of Shazam and Thad furiously battling in the sky, causing him to immediately drop both toys to the ground. As this cinematic universe looks to be move beyond the two elder statesmen who have dominated DC films for the last four decades, this could be the most telling symbolism found in Shazam!. An endearing and delightful new hero is born and the future of the DC Extended Universe continues to look blindingly bright.

Distributor: Roadshow
Cast: Zachary Levi, Mark Strong, Asher Angel, Jack Dylan Grazer, Djimon Hounsou, Faith Herman, Grace Fulton, Ian Chen, Jovan Armand, Marta Milans, Cooper Andrews
Director: David F. Sandberg
Producer: Peter Safran
Screenplay: Henry Gayden
Cinematography: Maxime Alexandre
Music: Benjamin Wallfisch
Production Design: Jennifer Spence
Editor: Michel Aller
Running Time: 132 minutes
Release Date: 4th April 2019 (Australia)
This review was originally posted at the AU review and can be viewed here.