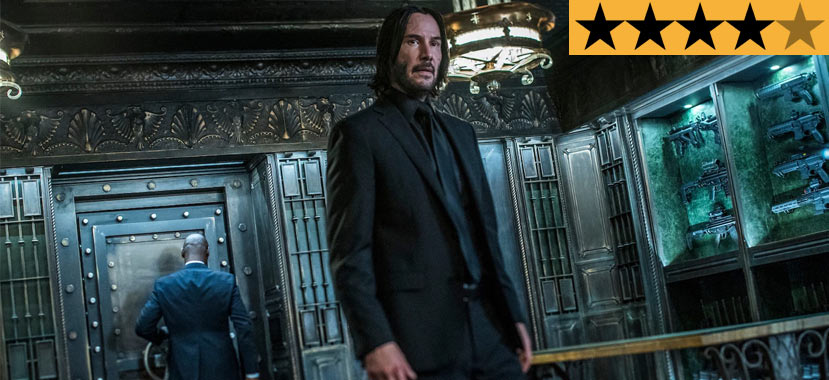 17 May

REVIEW – 'John Wick: Chapter 3 – Parabellum' is an absolute bloody riot

After five years, two films, one dead puppy (rest in peace, Daisy), and a staggeringly high body count, the John Wick franchise has been a breath of fresh air in the crowded action genre landscape. Deliciously ludicrous and unashamedly outlandish, both films have offered pure unadulterated fun, all within a meticulously crafted and surprisingly inventive world of assassins bound by a strict set of guidelines and charming old-world style.

As all good action threequels should, John Wick: Chapter 3 – Parabellum ramps up the mayhem to gloriously absurd levels, with a constant stream of stunningly choreographed fight sequences in a series of beautifully designed locations which truly burst off the screen. Cemented by its leading man and terrific supporting cast, the third film in this sleeper-hit series is blissful escapism at its finest. To be blunt, it's an absolute bloody riot.

Picking up mere moments after the end of the second film, we find John Wick (Keanu Reeves) dashing through Manhattan's Midtown district in the pouring rain. While on the grounds of the Continental Hotel, a safe haven for assassins with a strict no-kill policy, Wick committed the ultimate sin of killing a fellow member of the assassin guild known as the High Table. With this one act of forbidden activity, Wick will consequently be declared "excommunicado" at 6 p.m., shunning him from the guild and placing a $14 million bounty on his head.

Given a one-hour head start by his old buddy and the Continental's manager, Winston (Ian McShane), Wick takes off into the night, determined to get the hell out of New York as quickly as possible. But that kind of money places a target squarely on his back, and, naturally, every assassin in Manhattan is gunning for Wick. After showdowns with a series of goons in the New York Public Library (death by library book is a touch of genius), an antique store with a conveniently large collection of knives, and a horse stable (yes, the horses unwittingly join in on the carnage), Wick is somehow still standing.

After calling in a favour from his one-time mentor and Russian crimelord The Director (Anjelica Huston, chewing every piece of scenery), Wick makes his way to Morocco, hoping to seek out the mysterious head of the High Table to beg forgiveness and remove the bounty on his life. Calling in another favour (he seems to have a neverending stack of them), Wick joins forces with Sofia (Halle Berry), a former colleague and current manager of Casablanca's branch of the Continental, who's constantly flanked by her viciously protective Belgian Malinois guard dogs (yes, these pooches join in on the fun too).

Meanwhile, back in New York, the High Table has sent a mysterious and intimidating figure known only as "The Adjudicator" (a dazzling Asia Kate Dillon) to enact retribution on those members who helped Wick break the rules and flee the country including Winston, the Director, and eccentric underworld figure the Bowery King (Laurence Fishburne). With the help of an Asian crime gang known as the Sushi Ninjas, led by Wick fanboy Zero (Mark Dacascos), they await Wick's return so he can face his unavoidable penalty for defying the code of the assassins.

When the first John Wick film arrived in cinemas back in 2014, it felt like a jolt of energy that gave the world a brand new action hero to cheer for. The sequel further expanded the franchise in truly captivating fashion, while taking the action sequences to dizzying new highs. It stands as one of the rare sequels to best the original. While the third chapter doesn't quite hit the expansion heights of its predecessor, there are still plenty of nods to Wick's past that further develop his character, even if they aren't fully explored enough to be truly satisfactory. Perhaps screenwriters Derek Kolstad, Shay Hatten, Chris Collins, and Marc Abrams (yes, it apparently takes four people to write a film like this) are holding back for future chapters, but it seems a little presumptuous to think we'll even get there.

That being said, most audience members aren't exactly here for a narrative masterclass, so, to that end, they're treated to the most visually spectacular and brutally violent film of the year. And one of the most supremely entertaining guilty pleasures you could ever imagine. Through a series of expertly choreographed and elaborately staged fight sequences, the action reaches gargantuan levels that will drown the appetite of those who crave this style of cinema. Whether it's care of knives, guns, or good ol' fashioned fists and roundhouse kicks, you feel every brutal moment. If any film makes a strong case for the Academy to introduce a category honouring stuntwork, this is it.

What makes John Wick: Chapter 3 – Parabellum so immensely striking is the impressive cinematography from Dan Lausten and the downright stunning production design by Kevin Kavanaugh. The colour palette of this film is a work of art, as are the spectacular sets the action takes place in. Perhaps it's too early to say this, but Kavanaugh should be in line for awards consideration, particularly for his work on creating the worlds within the Continental. The lobby and the hotel's room are lavishly furnished and beautifully crafted, but the crowning achievement is Winston's multi-level "office," made entirely out of glass, which provides the setting for the film's epic final showdown. Witnessing this set shatter into pieces, as our hero faces off against his toughest opponents, is actually rather heartbreaking to watch.

Whether he's battling a bunch of goons on motorbikes or using whatever he can find nearby to enact swift death upon anyone who dares oppose him, Reeves is electric to watch, yet again. While the screenplay has him utter barely more than 100 words, Reeves delivers an understated yet imposing performance that's become his calling card over the years. As the bruised and battered Wick, he's endlessly charming and wildly enigmatic, and never once do you stop wanting to follow his perilous journey. In a career of several iconic performances, John Wick has proven to be the legacy Reeves should be remembered by. The character fits him like a glove, and it's a joy to watch him shine, while he obliterates dozens upon dozens of outmatched foes.

Surrounding Reeves is a sparkling supporting cast, who appear to be having the time of their lives, all while spouting off some rather absurd dialogue that would feel horribly out-of-place elsewhere. McShane brings an intoxicating swagger and old school charm as only he can. Fishburne is all sorts of nutty, as the underground crimelord with a love of pigeons. Berry reminds us why she's always been an underrated action heroine, particularly when she unleashes her hell hounds on numerous hapless victims. But the real scene-stealer is Dillon, whose icy presence and stoic demeanour is truly captivating to behold.

With a hefty helping of black humour and an unrelenting string of blood-soaked sequences, John Wick: Chapter 3 – Parabellum may well be the most fun you'll have in a cinema in 2019. When you give yourself over to a film like this, it's a thrill-ride like few others. It's violent. It's ferocious. It's unrelenting. It's utterly ridiculous and over-the-top. It's absolutely glorious. Keep these films coming.





Distributor: Studio Canal
Cast: Keanu Reeves, Ian McShane, Lance Reddick, Laurence Fishburne, Mark Dacascos, Asia Kate Dillon, Halle Berry, Saïd Taghmaoui, Jerome Flynn, Jason Mantzoukas, Tobias Segal, Boban Marjanovic, Anjelica Huston, Cecep Arif Rahman, Yayan Ruhian
Director: Chad Stahelski
Producers: Basil Iwanyk, Erica Lee
Screenplay: Derek Kolstad, Shay Hatten, Chris Collins, Marc Abrams
Cinematography: Dan Laustsen
Music: Tyler Bates, Joel J. Richard
Production Design: Kevin Kavanaugh
Editor: Evan Schiff
Running Time: 130 minutes
Release Date: 16th May 2019 (Australia)